40 Greenery Wedding Ideas Without a Flower In Sight
We'll always love fresh flowers, but we can't deny that the greenery wedding trend is just as gorgeous. Get inspired to go green with these ideas.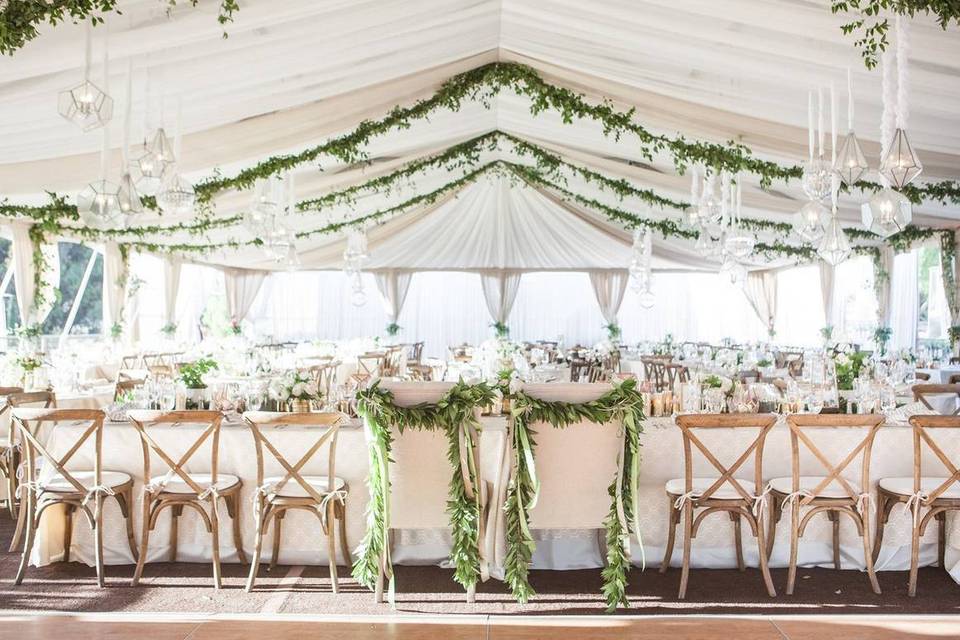 As one of the only decorative elements that works for almost every wedding style, greenery is truly the gift that keeps on giving. It looks just as amazing on its own as it does when used as an accent in your flower arrangements, which is why the greenery wedding trend continues to be so popular. If you're not into using colorful flowers, greenery is one of the easiest ways to add dimension and texture to your wedding decor—but beyond that, greenery knows no boundaries. From bouquets and centerpieces to hair accents, garlands, and even wedding stationery, greenery is everywhere right now (and we promise it's here to stay for the long haul).
Here are all the greenery wedding ideas you need to see if you're thinking about trying this botanical trend.
Greenery wedding invitations
Floral and botanical designs have long been trending in wedding stationery, and greenery is one of the most popular motifs, regardless of your wedding style. It doesn't matter if your theme is bohemian, classic, rustic, tropical, modern, or a combination of all of the above—greenery motifs are versatile enough to match them all.
Monogrammed invitations
Bring a timeless element to greenery invitations by adding an elegant wedding monogram.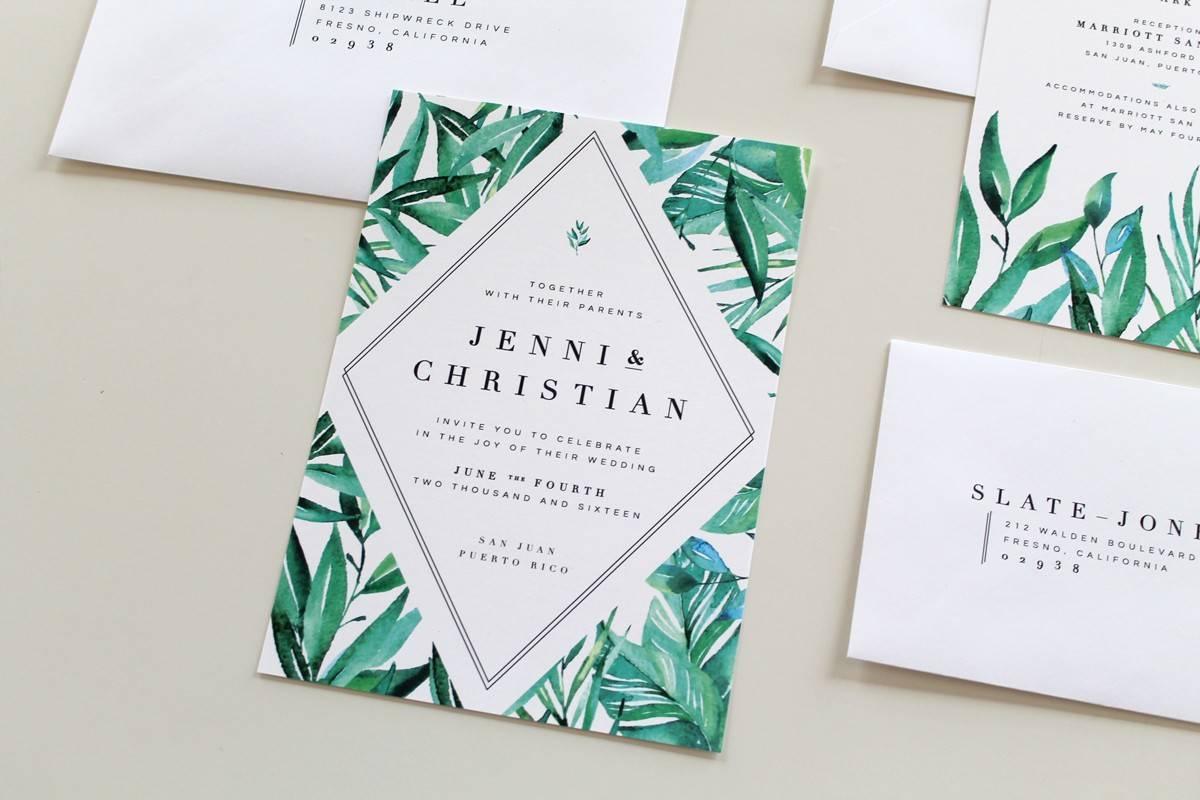 Tropical watercolors
Set the tone for an island-inspired wedding by sending your guests wedding invitations decorated with a watercolor palm leaf pattern.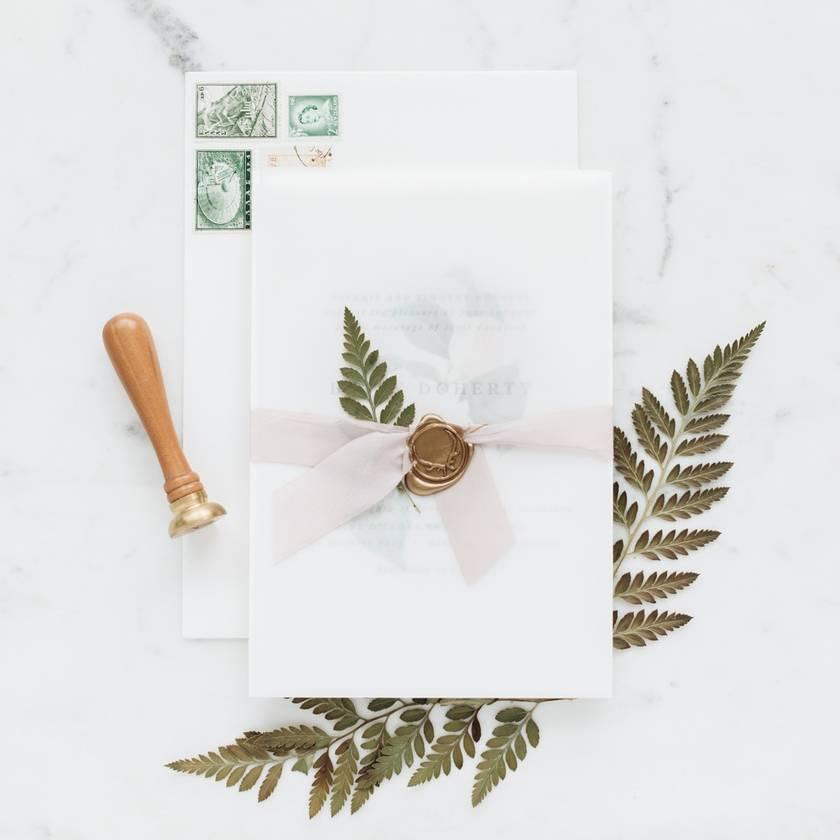 Fresh greenery accent
Take the greenery wedding invitation trend a step further by adding fresh or dried greenery to your invitations. Secure the piece of greenery with a piece of ribbon or add it directly to a wax seal.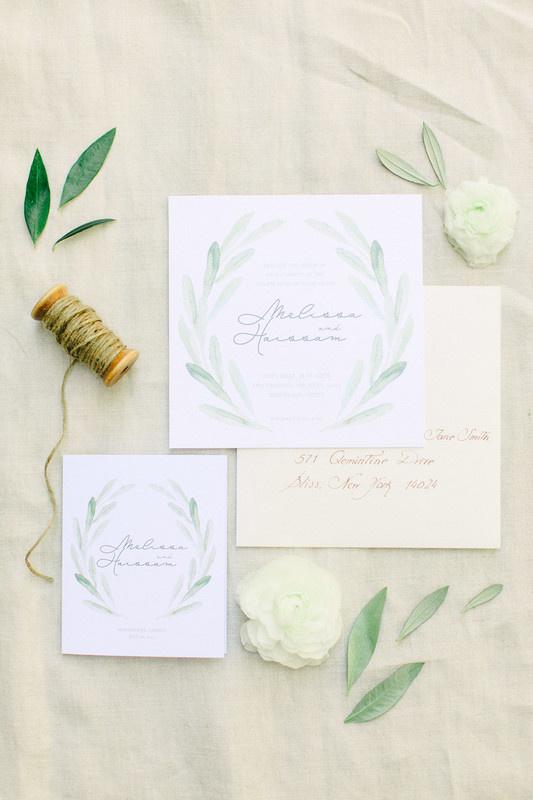 Laurel wreaths
This barely-there, Grecian-inspired motif is gorgeous for a rustic or countryside wedding.
Greenery wedding bouquets
The greenery wedding bouquet trend started out as a way to accent fresh flowers, but these days, greenery is the star of the show for many brides and florists. Bouquets made entirely of greenery—or with very few flowers—are a huge trend for bohemian and laid-back styles. Leafy eucalyptus, monstera leaves, and olive branches are some of the most popular options for greenery bouquets.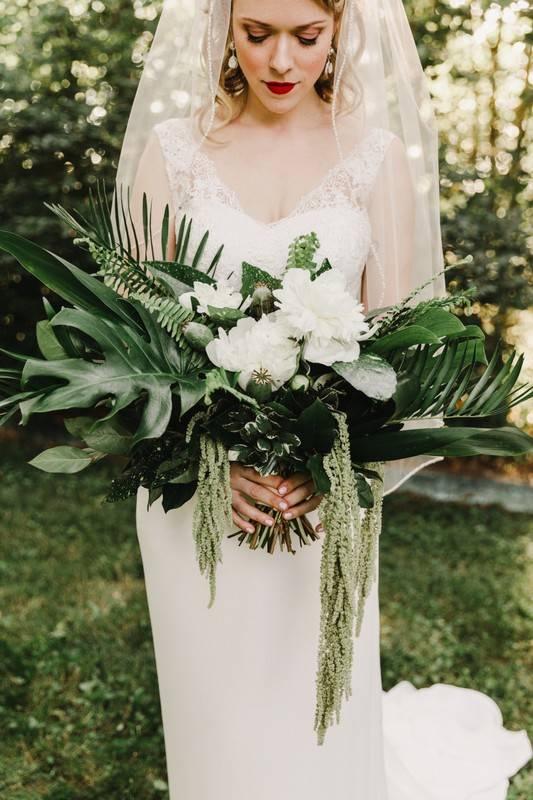 Modern palms
Tropical greenery, like monstera leaves, palm fronds, ferns, philodendrons, and banana leaves are alternative (and super trendy!) options for a beach wedding bouquet.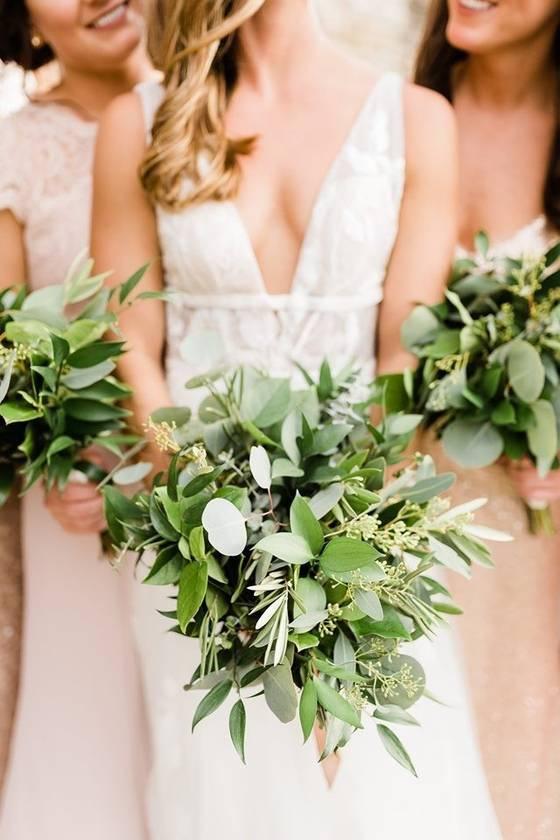 Assorted eucalyptus
Did you know that there are actually multiple types of eucalyptus? The most popular varieties include silver dollar (the floppy, round leaves), seeded, and baby blue eucalyptus (the rigid, stacked branches). You can mix a variety of eucalyptus together to create a textured greenery bouquet.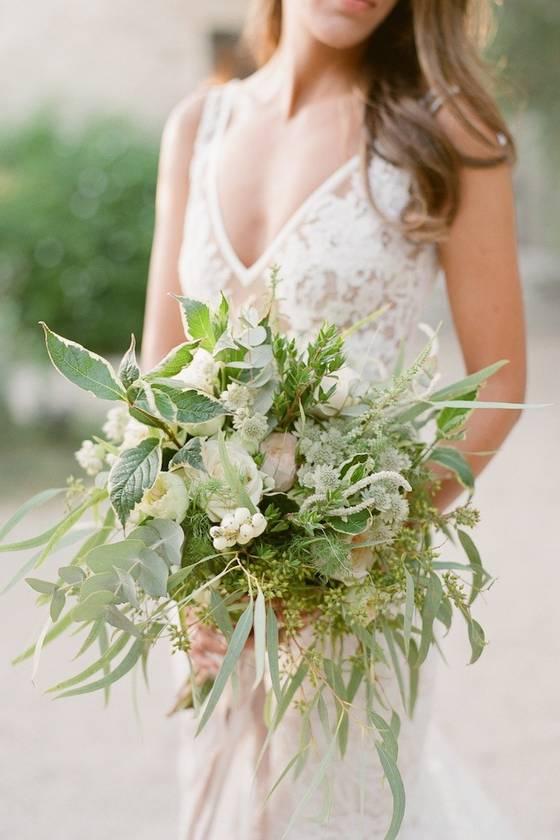 White flowers
Break up the all-green bouquet by adding white or ivory flowers and other pale green accents, such as hops (yep, like the beer), thistle, or amaranthus.
Greenery wedding decor
There are seemingly endless possibilities when it comes to decorating with greenery for your wedding, whether you use it to create an attention-grabbing ceremony backdrop, use it to adorn signage, or hang it from the ceiling.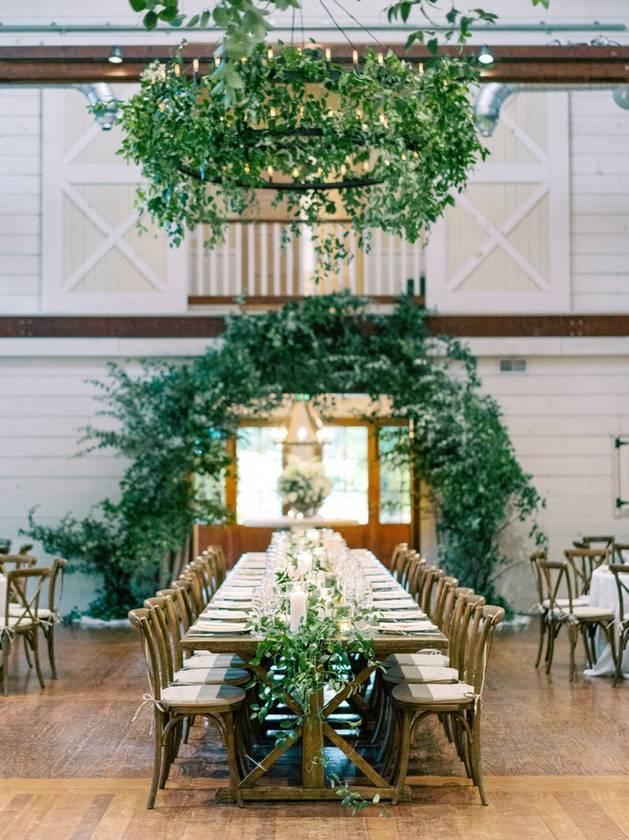 Greenery chandelier
A halo of greenery suspended above your reception tables makes a decorative statement, whether you're getting married at a barn or a ballroom.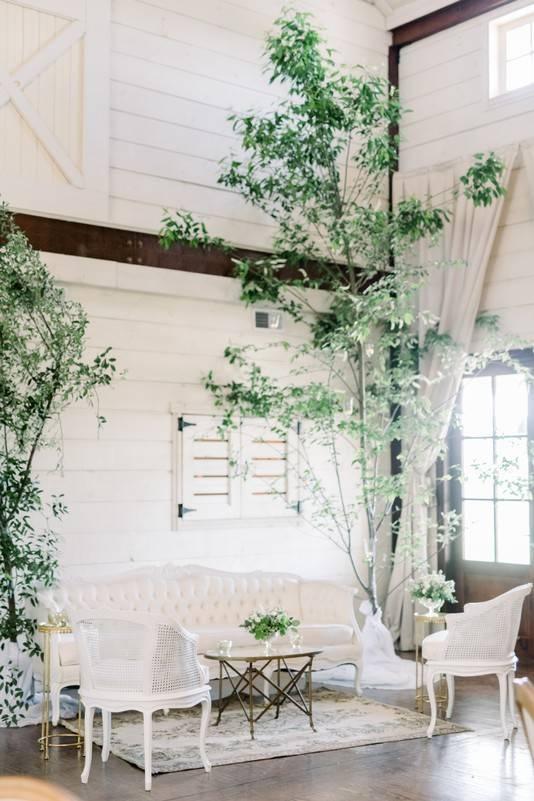 Live trees
Even though you're probably not getting married in Westminster Abbey, you can channel your inner Duchess of Cambridge and bring live trees into your wedding venue. Kate Middleton was definitely onto something with this idea–the end result is a cozy, garden-inspired setting that brings the outdoors in.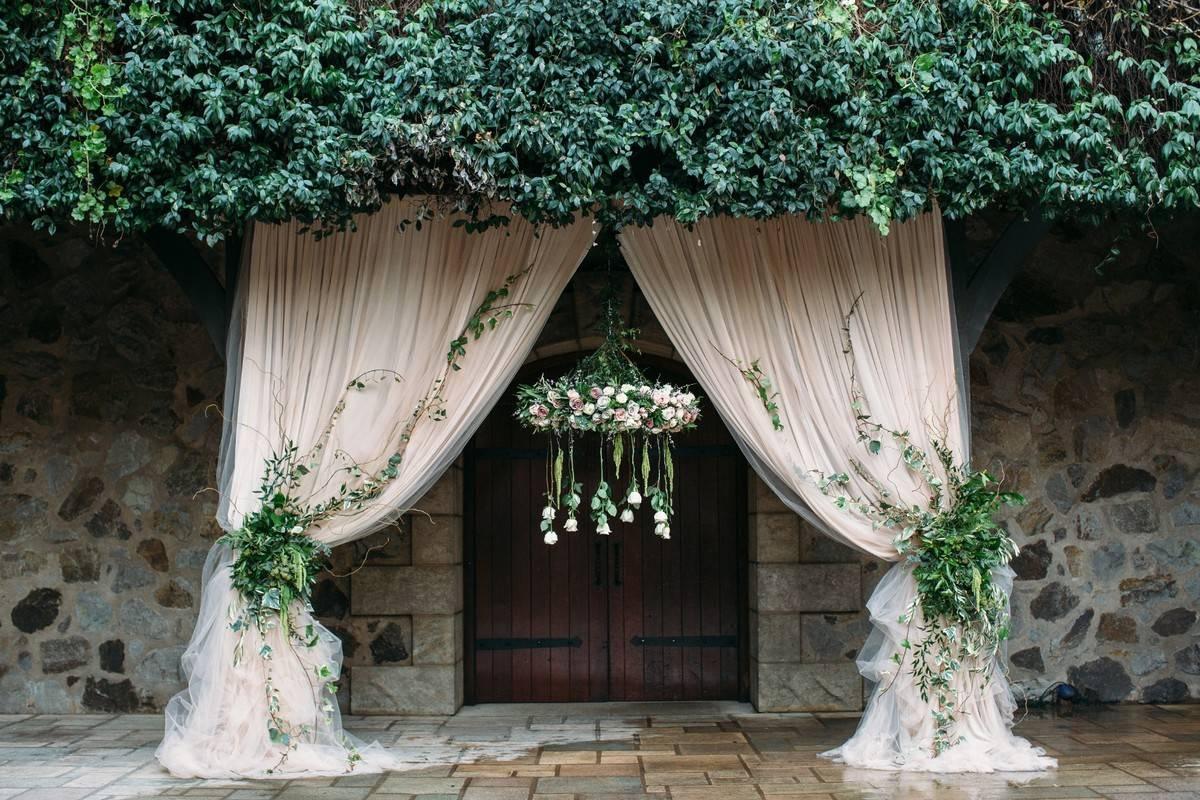 Curtain ties
Another garden-inspired idea to try is using long vines to tie back each side of a curtain backdrop. Your wedding florist can arrange the vines to seem like they're climbing up the backdrop to create a wild, untamed look.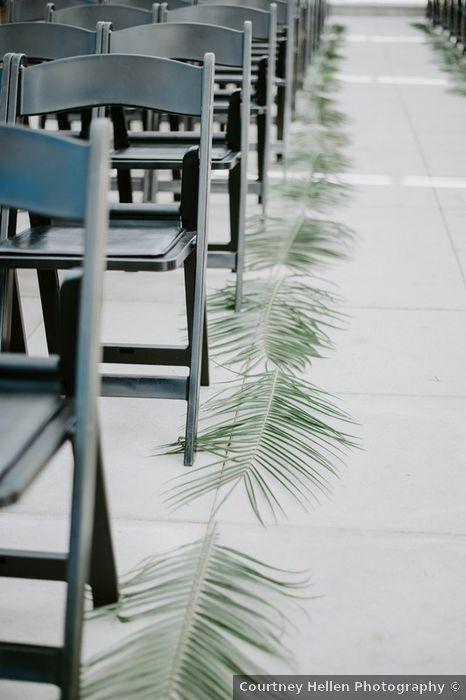 Areca palm aisle markers
This greenery wedding idea requires approximately no time at all: loose greenery leaves placed end-to-end at the edge of each chair row. We're digging these areca palms for a modern beachy wedding.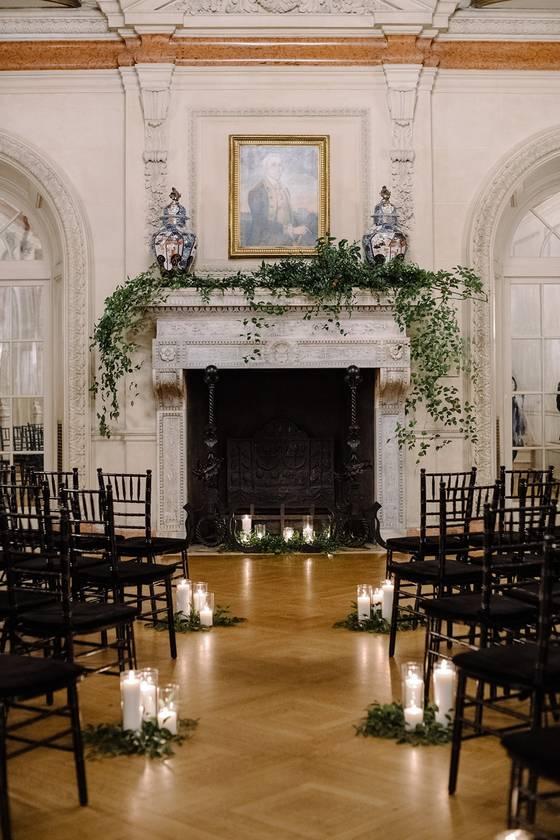 Fireplace mantel decor
If your wedding venue has a fireplace, you can add long greenery branches for a simple but effective way to decorate the mantel.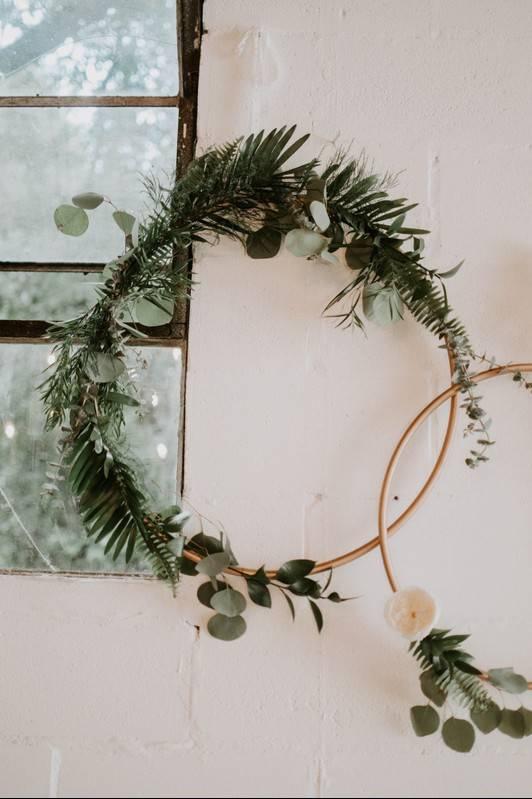 Greenery hoops
Adorn minimalist metal hoops with fresh eucalyptus or ferns for a trendy greenery wedding idea.
Welcome signage
Complement a watercolor greenery welcome sign by adding fresh greenery to the display. A gold poster frame is a nice touch, too!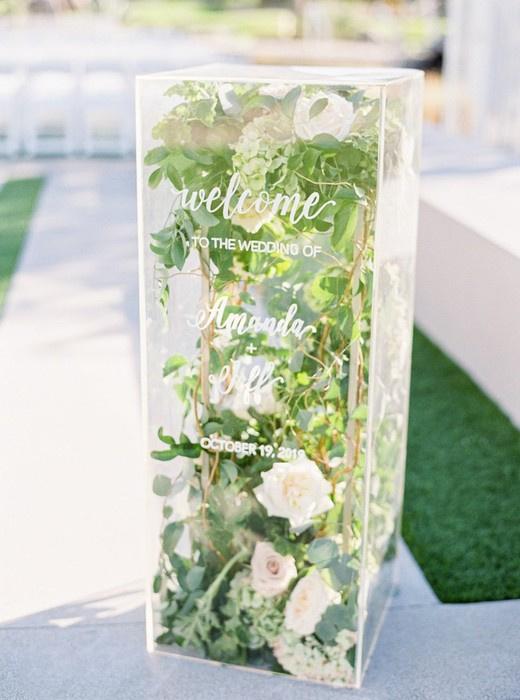 Encased arrangements
This is one of our favorite wedding flower trends of the moment. Use acrylic boxes to showcase fresh flowers or greenery as a statement decor piece.
Greenery wedding centerpieces
Fresh greenery centerpieces will bring a lush, inviting element to your reception tables. Go all out with your greenery wedding centerpieces by mixing high and low arrangements overflowing with greens for a dramatic look, or keep the centerpieces streamlined and minimalistic by using one type of greenery sparingly.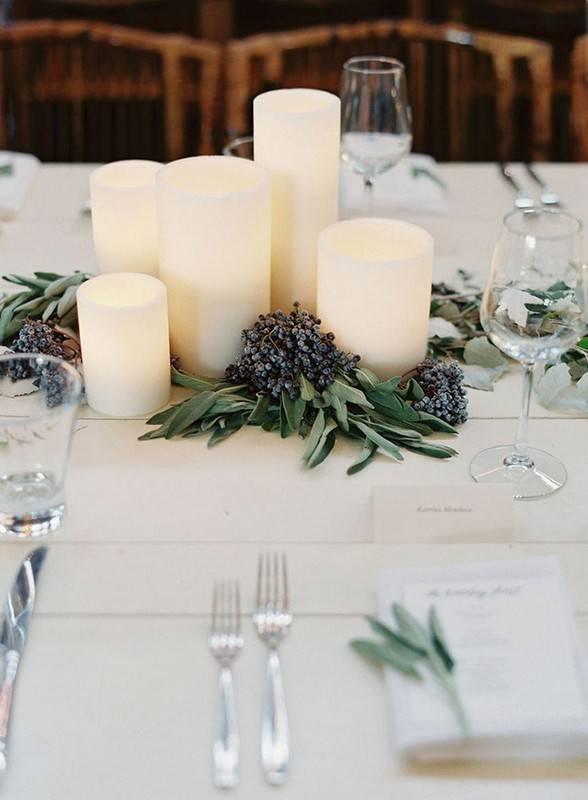 Pillar candles and berries
Accent a cluster of pillar candles with privet berries and eucalyptus for a beautifully understated greenery wedding centerpiece.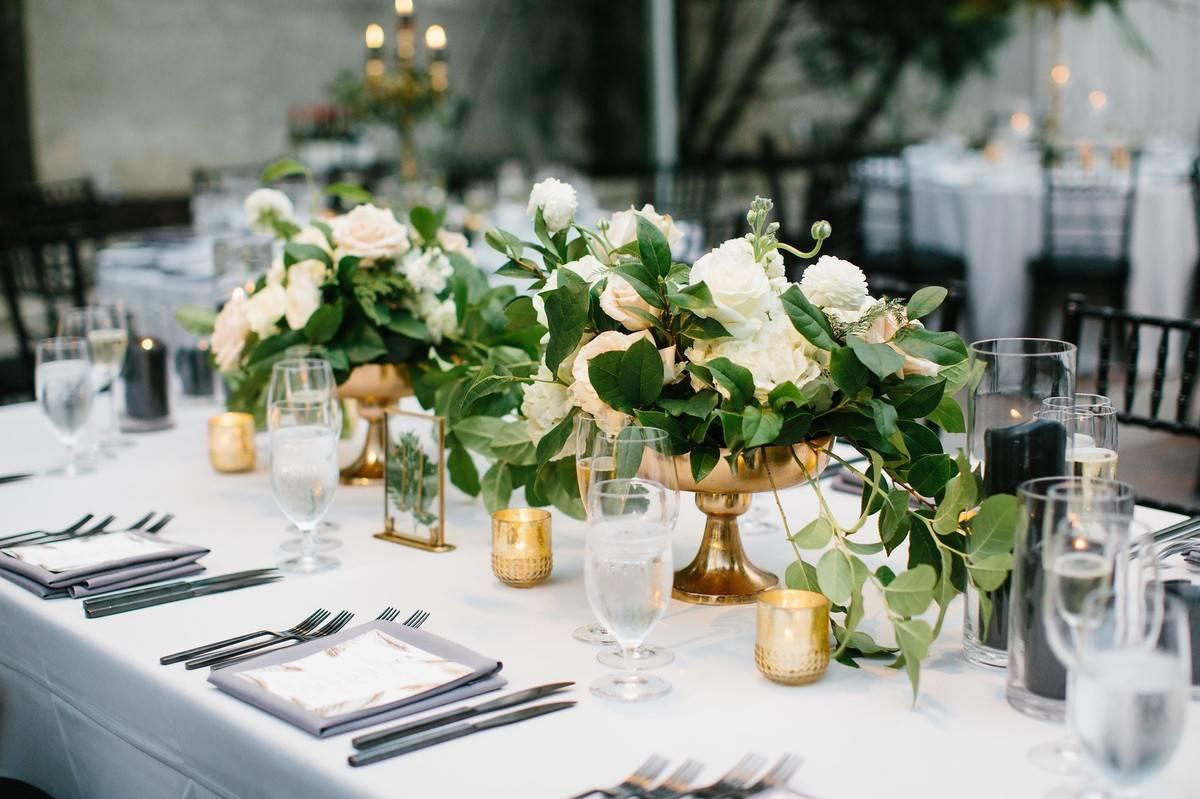 Gold compote vases
A gold and green color palette never fails, especially when when it comes to greenery wedding centerpieces. Fill metallic gold compote vases with loose, leafy branches and white flowers for an airy look.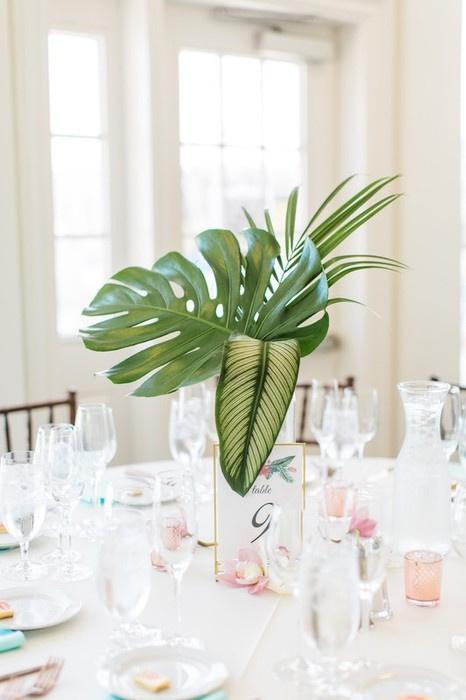 Tropical minimalist
No flowers needed to recreate this attention-grabbing centerpiece—just a trio of tropical leaves and voilà. This arrangement includes a monstera leaf, banana leaf, and calathea leaf.
Moss table numbers
If you love the greenery wedding trend, moss details are another idea to try for a woodland-inspired theme.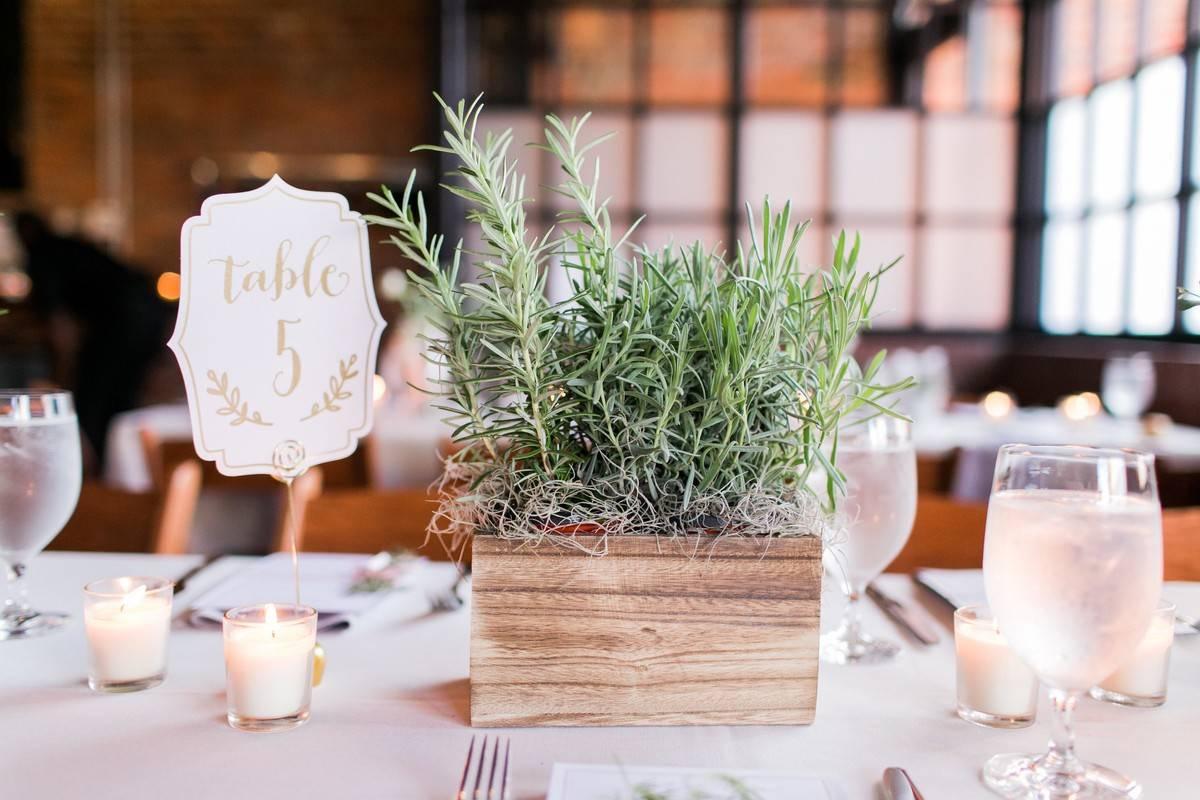 Potted herbs
For a farm-to-table vibe, use fragrant potted herbs, like rosemary, basil, sage, or lavender, in place of floral or greenery centerpieces. Your guests will love the aromatherapy element!
Greenery wedding cakes
Decorating your wedding cake with flowers is an easy way to personalize it to match your wedding theme, but using greenery is equally stylish. From multi-tier cakes with cascading vines to simple eucalyptus accents, greenery can instantly turn a cake into a visual masterpiece.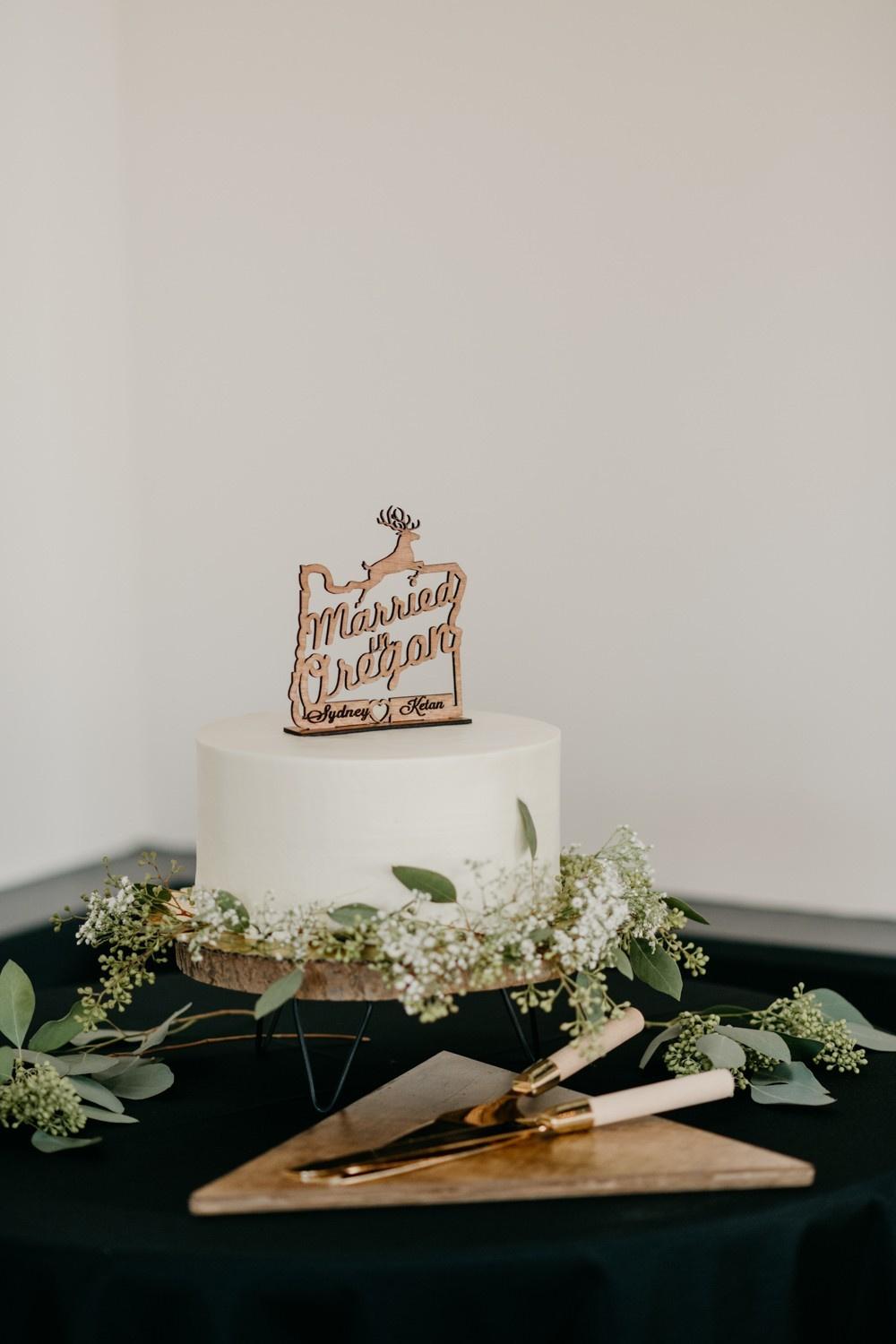 Eucalyptus and baby's breath
Looking for a simple (but not boring) wedding cake? This one-tier fondant confection is giving us rustic chic vibes thanks to the wooden cake topper, eucalyptus, and baby's breath.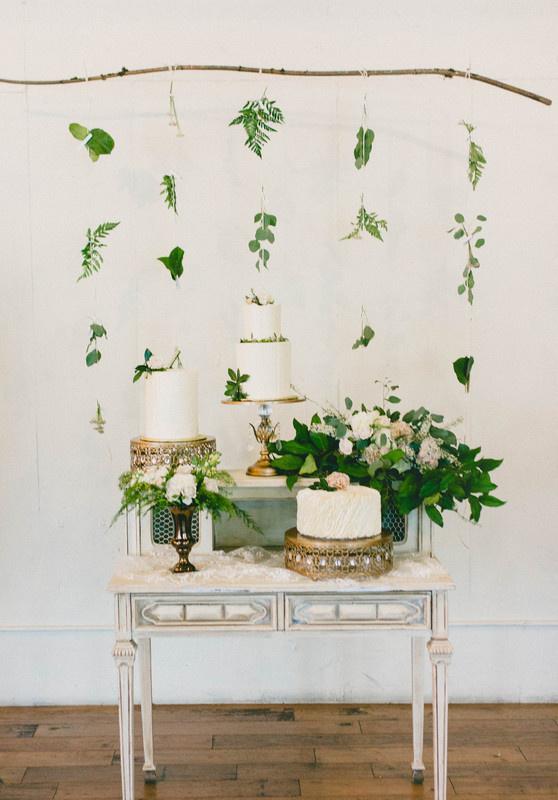 Greenery curtain
Showcase your wedding cake(s) against a backdrop of fresh greenery pieces that have been tied together to make a curtain.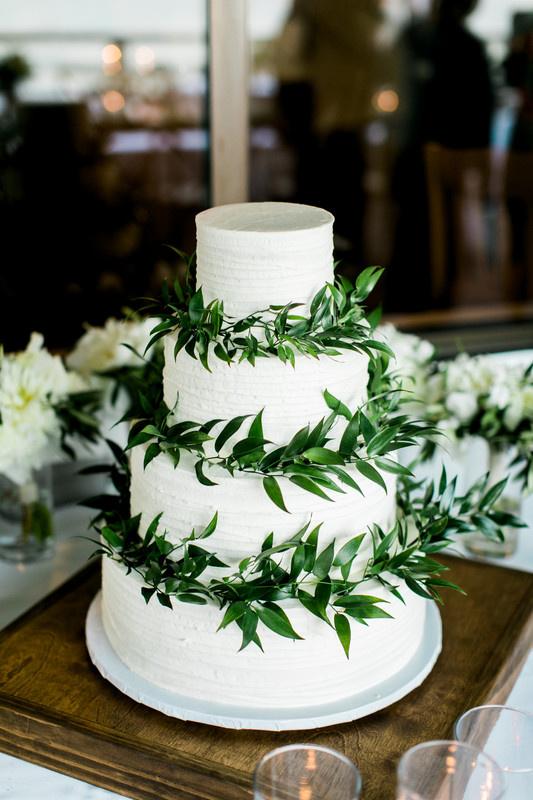 Smilax vines
You can upgrade a plain white buttercream cake in just a few seconds by encircling each tier with smilax vines.
Greenery wedding garlands
Garlands are one of the most versatile ideas for a greenery wedding. Drape garlands of leafy greens along the backs of chairs, around entryways, at the altar, or along a sweetheart table to freshen up the space.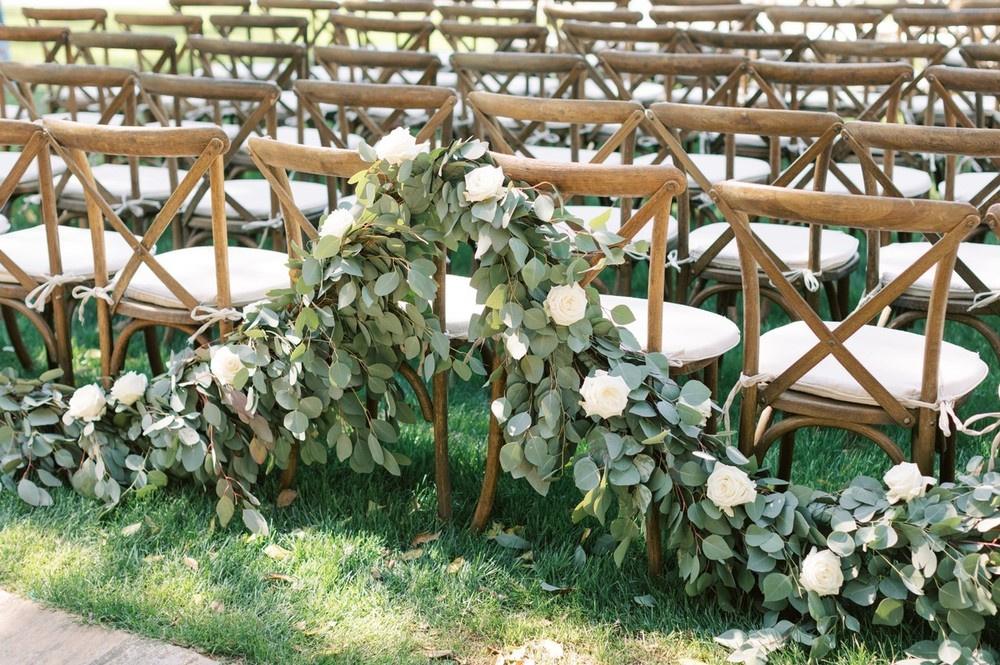 Backs of chairs
How pretty does this oversized garland look draped across the back row of these ceremony chairs? If you love this idea, you can also recreate it during your reception at the head table.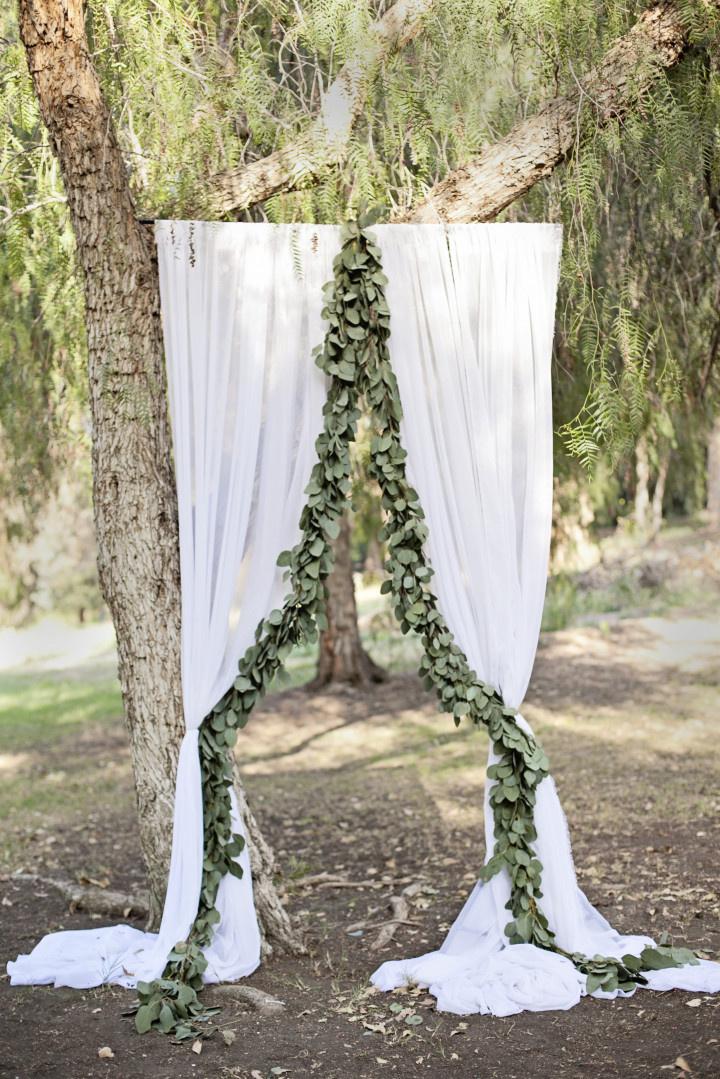 Ceremony backdrop
Use greenery garlands as the finishing touch on a white fabric ceremony backdrop. It's a simple but oh-so-chic detail that looks beautiful in photos.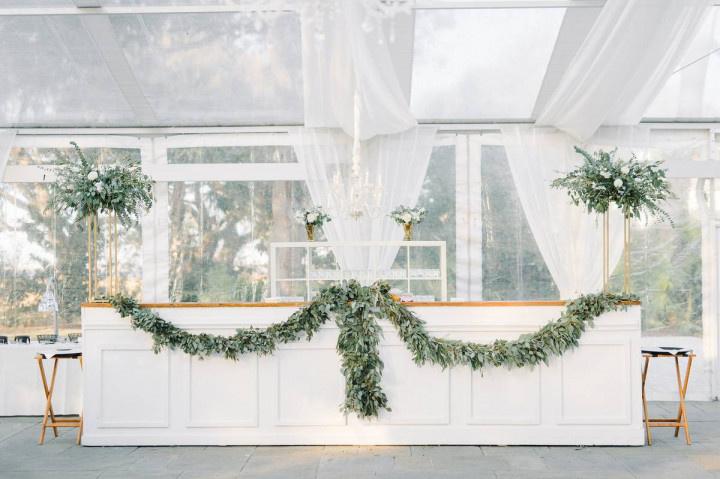 Reception bar top
The cocktail bar always ends up being a gathering place at your wedding, but it's often one of the most overlooked spots when it comes to decor. Drape greenery garlands across the front of the bar for a quick and easy decor upgrade.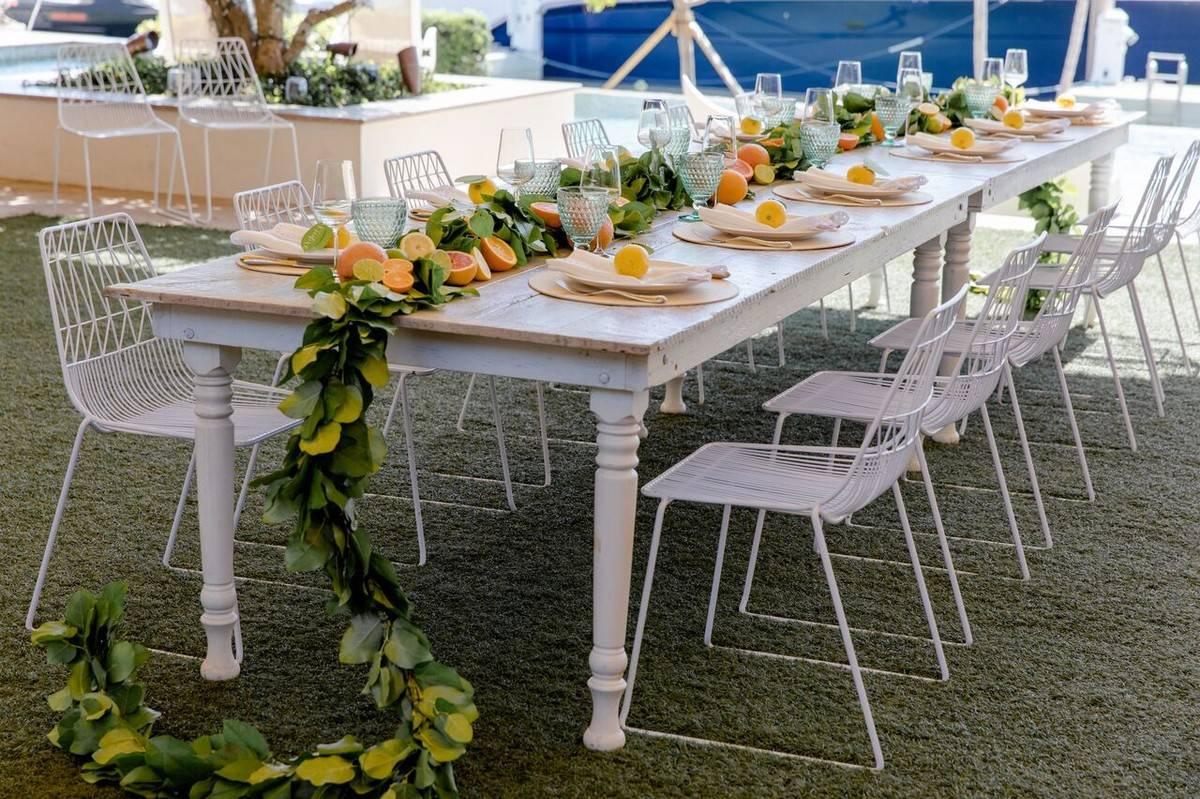 Table runners
If you're having long banquet tables at your reception, you can use greenery garlands down the center of the tables in lieu of regular fabric runners or linens. The garlands will create an understated rustic look, especially if they're long enough to hang over the ends of the tables.
Greenery wedding wreaths
Use romantic greenery wreaths to dress up the doors of a major entryway at your venue, wear the wreaths as crowns in your hair, or exchange your vows in front of a stunning oversized wreath backdrop.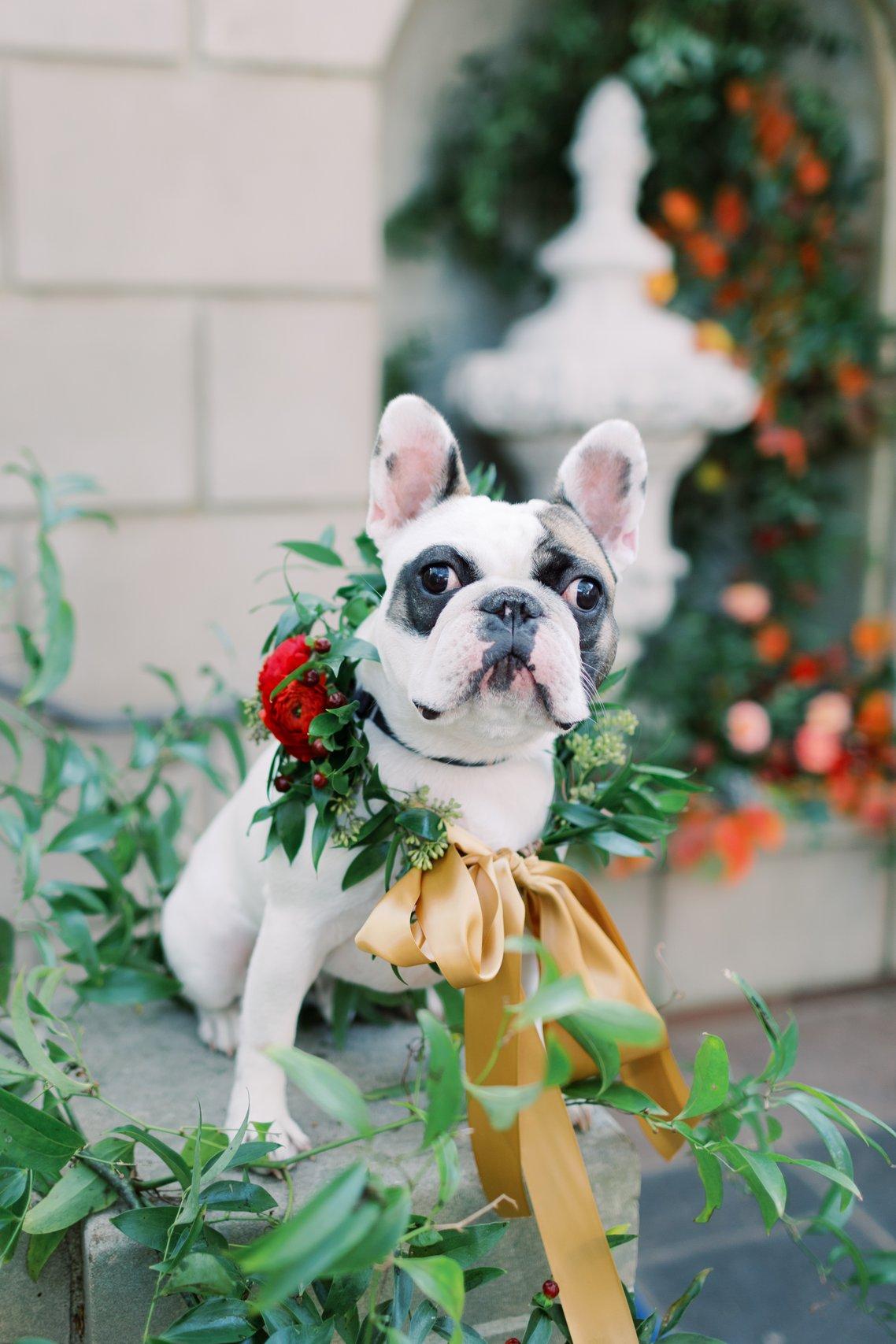 Pup of honor
Are you including your pet in your wedding? Ask your florist for a special greenery collar they can wear for their big moment (or at the very least, a few adorable wedding photos).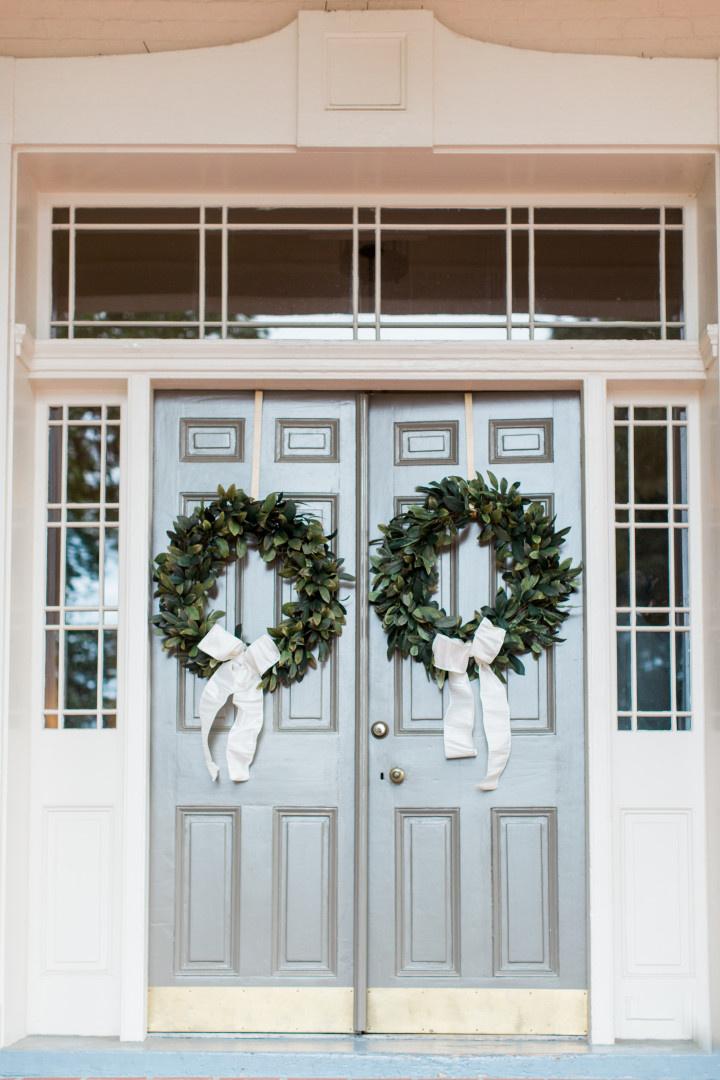 Venue doors
From boxwood branches to magnolia leaves, fresh greenery wreaths always feel welcoming. Use them to decorate the doors to your wedding venue or hang them on either side of the entrance to a reception tent.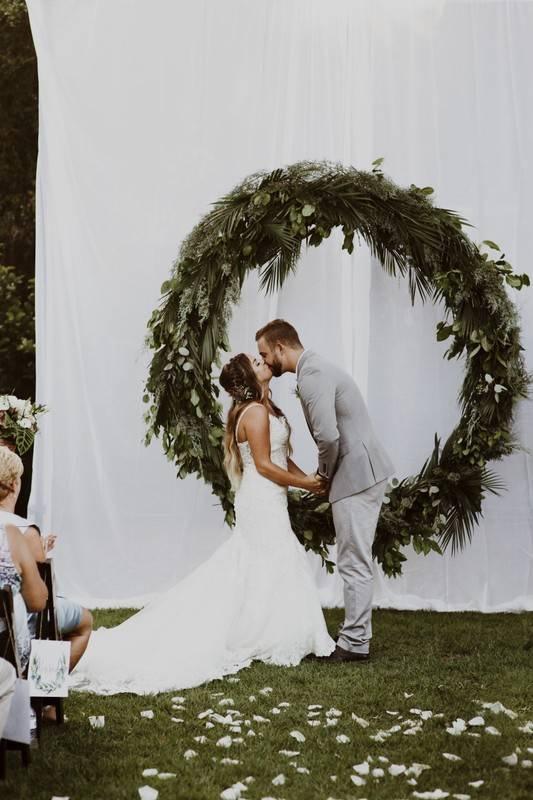 Oversized wreath
We can't think of a more epic ceremony backdrop than an oversized greenery wreath. It perfectly frames your first kiss, and you can repurpose it at the reception after your vows!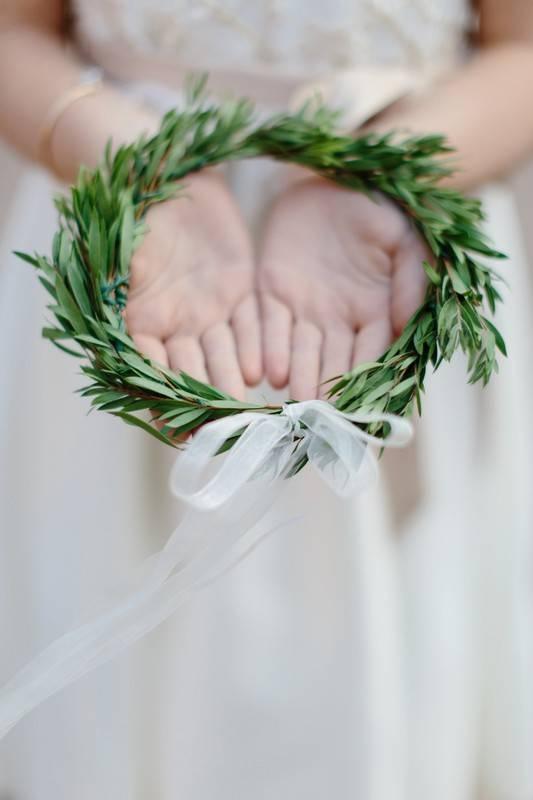 Flower girl crown
A halo of fresh greenery (tied with a bow, of course) is an adorable addition to your flower girl's wedding day ensemble.
Greenery wedding reception ideas
Decorative escort cards and place settings are little details that will wow everyone at the reception. Guide guests to their seats with the help of greenery escort cards, and use sprigs of greenery, individual menus, and linen napkins throughout your place settings to create inviting tablescapes.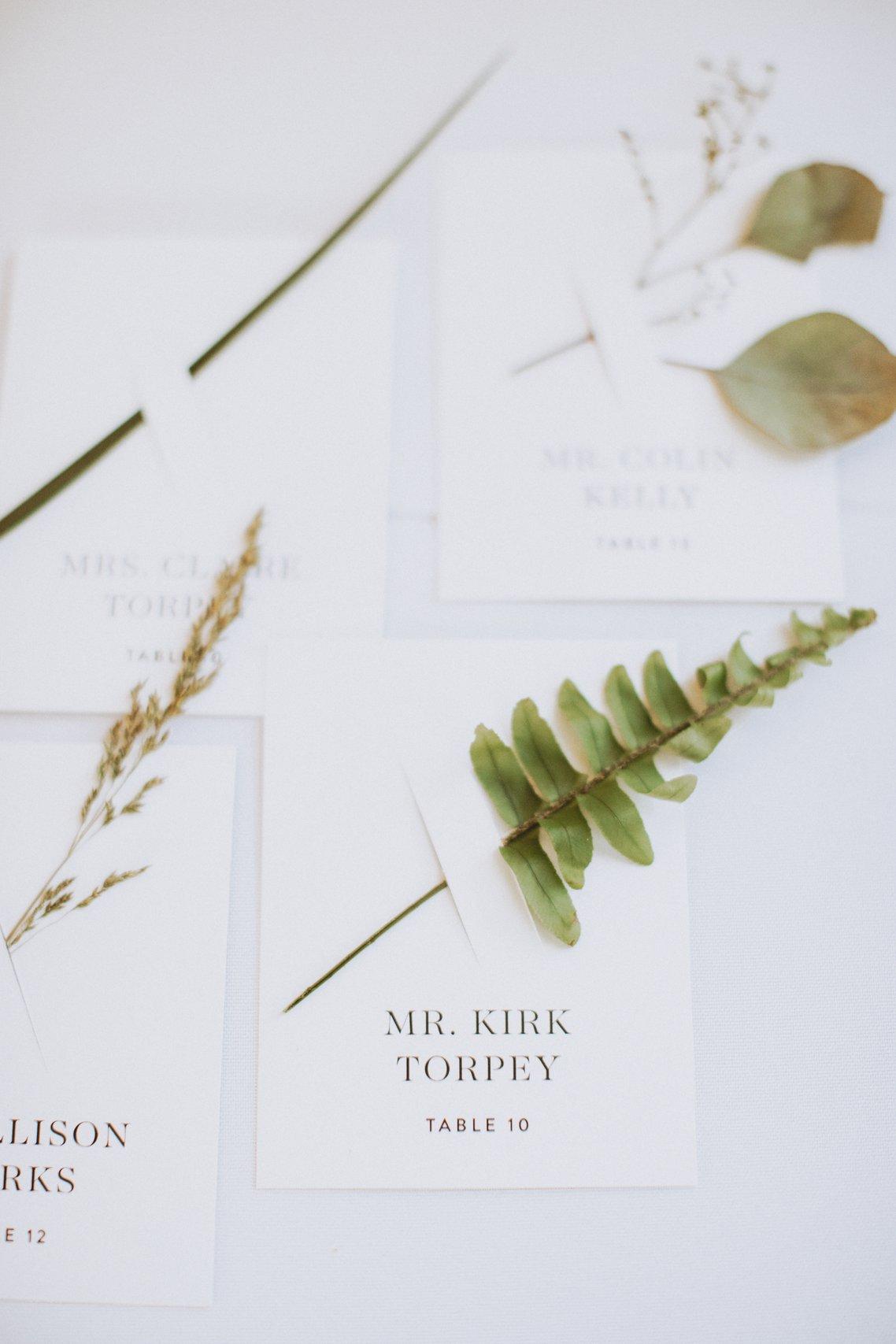 Assorted greenery sprigs
You can easily transform plain paper escort cards with the help of fresh greenery and other botanical accents. Use an assortment of ferns, eucalyptus, wheat stalks, and bear grass for the most eclectic effect.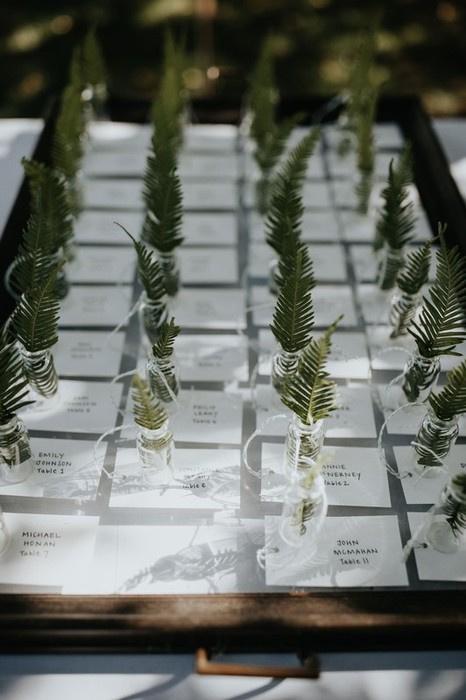 Bud vases
Glass bud vases are another cute option for your greenery wedding escort cards, and guests can even take them home at favors at the end of the event.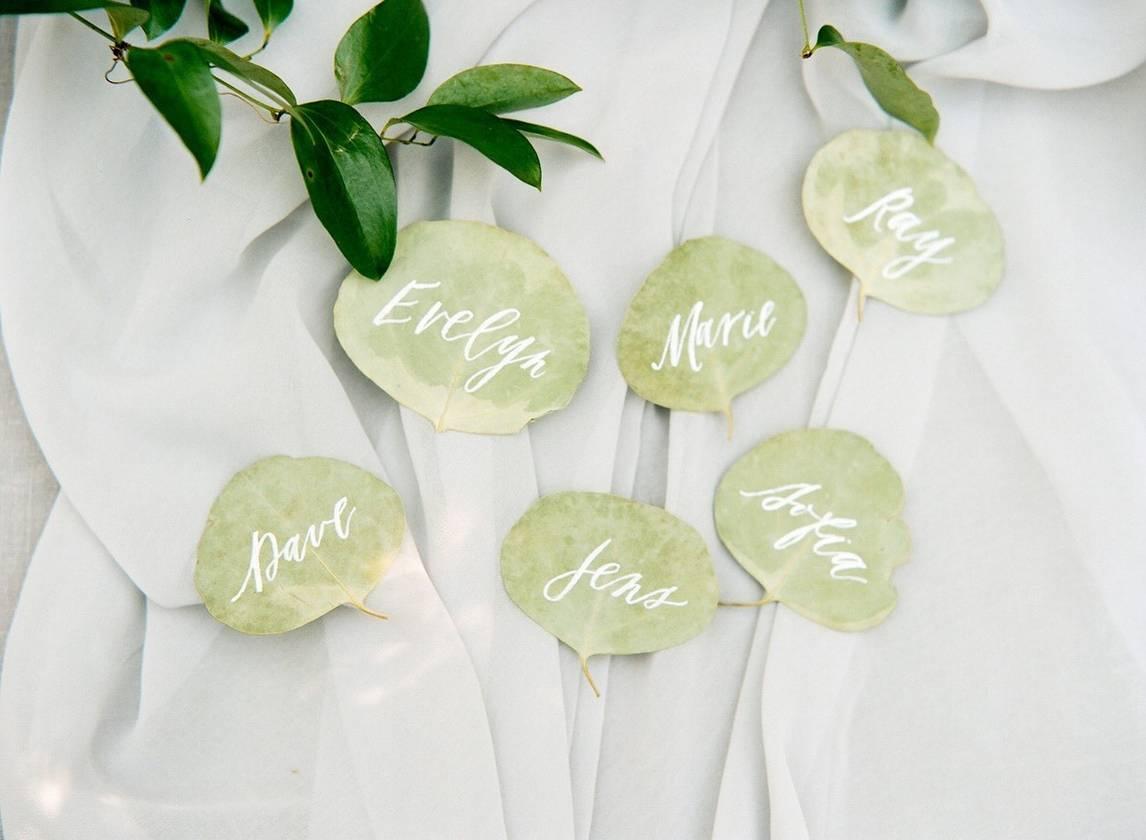 Eucalyptus leaves
Individual eucalyptus leaves are pretty alternatives to standard paper escort cards, especially when decorated with elegant white calligraphy.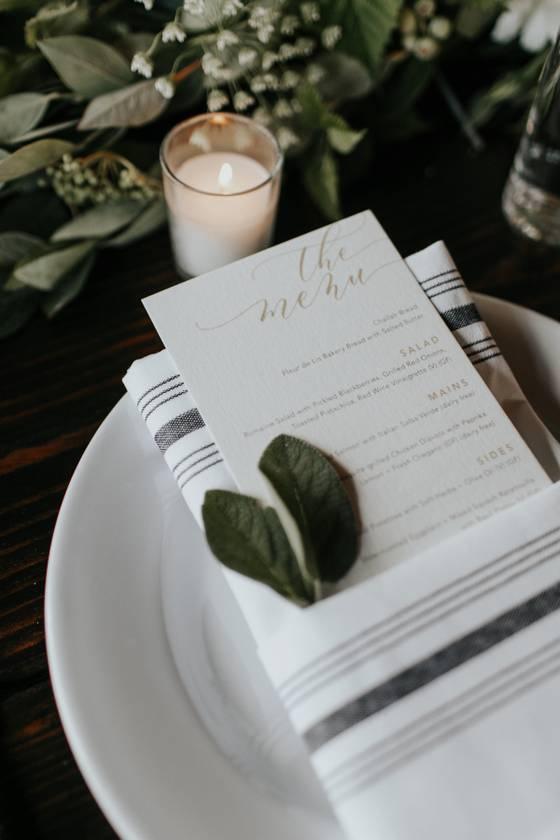 Basil leaves
Pair your individual menu cards with fresh basil leaves that have been tucked into folded fabric napkins.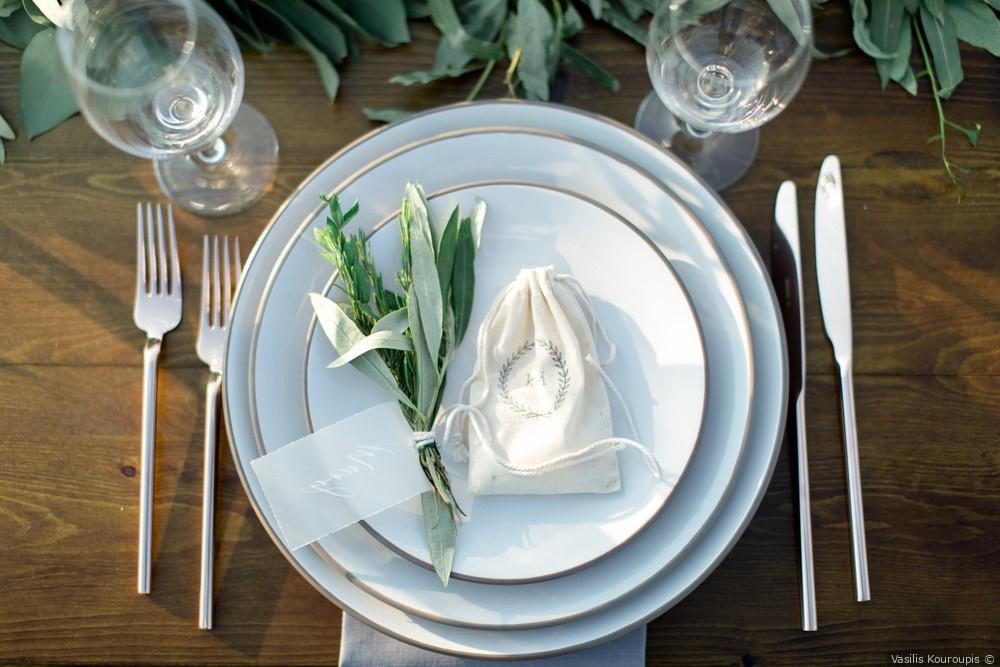 Calligraphy cards
Miniature eucalyptus bouquets add to the ethereal vibe of vellum place cards and monogrammed linen favor bags.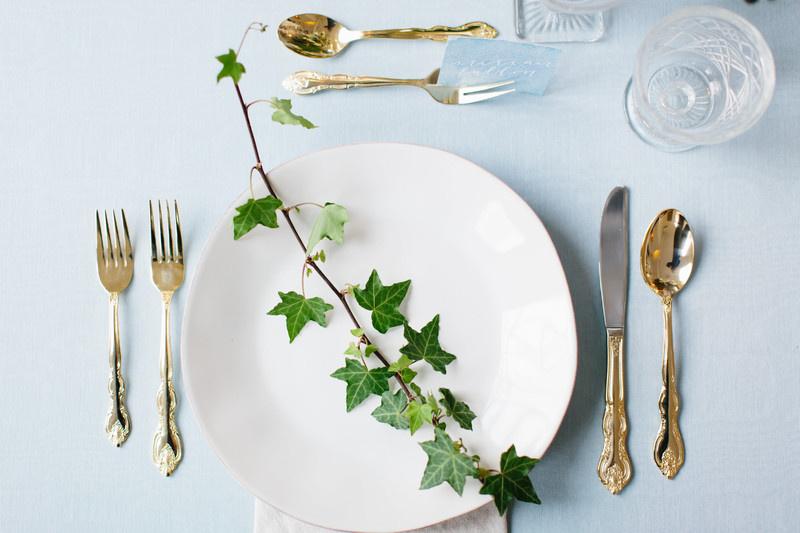 Ivy vines
Embrace an English garden wedding theme by placing an ivy vine at each guest's place setting. Complete the look with crisp white china and vintage flatware.
Greenery wedding favors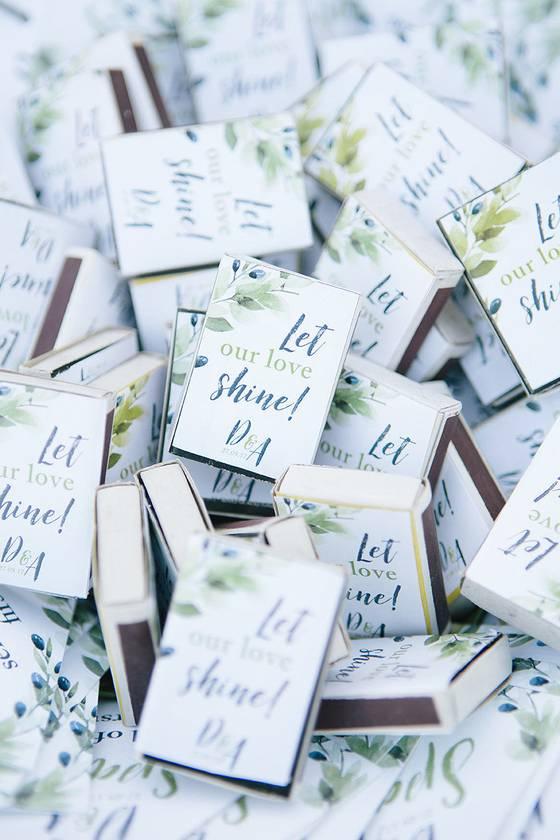 Matchboxes
Decorate custom matchboxes with a watercolor greenery motif for wedding favors that are on-theme and practical.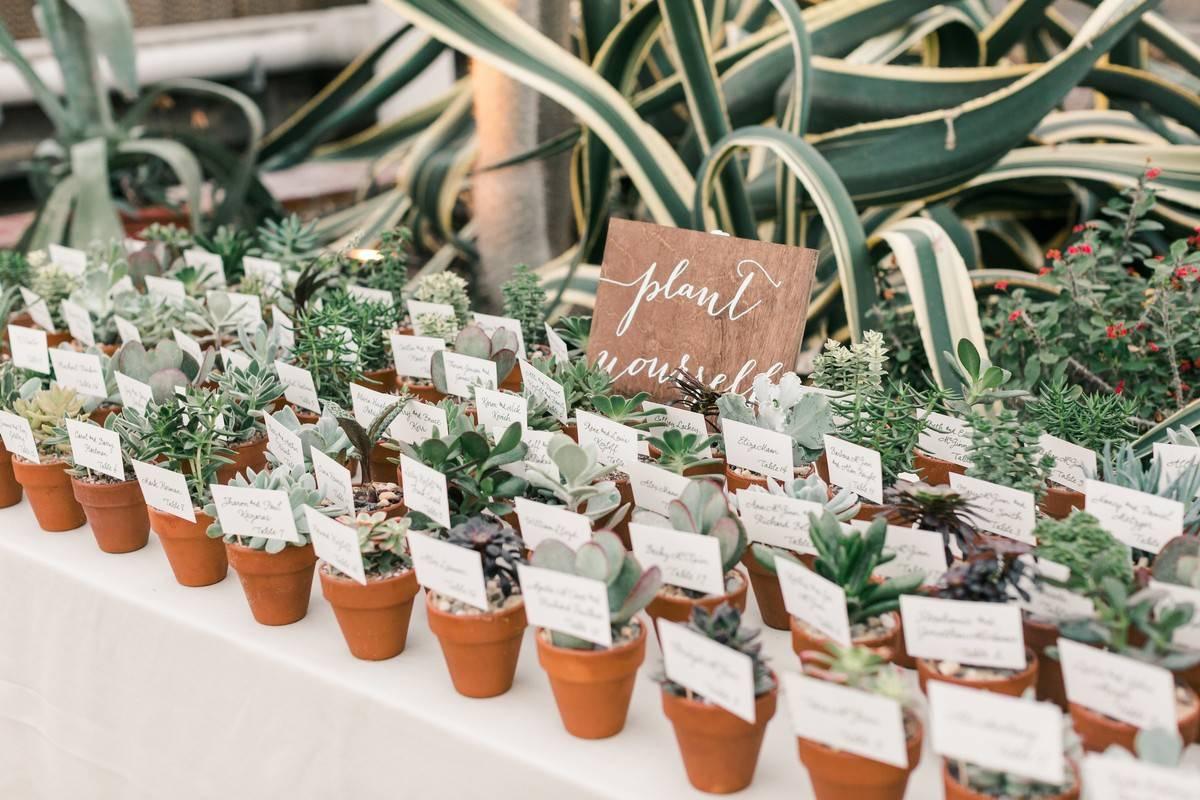 Potted succulents
Even though they're technically not greenery, these potted succulent wedding favors are too cute to pass up.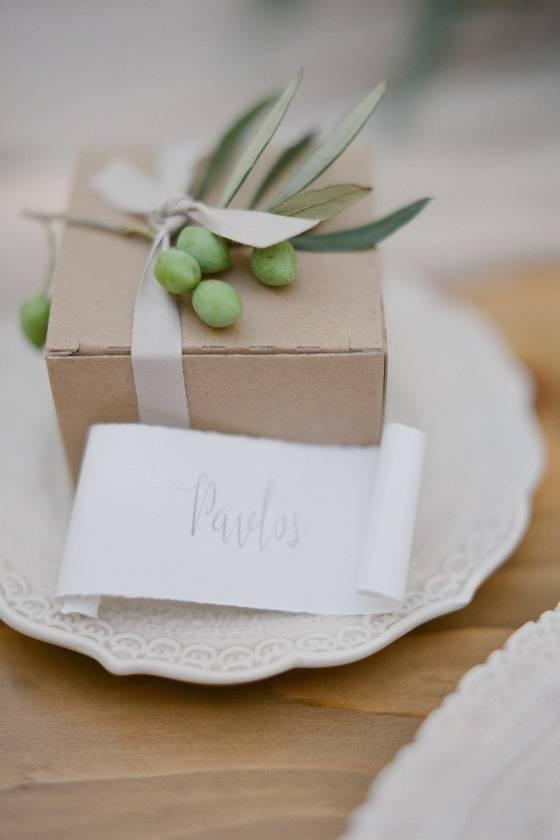 Olive branches
If you're sending guests home with boxed wedding favors (cookies, macarons, candy, etc.), decorative olive branches will make the gifts feel even more thought-out.