20 Sunflower-Themed Wedding Ideas That Are Like Instant Happiness
Fill your big day with colorful bursts of blooms by adding these sunflower-themed wedding ideas to your wedding decor.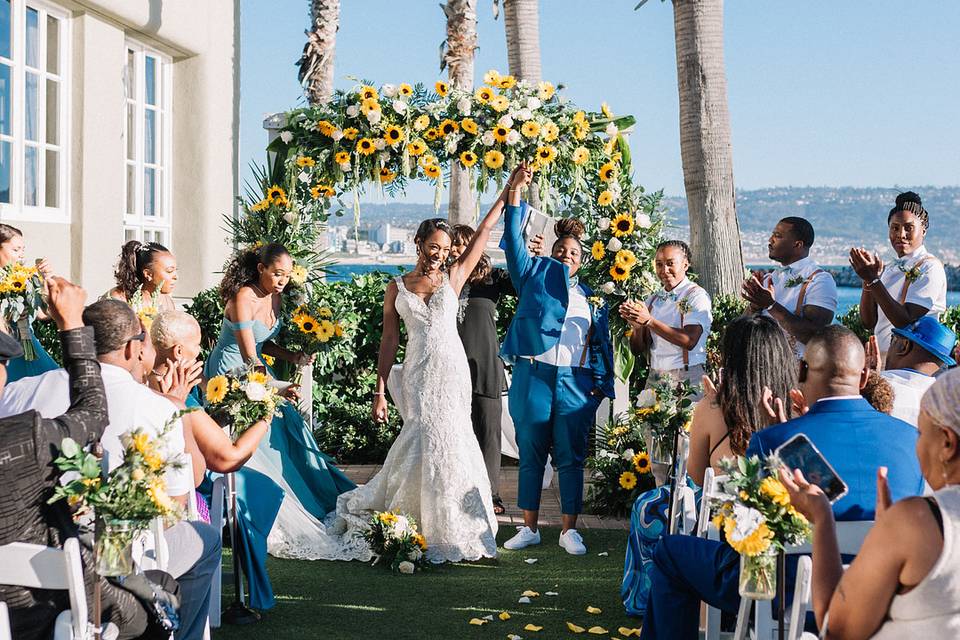 Sunflowers are a universal symbol of joy and happiness, so it's no surprise that they're also an extremely popular wedding flower. When you're looking at their cheerful yellow color, it's hard not to smile! From rustic barn weddings to beachy summertime celebrations, a sunflower-themed wedding is perfect for anyone who wants to create a welcoming, laid-back atmosphere on their special day. And if you needed even more reasons to love sunflowers, let us remind you that these bright blooms have been the inspiration behind iconic works of art for centuries, like Vincent van Gogh's paintings and even a Harry Styles song (we love you, Sunflower, Vol. 6). If you're planning to include sunflowers in your wedding decor, check out these sunflower wedding ideas.
Are sunflowers good for weddings?
The short answer: Yes! Sunflowers are a popular choice for rustic weddings, late summer weddings, and fall weddings. Depending on where you live, sunflowers are in bloom anytime between mid-summer and late fall (usually July through October). Their colors range from the iconic bright yellow sunflower, to pale orange, cream, rust, burgundy, and even brown combos, giving you and your wedding florist plenty of variety to work with. Even better: The sunflower's large size and dark center makes it a statement bloom, so it only takes a few sunflowers to make an impact in your floral arrangements. Navy blue, light blue, red, and pink are just some of the wedding colors that complement sunflower wedding decor, but yellow is also a trending color—it was named a Pantone Color of the Year for 2021.
Sunflower Wedding Theme Ideas
Your search for sunflower-themed wedding inspiration starts now. From sunflower bouquets and centerpieces, to ceremony decor and wedding favors, here are just some of the ways you can use these cheerful flowers for your big day.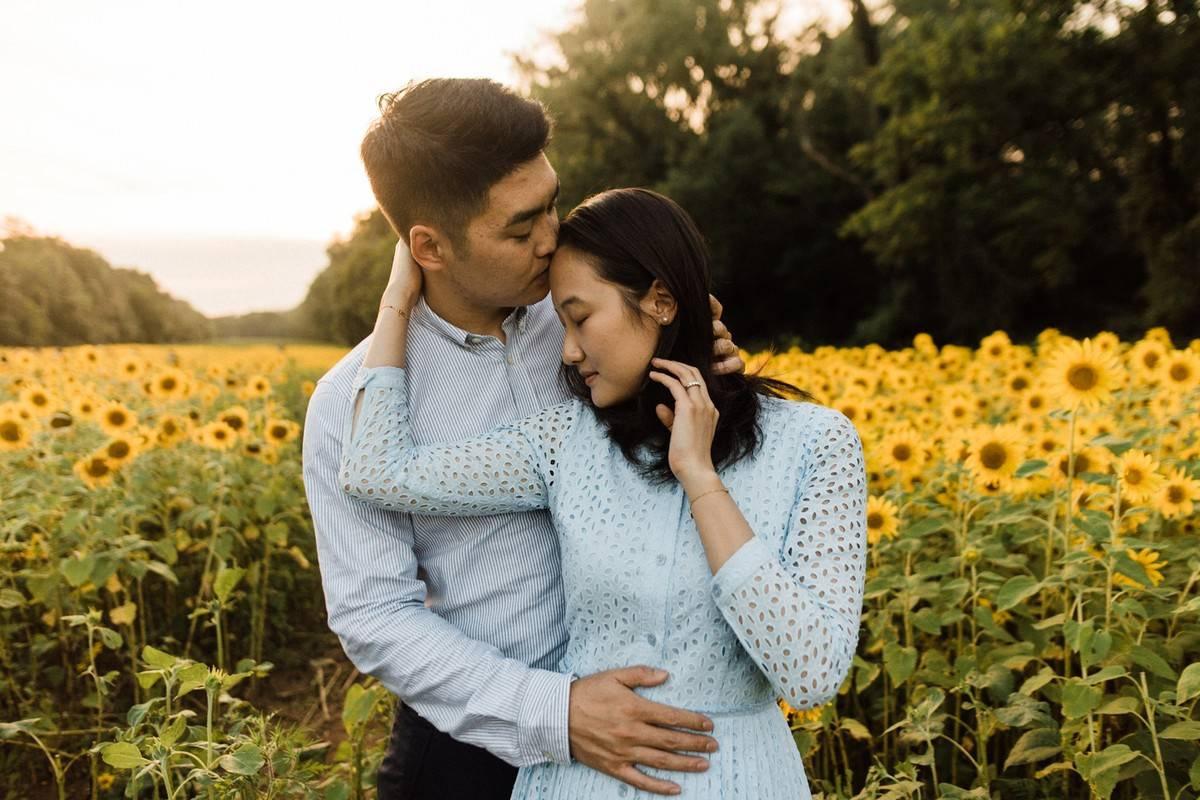 Sunflower-themed engagement photos
If you know you want sunflowers in your wedding decor even before you start planning, get a jump-start on your theme by taking your engagement photos in a field of sunflowers. Depending on exactly when you get engaged, you might have to wait for the right timing until the flowers are in bloom, but the end result is well worth it. There's a good chance your photographer has the inside scoop on a great sunflower spot!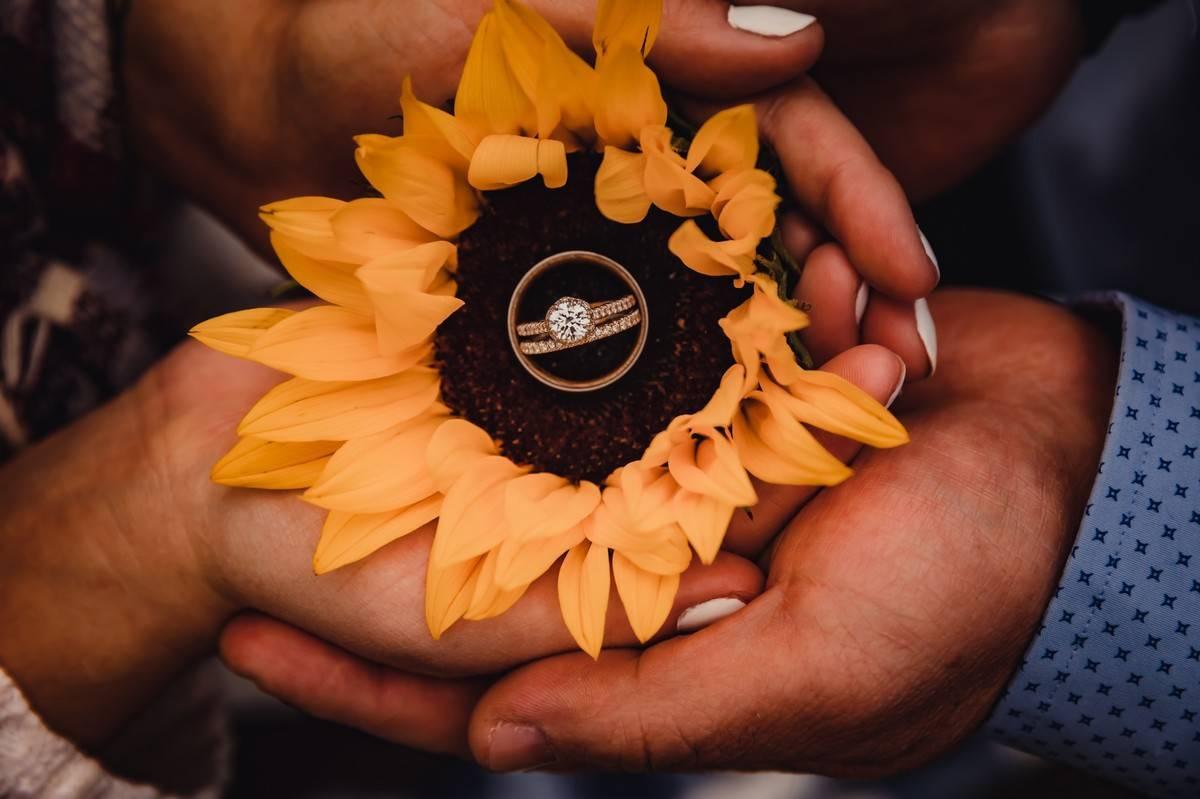 Sunflower engagement ring shot
Can't make it to an entire field of sunflowers? This engagement ring closeup is easier to pull off, since you only need one flower.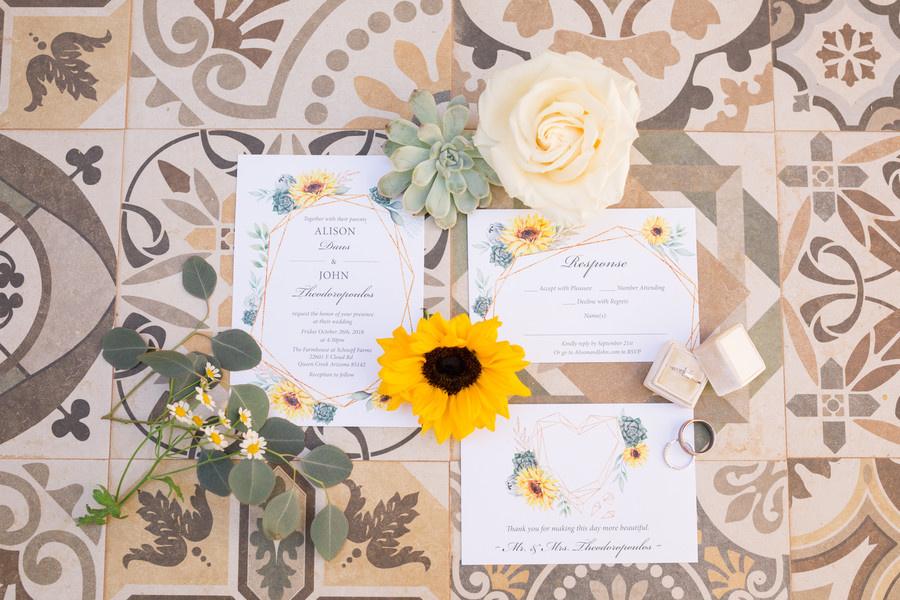 Sunflower wedding invitations
When it's time to send your invitations (about three months before the big day), you can give guests a glimpse of your aesthetic with sunflower-themed wedding stationery.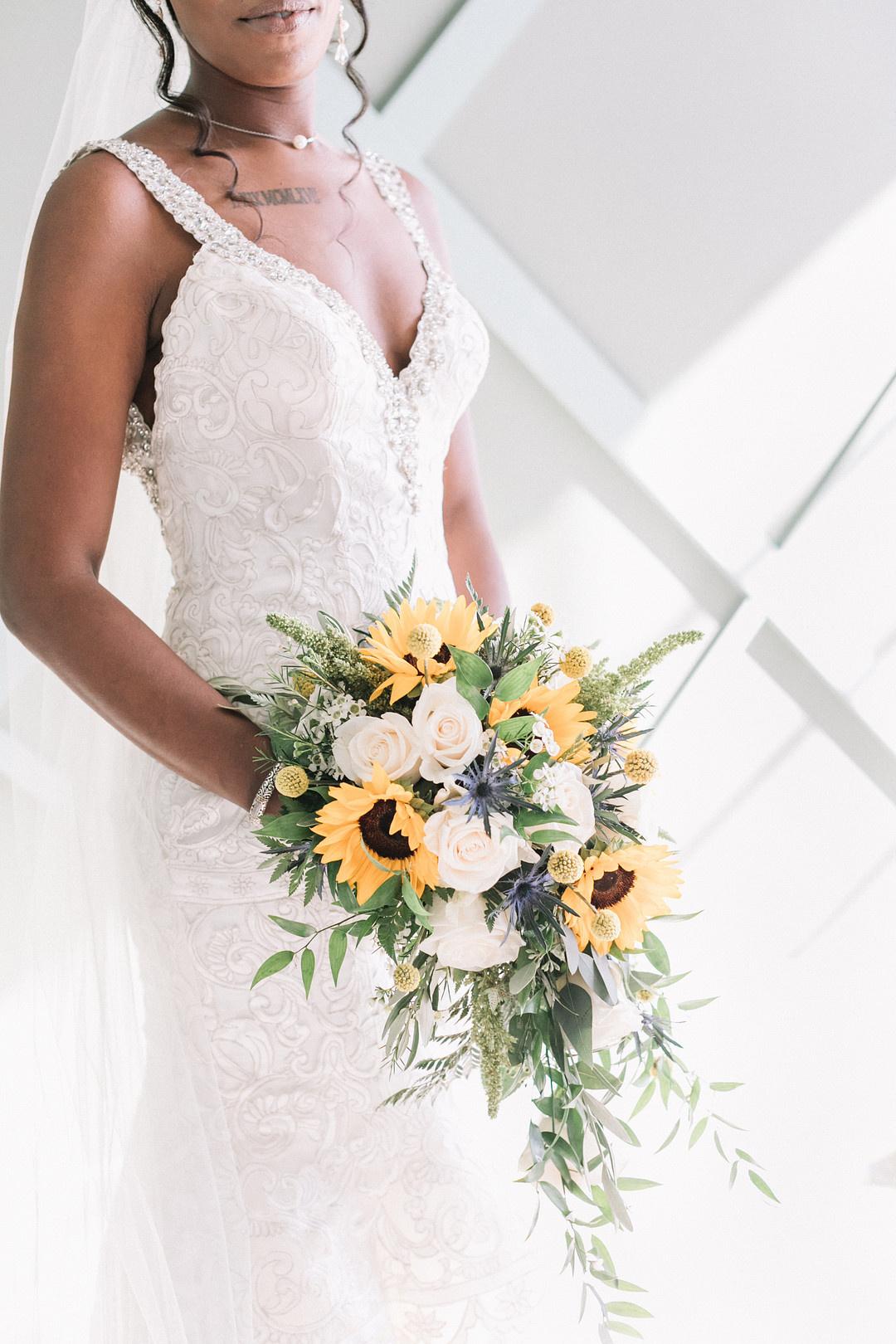 Cascading sunflower bouquet
Sunflowers are best known for their rustic look, but this beautiful wedding bouquet is proof that they can also be elegant. A few bright yellow sunflowers will add color and whimsy to a cascading bouquet of white roses, smilax, blue thistle, and eucalyptus.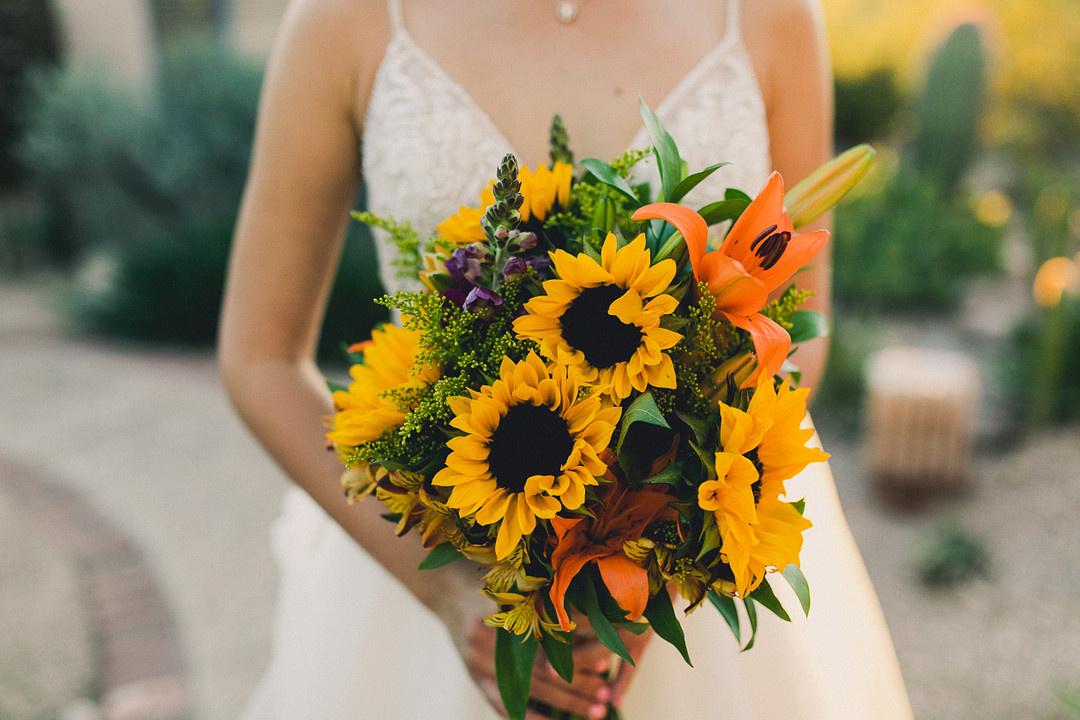 Rustic sunflower wedding bouquet
For a late summer or fall bridal bouquet, pair your sunflowers with other blooms in complementary colors, like orange tiger lilies, yellow alstroemeria, and purple stock.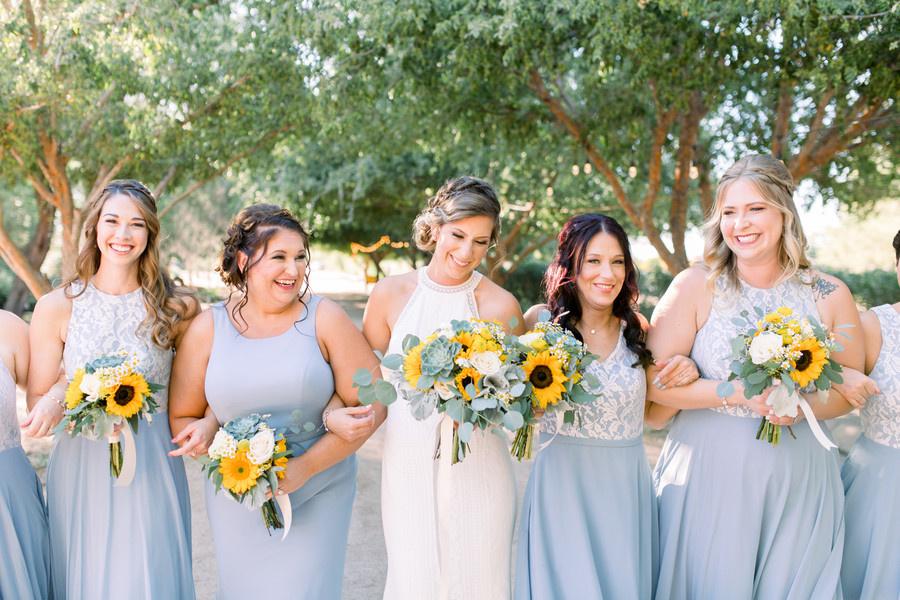 Sunflower bridesmaid bouquets
It's hard to find a combination more perfect than sunflower bouquets and light blue bridesmaid dresses. This wedding party look is one of our favorites for an outdoor wedding, especially if you're getting married at a farm or other rustic location.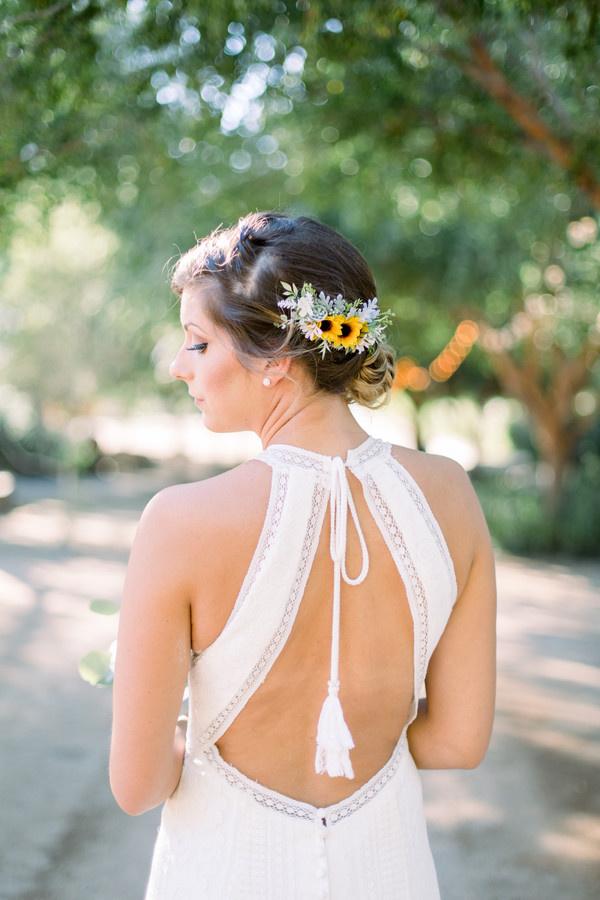 Sunflower wedding hair accessory
Add a pop of yellow to your wedding beauty look with a comb or other bridal headpiece featuring miniature faux sunflowers (real ones would be too large and heavy!).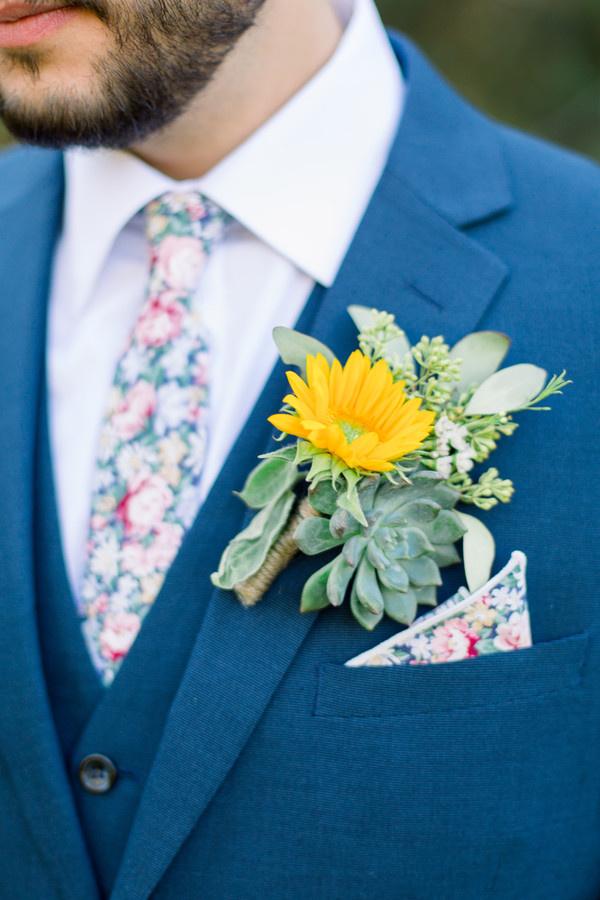 Sunflower boutonniere
A fully grown sunflower may be too big for a boutonniere, but the smaller buds are a more appropriate size—alternatively, you can use a yellow Gerbera daisy for a similar look. Add a succulent and greenery for a rustic chic result.
Wedding ceremony entrance decor
Mark the entrance of your ceremony aisle with a decorative sunflower arrangement on either side. We love how this one is displayed on a wooden pillar and includes a hint of blue delphinium.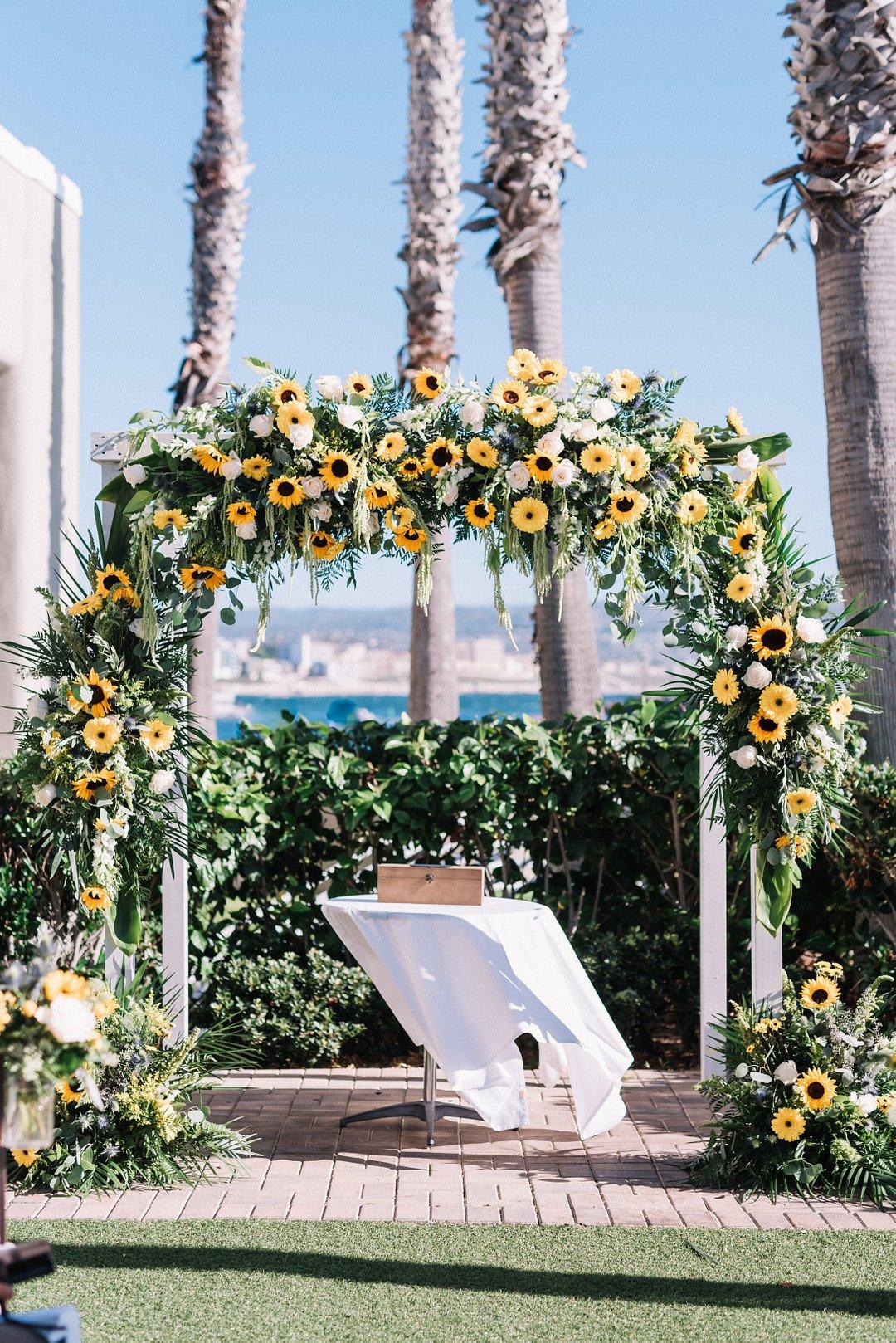 Sunflower wedding arch
If you're looking for ways to decorate your ceremony backdrop for a sunflower-themed wedding, here's your answer. This gorgeous floral wedding arch is overflowing with yellow sunflowers, Gerbera daisies, roses, amaranthus, and tropical greenery for a summery, beachy vibe.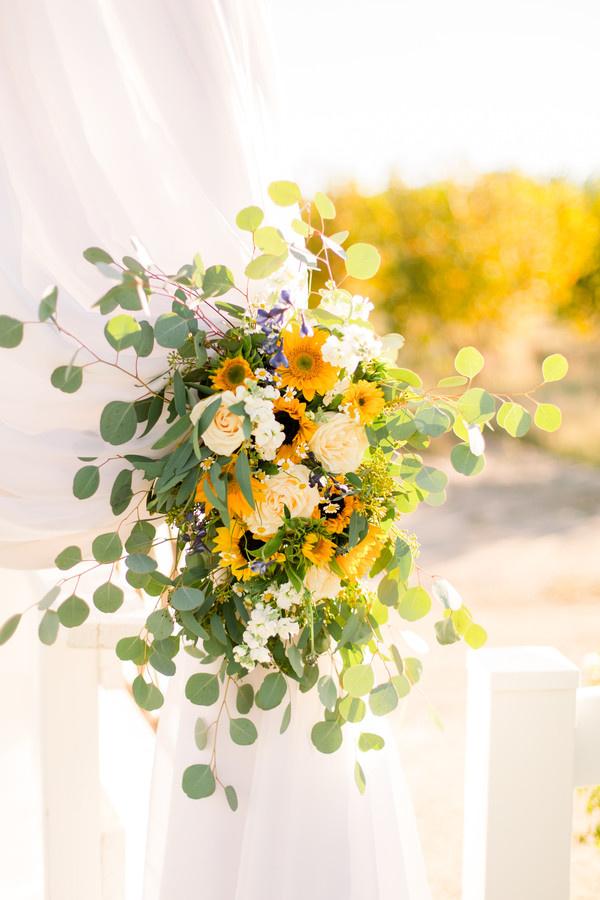 Sunflower and greenery tie-back
Not into a full sunflower floral arch? Try a floral tie-back instead, which can be used to accent a fabric backdrop or venue entrance.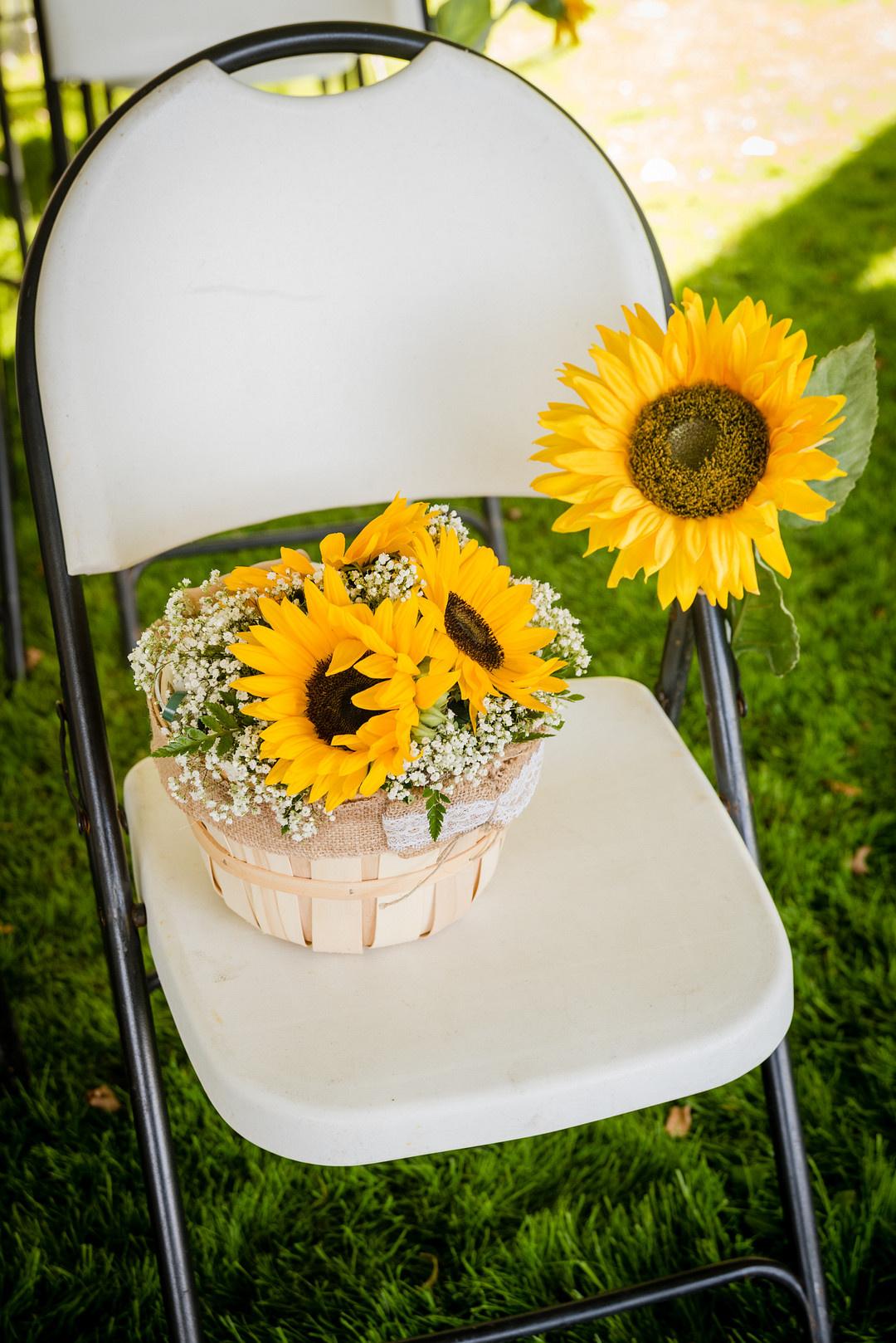 Wedding ceremony memorial chair
Place a simple basket of sunflowers and baby's breath on an empty chair at your ceremony to honor a loved one who's no longer with you.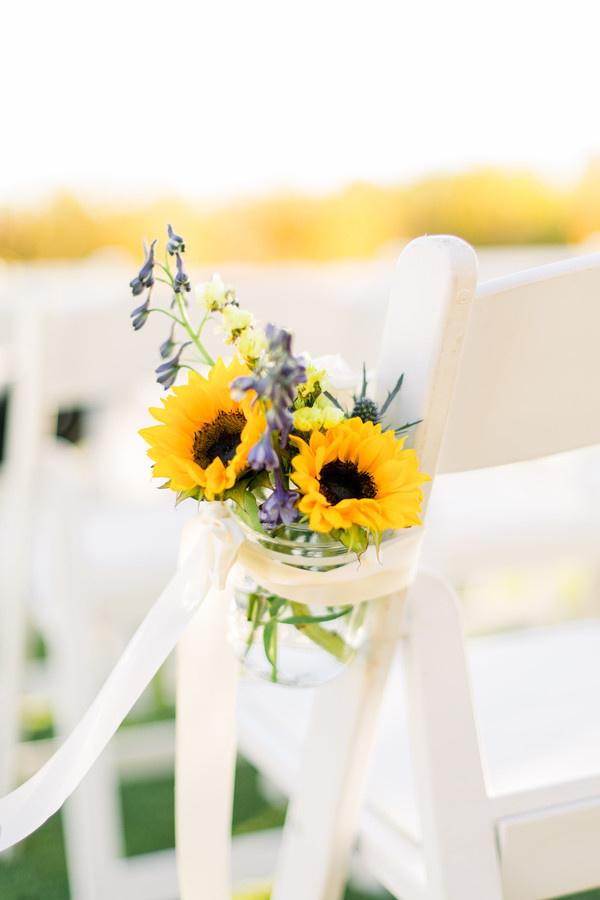 Sunflower ceremony aisle markers
These sweet mason jar aisle markers don't require much. Use two or three sunflowers per jar, then add delphinium and blue thistle for color, and finish with long ribbons that will blow in the breeze.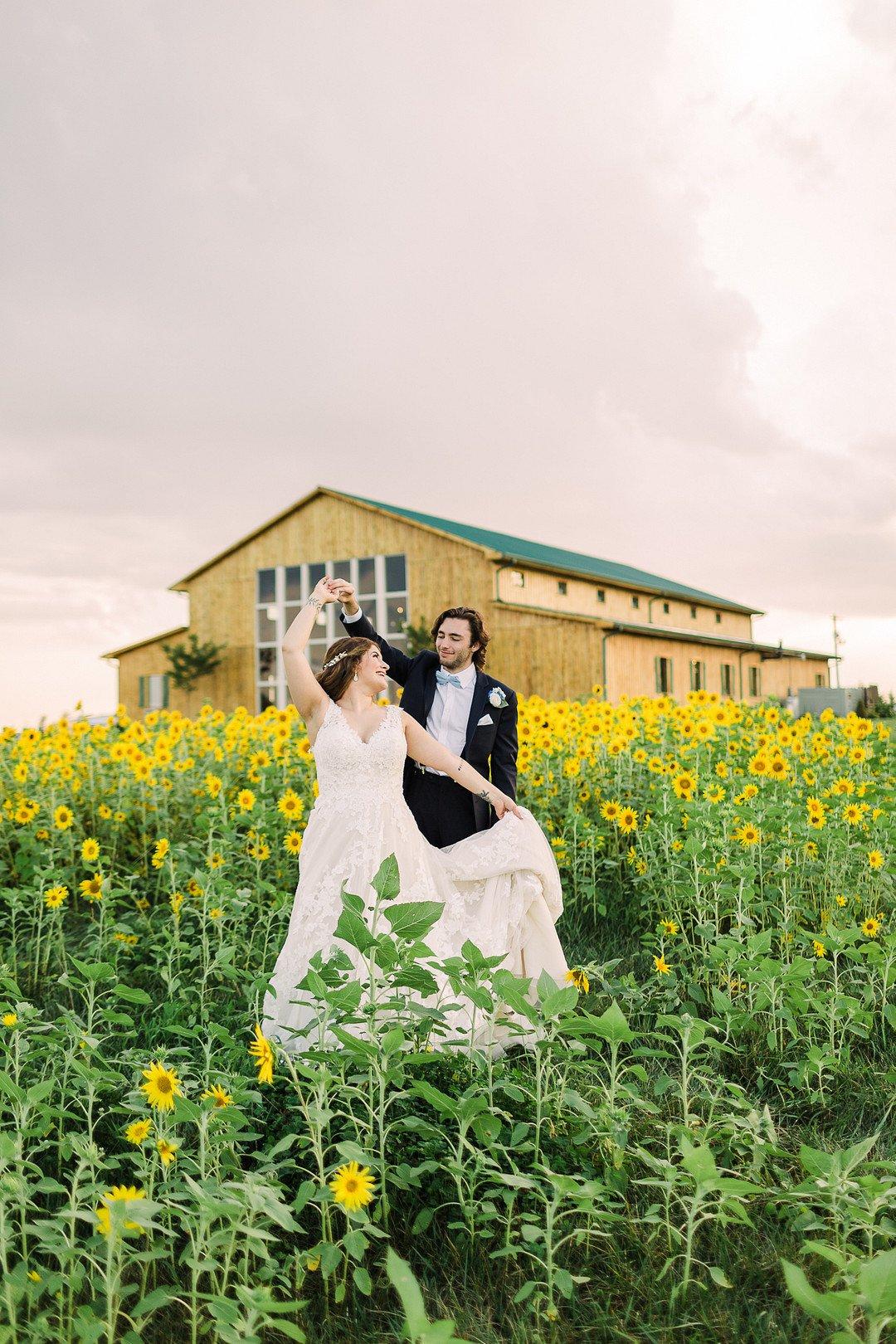 Farm or country wedding venue
What better way to embrace your sunflower-themed wedding than by getting married on an actual sunflower farm? Check out local barns and other rural wedding venues near you to find a farm that has sunflowers on the property.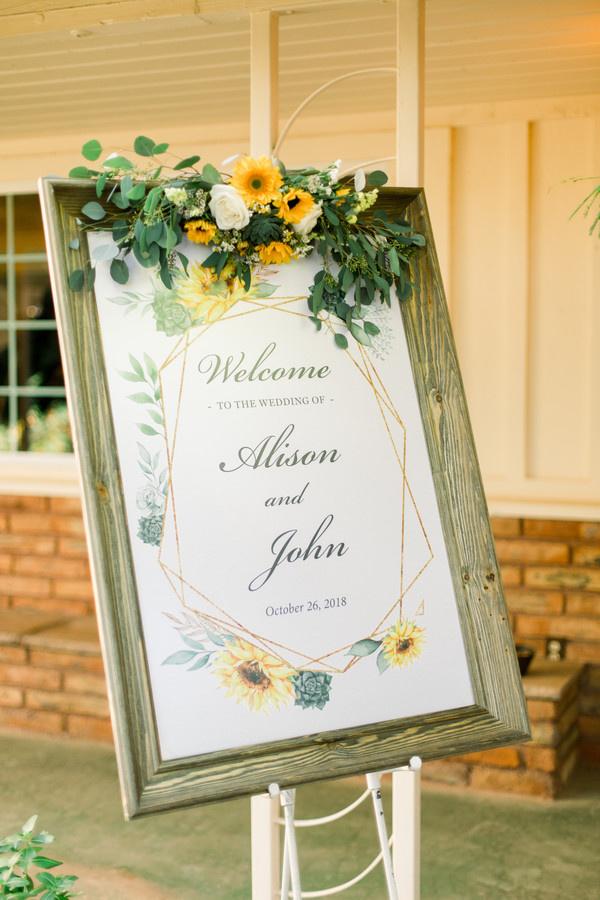 Wedding reception welcome sign
Greet guests at your reception with a personalized welcome sign that features sunflowers as part of the design—and then add real sunflowers for detail and texture.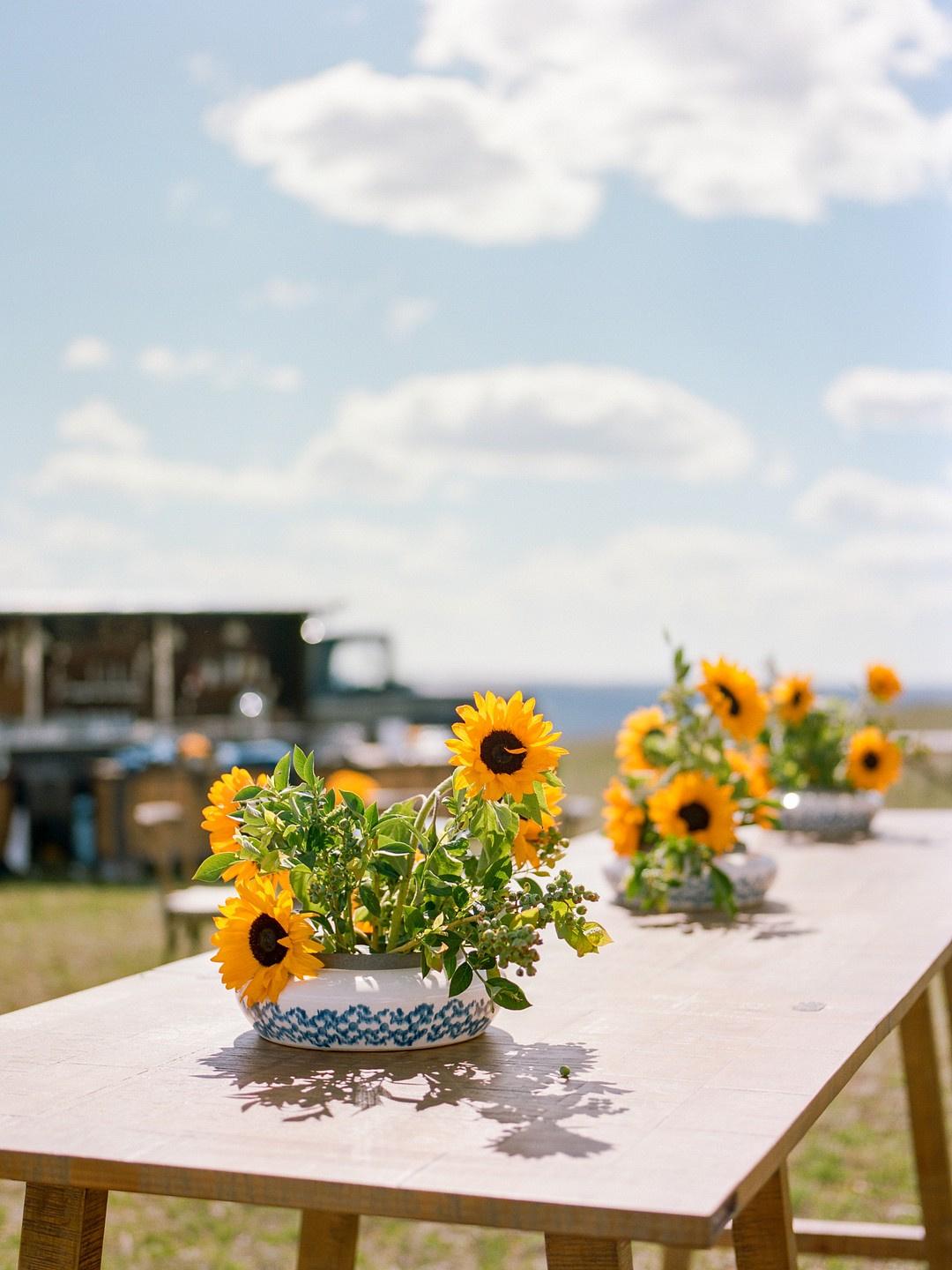 Sunflower wedding centerpieces
Sunflowers are so beautiful on their own that you won't need to add much else, if anything, to your wedding centerpieces. Work with your wedding florist to choose unique vases or other vessels that will perfectly showcase the sunflowers, like these blue and white ceramic bowls.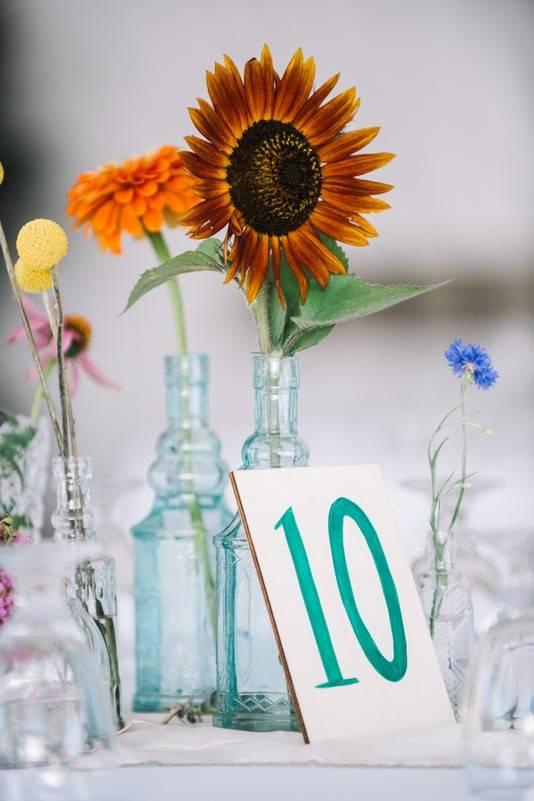 Wildflower wedding centerpieces
Another idea we love: These wildflower and sunflower centerpieces, which are great for a casual, boho look. Use mismatched bottles and vases to display single, long-stem flowers.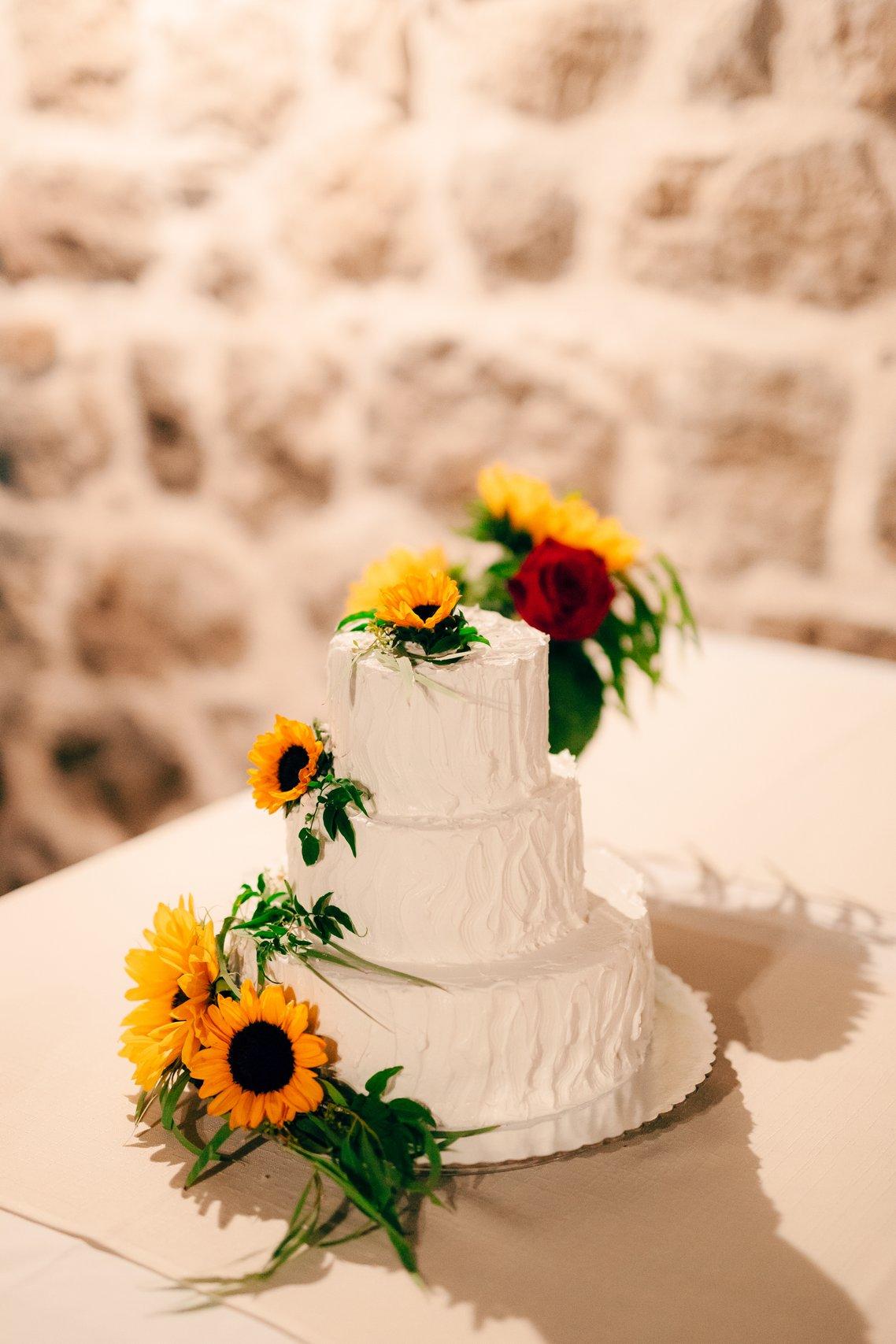 Sunflower wedding cake
Use sunflowers to quickly add personality and color to a white buttercream wedding cake. You can cluster them together as a topper, or place them on each tier so they trail down the side.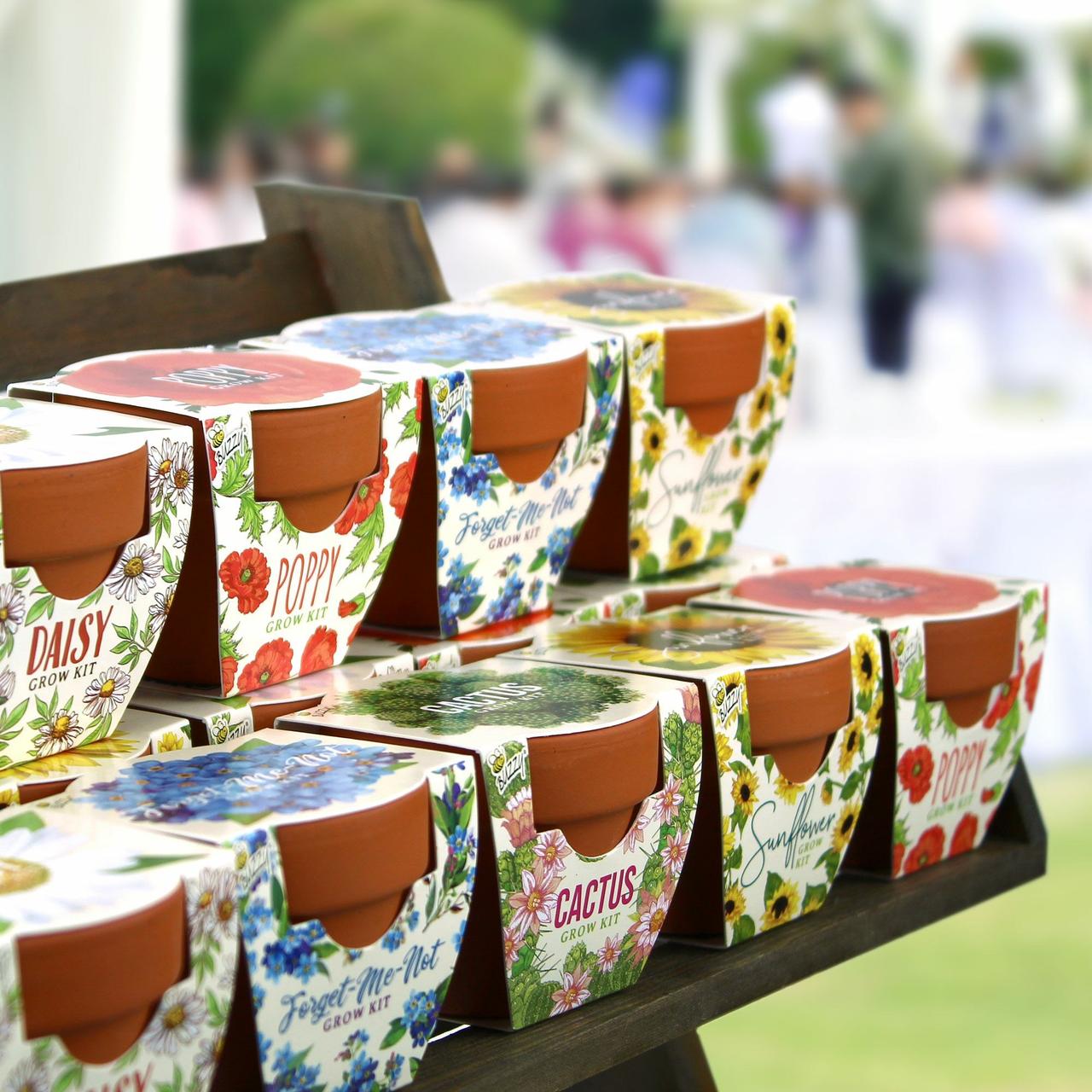 Sunflower wedding favors
Your guests won't leave these cute wedding favors behind! Sunflower seeds and wildflower seed kits are both practical and appropriate for a sunflower-themed wedding.