10 Steps to Finding Your Wedding Florist
From breathtaking bouquets to lush tablescapes, flowers have the potential to transform your wedding and set the mood for the entire day. Here's how to find a wedding florist you love.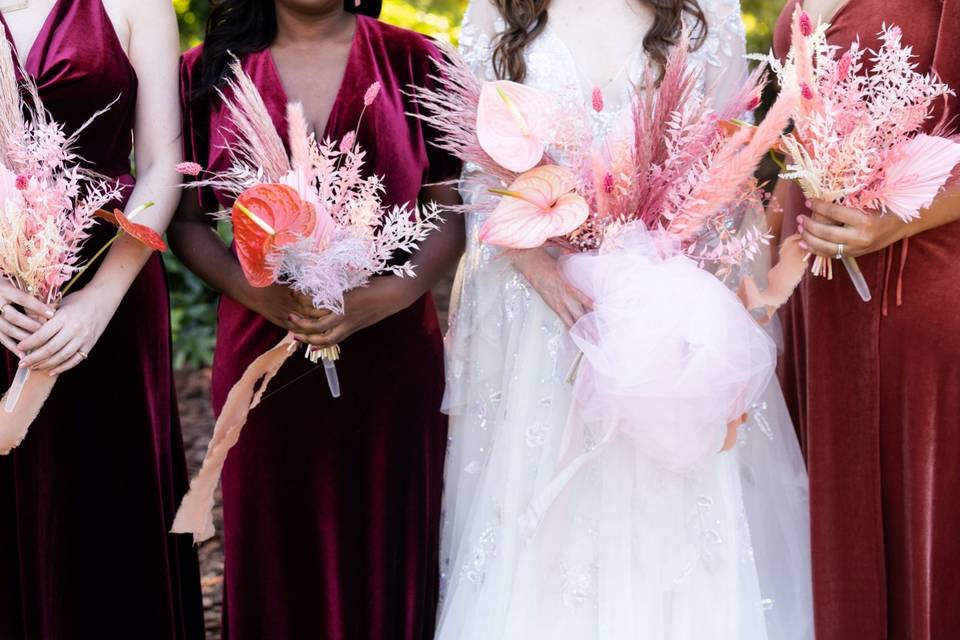 In terms of your wedding decor and the overall style of your big day, fresh flowers can play a huge role in transforming the event. It all starts with finding a wedding florist who can work their magic to bring your vision to life through bouquets, centerpieces, and other decorative arrangements—but if you're wondering just how to find a wedding florist, we've got you. By following these steps and keeping a few things in mind when it's time to find a florist, you'll have a pro locked down in no time.
1. Determine your wedding flower style.
Before you start your search for a wedding florist, chat with your fiancé(e) about how you want to incorporate flowers on the big day. Maybe you know the exact blooms you want your bouquet or centerpieces to include, right down to the greenery. On the other hand, maybe you don't know the difference between a garden rose and a carnation (which is totally okay!) and would prefer to leave the specifics to a professional. Regardless, figure out if you want the style of your flowers to be classic, rustic, vintage, modern, or something completely unexpected. Begin gathering floral inspiration and wedding flower trends that you can use down the road when the time comes. Just like any other artist, florists tend to have their own styles and design specialities, so it's important to have a general idea of what you want and ask them how they'll work with your vision.
2. Start looking for a wedding florist early.
The first rule when it comes to how to find a wedding florist: Don't wait until the last minute. The sooner you start your search, the better your chances are of finding a florist with availability on your wedding day, which especially important during these times as more and more weddings are being rescheduled. Ideally, you should plan to hire your wedding florist at least 10 months before your special day, and finalize which flowers you want to order about eight months before the wedding (this will give your florist enough time to nail down the necessary wholesalers and distributors they'll need to get your desired flowers). It's a good idea to begin researching wedding florists shortly after you've finalized your wedding date and have booked a venue. This should allow several months for you to find a wedding florist and meet with them without feeling rushed or stressed out.
3. Ask friends and family for local florist recommendations.
Sometimes, the best way when it comes to how to find a wedding florist is through your own personal circle. Chat with friends or family members who recently got married or who you know have ordered flowers for other occasions, such as holidays and birthdays. Ask about their experience with their florist(s) and photos of the finished products. If you have a wedding coordinator, they're also a great resource for wedding florists, in addition to talented wedding vendors in general.
4. Do your research.
Start by browsing local wedding florists to find pros in your area—read reviews from previous clients, check out the other types of vendors they've worked with, and peruse their blog or website if they have one. Pay attention to how the florist describes their style, and look through the pictures they've shared to see examples of their previous work. Ideally, your florist's photos should showcase a variety of styles and arrangements using all different flowers to give you an idea of the scope of their talent. Finally, follow them on social media to see sneak peeks of their most recent work and get a better sense of their day-to-day personality (it's important that you can connect with your florist on a personal level, too!).
5. Watch your potential wedding florist in action.
Many wedding florists also host floral arranging workshops for beginners, especially . Not only would this be a fun date idea for you and your S.O. but it's also a great opportunity to get to know a potential wedding florist on a personal basis and watch them work in real time. Check the florist's website or contact them directly to see if they're hosting any upcoming events in your community.
6. Visit their floral studio.
If the florist has a walk-in shop, consider popping in briefly one day to get an overall feel for their business. Make a note of how the shop looks—does it seem generally well-kept? Do the flowers on display look fresh, or are they wilting and faded? If you visit during the weekend, remember that Fridays and Saturdays are typically busy for florists (especially during wedding season or around holidays), so keep it quick and try to be more of an observer than a potential client with a ton of questions. Remember, you can always schedule an appointment to come back and chat with them in-depth.
7. Schedule a sit-down appointment.
Once you've found a potential florist, it's important to schedule a one-on-one appointment to hash out all of the details. There are several basic questions you should ask a wedding florist, including information about their availability, style, pricing, and services. Tell them your estimated guest count and how many people you plan to have in your wedding party. The appointment is also an opportunity for you to mention any dislikes or restrictions they should be aware of (such as any types of flowers you don't want them to use). Don't hesitate about meeting with several florists before making your final decision on who to hire.
8. Talk about your overall wedding vision and theme.
During your appointment, be prepared to discuss your wedding vision. Most importantly, the florist will need to know your color scheme and wedding season, since both will affect the types of flowers that are available for your wedding. If you have a mood board or Pinterest page, share it with the florist so they can see the overall aesthetic you're going for. Ask them to show you examples of how they'd work with your vision. Let them know if you have specific flowers you'd like to include in the arrangements, but also be open to their professional input.
9. Don't forget about your wedding budget.
Be honest with your potential wedding florist about what you're willing to spend, because your budget will determine which types of flowers can be used. Keep in mind that certain wedding flowers are more expensive than others and that prices can change depending on the season. For example, peonies are always in high demand, but their small window of availability (late winter to early spring) means that getting them can sometimes be tough—and pricey. Expect a higher price tag if your florist has to source the flowers you want from another state or even another country. After your appointment, the florist will provide you with an estimate that lists exactly what you'd be expected to pay for if you hired them.
10. Discuss their wedding day routine.
Do they provide delivery and set-up services on the wedding day? If those aren't provided by the florist, you'll want to consider who would be responsible instead, such as your event planner or the staff at the venue. Also, be sure to ask about their process for "break down" or cleaning up at the end of the night.