The 8 Steps to Choosing Your Wedding Flowers
Even if you have no idea how to pick wedding flowers, we promise it's an exciting part of the planning process. These tips will help you stay focused and in-the-know.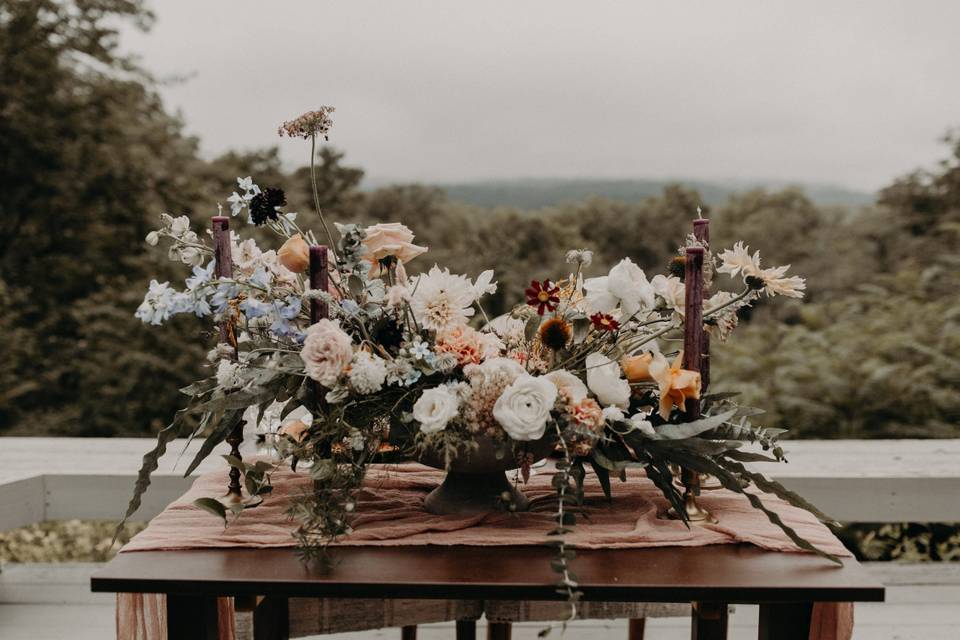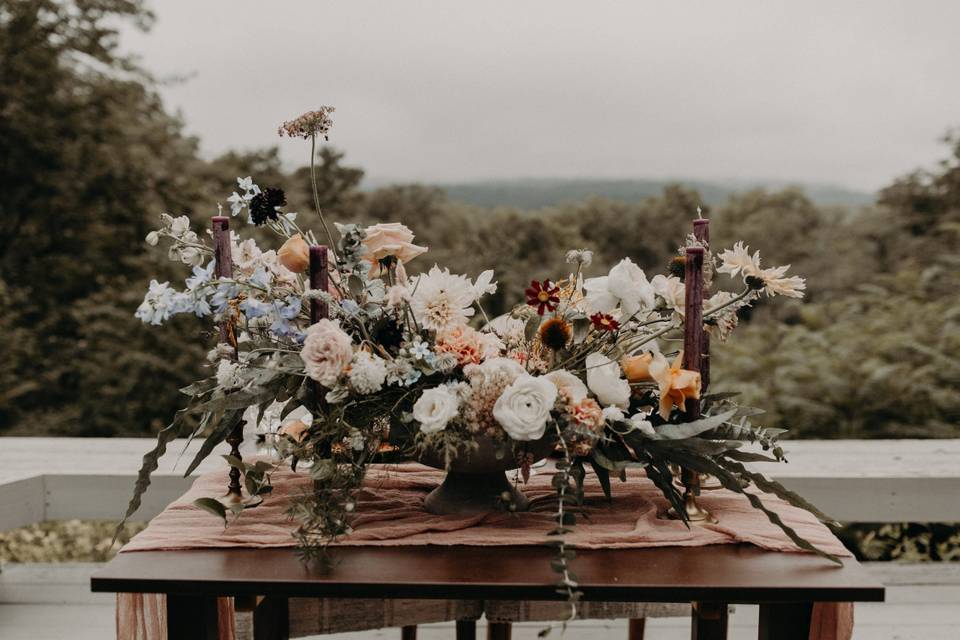 While the trends may come and go, flowers are an integral part of weddings—and for good reason. Not only are they pretty to look at (and a centuries-long wedding tradition), but they allow you to express your personal style and creativity. Working with your wedding florist is a fun and important part of the planning process, but if you don't know how to pick wedding flowers or where to even begin, the task might feel less like a bed of roses and more daunting than you'd like. Already have a few favorite blooms in mind? There are several other things you should consider when it's time to pick your wedding flowers, such as budget, colors, and style, so be sure to brush up on the basics right here. Follow these eight steps to get started.
1. Make a budget for your wedding flowers.
This is the first and most important step for how to pick wedding flowers. Your overall wedding budget will determine how much money you can set aside for your flowers, along with the types of flowers you can use in your arrangements, so sit down with your partner and decide what you're both comfortable spending. Most couples spend around eight percent of their total wedding budget on flowers, but that number can vary depending on the types of flowers you order and how many arrangements you need. A bigger budget will allow for more elaborate designs and pricier flowers, while prioritizing certain types of greenery wedding ideas or other floral accents can be a beautiful and cost-effective option for couples with tighter budgets.
2. Find a wedding florist.
You'll want to find flowers that fit your color scheme, season and budget, and hiring the right wedding florist will help you do all of that and more. It's important to find a florist who understands what you want, because he or she is the person who will bring your vision to life. They'll also be a lifesaver when it comes to providing professional input about your wedding flowers and helping you make tough decisions, like choosing between garden roses and peonies. When you're researching potential florists, check out their previous work and read reviews to get a sense of their style and their specialities (no two florists are alike!).
3. Gather wedding flower inspiration.
Begin by brushing up on wedding flower trends, or browsing photos from real weddings and Pinterest. You might find floral arrangements that you absolutely love (and can show the pictures to your florist) but at the very least, you'll develop a general sense of your likes and dislikes. Start making notes about your floral preferences, including color, shape, texture, and style. Don't be afraid to source inspiration from unexpected places, either! Re-watch your favorite wedding-themed movie, scope out the fresh flower section at your local market, or ask your family members about the flowers they used at their weddings. As long as you can share your general vision with your florist, he or she will take it from there and can suggest their ideas for your wedding flowers.

4. Know the basics of wedding flowers.
You don't have to become an overnight expert on wedding flowers, but if you don't already know some of the basic blooms, it can be helpful to do a bit of research before meeting with your florist. While you're gathering floral inspiration, take a moment to familiarize yourself with popular wedding flowers (roses, peonies, hydrangeas, lilies, and ranunculuses, to name a few). Also decide whether or not you want fragrant blooms—lilacs, freesias, peonies, jasmine, sweet peas, and gardenias are among the most perfumed wedding flowers. Knowing a bit of flower lingo will come in handy when you're talking to your florist, and you won't feel completely lost when they're sharing their ideas for your arrangements.
It can also be helpful to share any floral trends you do or don't like—for example, are you in love with the boho vibe of pampas grass, or is it a total no-go for your wedding day? If there's any type of flower or greenery that's off limits, be sure to fill your florist in on your preferences.
5. Use your wedding color palette.
If you're feeling completely stumped about your wedding flowers (we know there are a lot to choose from!), think of them in terms of color to help narrow down your choices. Dahlias, carnations, mums, roses, tulips, and lilies are just a few of the flowers that come in most colors. Other flowers, including peonies, lisianthus, hydrangeas, and anemones have a more limited color selection.
Your wedding flowers don't have to be an exact match with the rest of your decor, but you should try to choose blooms that complement your color palette. Look at the colors being used for your invitation suite, attire, table linens, and miscellaneous accents. If you do want the flowers to be a perfect color match, be as specific as possible when discussing them with your florist—"coral pink" to you might mean light orange or blush to someone else. Provide paint chips, fabric swatches and photos of the decor so your florist can find the closest possible match.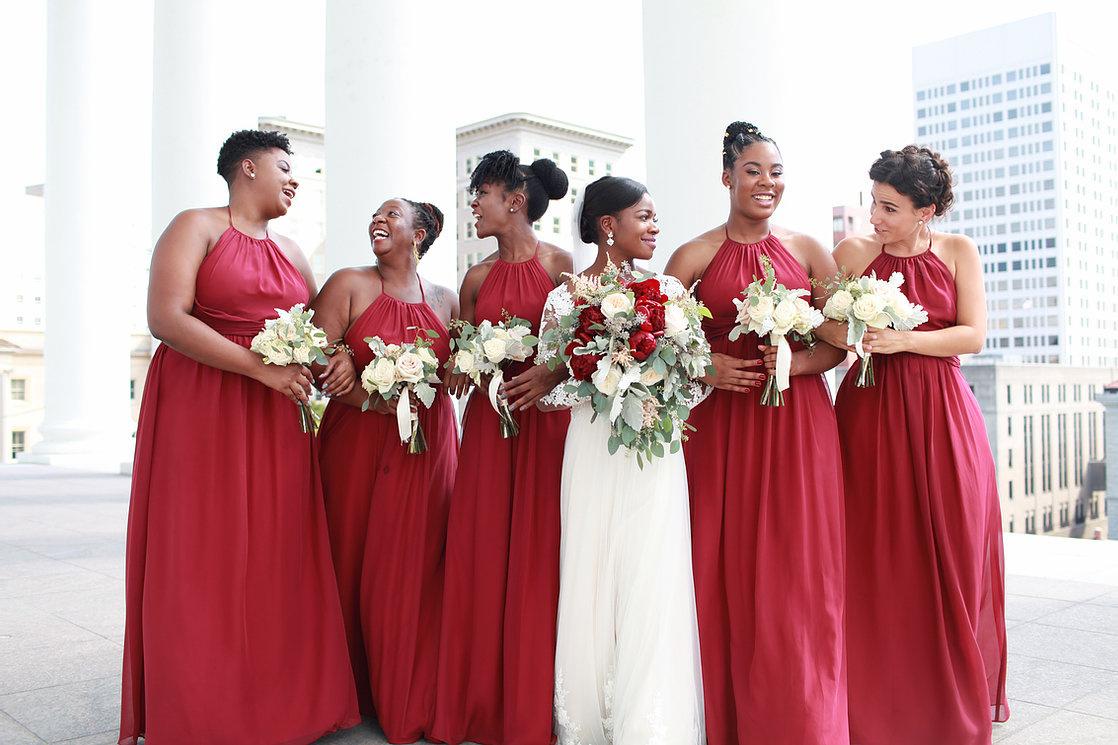 6. Start with your wedding bouquet(s).
If you or your fiancé(e) is carrying a wedding bouquet down the aisle, use that as a starting point for how to pick wedding flowers. Your bouquet is a statement piece that will likely appear in a majority of your wedding photos, so it's important to work with your florist to design an arrangement that captures your style. Once you've finalized the flowers for your bouquet, your florist can move on to the other arrangements, such as bridesmaid bouquets, boutonnieres, aisle markers, and centerpieces. These arrangements don't have to be exact replicas of the bridal bouquet, but they should use similar flowers and colors to create a cohesive look.
7. Pick flowers that reflect your wedding season.
Think about the types of flowers that are normally seen around the time of year when you're getting married, for example, tulips and peonies in the spring, or dahlias and mums in the fall. There's no rule that says you can only use flowers if they're in season, but out-of-season blooms might be difficult for your florist to find and will generally mean a higher price tag for you in the end.
Spring wedding flowers
Spring is when you'll have the largest selection of flowers available, including peonies, hydrangeas, tulips, and anemones.
Summer wedding flowers
If you're getting married during the summer, expect plenty of colorful blooms, such as orchids, proteas, anthurium, and garden roses.
Fall wedding flowers
Autumn is filled with flowers in rich orange, yellow, and red hues—think sunflowers, dahlias, and ranunculus. Seasonal foliage, like foraged branches with colorful leaves, is also extremely popular for fall weddings.
Winter wedding flowers
Even though winter isn't known for being the most flower-friendly time of year, there are actually a lot of gorgeous in-season blooms you can choose from for your wedding, including amaryllis, anemones, paperwhites (narcissus), and of course poinsettias—perfect for a Christmas wedding theme.
8. Match the flowers to your wedding style.
In general, your wedding flowers should reflect the style and aesthetic of the wedding. If you're having a formal black-tie wedding, your flowers should be on the more traditional side (for example, matching centerpiece vessels and tidy arrangements) so they don't seem out of place. If your big day is more relaxed and informal, you can get a little creative with your flowers, such as having mix-and-match centerpieces, handmade details, or looser, garden-style arrangements.
Also keep in mind that the types of flowers you choose will shape the tone of your wedding. White calla lilies are timeless and elegant, while bright pink ranunculus are playful and peppy. Pick a few descriptive words (rustic, elegant, glamorous, boho, modern, etc.) to explain your wedding style to the florist. Describe your venue, dress code, and other decor you plan to incorporate.