With the changing of the summer season to fall, there's no shortage of color inspiration, from the leaves on the trees to the romantic sunset that hits earlier and earlier. But even if you're not planning to pair your theme with the autumnal color scheme, there are endless possibilities for floral design on your big day. "We are seeing a steady trend of white, blush and greenery wedding floral themes throughout the fall this year along with clean whites and royal purples," says Eileen Looby Weber, owner of Lake Forest Flowers in Lake Forest, Illinois. "The traditional autumn colors of red, orange, and yellow are taking a back seat."
Whether your theme is rustic-chic or vintage-inspired, we asked top florists to reveal the hottest fall wedding flowers available to you this season.
Garden roses
Roses are the quintessential the wedding flower. After all, they signify love and romance in nearly every culture and country around the world. Perhaps the most ideal reason they serve as a wedding flower is the fact that they come in so many different shades, from reds to pinks and yellows to whites. "The soft fragrance and wide color palette of garden roses is ideal for fall weddings, especially in the peach, blush and cream tones," says Weber. "It also closely resembles the ever-popular peony, which is naturally out of season during the fall months."
Dahlias
This tuberous-rooted bloom, that kind of looks like one of those origami fold-out flowers, blossoms late summer to early fall, so it should be readily available for local sources. "It's an ideal flower in fall weddings because of its large fluffy shape as a focal flower and wide color palette," says Weber. "No matter your color scheme, you can find a shade that matches perfectly, since they come in a variety of tones from soft blush and cream to bright yellows and marmalades, and even in deeper reds like burgundy."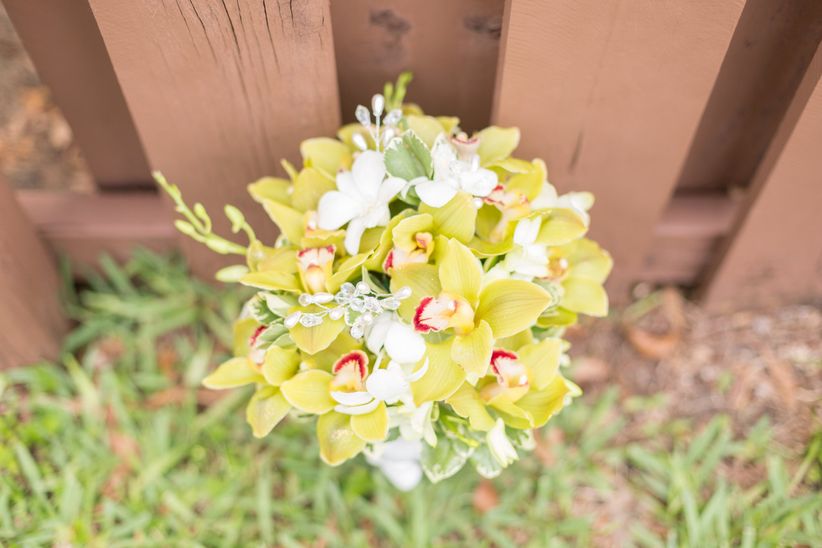 Cymbidium orchids
This exotic plants are long-lasting, though they're not tropical so the don't crave high heat and sunshine. In fact, low temperatures are ideal for cymbidium orchids. "In orange, we call these Charlie Brown orchids," says Craig Gruzd, florist and founder of DT Floral and Décor in Concord, Ontario, Canada. "They make elegant wedding flowers for the autumn season, thanks to their coloring, and are especially stunning when paired with greenery, such as lisianthus and sweet peas."
Amaranthus
This perennial plant has become a popular choice for weddings, because of its natural ability to softly drape everything from bouquets and arches to chandeliers and backdrops. "Generally available in upright and hanging, this burgundy and sage green flower adds an organic feel to the trending waterfall bouquet," says Weber. "Embracing the rich fall tones—whether moody blues or jewel tones—amaranthus brings a coordinating and yet neutral color palette to your wedding designs."
Calla lily
Known for their magnificence and beauty, calla lilies are one of the most popular wedding flowers. Their long-petaled, basal leaves are great for use as a boutonniere, and their ranging hues can match almost any color scheme. "From traditional white to crystal blush to deep plum, wine and mulberry shades, the calla lily is an elegant choice year-round," says Weber. "Its sleek lines and ability to be gently manipulated in unique floral design makes it stand out." Calla lilies are also ideal for both indoor and outdoor venues, since it holds up well in almost all weather conditions.
Succulents
Only in the last decade have succulents become popular decor for wedding arrangements, but they've always been trendy to have as house plants. They're especially great for fall weddings, since they can last several months out of water. "We are not only using them in centerpiece and tablescape design, but now in bouquets, boutonnieres, and other floral jewelry such as bracelets, necklaces, and rings—we're even seeing them used as favors for guests in cute cachepots," says Weber. "In the greenery and soft lavender tones, they're perfect for the organic and nature-loving bride." Pair with any color scheme, theme or design!