21 Fall Wedding Color Palettes That Are Totally Modern
Having an autumnal wedding is all about bringing a sense of coziness and richness to your big day. These fall wedding color ideas will do just the trick!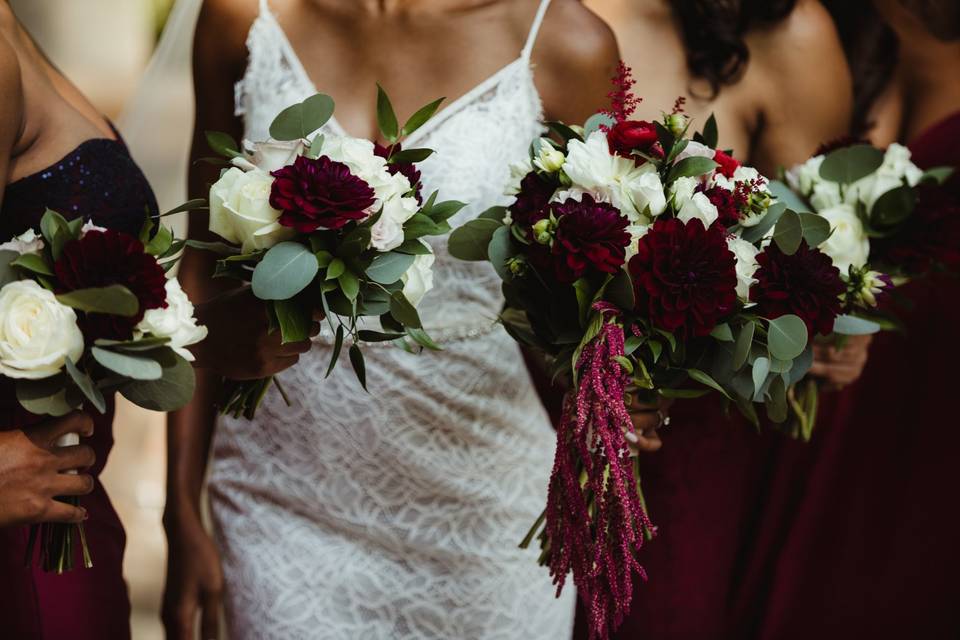 Picking your wedding colors is an essential part of your wedding checklist during any season, but fall wedding colors can pose a particular challenge. Orange is an obvious choice (hello, pumpkin patch season!), but if that's not quite your style, don't worry. There are dozens of other fall wedding color ideas out there—from rich jewel tones to earthy neutrals and even pastels—that will capture the magic of the season while also feeling stylish and trendy. Ready to finalize your fall color palette? This roundup of modern fall wedding ideas will help spark your imagination, but if you need even more inspo, you can check out our top wedding colors of 2019, or head to the WeddingWire Color Palette Generator to find customized color combos. Don't choose your fall wedding color scheme without seeing these ideas first.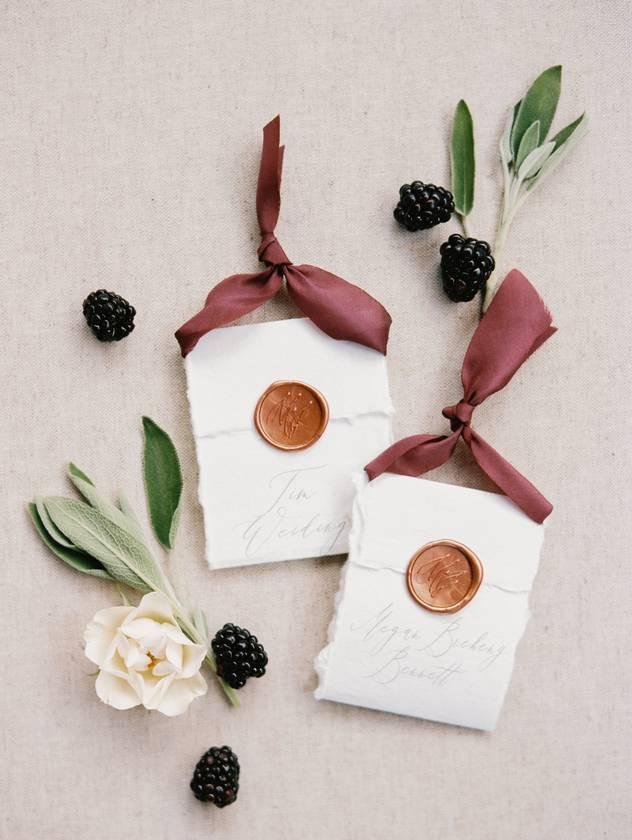 Copper and merlot
Warm copper is our fave metallic hue of the moment. It looks inviting and sophisticated when paired with a dark red accent color, like this merlot-inspired shade. Add classic calligraphy, wax seals, and soft greenery to this fall wedding color palette for a look that's European chic.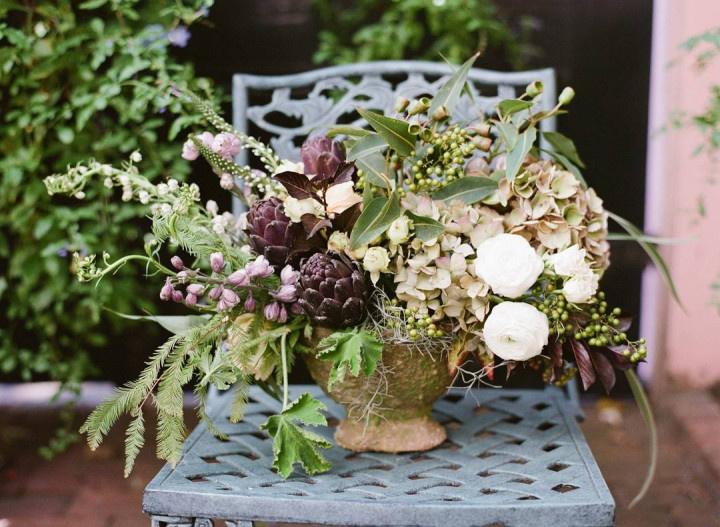 Plum, green and ivory
If you think purple and green are clashing colors, think again. When you combine the muted versions of these two hues, the result is surprisingly tasteful and romantic. Green and purple are gorgeous options for creating a garden-inspired wedding theme—even better if you incorporate unexpected accents like artichokes, herbs, and dried floral arrangements that emphasize the botanical vibe.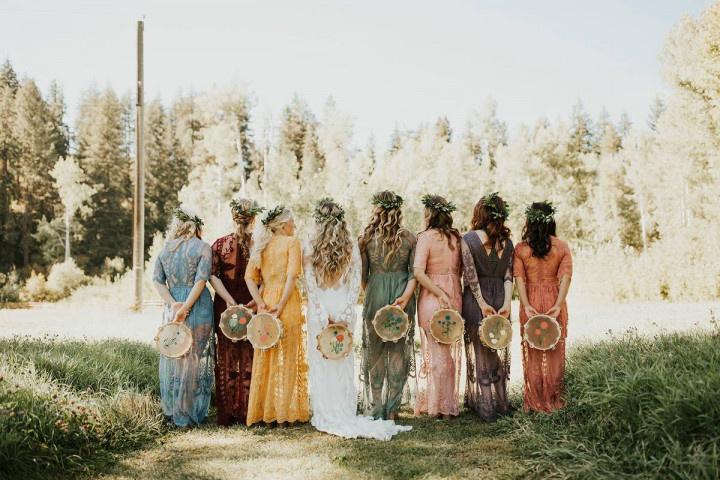 Muted rainbow
Going for an artsy, bohemian wedding theme? Instead of limiting yourself to two or three colors, choose an assortment of rainbow-inspired hues for your palette. Darker versions of otherwise bright colors (yellow, pink, orange, blue, etc.) are totally fall-appropriate and instantly create an eclectic look. We're loving these mix-and-match bridesmaid dresses!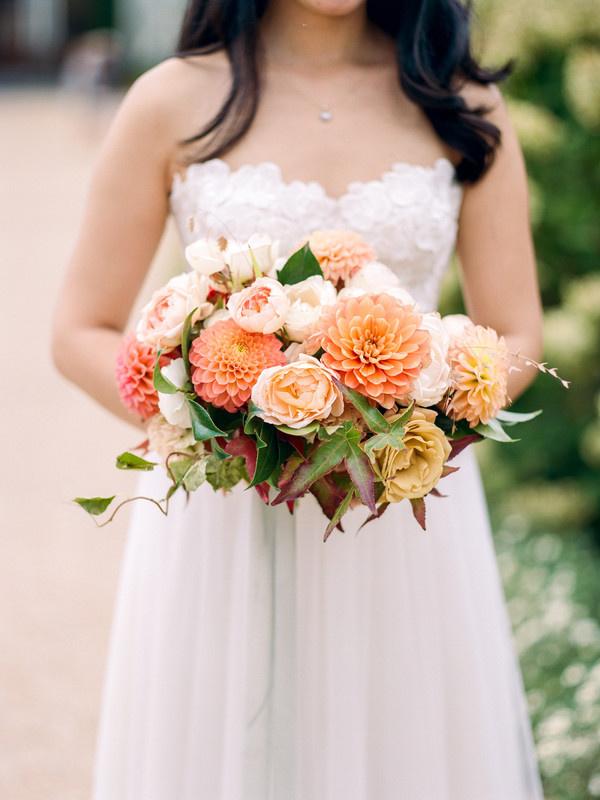 Coral, mustard and blush pink
You can easily create a cohesive wedding color palette by pulling hues from the same color family. Warm colors, like the blush, coral, and mustard yellow in this wedding bouquet, are lovely options if you're getting married in the late summer or early fall. How beautiful would this sunset-inspired color combination look at a rustic wedding?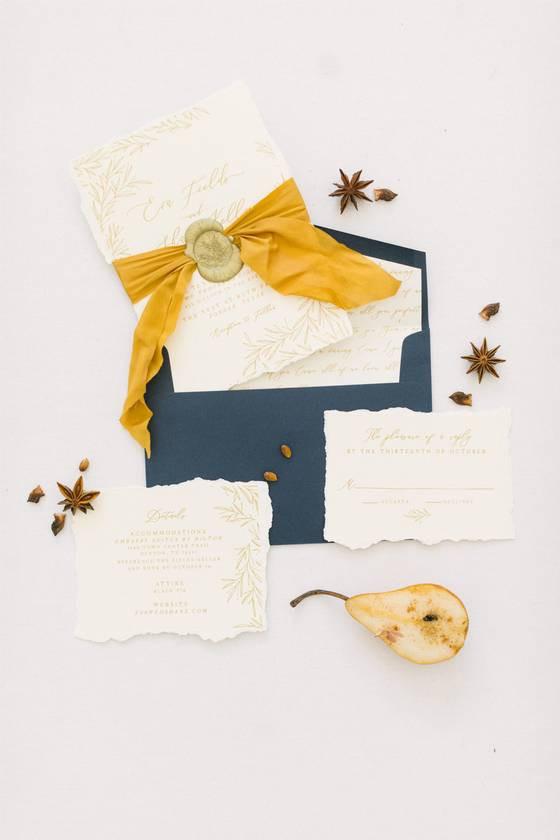 Midnight blue and marigold
We're here to make the case for yellow wedding color palettes. This vibrant hue may be an unexpected choice when it comes to fall wedding color ideas, but it definitely brings the wow factor—just take a look at this elegant wedding invitation suite featuring a marigold yellow ribbon. Avoid going into color overdrive by pairing bold yellow with understated hues, such as dark blue, ivory, and gold.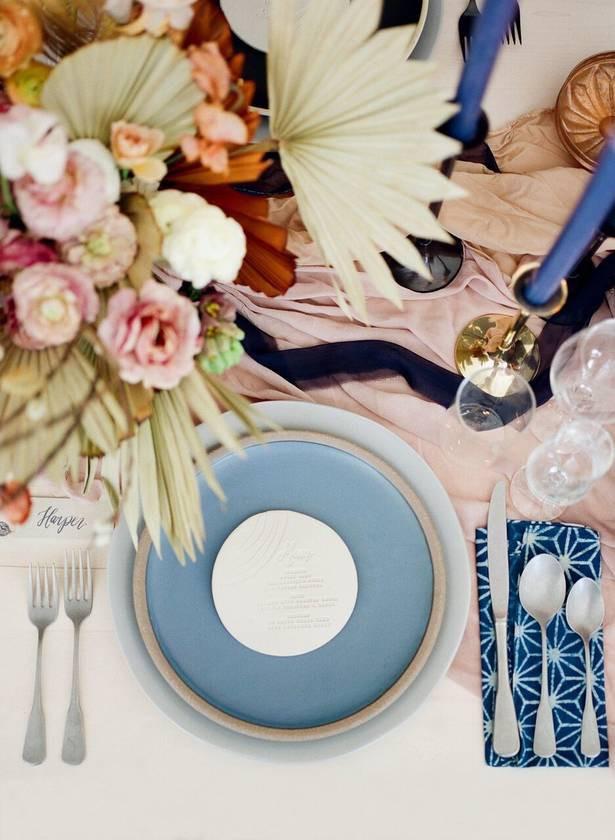 Cornflower and blush
Who says that pastels are only for spring weddings? With the right details, you can totally make a pastel color palette work for your fall wedding. Try incorporating dried florals (like the palm leaves in this centerpiece) and darker accent colors to give a blush and dusty blue combination some autumnal edge.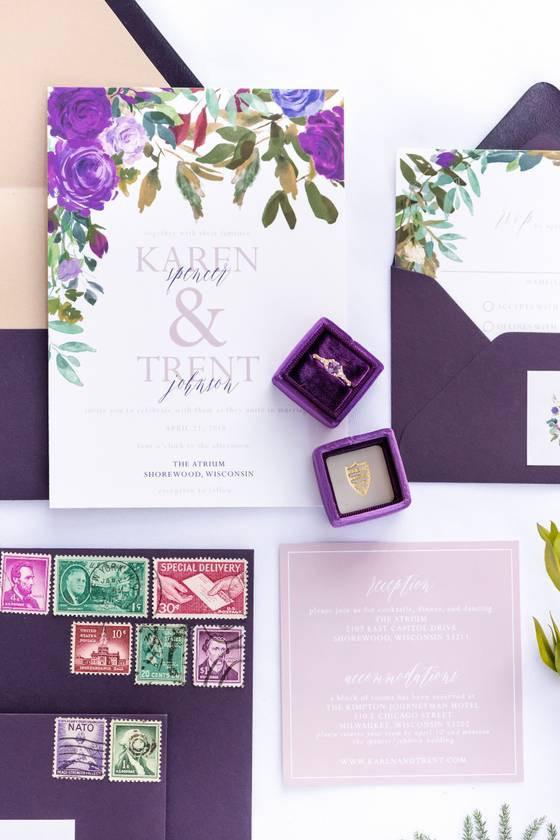 Lavender and amethyst
A two-tone palette with light and dark purple shades is our pick if you're having a vintage wedding theme. Depending on how you style them, these fall wedding colors can be glamorous, romantic, edgy, or all of the above!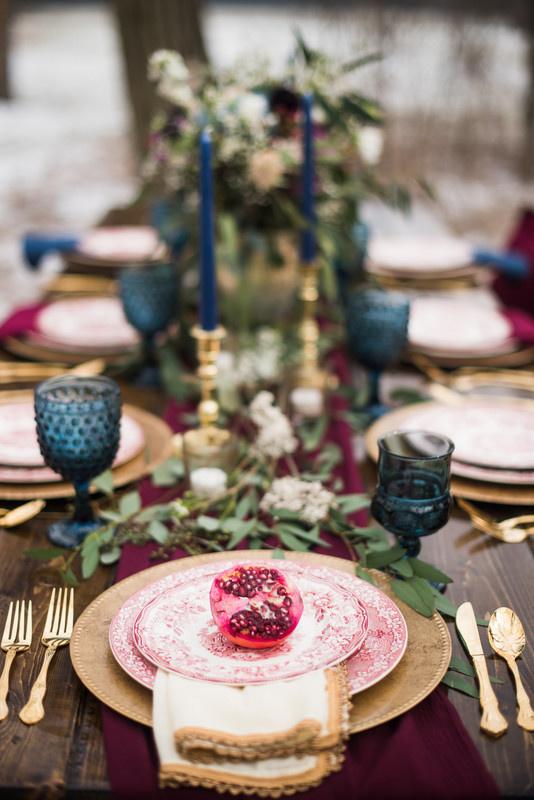 Jewel tones
You basically can't go wrong with jewel tones, and that's why they continue to be popular fall wedding colors year after year. Add rich colors like burgundy, navy blue, dark purple, and green to your palette for a regal vibe. Gilded accents, such as flatware, candlesticks, and table chargers, bring shimmer and romance to a jewel tone tablescape.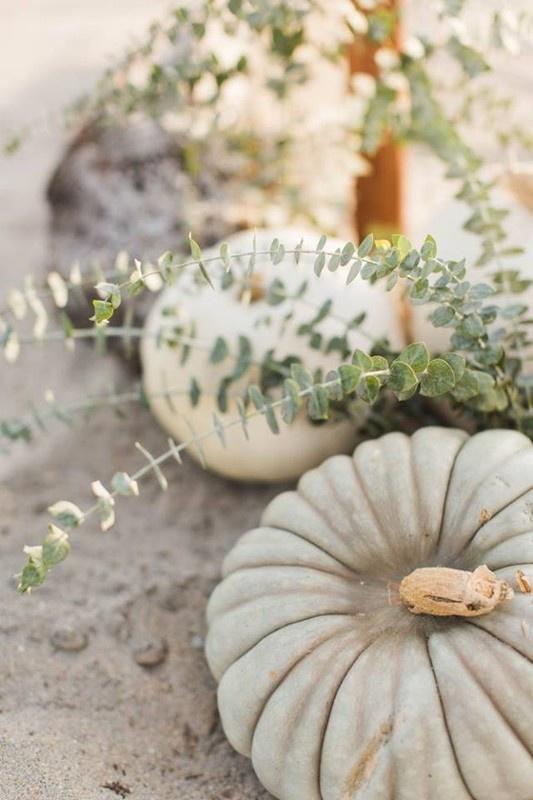 Neutrals
Muted colors and neutrals are beautiful if you're going for a softer look (see more neutral wedding color palette ideas here). Combine hues like eucalyptus green, dove gray, and ivory for a wedding with down-to-earth style. You can even incorporate natural accents to emphasize the fall season—we like these white and gray gourds that evoke an autumnal theme in an understated way.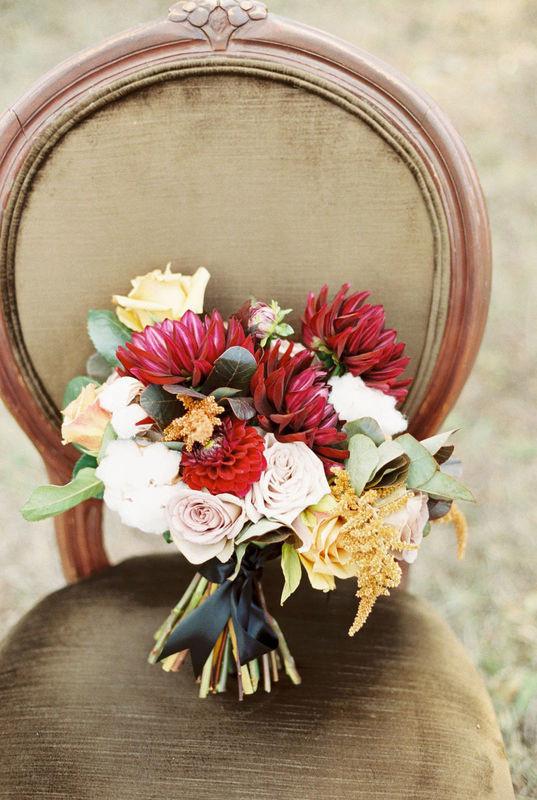 Burgundy and gold
This is one of the most versatile (and foolproof) combination of wedding colors for fall. Whether your wedding style is boho, rustic, or formal, burgundy and gold are always a winning combo! Pair this duo with black accents to create a look that's slightly moody and mysterious.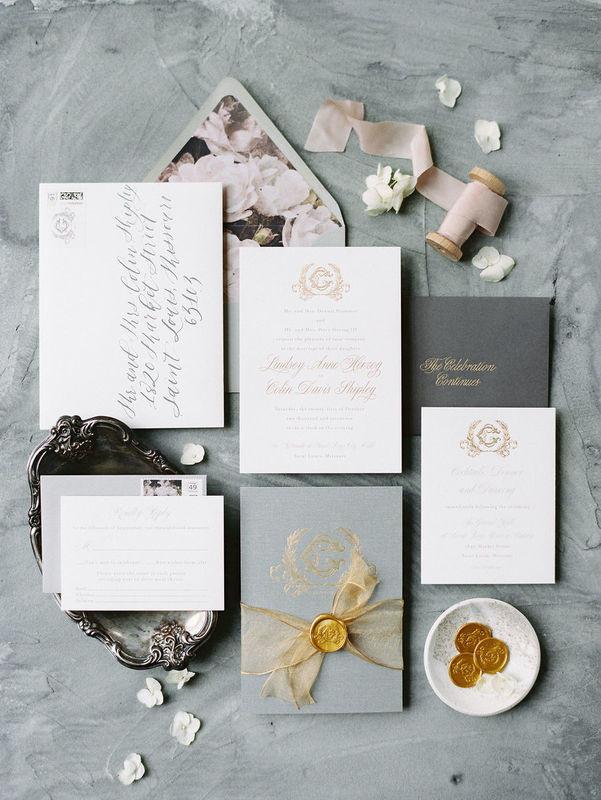 Mauve and gray
Pastels are traditionally springtime wedding colors, but who says you can't do them for fall? Instead of bright robin's egg blues and peachy pinks, opt for mauve or nostalgia rose paired with charcoal gray. Add a hint of gold to bring substance to a soft palette.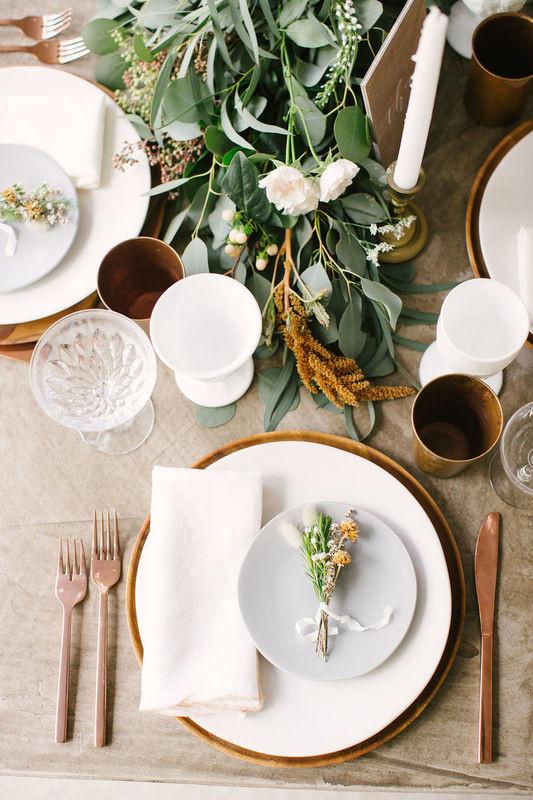 Amber and sage green
If you like the idea of neutral fall wedding color ideas but don't want to go full-on ethereal, add a touch of bold amber yellow. It was done here with amaranthus in the centerpieces, but you could also use table linens, colorful taper candles, glassware, or yellow flowers, such as mums and dahlias.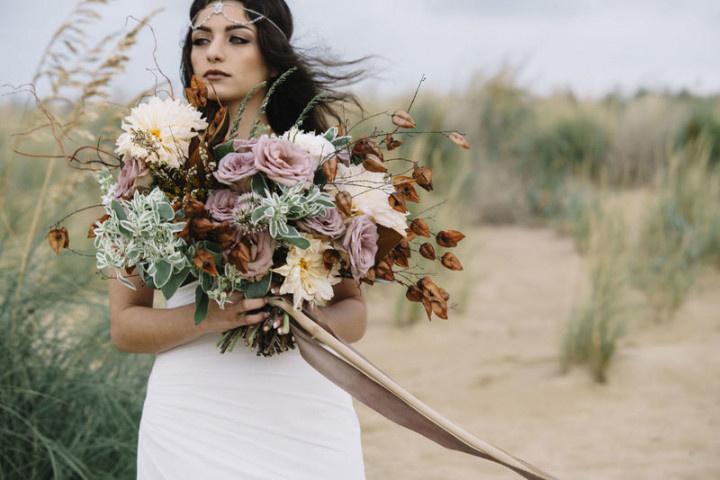 Rust and blush
Blush pink is still one of the most popular wedding colors. For fall, it looks amazing with rust or terracotta orange and greenery.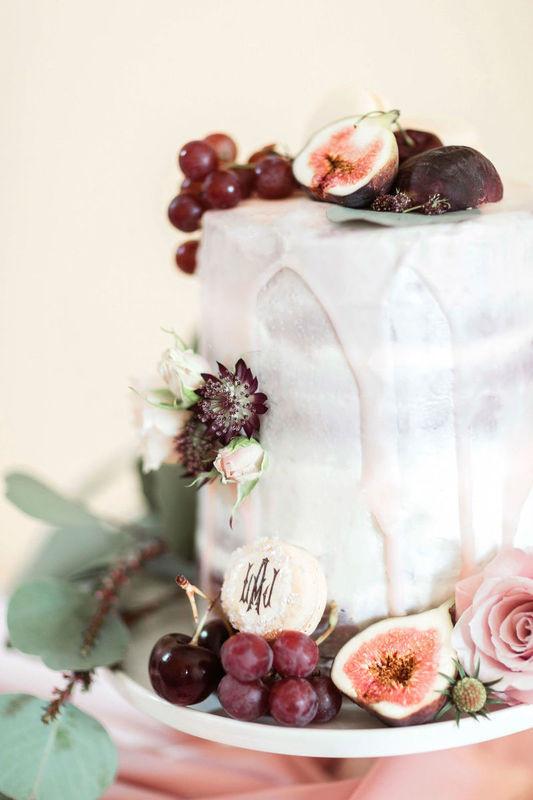 Ivory and purple
Take a cue from fall fruits like grapes and figs by adding dark purple to your fall wedding color palette. This rich color feels fresh and elegant when paired with ivory and just a bit of pale pink.
Gray, red and green
Speaking of fruits, apples are another unexpected source of inspiration for your fall wedding color palette. We especially love this idea for rustic weddings! If you're getting married on a farm, vineyard, or orchard, you might even be able to source produce from the venue. See more reasons why we love fruit in wedding decor right here.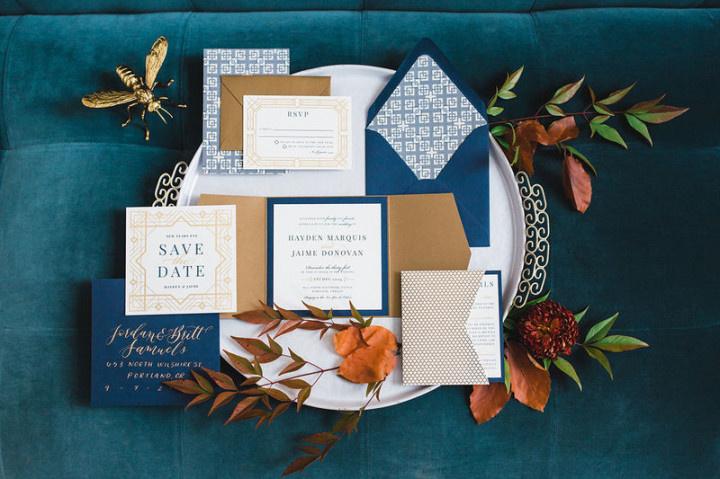 Navy and gold
Having a classic wedding? Navy and gold are the perfect fall wedding colors for any sophisticated fête. These hues are timeless and elegant without feeling too basic. Leave them as-is, or incorporate pops of burgundy and burnt orange throughout your decor for added warmth.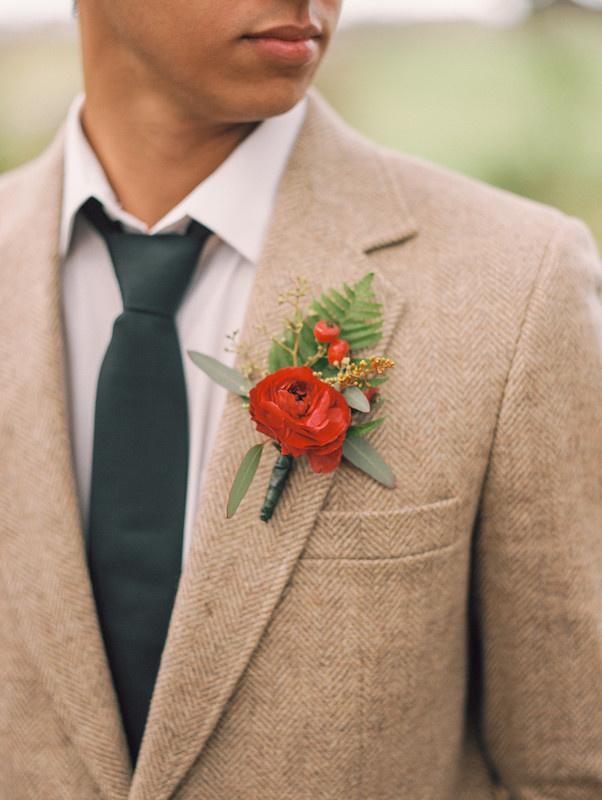 Brown and red
Red is commonly paired with bright orange, especially for rustic fall weddings. If you want something that's pastoral with a twist, we're crushing on this deep red, black, and brown combo that feels just as appropriate for any countryside wedding.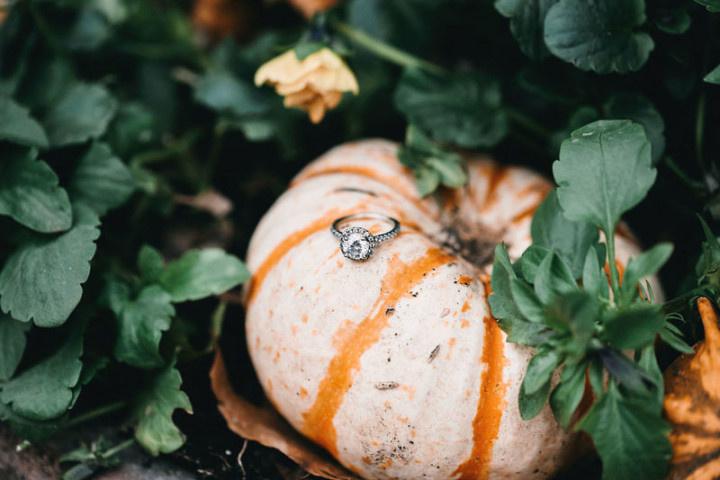 Orange and white
If you're dreaming of a quintessential fall wedding, orange and white are your go-to colors. This palette brings to mind lots of pumpkin decor, hot apple cider, cozy flannel blankets, and handmade pies for dessert.

Pale blue and yellow
This airy color palette would be perfect for a wedding taking place during that transitional window when it's not quite summer anymore, but not quite fall, either. Warm yellow hues stand out against an almost-monochromatic tablescape of whitewashed wood, pale blue linens, and clear glassware. Avoid veering into "spring pastels" territory by adding fall foliage, dark greenery, and viburnum berries.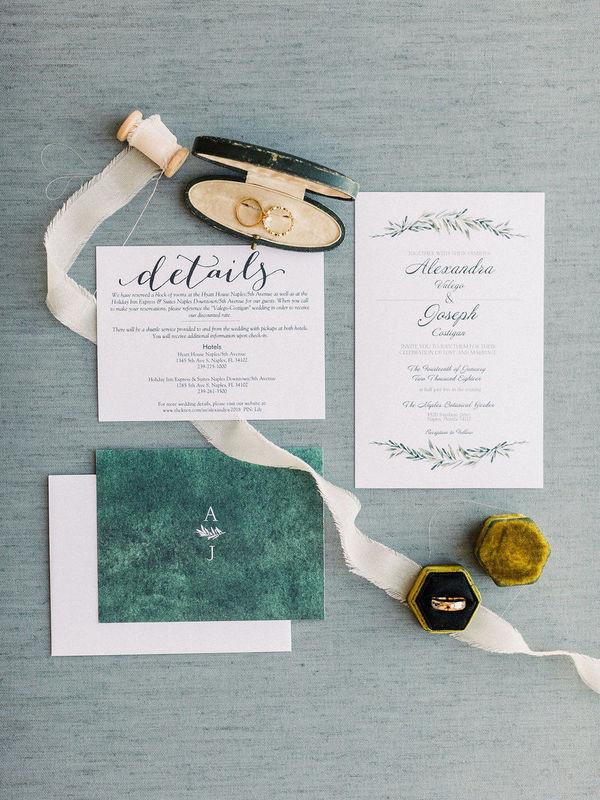 Emerald green and moss
Use shades of green to create a gorgeous two-tone color palette. Sophisticated emerald or dark teal looks extra-chic when paired with a mossy hue. This combo would be stunning for an outdoor wedding in the woods.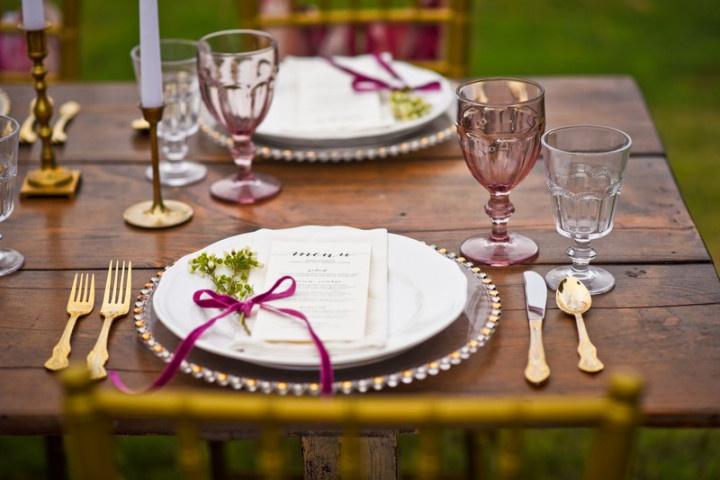 Raspberry and green
These wine-inspired tones are some of our favorite fall wedding colors for anyone getting married at a vineyard. They're perfect for achieving a look that's stylish yet relaxed.