The 10 Types of Fabric You Can Rent for Your Wedding
Can't tell the difference between silk or satin? Table runners or tablecloths? This glossary explains all things wedding linen rentals for your big day.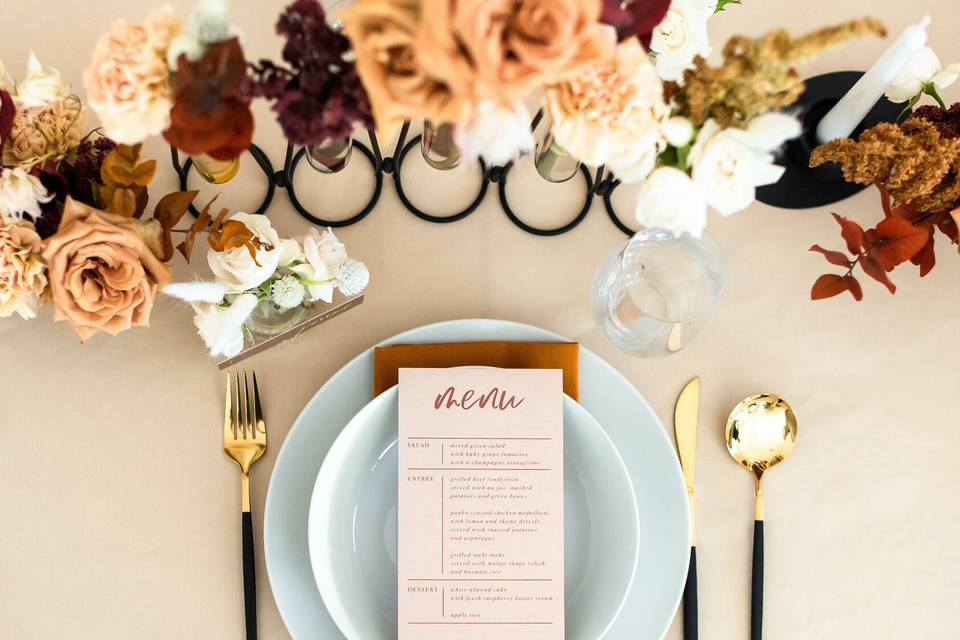 Wedding linen rentals and fabrics play a huge role in your wedding decor. Not only are linens essential when it comes to dressing up your reception banquet tables, but they can be monumental in transforming your empty venue, ceremony backdrop, chairs, and more when creating the wedding of your dreams. Once you start looking into rental linens, it's easy to feel torn about exactly which types of fabric and linen rentals you need, or what will work best with your wedding style, but knowing the popular options and their basic differences will ultimately help you decide.
Types of Wedding Linen Rentals
Before we dive into the different types of fabric you might need for your special event, you should know all the ways you can incorporate linens into your wedding decor. Here are some of the most common options.
Chair cover
Chair covers are exactly what they sound like—decorative covers that slip onto the backs of your chairs to add color, shimmer, or other flair. These wedding linen rentals are most often used for formal occasions and are paired with straight-back wedding chairs, like Chiavari chairs and chameleon chairs.
Napkin
Napkins are the one type of wedding linen rental that you're more than likely guaranteed to need for your reception, since they serve an essential purpose. But their practicality doesn't have to make them boring—aside from the standard white polyester napkins, you can also choose linen, gauze, or cotton fabrics. Tie or fold the napkins in a decorative way to add even more decorative detail to your place settings.
Reception tent
While many wedding tents are made from vinyl and plastic (including the popular frame tents and clear-top tents), there are other types of reception tent rentals available. Sailcloth tents, also known as Sperry tents, are made from soft cotton or canvas fabric similar to a sailboat sail, hence the name. Poles are required throughout the tent to keep the structure up, creating a peaked appearance.
Swag
A swag is a stretch of fabric that is draped across a ceiling, around a doorframe, or wrapped around a pole or other supportive structure. Swags are purely decorative—you can use them to create a photo backdrop, hide unsightly ceiling beams, accent lighting fixtures, or camouflage other unwanted details you can't change or remove at your venue. Lightweight fabrics, like chiffon and organza, are the most ideal materials for swags.
Tablecloth
Tablecloths are (unsurprisingly) the most common types of wedding linen rentals. While bare wooden tables have made their mark as a trend for rustic and laid-back wedding themes, traditional tablecloths are still very common for formal and classic weddings. If your wedding venue provides banquet tables in-house, standard white tablecloths are also most likely available—just ask your venue coordinator! These basic linens can quickly transform your reception tabletops depending on your color palette and overall aesthetic. For tall cocktail tables, spandex covers are popular options if you want to seamlessly hide the base of each table.
Table runner
Similar to tablecloths, table runners are long rectangular pieces of fabric that cover the tops of your tables. The difference is that table runners aren't as wide as tablecloths, "running" down the center of the table and leaving the sides of the table exposed. You can use table runners on their own—gauzy table runners are a popular option for boho themes—or you can layer the runners on top of tablecloths to complete your centerpieces and tablescapes.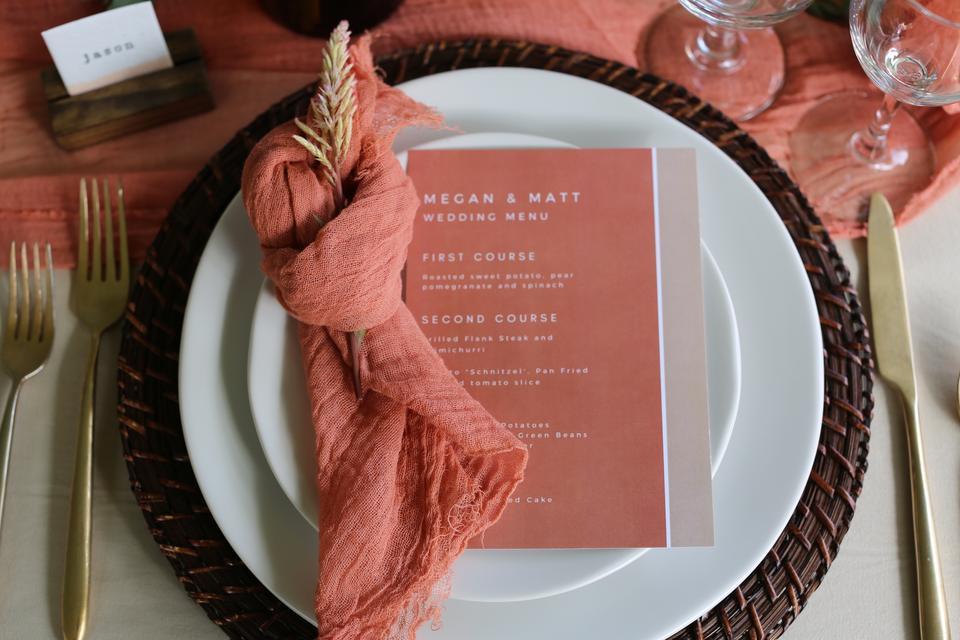 Types of Wedding Rental Fabrics
Before you reach out to specialty linen vendors, take a minute to brush up on some of these common wedding rental fabrics. Your vendor will be the expert when it comes to determining exactly what type of fabric works with your wedding budget and style (and how much you'll need of it), but knowing the basics will make it easier to explain what you're looking for. Once you've found a potential vendor, ask if they have a showroom or if they can provide swatches for you to see and touch the fabrics in person.
Polyester
This synthetic fiber is one that you likely encounter dozens of times on a daily basis. Polyester fabric is super-versatile and durable, and it's available in almost any color, pattern, or texture you can imagine. This makes it one of the best choices for wedding linens, regardless of style or budget. Polyester is fairly easy to wash and de-wrinkle and is commonly used for tablecloths and napkins.
Satin
Satin is one of the most popular types of fabric offering an iridescent sheen and upscale feel. For centuries, satin was woven exclusively with silk thread and came with a very high price tag. Modern satins are blended with polyester, nylon, rayon, and even cotton, making them much more affordable while still providing an elegant look. Satin table linens are ideal for formal weddings and luxe, glamorous styles.
Silk
As one of the more difficult fabrics to produce, pure silk is also one of the more expensive options when it comes to wedding linen rentals. Just like most fabrics, there are different types of silk depending on how it's produced and what threads are used. Shantung Silk is sometimes considered to be the Goldilocks of silks. (It's also a desirable fabric for wedding dresses because of its consistent color, crisp feel, and slight lustre.) Shantung silk provides more structure than a smooth, barely-there silk weave like charmeuse, but it's not as heavy or stiff as a Dupioni silk, which is intentionally woven with uneven threads in different colors to create a textured effect.
Taffeta
This stiff, slightly shiny fabric is a cross between satin and silk, making it an excellent choice for high-end venues and classic weddings (imagine Princess Diana's wedding dress, which was made from taffeta). Taffeta has a starched-like appearance that also makes it a great material for incorporating texture into your table decor. You can find taffeta linens with a variety of textures, from fabric rosettes to pintuck and pinwheel styles with stylishly-placed folds.
Sequin
If you're going for the wow factor at your wedding, sequin linens should be at the top of your list. The sequins, which are tiny metallic discs sewn onto a piece of fabric, will instantly create a "glittering" effect. You can decorate all of your reception tables with sequins for an ultra-glam look, or choose one or two accent tables instead (such as the head table) for something a bit subtler. Sequin tablecloths can be found in a variety of colors, but some of the most common are gold, silver, rose gold/blush, and white.
Chiffon
Chiffon is a lightweight, mostly sheer fabric that drapes and flows beautifully. Since chiffon is more transparent than other materials like polyester or silk, it's most commonly used as an accent fabric or table overlay. It looks lovely when layered on top of opaque tablecloths or alone as a runner on bare wood tables. Chiffon is also a dreamy choice for creating ceremony backdrops, ceiling swags, and chair decor.
Organza
Similar to chiffon, organza is a fabulous accent fabric. This sheer, lightweight material is a beloved choice for adding the "finishing touches" to any space, whether it's used for table overlays, chair sashes, table skirts, on staircase banisters, or draped along the ceiling. Organza is sometimes confused with tulle but is more flexible and floaty. You can find organza in practically any color, and it's sometimes decorated with sequins, embroidery, beading, or patterns.
Tulle
Tulle is known for the romantic fairytale look it creates when used on wedding dresses, and the same goes for tulle linens. In wedding decor, this sheer netting fabric is commonly used for table skirts, decorative backdrops, aisle markers, and chair adornments. Tulle is more structured than organza and chiffon, which gives it a "fluffy" appearance with plenty of volume (think of a ballerina's tutu).
Patterned
Patterned linens are ideal for couples who want to achieve a regal look. Linens with woven patterns, such as jacquard, damask, and filigree, bring an even more opulent touch than fabrics that simply have patterns printed onto them. Jacquards, damasks, and filigrees usually feature darker colors and traditional-style patterns, such as scrollwork, florals, and geometric prints.
Jacquard fabric is created by intentionally leaving threads raised during the weaving process to create an intricate pattern, often featuring several colors or metallics. The end result is a sturdy, textured fabric that feels luxurious to the touch. Damasks and filigrees follow a similar process, with patterns being woven into polyester or silk linens.