18 Summer Wedding Color Combos That Always Look Good
Embrace the happy mood of the season with these color palettes that have all the right vibes.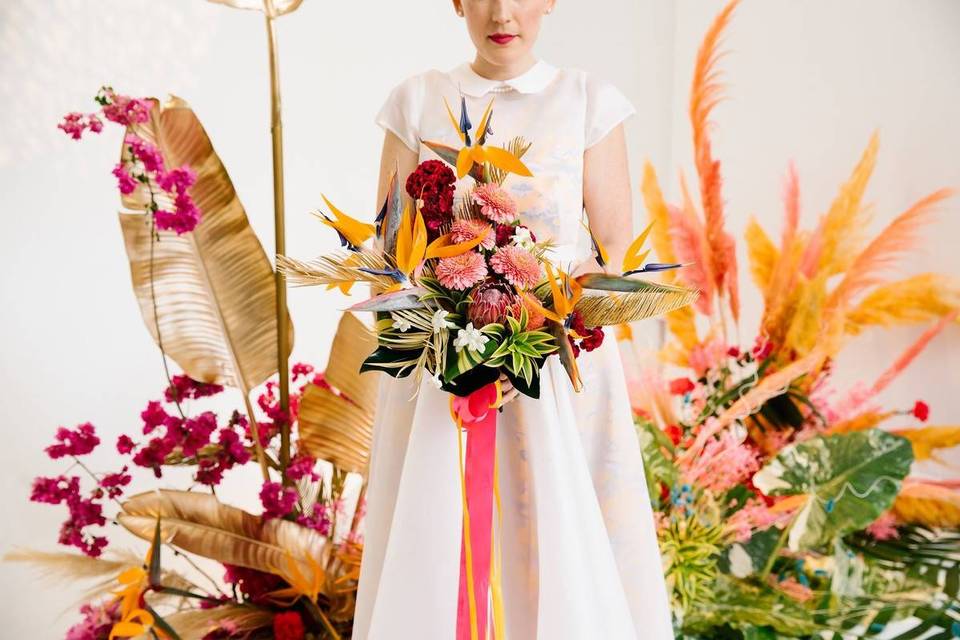 Planning to get hitched between May and September? We're sharing some of our favorite summer wedding color schemes inspired by the season's sun-filled days, laid-back vibes, and warm temperatures. Vibrant colors are some of the most popular hues for summer weddings, so we've included plenty of bright and bold color palettes to liven up your wedding day, but you'll also find inspiration for romantic pastels and modern neutrals. And if you need even more ideas as you're wedding planning, you can check out this tropical wedding theme inspiration or our Wedding Color Generator to create your own color combos.
What colors are good for a summer wedding?
When it comes to choosing wedding colors, a general rule of thumb is that your palette should subtly reflect the aesthetic and spirit of the season. For summer wedding color schemes, that means hues inspired by the sunny vibes and energetic mood of this time of year, for example, bright fuchsia pink, cheerful yellow, spunky orange, and refreshing light blue. The summer season is also a great time to incorporate earthy color palettes, since many weddings take place at outdoor wedding venues or at unexpected locations filled with natural beauty, such as parks, beaches, and mountains. Neutral and muted colors, like sage green, taupe, terracotta, and dusty mauve are top picks for boho and rustic wedding themes. Finally, there's nothing more elegant than a classic summer wedding—especially if you're getting married at a formal garden wedding venue, country club, or show-stopping rooftop terrace. For sophisticated summer wedding color schemes, choose timeless hues like navy blue, blush pink, lilac, and pale butter yellow.
Summer Wedding Color Ideas
Looking at inspiration is one of the most helpful ways to figure out the types of summer wedding color palettes you like best. If you need help getting started, check out these warm-weather wedding ideas and colors that have our stamp of approval.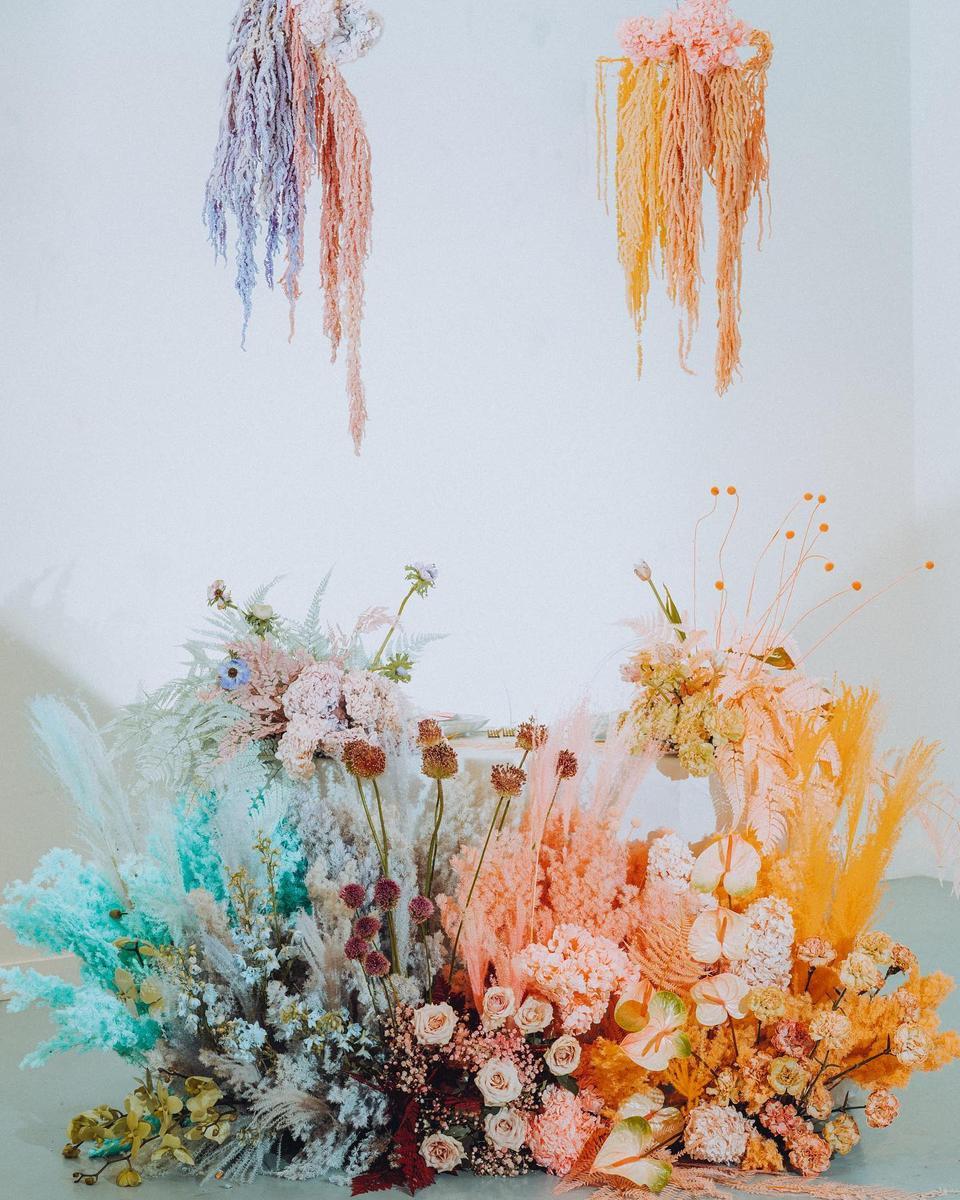 Pastel rainbow
Choose a rainbow-inspired palette if you want more than just one pop of color. This pastel wedding color combo of turquoise, orange, light pink, and purple is fun and playful.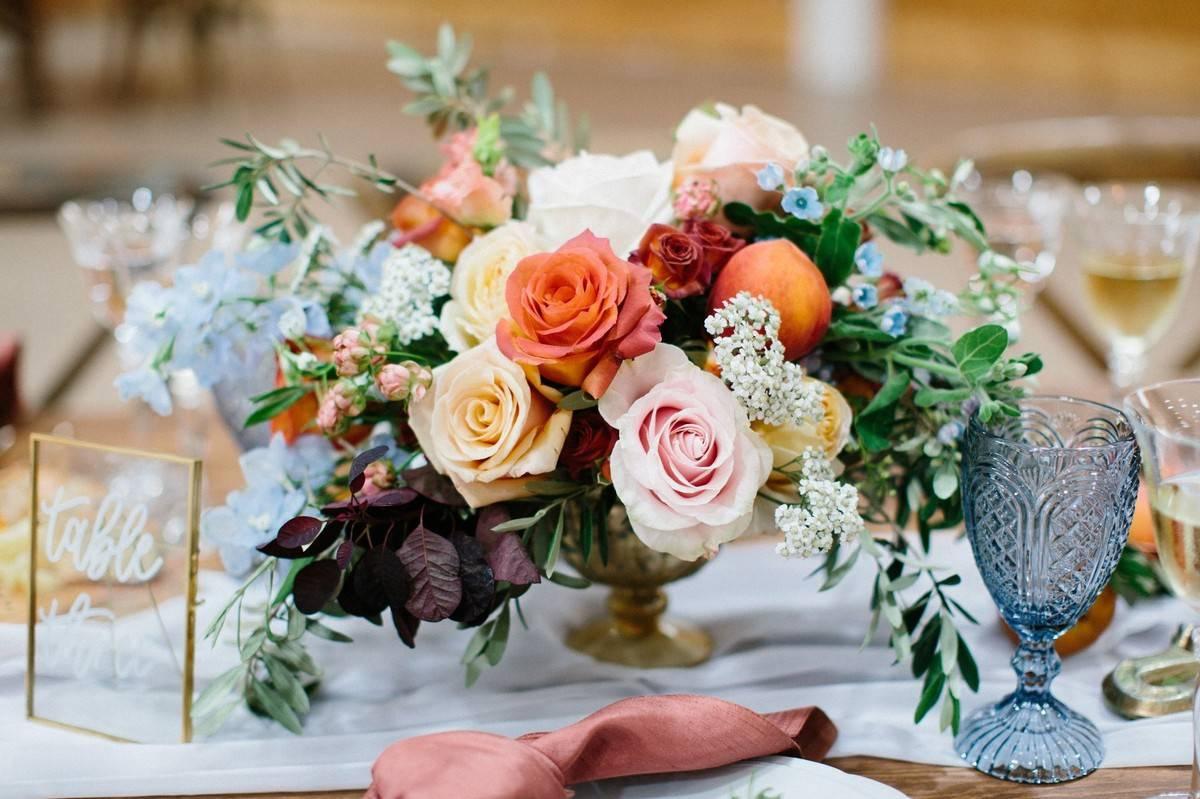 Orange and blue
Orange and peach may seem like tricky colors to incorporate into your wedding decor, but when you pair them with classic shades like French blue and blush, they're given a whole new look. This colorful centerpiece captures all the rich hues of a summer sunset.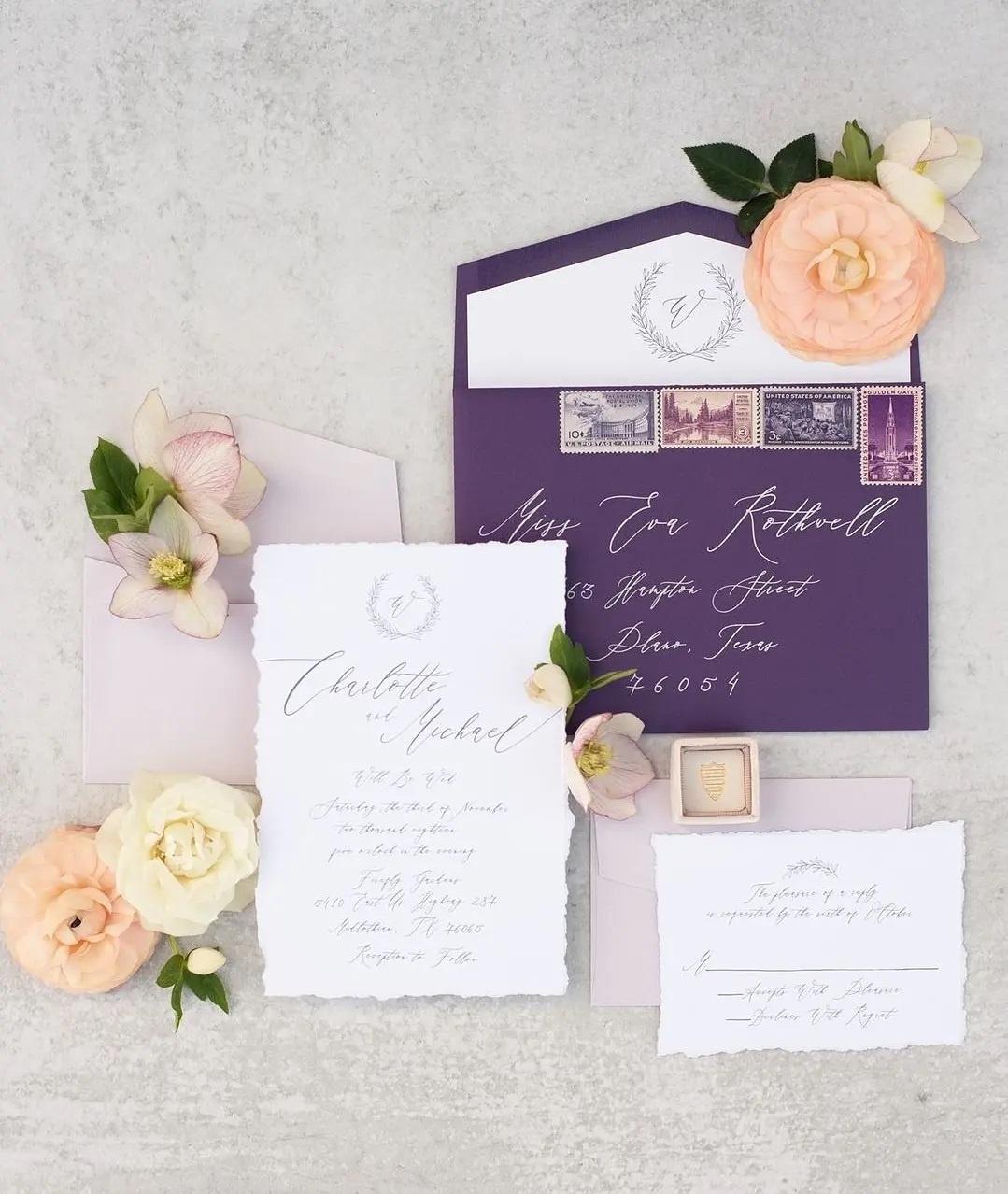 Plum, lilac, and apricot
This dark purple shade is traditionally seen as a fall wedding color, but it's actually a great option for summer weddings too. Pair it with light peach, lilac, and white to brighten the overall palette so that the plum jewel tones feel appropriate for the summer season.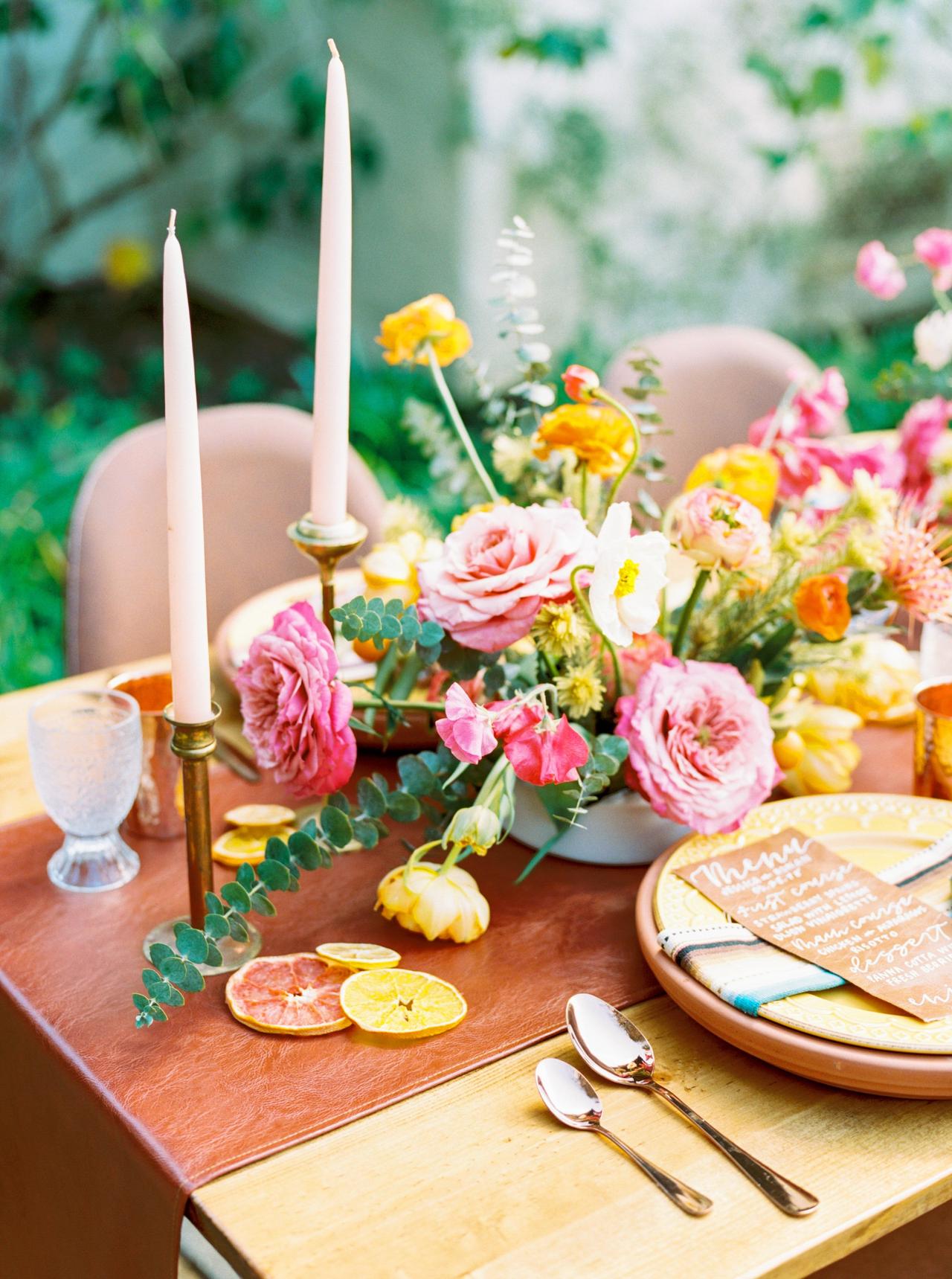 Hot pink, yellow, and orange
Citrus-inspired colors like pink, yellow, and orange make quite a statement on the big day. These bright colors are whimsical and upbeat, so they're an excellent choice if you're going for a party-all-night vibe. We love how they look when paired with metallic gold and natural accents, like wood and leather (like this table runner). This is also a great wedding color palette for a spring wedding.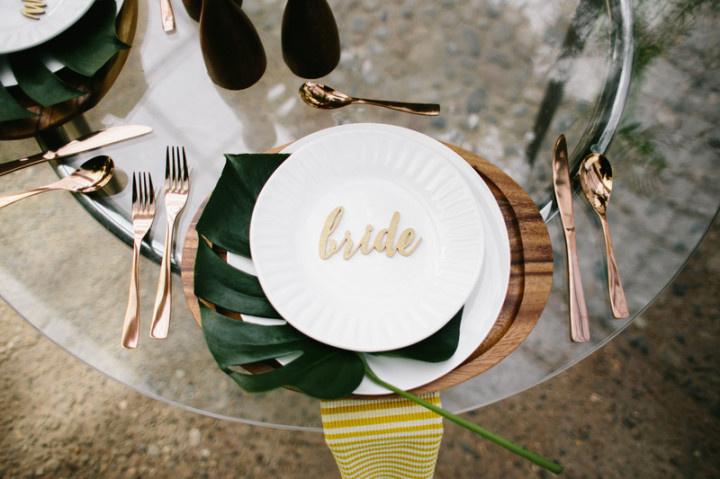 Green, white, and copper
Achieve a modern minimalist vibe by using green, white, and copper as your summer wedding colors. This trio is one of the most versatile color palettes—it works for nearly all styles depending on the specific decor you use. This place setting is casual-meets-tropical, thanks to the monstera leaf and wood charger paired with basic white plates.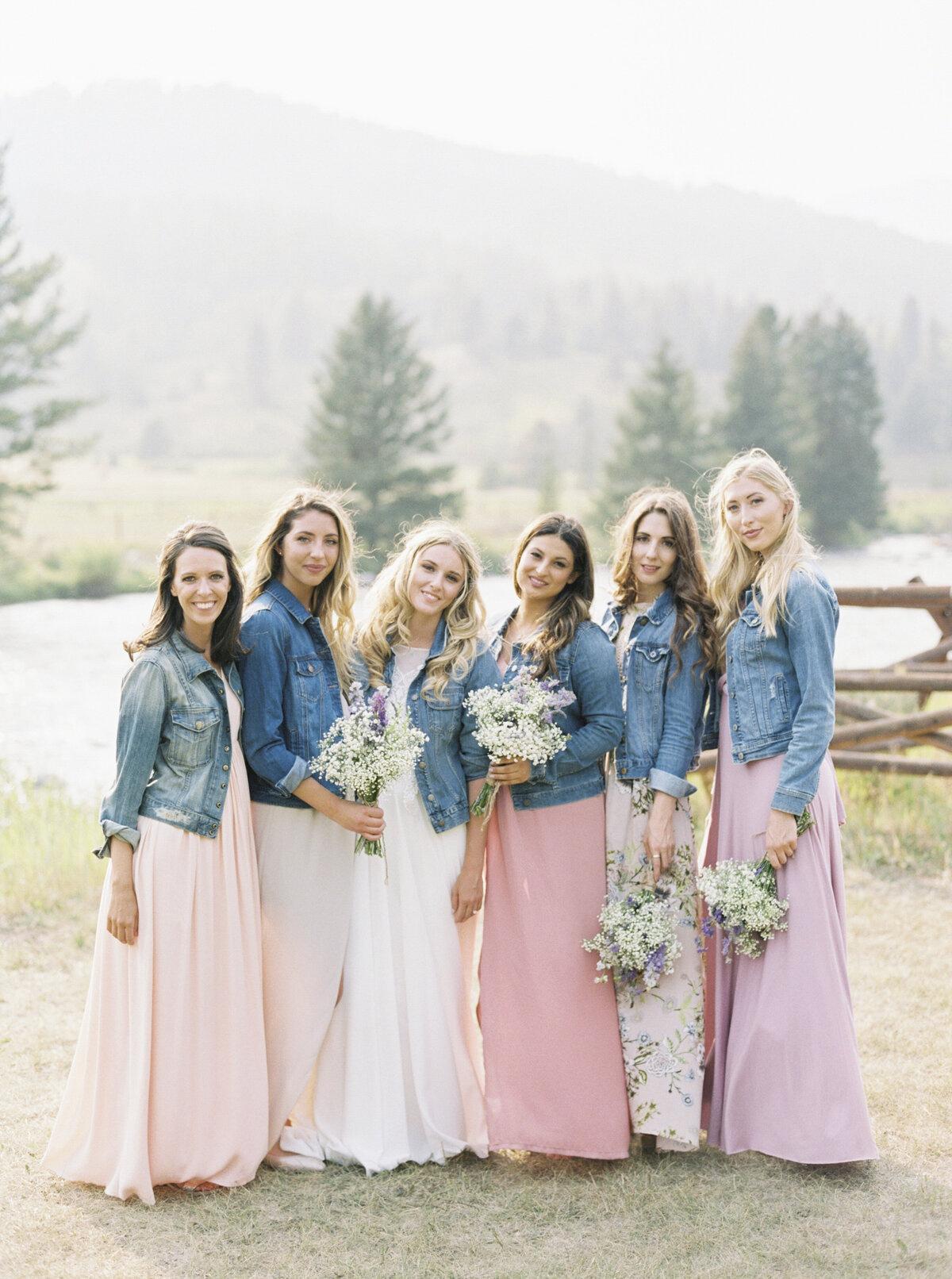 Blush pink and dusty blue
Whether you're going for rustic chic flair or updated classic style, blush and blue are always a winning combination. This summer wedding color scheme is light and airy, and it's easy to incorporate into nearly every part of your nuptials, from bridesmaid dresses and floral arrangements, to tablescapes and stationery. How cool does this bridesmaid crew look with their denim jackets?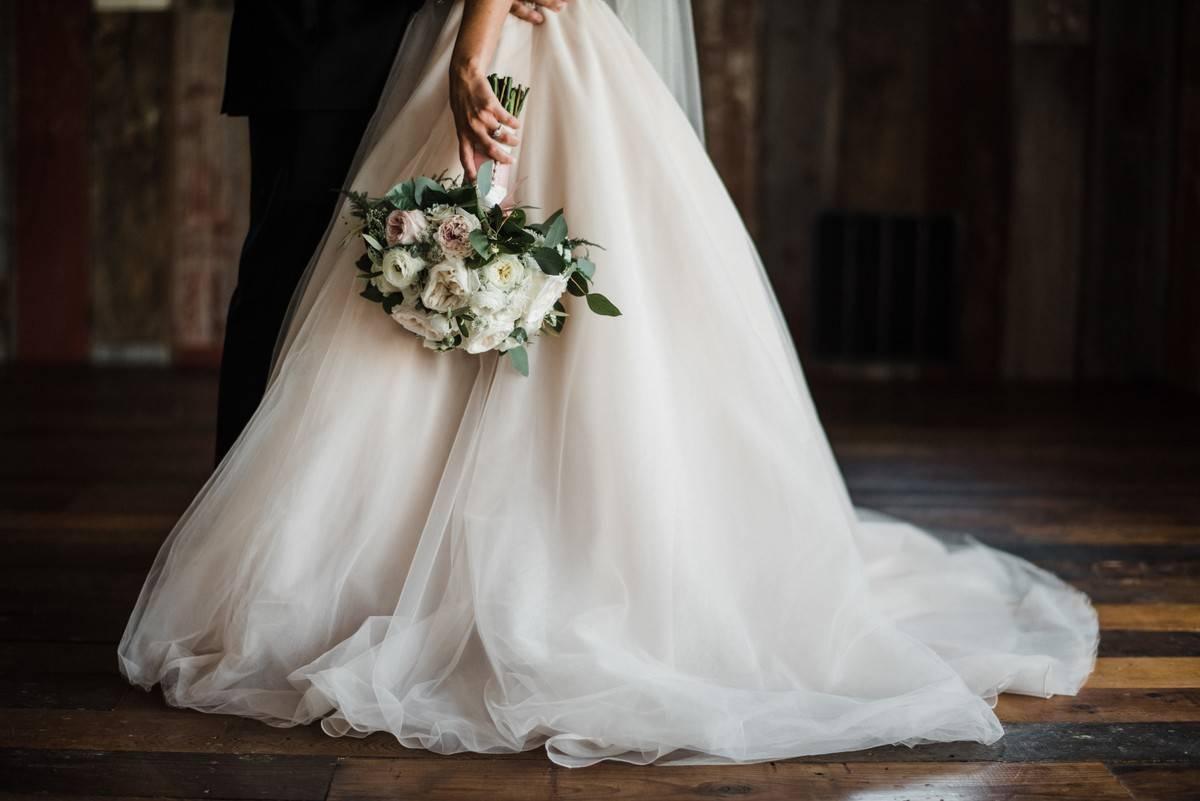 Mauve and sage
If blush and blue is too mainstream for your taste, try a rosy pink and sage green instead. This soft green hue gives you an excuse to include lots of lush greenery in your wedding decor.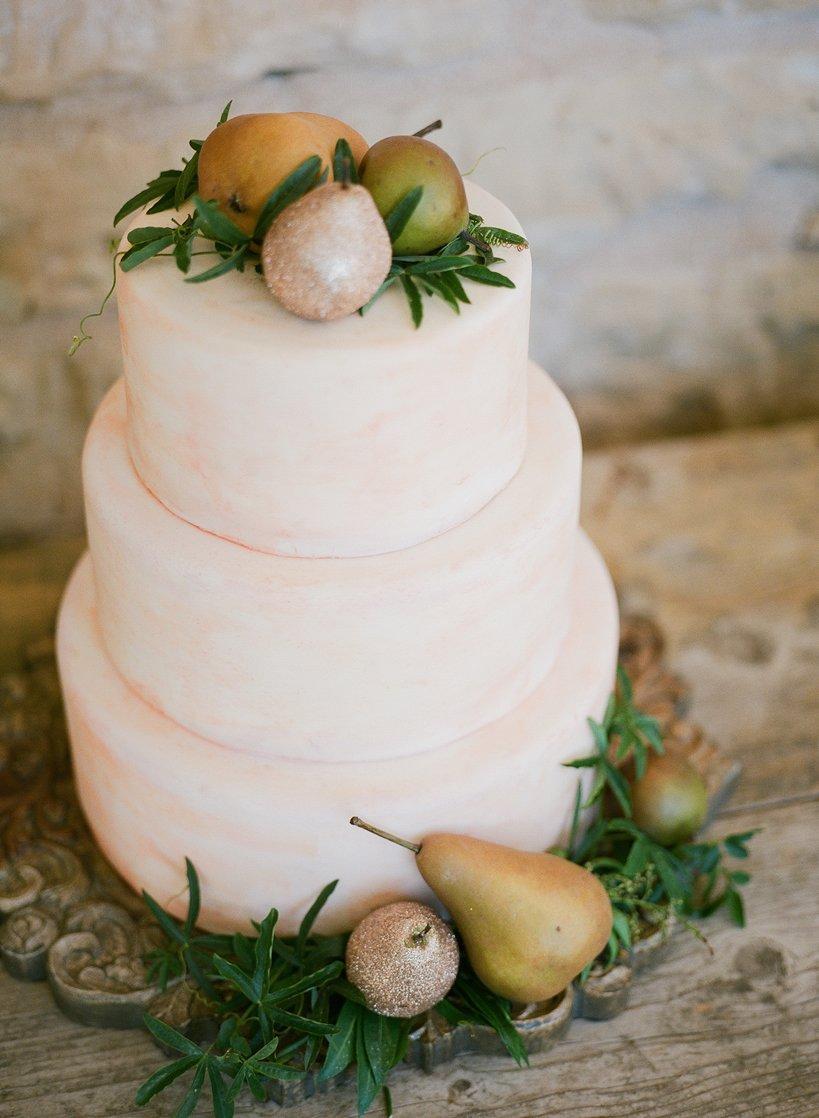 Neutral tones
Summertime is a perfect opportunity to try out a neutral color palette. With ethereal shades like ivory, beige, and gray, your wedding aesthetic will feel refreshing and chic (perfect for those hot summer days). Take inspiration from this swoon-worthy wedding cake and break up the neutrals by adding muted color combinations using details like seasonal fruits, such as figs and Bartlett pears.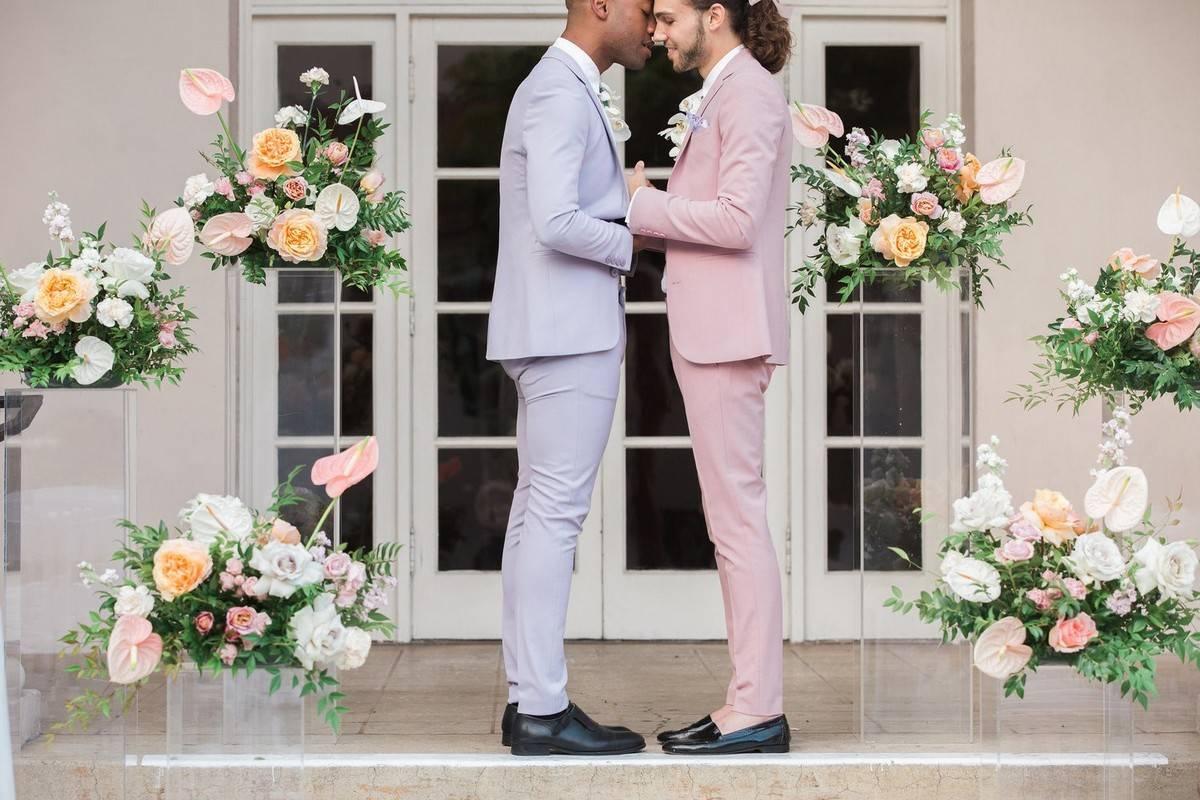 Lavender and blush
For a late spring wedding, this pastel color combo bridges the seasonal transition to summer. It's ideal for a garden reception or other elegant wedding theme.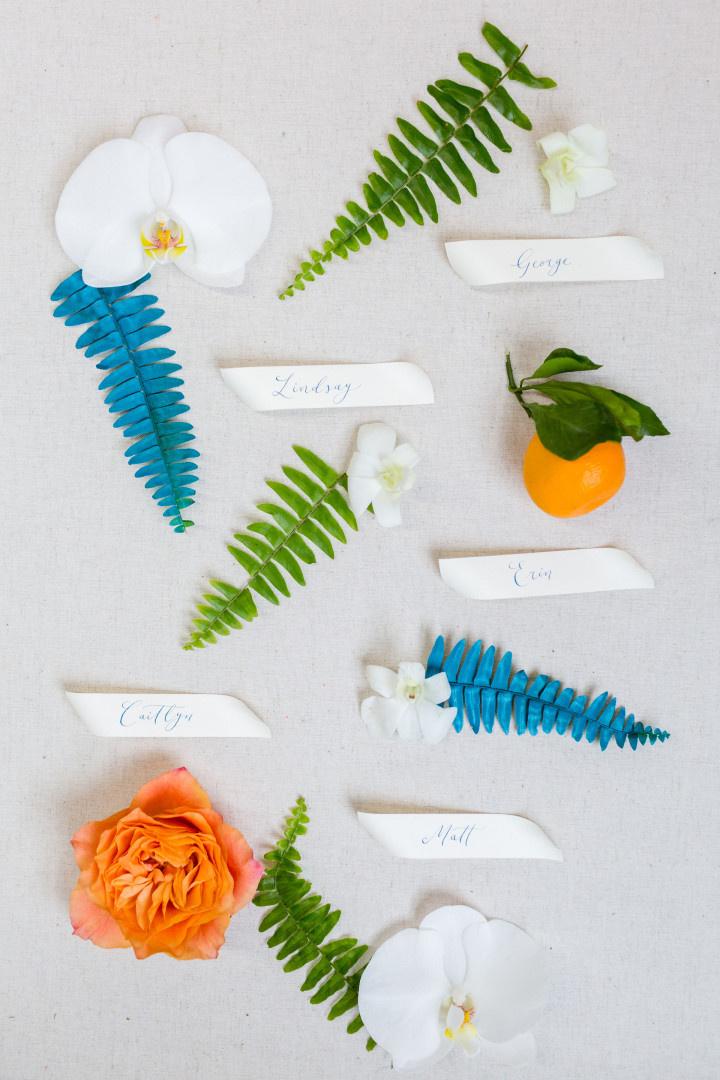 Orange, green, and teal
If you love the idea of a playful, beachy vibe, this is the summer wedding color scheme for you. Pair eye-catching orange and teal with accent colors like green and white for a color palette inspired by a tropical island. Whether you're having a beach wedding or are just looking for a way to recreate that laid-back atmosphere with a tropical wedding theme, we're loving this zesty combination.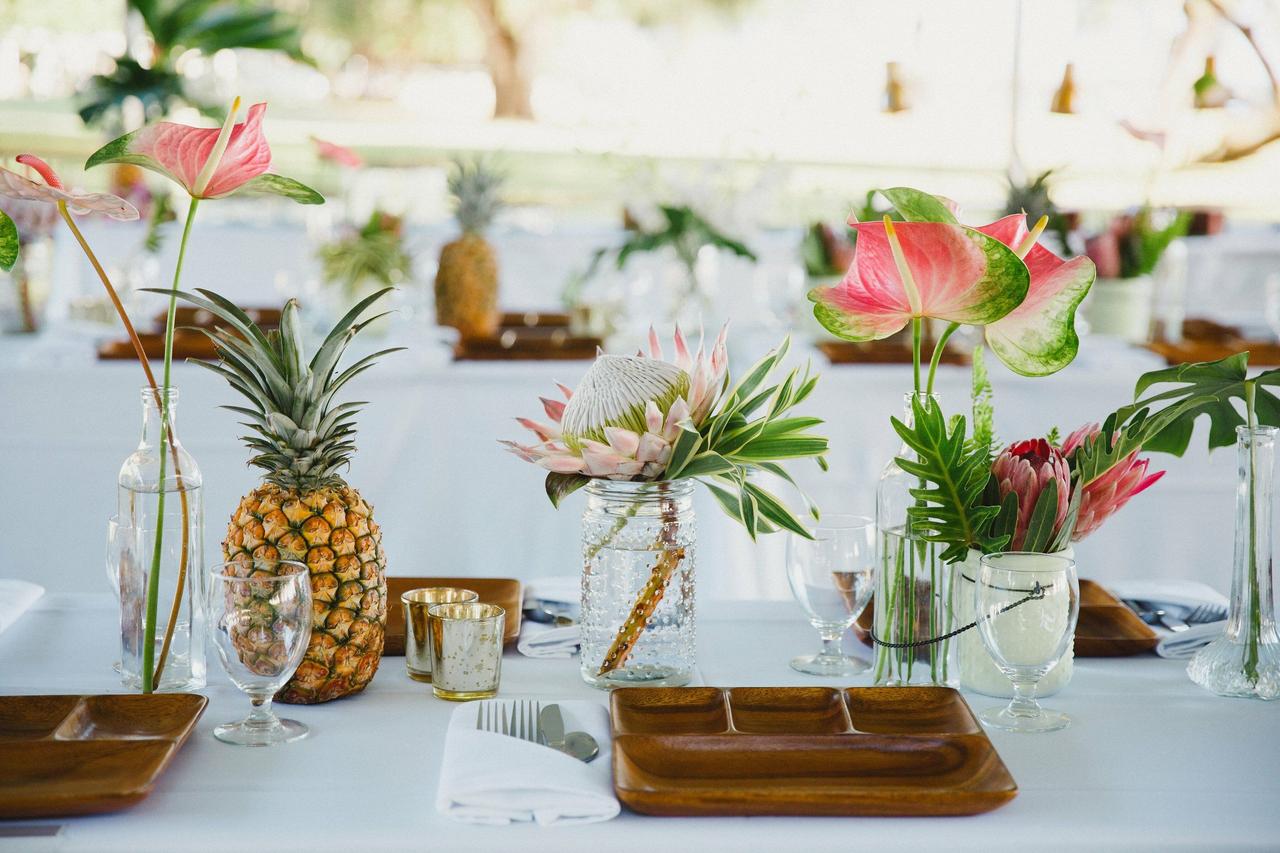 Hot pink and green
Here's another island-inspired combo we can't get enough of. This color palette already has its own flowers to match, with centerpieces of eye-catching proteas and anthuriums. Pair a pink and green palette with white details to really make the colors pop for an outdoor wedding.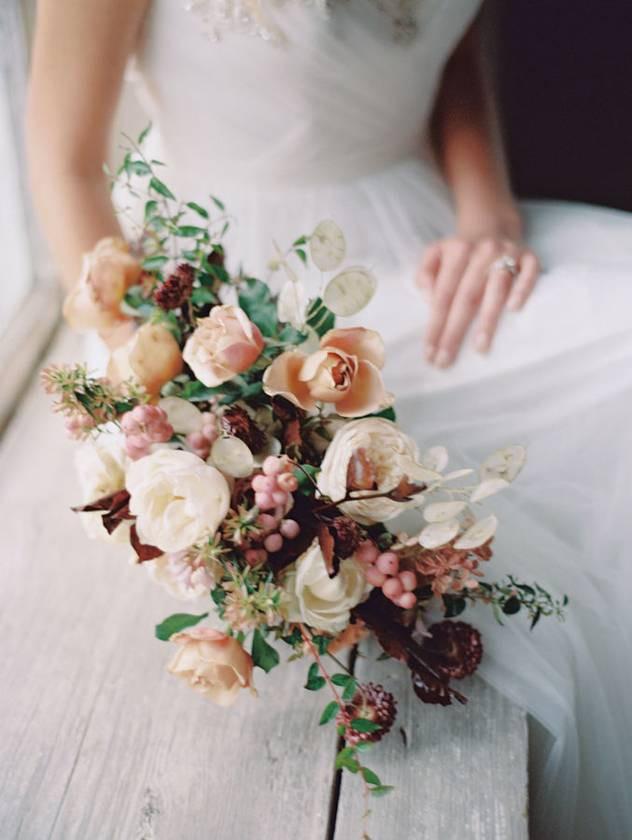 Cream, burgundy, and peach
Not all summer wedding colors have to be bright and bold. Darker tones, like mulberry or burgundy red bring a moody twist to a traditional summer color palette of ivory, dusty rose, and peach—all perfectly paired together in this wedding bouquet. We think this is a gorgeous alternative if you're looking for something that's highly romantic but unique. With more deep red tones, it would be a gorgeous winter wedding color scheme too.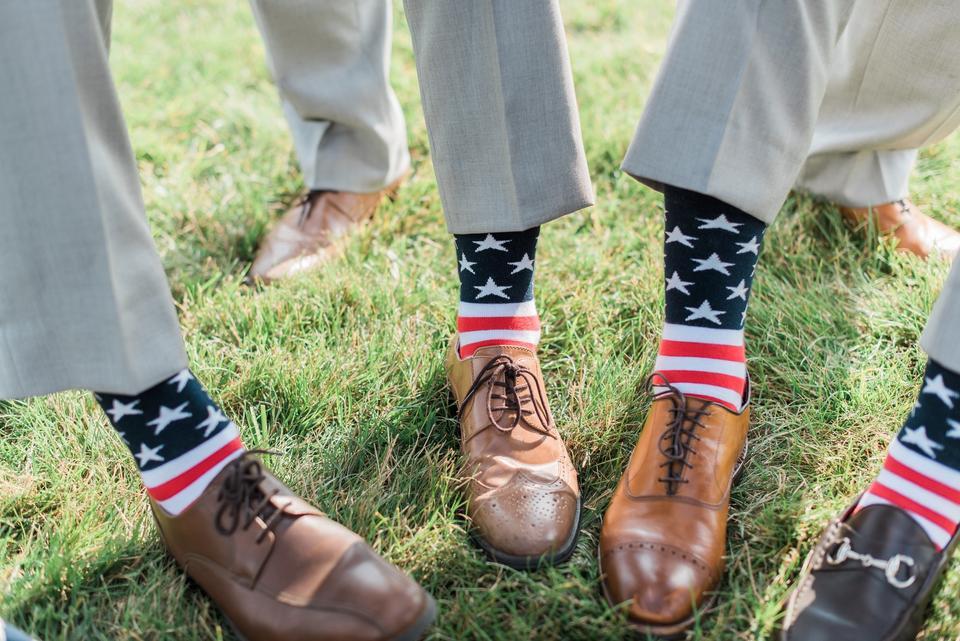 Red, white, and blue
The summer season is one of the few times a year when you can pull off this patriotic color palette. Naturally, it's perfect if you're having a wedding over Memorial Day weekend or getting married on the Fourth of July. Use mix-and-match shades of red, white, and blue for a modern take on Americana wedding style (and don't forget to include the flag accessories, like these groomsmen socks).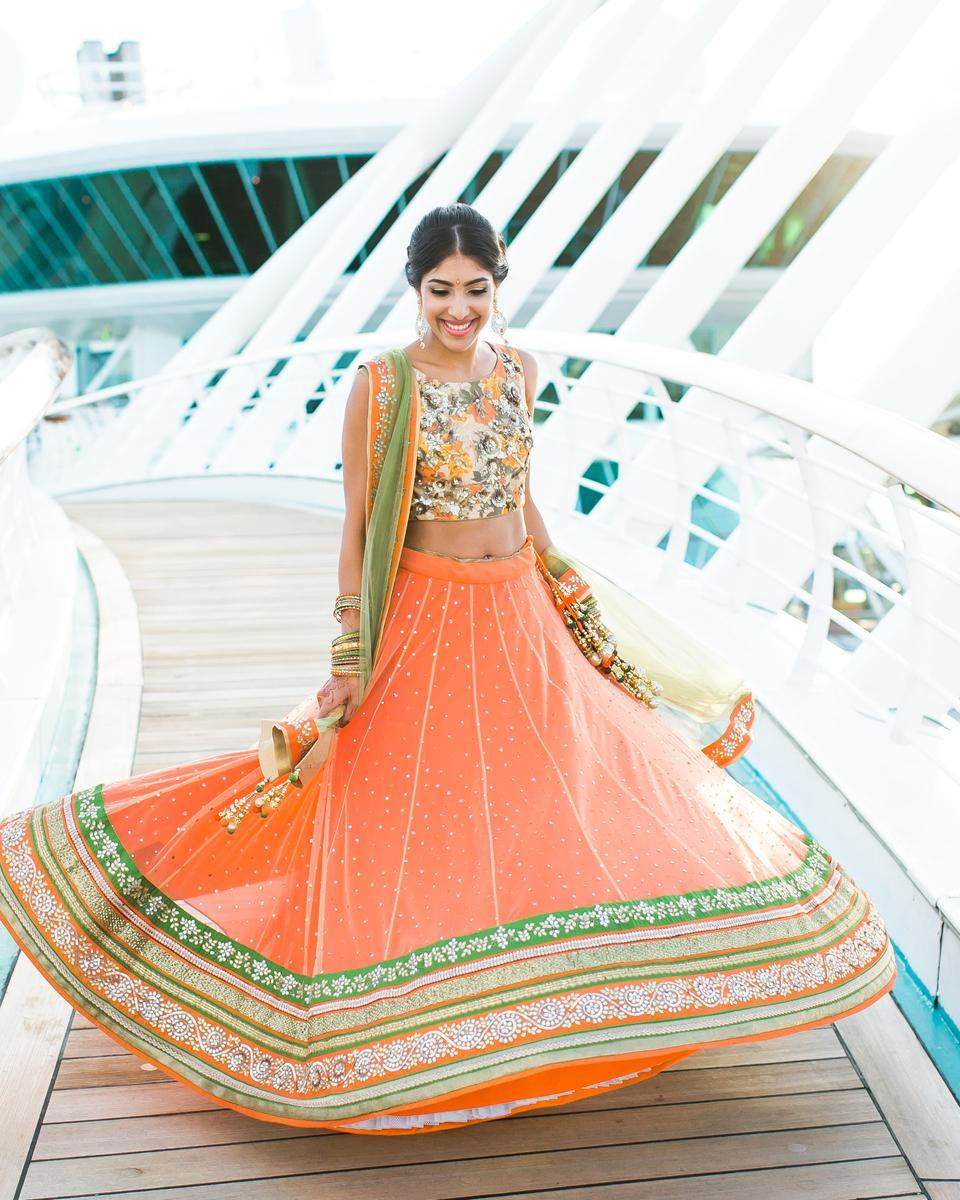 Mango and light green
We already know that this punchy color is amazing when paired with neutrals like white and gold, but coral is surprisingly stylish with an unexpected color like light green. It's impossible to have a bad day when you're surrounded by this cheerful palette.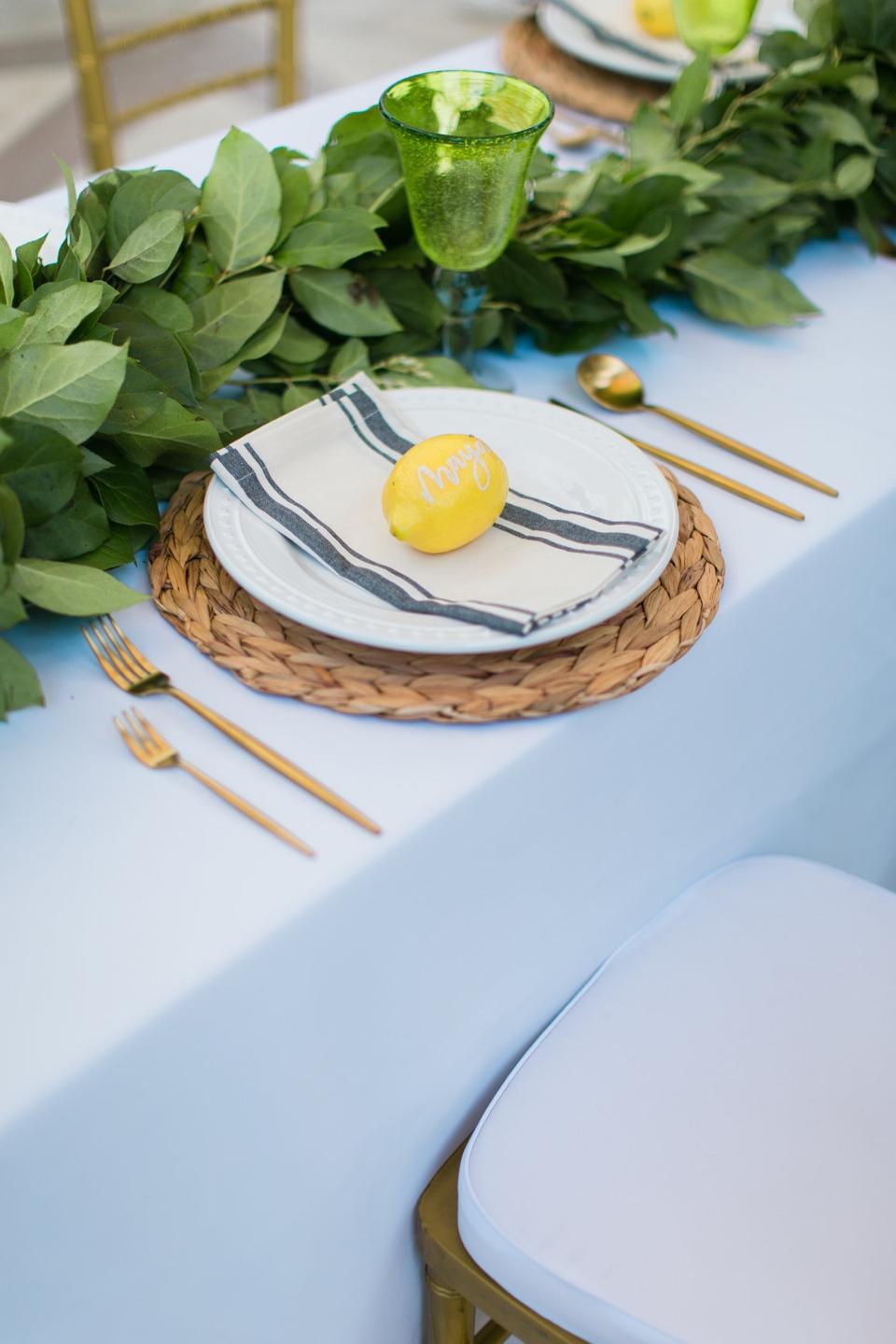 Yellow, green, and gray
Touches of lemon yellow will instantly brighten a basic green and charcoal gray color palette. These stylish summer wedding colors remind us of an intimate garden party—preferably one surrounded by lemon trees at a villa in the Tuscan countryside. We can dream, right?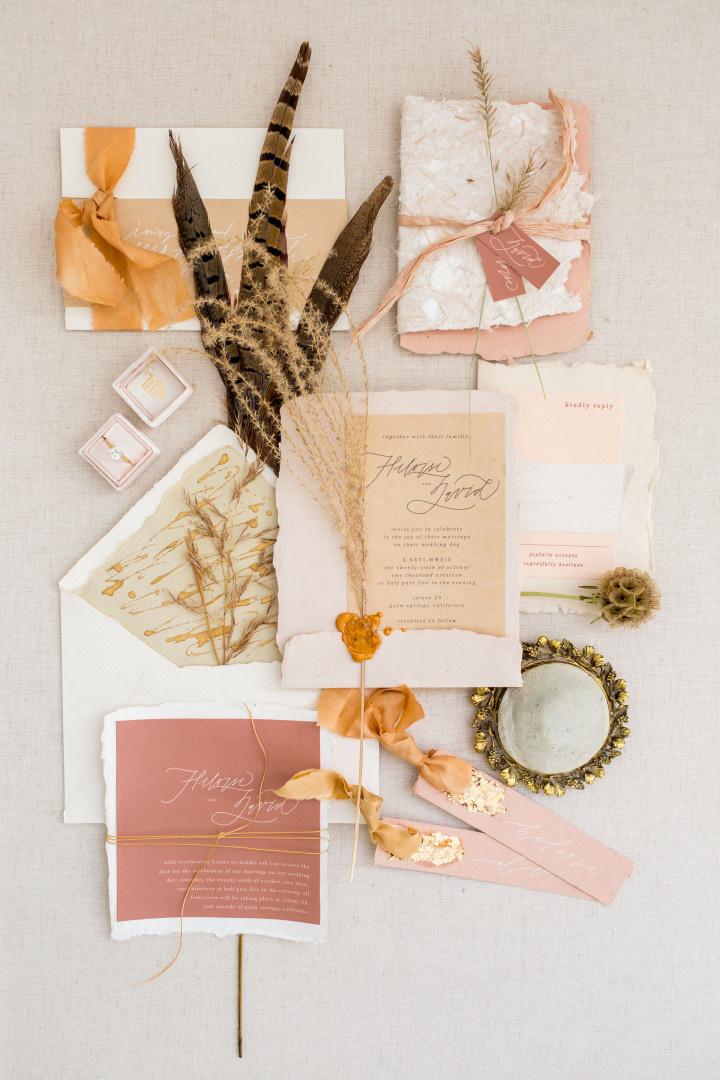 Ochre, gold, and brown
We're swooning over this color palette that's equal parts romantic and bohemian (see more bohemian wedding theme ideas right here). We know what you're thinking: brown as an accent color? But trust us when we say that brown brings an element of warmth and richness to your decor, especially when you incorporate it through nature-inspired details, like feathers, driftwood, and dried grasses.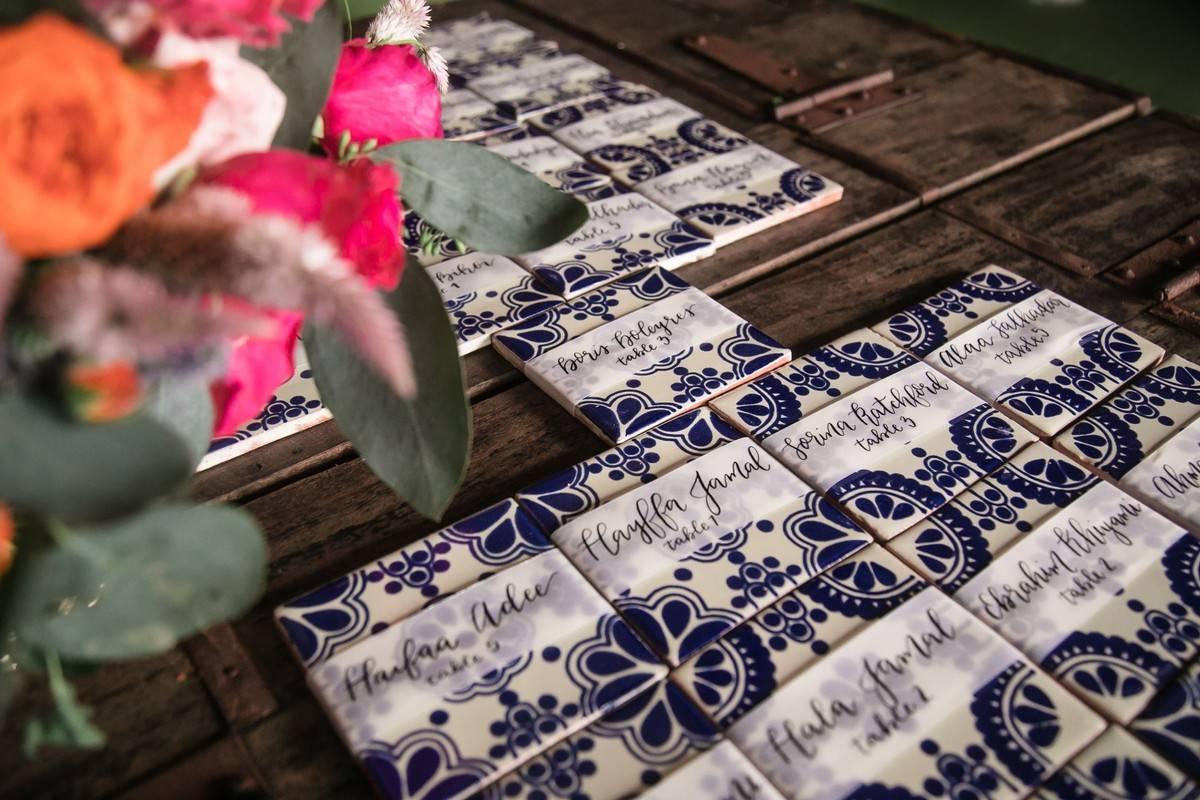 Blue and white
When it comes to summer wedding colors, there are few palettes more classic and timeless than blue and white. This tried-and-true combination is beautiful year after year, and it works for nearly any wedding style, whether you're having a nautical theme, a formal garden wedding, or a mermaid-inspired wedding.