20 Nautical Wedding Ideas You Need If You're Getting Married by the Water
Whether you're on the East Coast, the West Coast, or somewhere in between, these nautical wedding ideas will bring plenty of seaside charm to your big day.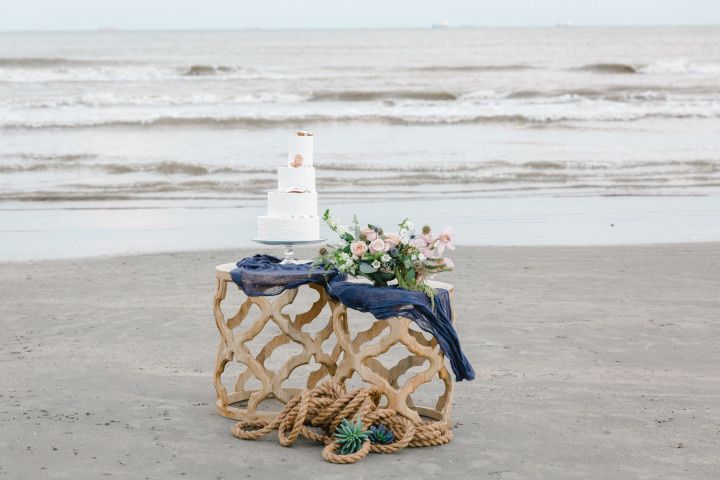 Nautical wedding style is ideal for couples who love to relax and have a good time — or simply for those who feel most at home with an amazing waterfront view (water signs, anyone?). This wedding aesthetic is both playful and polished, and we're sharing some of our favorite nautical wedding ideas to prove just how stylish it can be. Whether you're getting married on the beach and want to play up the nautical vibes of your venue, or you're landlocked and are searching for ways to bring the ocean to you, we've got you covered.
Let these nautical wedding ideas inspire your own waterfront celebration.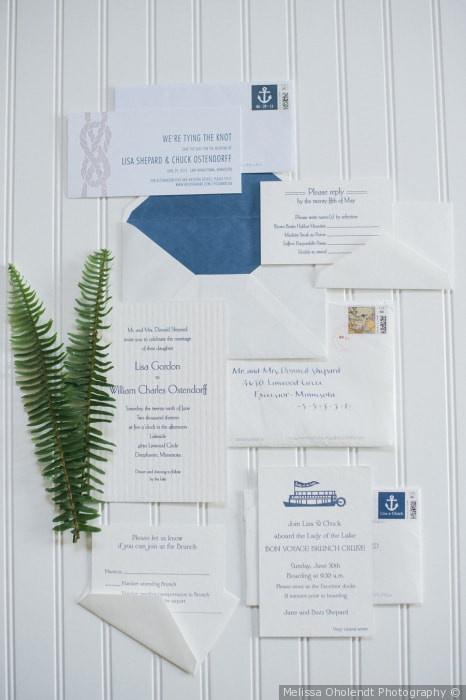 Blue and white invitation suite
You can't go wrong when it comes to these quintessential nautical wedding colors. Accent a crisp white stationery suite with navy blue details and motifs like ropes, anchors, and steamboats, for invitations that set the tone for a nautical event.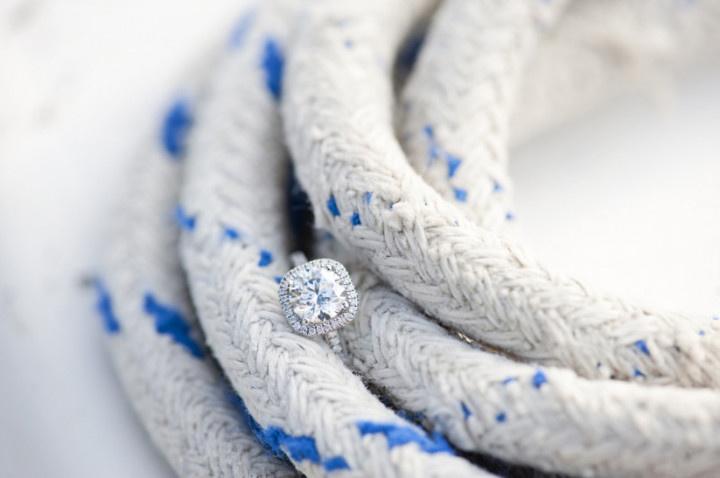 Engagement ring shot
On the big day, it's helpful to have some props on hand that your photographer can use while they're capturing detail shots of things like your engagement ring, wedding stationery, and accessories. Sailing rope is an unexpected but appropriate accent that will instantly bring nautical-inspired flair to your wedding photos.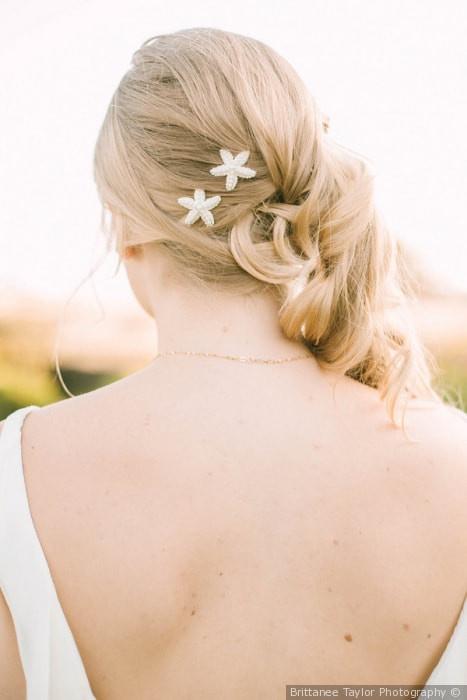 Braided 'do
Nautical wedding style is a mix of classic and relaxed vibes, so a loose, side-swept updo is a totally fitting choice for brides. This braided wedding hairstyle is especially great if you're getting married outdoors, since it will help keep your tresses tame even in warmer temperatures or windy conditions (gotta love that ocean breeze!). How cute are those starfish barrettes? Total mermaid vibes.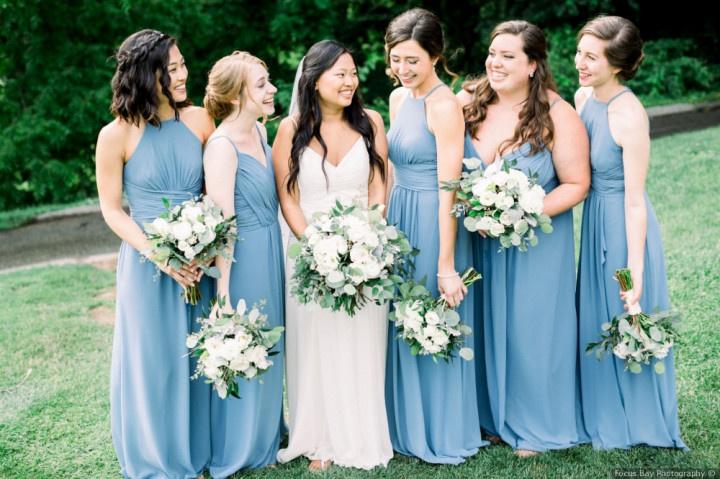 Flowy bridesmaid dresses
Ensure that your besties feel comfortable and relaxed on the big day by having them wear flowy bridesmaid dresses. Lightweight fabrics, such as chiffon and jersey, will allow your gals to move effortlessly while keeping them cool if you're getting married during the summer months. Blue is a popular color for nautical bridal parties, but embroidered styles, popovers, and even jumpsuits are a few other bridesmaid dress trends that we're loving.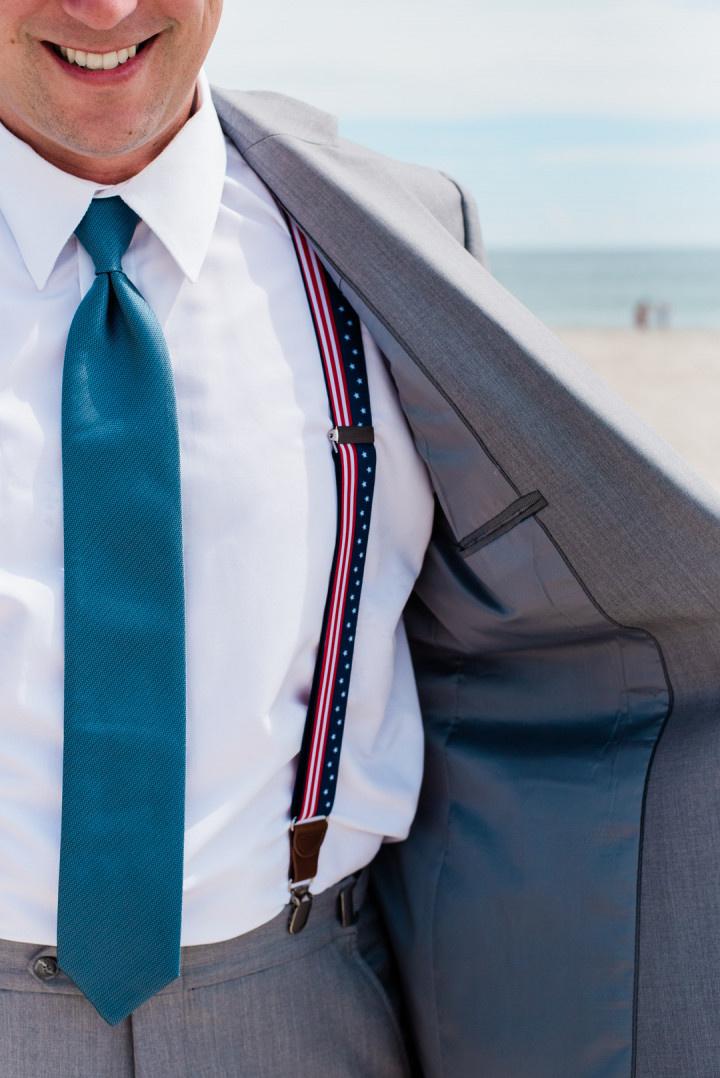 Groom's accessories
Is your wedding taking place near Memorial Day, July 4th, or Labor Day? If so, consider adding some patriotic flair to your outfit with the help of accessories. Star-spangled suspenders give your wedding day attire a nautical, all-American spin.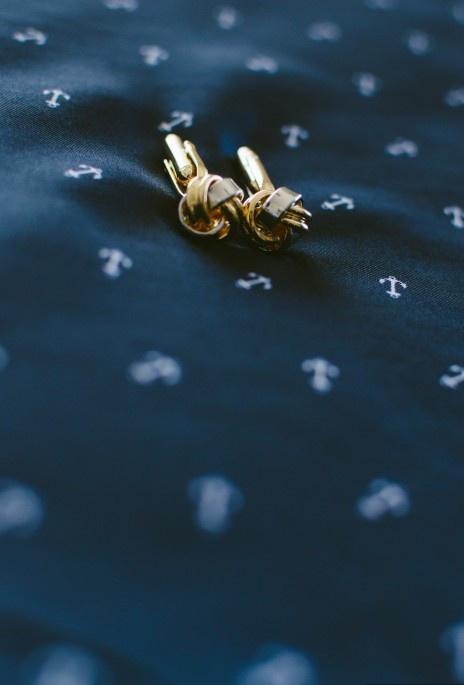 Nautical knot cufflinks
For nautical wedding accessories that are a bit more subtle, try an anchor-print tie and cufflinks in the shape of sailors knots.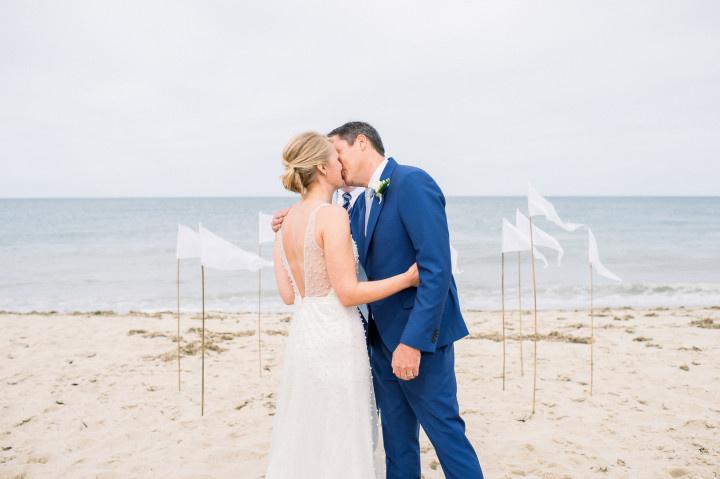 Ceremony backdrop
If your wedding ceremony is taking place somewhere with a view, decorate the space in a way that feels personal without obstructing the scenery. We love how these simple flagpoles provide just enough decoration for this oceanfront ceremony spot while still providing an amazing view of the water.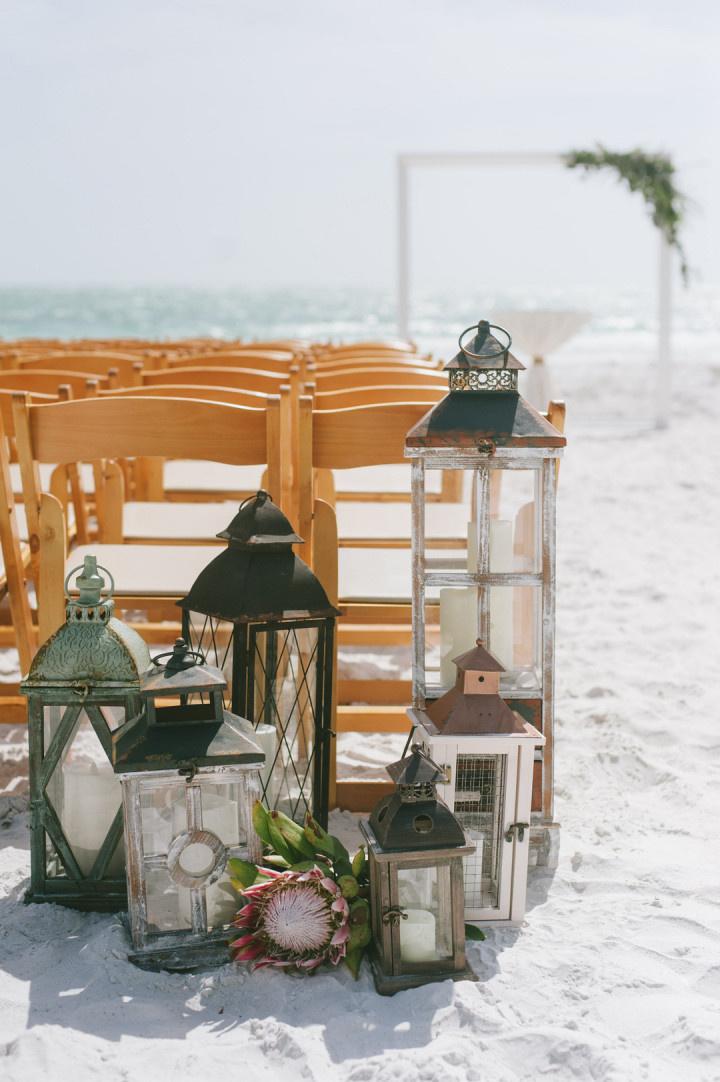 Vintage lanterns
Aside from your ceremony backdrop, you won't need to have much else decor for a beach wedding ceremony — unless you want to, of course! Vintage hurricane lanterns are some of our favorite nautical wedding ideas to decorate your venue in a relatively easy way. Gather lanterns in different sizes and arrange them as a focal point at the start of your aisle. The more eclectic, the better!
Styling by Jennifer Matteo Event Planning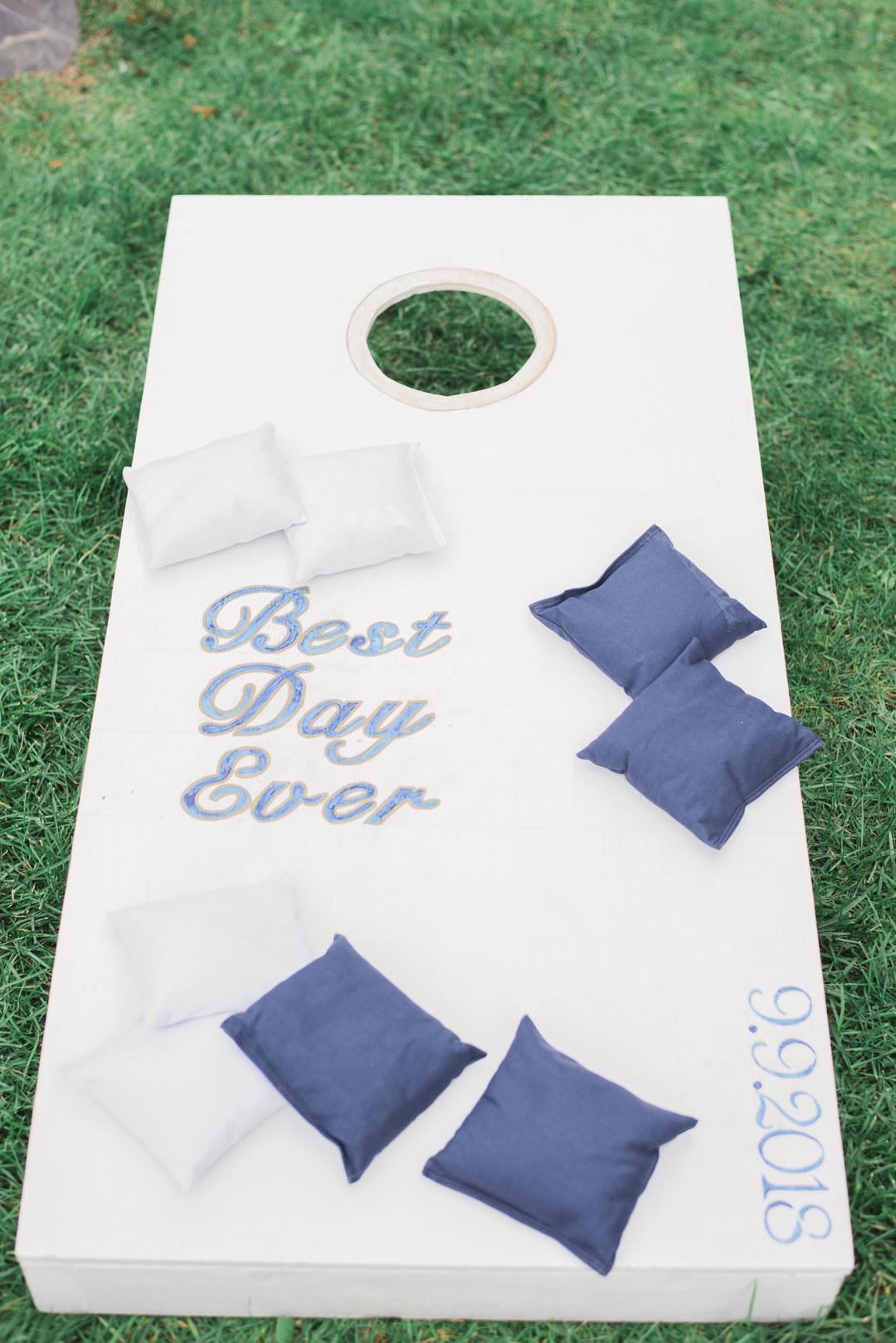 Corn hole boards
Corn hole is a staple wedding game for any outdoor cocktail hour or reception, especially if you're getting married by the water. We can already envision your guests gathering around with drinks in their hands to watch the competition!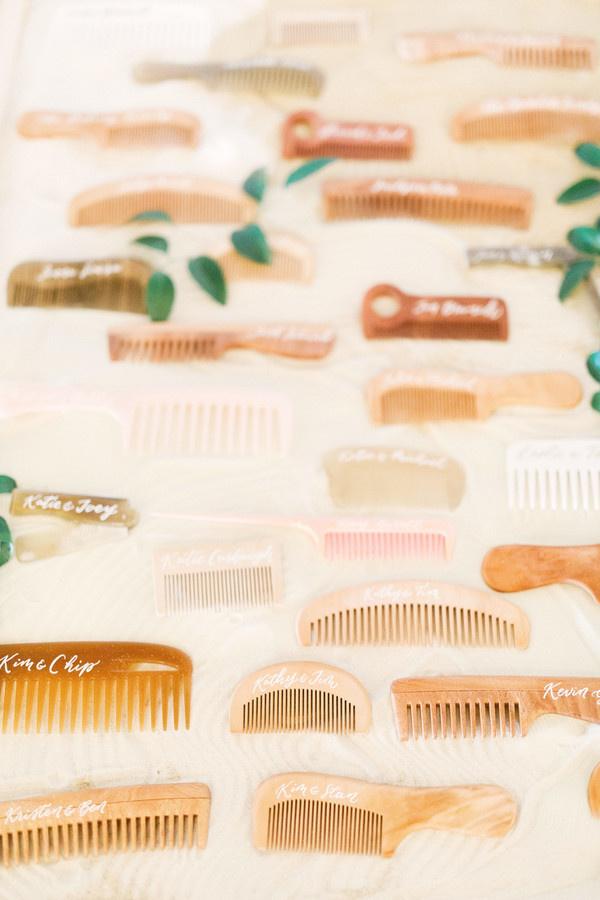 'Beachcomber' escort cards
Put your hands together for this seriously ingenious idea. Vintage combs are a playful wedding escort card idea for a beach or nautical wedding — display them in a bed of sand to give your guests a chuckle.
Styling by Amorology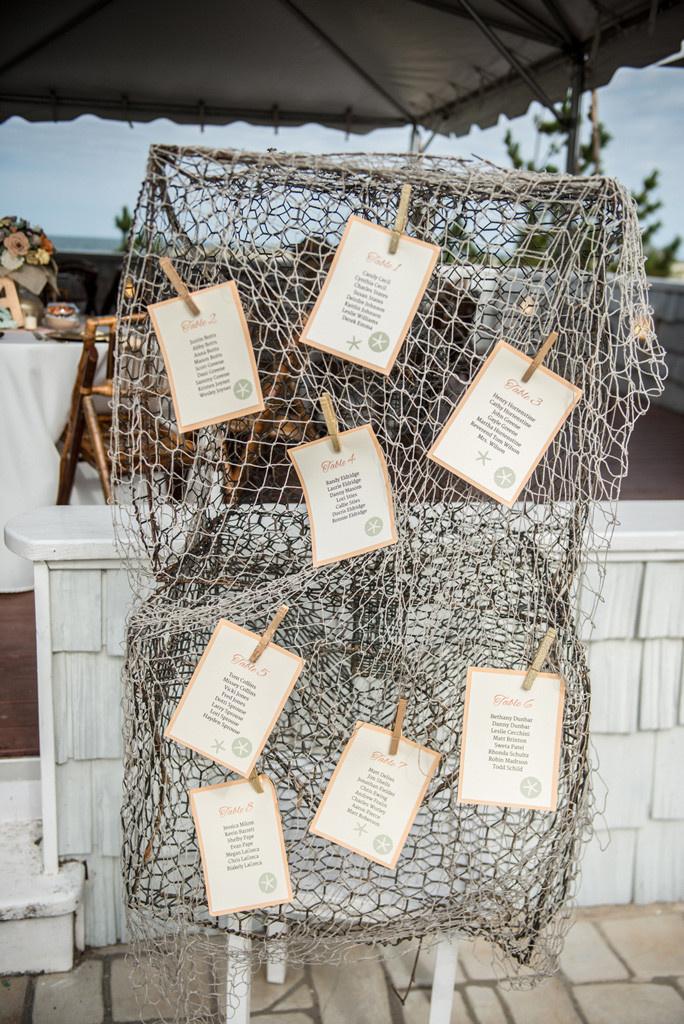 Fishing net seating chart
Alternatively, a fisherman's net can easily be used to hang your seating chart in an out-of-the-box way.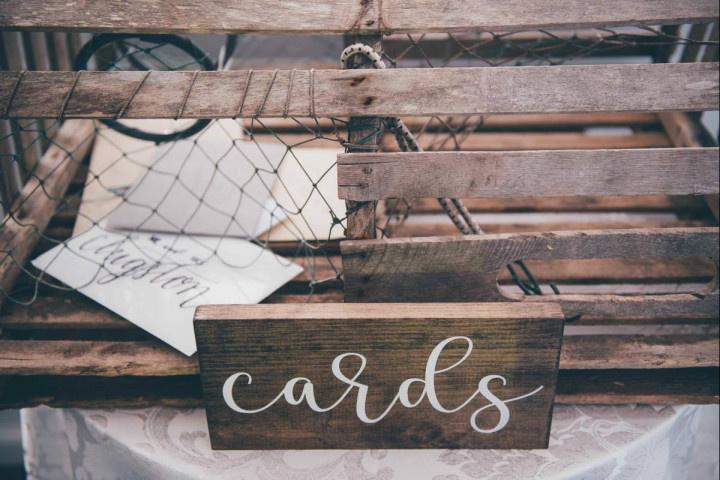 Card box
Skip the traditional card box and opt for a lobster trap instead. It's right on par with a nautical wedding theme, and it adds a bit of extra decoration to your welcome table. Win-win.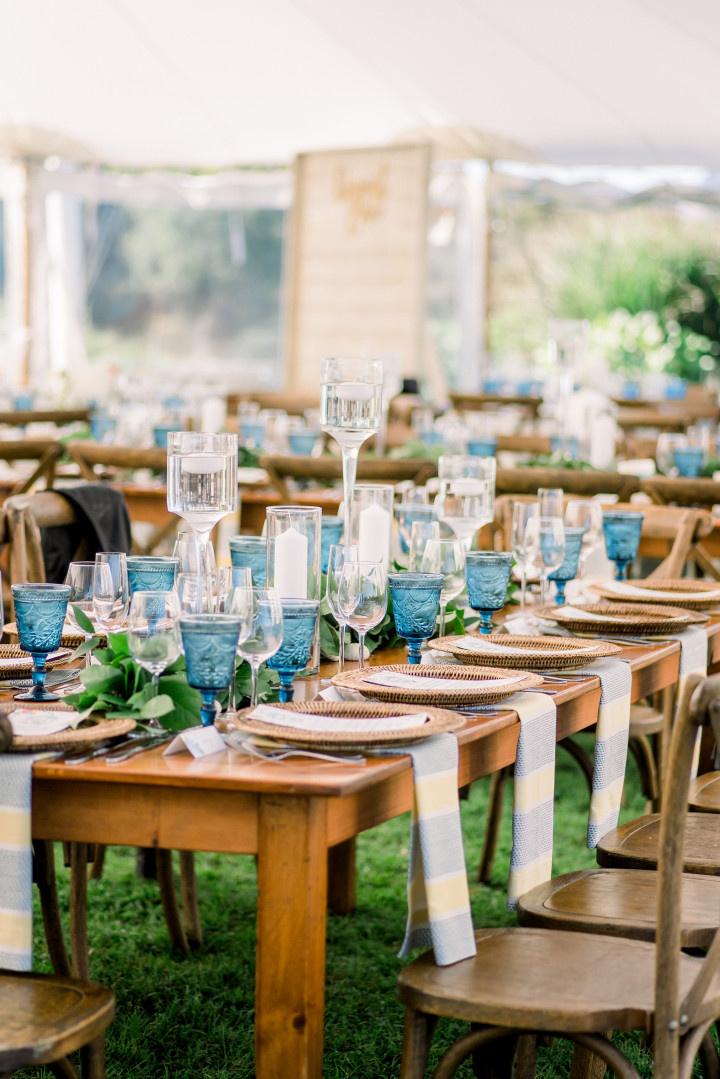 Striped linens
No nautical wedding is complete without a bit of stripes. This preppy pattern is a staple when it comes to boat-inspired style, and it's easy to use in bold or subtle ways depending on the look you want. This inviting tablescape features wide-striped napkins offset by rattan charger plates, a greenery runner, and bright blue glassware.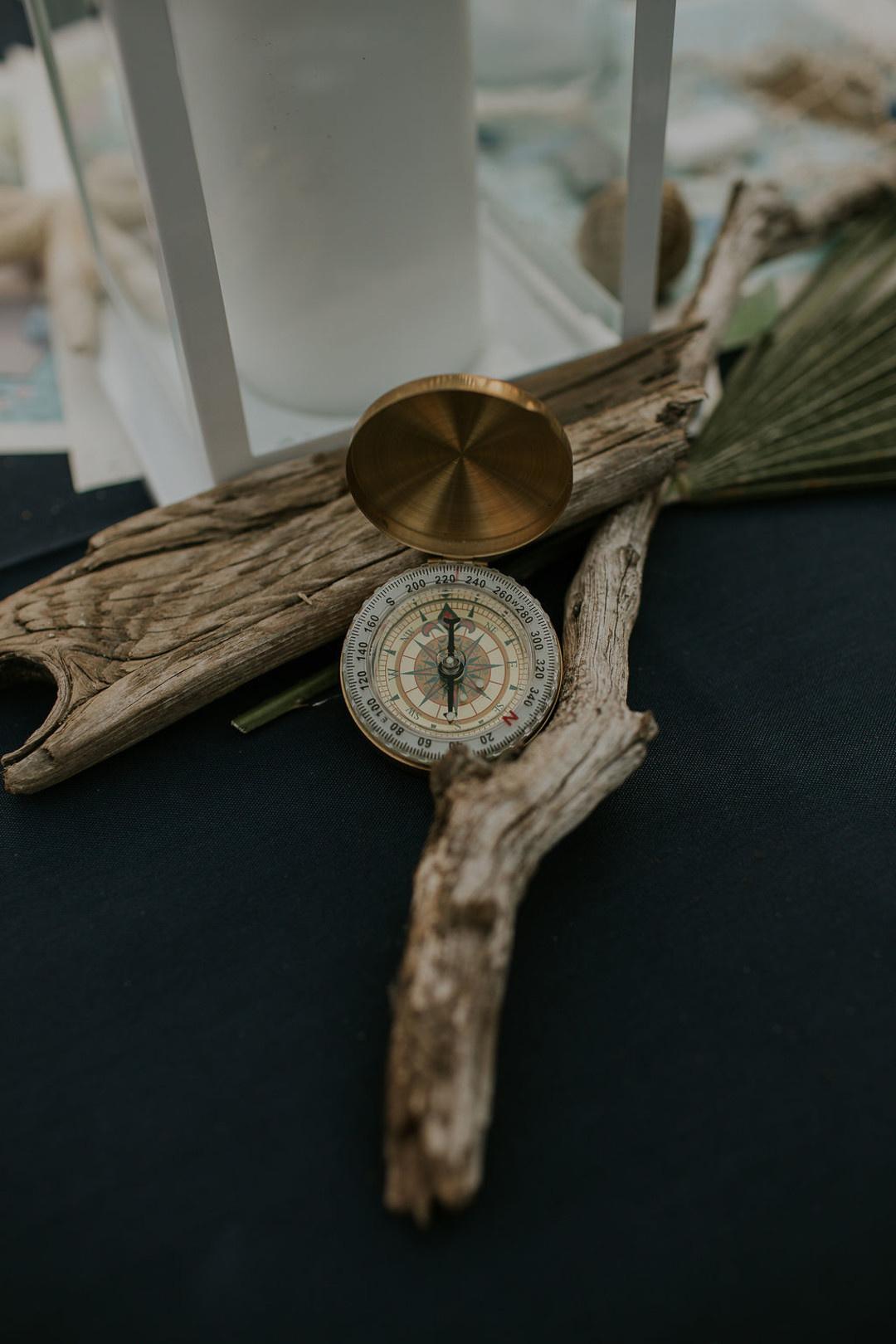 Compass centerpieces
Add compasses to your centerpieces for an instant seafaring vibe—driftwood optional!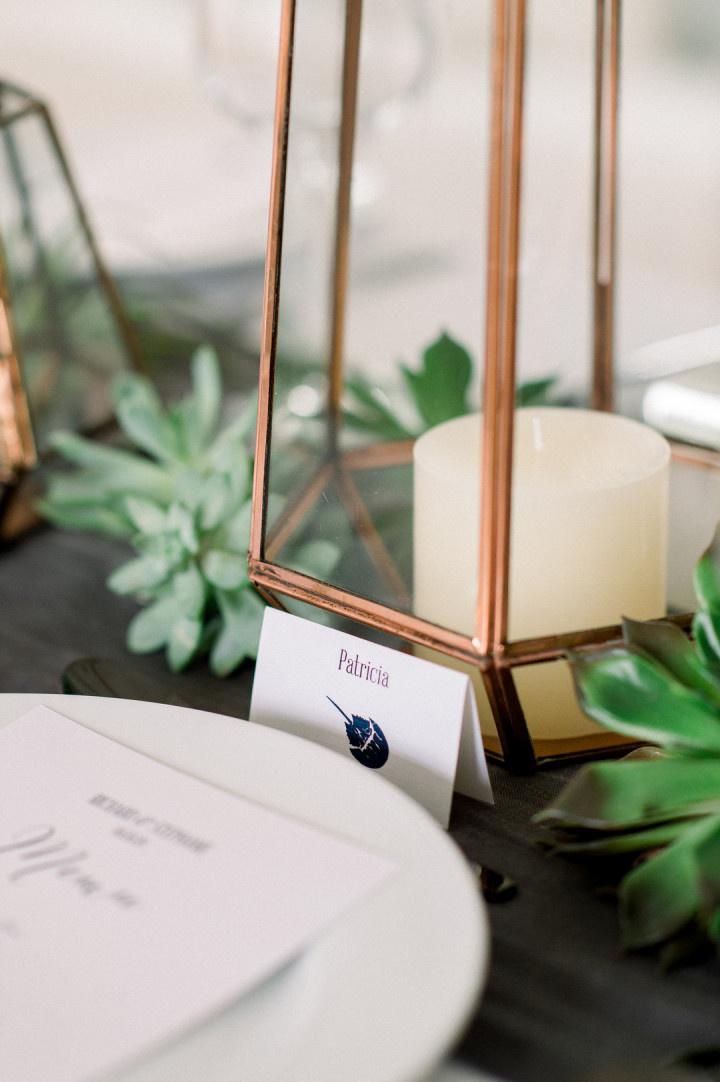 Sea creature details
Sometimes it's the teeniest details that make a difference! Forget plain wedding place cards — sea creature place cards are way cuter. Assign each table its own ocean animal (this could also double as your creative wedding table name), or choose a variety of your favorites and use them to decorate the place cards at random.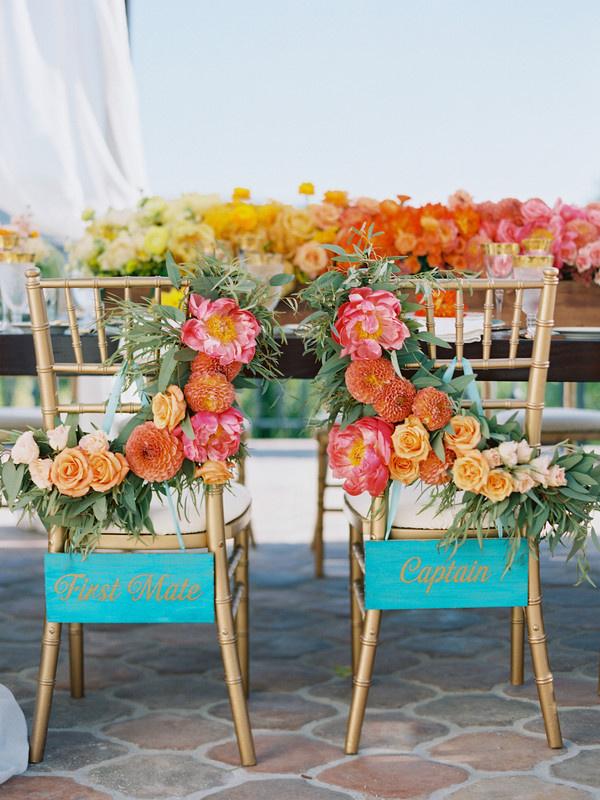 Chair signage
Stay on theme by decorating your wedding chairs with nautical-inspired signage. These "first mate" and "captain" signs are clever for a nautical wedding.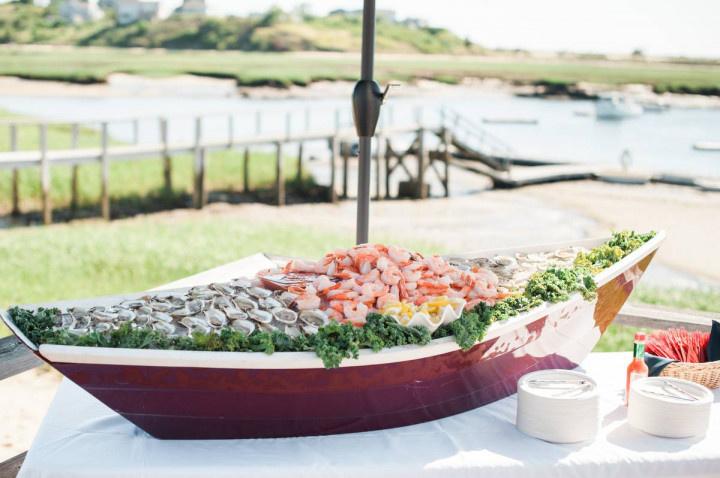 Seafood hors d'oeuvres
You can't have a nautical wedding without seafood on the menu, so you might as well get creative with your culinary display! Food boards and other decorative platters are some of the biggest wedding reception trends right now, and a miniature canoe is the perfect vessel to display a spread of yummy hors d'oeuvres. Include grab-and-go bites like shrimp tails, oysters, and dipping sauces.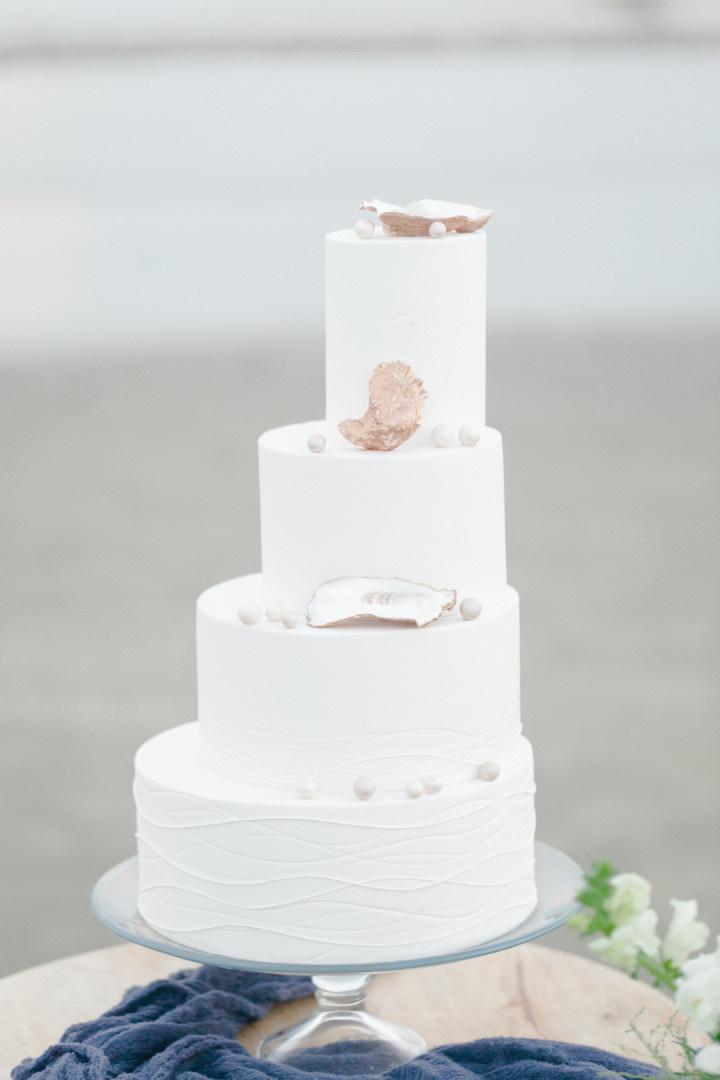 Pearl-topped wedding cake
Add an ornate touch to your wedding cake by decorating it with delicate sugar pearls. The monochromatic white tiers and iridescent pearls on this cake are gorgeous for a modern nautical wedding. We're also loving the rose gold oyster shells and subtle wave pattern that adds texture to the bottom of the cake.
Cake by 350 Bakehouse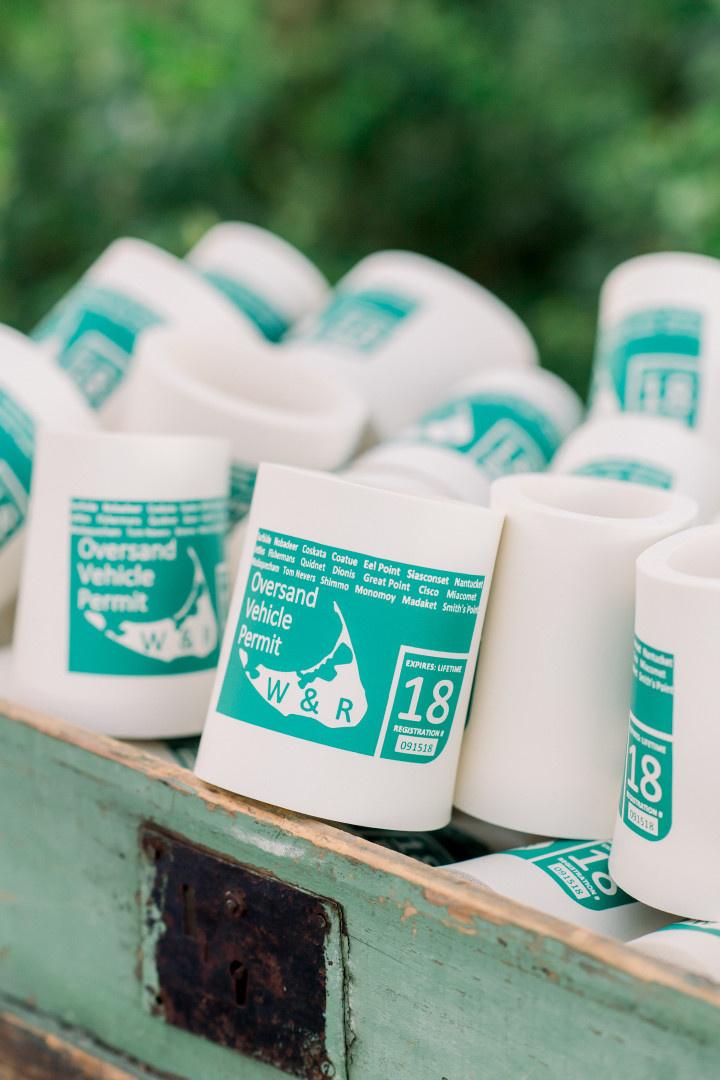 Koozie favors
Koozies are always crowd-pleasing wedding favors. We recommend personalizing yours with nautical-inspired designs, such as a map of your wedding venue, geographic coordinates, or your wedding destination — take this Nantucket koozie as an example.
Sunset cruise
Last but not least, end your nautical wedding day with a sunset cruise. Surprise your guests by inviting everyone on board for an adventure at sea, or use it as an excuse to sneak in some one-on-one time with your brand new spouse.
Main image styling by Love Birds Vintage