While we love a game of cornhole just as much as the next guy, there are plenty of equally awesome wedding games that don't get as much play (pardon the pun). Whether you're looking for some wedding games to play during cocktail hour or your reception, wedding lawn games or ones that can be played indoors, there are lots of options to choose from.
Check out some of our favorite wedding games and pick your favorite to play on your special day.
Ping Pong
Like cornhole, ping pong can be played in teams, is inherently social, and can be enjoyed by guests of all ages and skill levels (all you need is a little hand-eye coordination and you're in the game!). We particularly love stationing a ping pong table outside, but it's also ideal as an indoor wedding game if your venue has the space.
Bocce
Folks of all ages will love this outdoor wedding game—great to get your guests to mix, mingle, and laugh together!
Puzzles
Custom crosswords are a great way to keep guests entertained and put them to the test with a little newlywed trivia. Give each guest a crossword at his or her place setting—it's an ideal activity for friends and family members to enjoy during dinnertime (or maybe during a too-long speech?).
Piñata
Because adults like candy, too! Or, better yet, fill it with scratch-off lotto tickets (best wedding favor ever? We think so.)
I Spy
Challenge your guests to a mini photo scavenger hunt. This is a fun wedding game to keep your younger guests busy during the reception—don't forget to have prizes on hand for the winners!
Table Song Challenge
The rules: every table must work together to come up with a song about the couple (or a poem, for the—ahem—less musically inclined) by the end of dinner and perform it during dessert. It can be funny, sentimental, or both! While this might be a little tricky to pull off with a large guest list, it's bound to be a hit at more intimate weddings.
Checkers
Give cocktail hour a competitive twist with this crowd-pleasing super-sized board game. Another option: Giant chess!
Giant Jenga
Everything is more fun in the supersized version, right? Find out how high guests can stack these jumbo pieces before the tower topples over. Might need a step-stool for this wedding game!
High Striker Game
This classic carnival game would make a festive addition to a vintage-themed wedding.
Limbo
Get all your guests out on the dance floor for a good old fashioned limbo contest! You might be surprised at how low some of your guests can go!
Newlywed Shoe Game
The rules: the happy couple sits in the center of the room, facing back-to-back (no peeking!) They exchange shoes so that each of them is holding one of their own shoes and one of their spouse's shoes. They are then read a series of questions (e.g. "Who is the better cook?" or "Who has better dance moves?") and must both answer at the same time by raising the appropriate person's shoe.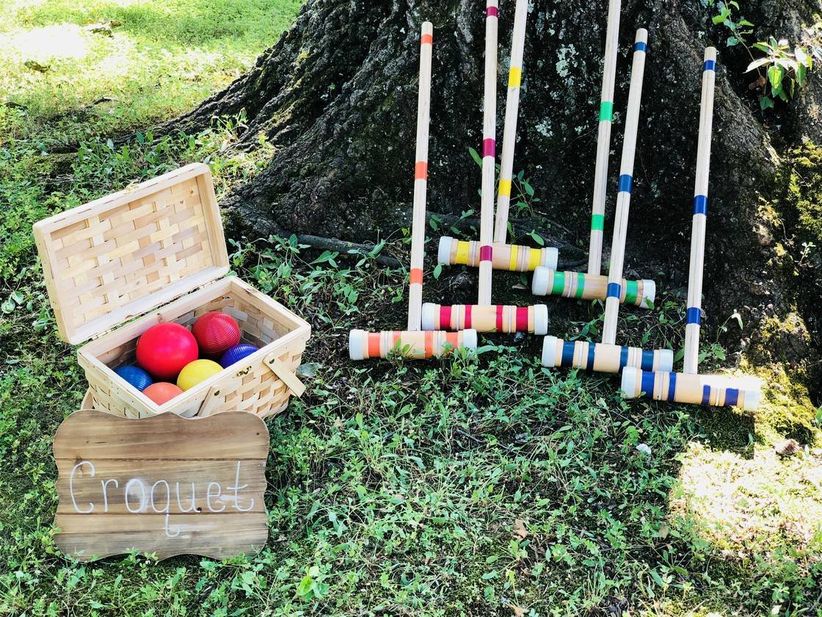 Croquet
This classy wedding game is particularly ideal for an outdoor garden event. The goal? Hit the balls through the six hoops in the correct order, and then against a center peg. It's not the easiest game, but it sure is fun.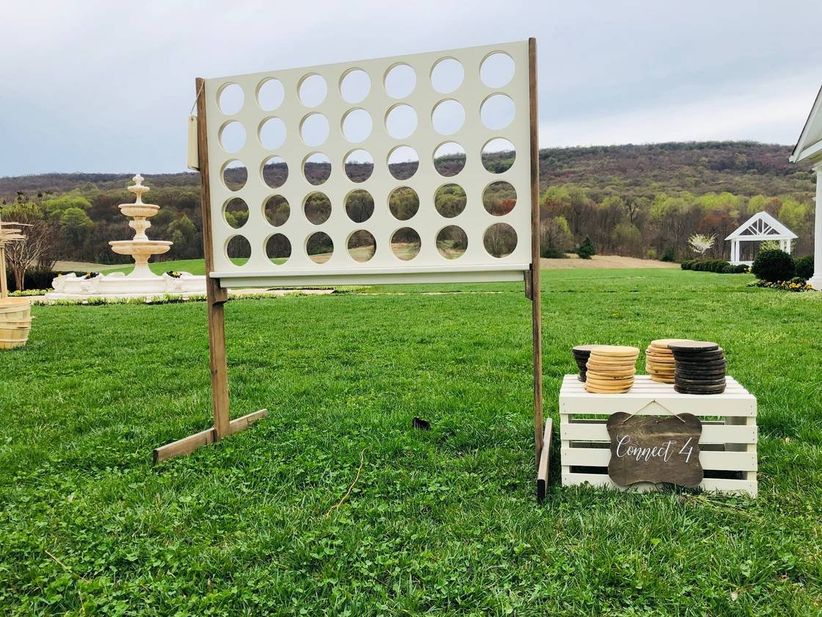 Giant Connect 4
If this was one of your favorite childhood games, why not give it an upgrade for your wedding? Your guests will love this classic wedding game, which can be played in teams or one-on-one, for a touch of nostalgia.
Ring Toss
If you're looking for a game that's an easy DIY, ring toss is definitely it. Just spray paint a bunch of bottles and place them in a crate. Guests of all ages will love testing their skill while tossing the rings.
Chippo
This wedding game combines two favorites: cornhole and golf. This game is best suited for adults-only weddings, as kids and golf clubs don't mix well.
Guess Who?
Or should we call it Guest Who? We all remember the childhood guessing game—why not create your own customized version featuring members of your wedding party? Your guests will get a total kick out of this wedding game!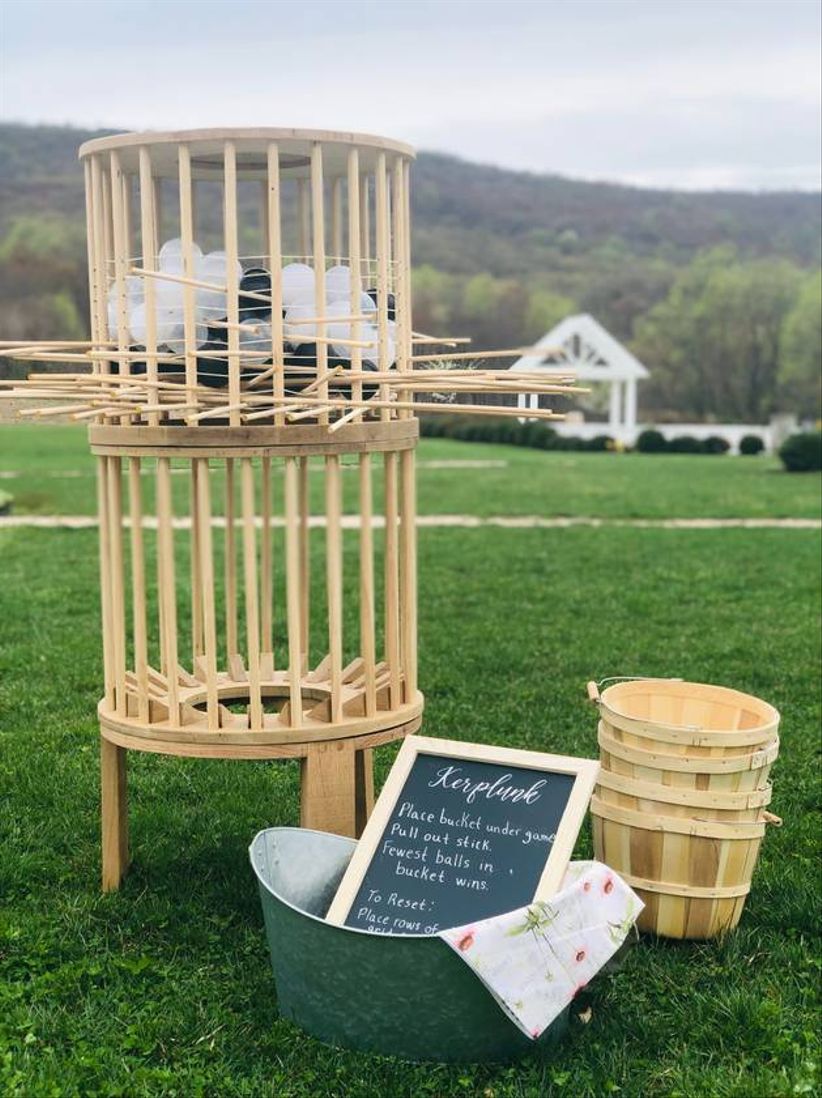 Giant Kerplunk
In this version of the classic game, guests remove sticks one at a time without letting the balls fall. It's a great wedding game for all ages—definitely a crowd pleaser!