8 Wedding Lawn Games for Your Outdoor Event
These wedding lawn games are perfect for a relaxed and lively event, whether during cocktail hour or the reception itself.
If your big day happens to include outdoor festivities, setting up a few wedding lawn games is a great way to get the party started. Guests young and old will love the chance to get up and out of their seats for a little friendly competition, and you'll love how lawn games can work as a natural ice breaker among strangers. Plus, everyone knows outdoor games are all the more fun when cocktails, music, and a good party is involved.
For those looking to forgo the formalities and create a more relaxed atmosphere, we're highlighting eight wedding lawn games to keep your guests entertained through cocktail hour and beyond.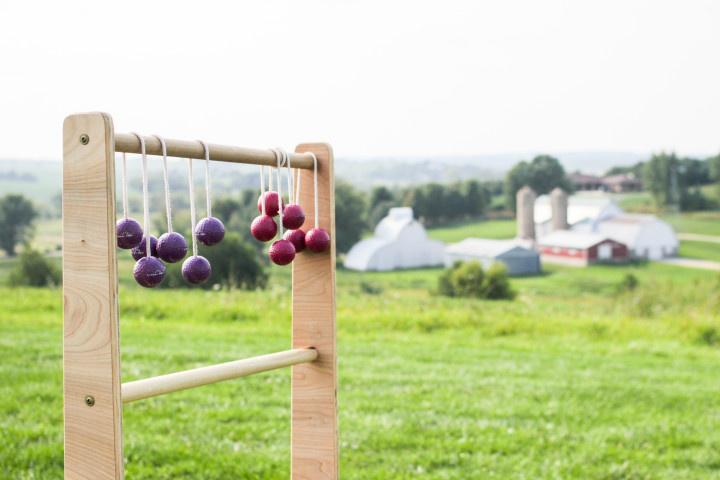 Ladder Toss
If you have a nice, open lawn space to work with, ladder toss (also known as ladder golf or ladder ball) is a fun option for guests to test out their aim. All you'll need are two ladders, two sets of different colored bolas, and a crowd that's ready and eager to play. Keep in mind that this one isn't the most ideal for small children, but ladder toss works great for an adults-only guest list.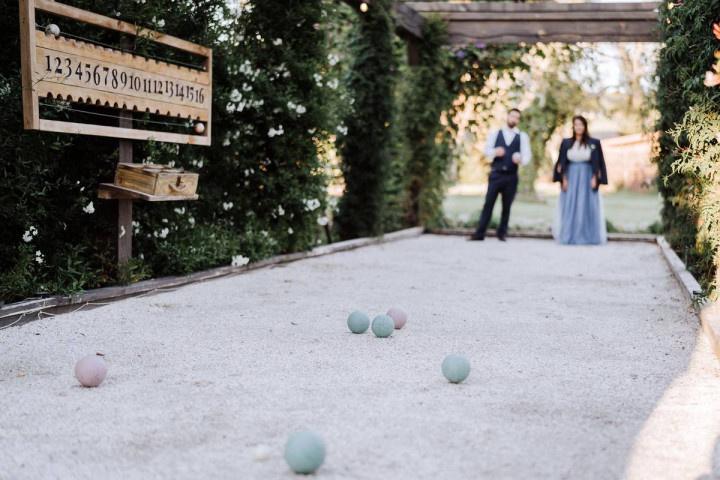 Bocce Ball
Originating in Europe, this wedding lawn game is all about rolling your balls closest to the pallino. Guests will break up into two teams (with up to four players per team) and take turns tossing and scoring along the way. The best part about bocce ball is that it's easy to learn and there's no need for a special court. Simply set it up on the grass, sand, or nearly any flat surface.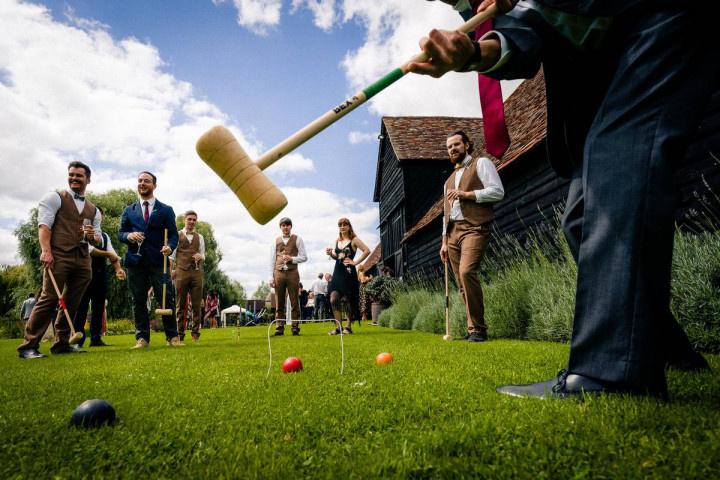 Croquet
For an outdoor wedding lawn game that still feels entirely elegant, croquet is an excellent option for weddings with a more formal vibe. In addition to its elegant reputation (it's beloved by the English and the French), croquet is perfect for kids and adults alike, including those guests in a dress and a pair of heels.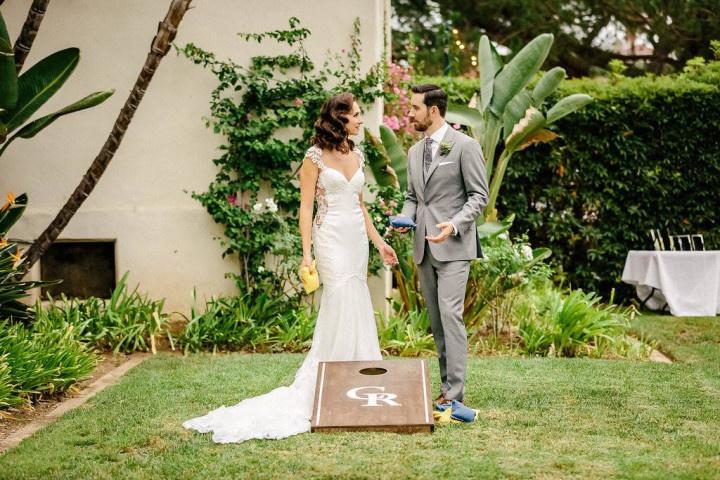 Cornhole
Keep things fun and casual with a game of cornhole during the cocktail hour lineup. This is another game that's great for all ages, with no complicated rules or scoring methods to learn. You can even take things up a level and have your cornhole boards custom designed with your wedding logo or monogram and purchase bean bags that complement your color palette.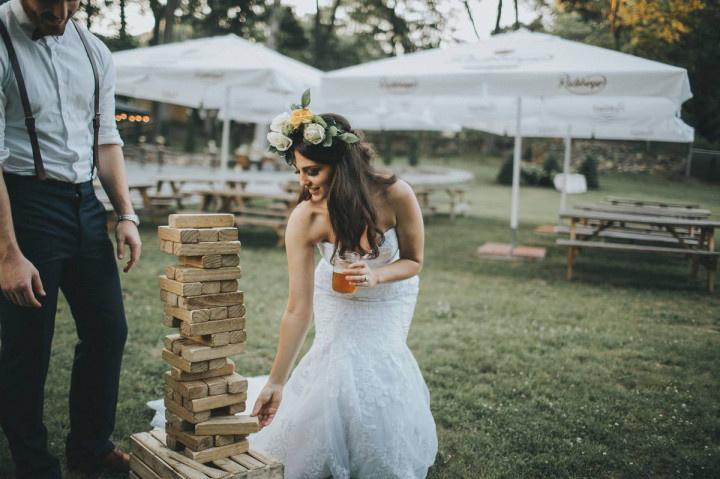 Jenga
Everyone has played a good ole game of Jenga, but a giant-sized Jenga on the lawn? That's sure to stir up some excitement among your guests. All that's required is the set of wooden blocks that you can either buy online or DIY with some plywood and a set of tools.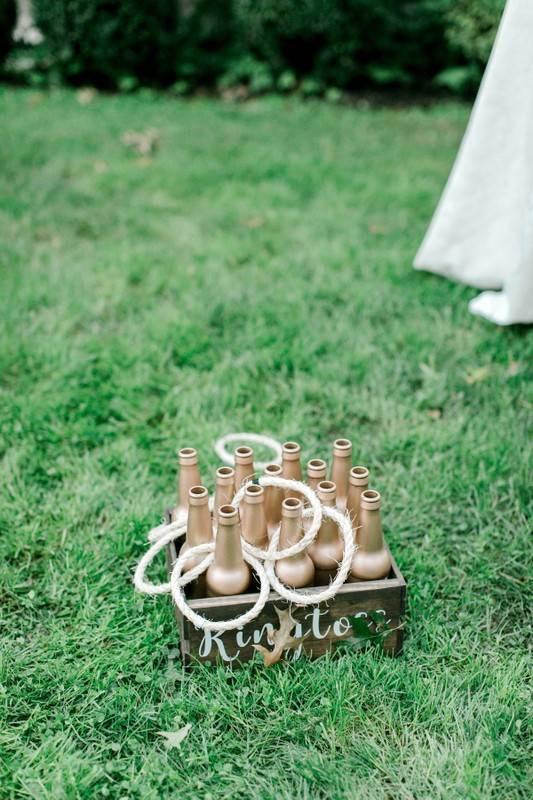 Ring Toss
Whether you use pegs or bottles, ring toss is a simple yet classic lawn game that will put your guests' hand-eye coordination to the test. While this fan favorite game might seem easy in the beginning hours of the evening, everyone might feel much different once a couple rounds of drinks are underway.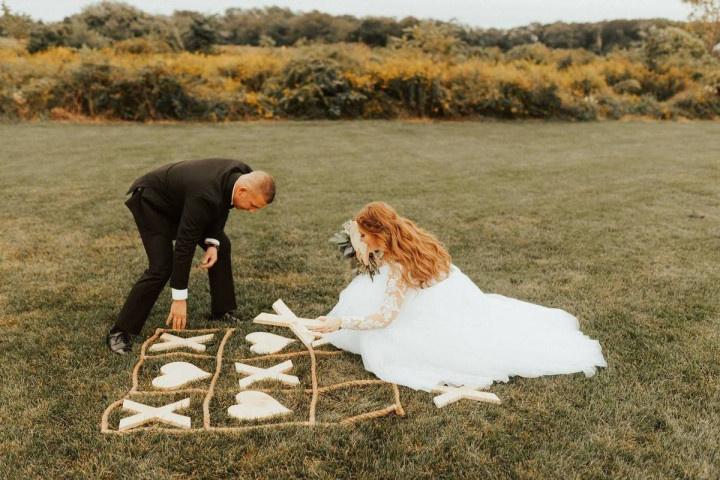 Tic-Tac-Toe
Kick this childhood game up a notch with an oversized version made for tons of outdoor fun. You'll just need a large rope board, five large x's, five large o's, and any flat surface to set up shop. Kids will especially love this wedding lawn game as it allows them to play independently with no risk of accidentally getting hurt by a falling ball.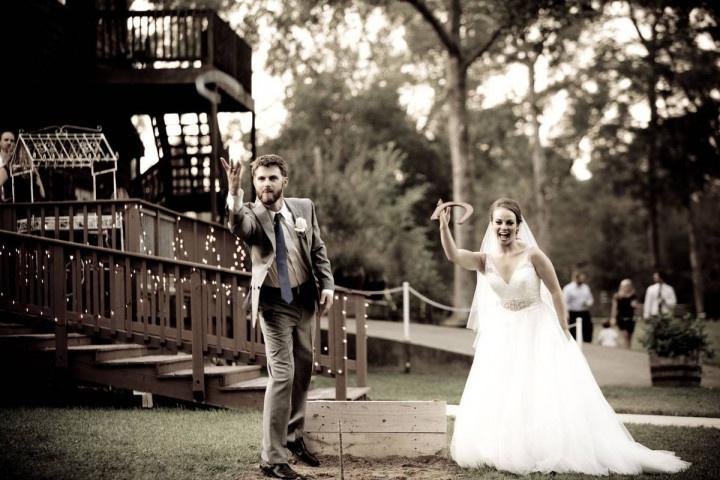 Horseshoes
Perfectly themed for a rustic farm or country wedding, horseshoes is one of those wedding lawn games everyone knows how to play. Simply set your stakes in the ground and let each team take turns tossing until a winner has prevailed. If you're worried about your youngest guests and metal horseshoes, there are plenty of rubber or plastic versions to make this game completely kid-friendly.