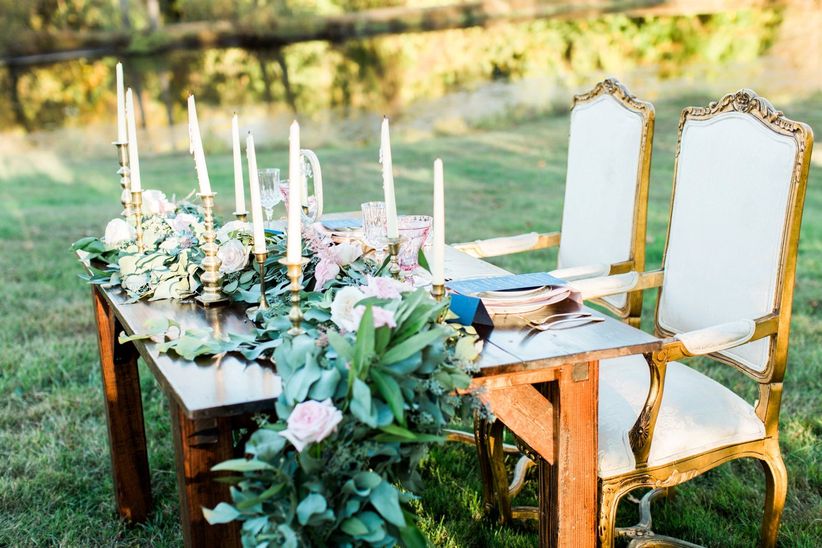 Photo: Alicia Wiley Photography
If you've been planning your wedding with the help of WeddingWire's free checklist, you already know you should finalize your rentals about two to three months before your wedding.


Whether they are included with your venue or not, there are few rental items that should not go unaccounted for.
Tents
You might have heard just about everyone ask, "Do you have a Plan B?" If you're hosting an outdoor wedding, it's a good idea to have a tent at the ready in case of inclement weather—and that doesn't just include rain. Your guests should be kept comfortable and shielded from blazing sun or billowing winds. But that's not all—a marquis entrance, gutters, clear sides, and pole covers are neeed, too. Are you a fan of draping fabric across the tent's ceiling? Include that as well.
Tables and Chairs
Obviously, tables and chairs are important for you and your guests to sit during the ceremony, cocktail hour, and reception—but don't forget about other spots throughout your wedding where tables and chairs are necessary. Your musicians need a place to sit and lay instruments on. Add another table for your gifts and cards, another for your seating assignments, another for your cake and desserts, and another for your favors.
Dance Floor
Many venues will have a dance floor included, but for those that don't, depending on how many guests are attending, you'll be able to determine the size of your dance floor. Wood is the most common type, but there are other options. You can also project your customized monogram onto your dance floor using a special lighting projection called a gobo.
Electricity
If you're hosting a backyard wedding or a wedding in a rural venue, you may need to rent a generator. Think about how much electricity it requires to power your wedding. Your event space needs it to turn on the lights, your caterer needs it cook and bake, your DJ needs it to play music, and your maid of honor and best man needs it to give their toasts via a microphone and set of speakers.
Linens and Napkins
There are a wide variety of table linen styles and fabrications out there—pick the ones that suit your overall wedding theme the best, and don't be afraid to mix and match. We love the sequins, stripes, honeycomb, and damask designs.
Dinnerware, Flatware, and Barware
How else would your guests be able to eat and drink? Don't forget chargers and serving plates, forks, knives, spoons, red and white wine glasses, water glasses, champagne flutes, highball glasses, rock glasses, and coffee mugs. And maybe something extra special for those signature drinks like mason jars.
Floral Accoutrements
Fresh, lush flowers will go a long way to make your big day look amazing, but what do you put them all in? That's where your florist comes in. Opt to rent arches, aisle marker stands, vases, vessels, votives, lanterns, candelabras, etc.
Lounge Furniture
Give your guests a quiet area to rest their feet. Arrange a family room layout with vintage couches, armchairs, coffee table, maybe a rug, and more.
Restrooms
Note: This is only applicable for some couples and venue types. However, restrooms are obviously a requirement, and rented facilities are usually quite spacious and well-appointed.
Miscellaneous
Talk to your vendors (particularly your caterer) about other types of rentals you might need. For example, bartenders need coolers for cocktails to reach the perfect temperature, and the catering staff needs pitchers to refill water glasses.