20 Things You MUST Know If You're Having an Open Bar
We reached out to bartenders to dole out advice to couples who plan on offering an open bar at their wedding.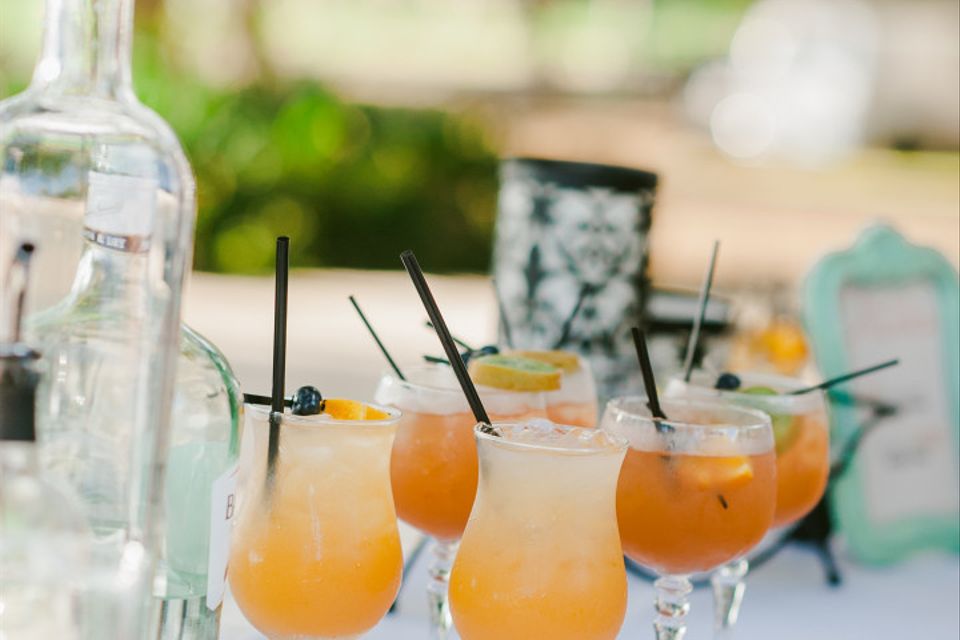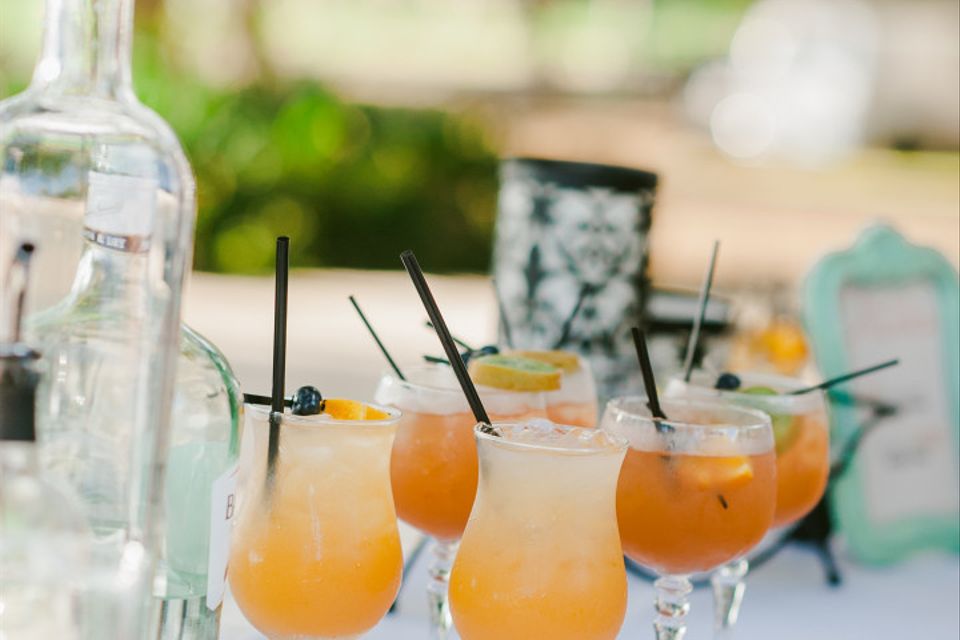 Photo: Ahava Studios
Open bars have become a staple at wedding receptions, but they can often be a stress-inducing part of wedding planning, especially if you don't know much about the protocol and cost of serving liquor to a large group.

We reached out to bartenders, who are experts in everything from saving money to proper alcohol etiquette, to dole out advice to couples who plan on offering an open bar at their wedding.

What should every couple know about offering an open bar?

"Their bar service should be TIPS certified (Training for Intervention Procedures) to be sure to monitor sobriety and to insure legal aged service only, " says John Hines of Bartenders Express in Branford, Connecticut.

"A reputable company will help guide you on counts, trends and even cost-saving tips. Alcohol calculators are not always accurate," says Jennifer Smith of Bartenders4you in Selma, Texas.

"Having an adequately staffed bar ensures the quality of the drinks and speeds up the line, making the guests happier," says Nicholas Callanta of Martini Black Bartending and Event Services in Chicago, Illinois.

"Keep it simple. Try to appease a general audience. Just because your aunt or uncle likes a particular vodka, wine, or beer, doesn't mean you should support the whole reception with it," says David Love of Just Bartending in Enola, Pennsylvania.

What does a typical open bar include?

"Your typical open bar should include the basics, 2 or 3 beer choices, 2 or 3 wine choices and your basic liquors such as whiskey, bourbon, vodka, rum, gin, scotch and tequila. Along with your basic mixers such as juices, tonic, club soda, assorted sodas, sweet and sour, and garnishes. With these basic ingredients a mixologist can make hundreds of cocktails, "says Smith of Bartenders4you.

"An open bar can be as simple as beer and wine and be as complicated as specialty crafted cocktails. The decision is ultimately up to the client but generally, a fair selection of beer, wine, and liquor to accommodate all taste buds and drinking preferences," says Love of Just Bartending.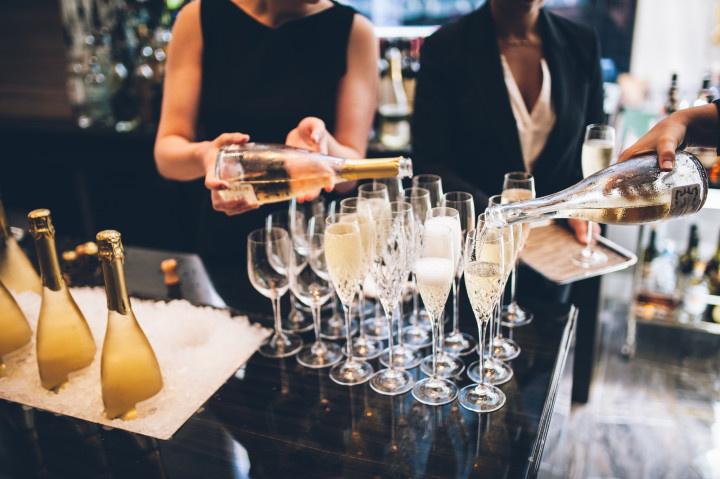 Photo: Sascha Reinking Photography
What are some budget-friendly ways to have an open bar?

"Buy from a liquor store that lets you return unopened products for a refund," says Ray Engelke of Moonlight Bartending in Elizabeth, Colorado.

"Consider working with your bartending company to create a custom liquor package," says Callanta of Black Martini Bartending and Event Services.

"Be sure to purchase alcohol through a licensed vendor who shops at a warehouse or gets discounts on alcohol," says Laura Milham of LG Event Services in Henderson, Nevada.

"Forego the champagne toast, let them toast with what they are already drinking. This saves not only on champagne cost but the rentals of the flutes as well," says Smith of Bartenders4you.

Are there any etiquette rules associated with having an open bar?

"The bartender should know and stand by when to cut off service to any particular person that has drank too much," says Hollie Starr of StarrStruck Bartending, LLC in Gainesville, Florida

"I find if you offer first hour open bar then switch to cash bar, your guests can get disgruntled. Guests will try and get 2 or 3 extra drinks at the last minute, again, not a great idea for being able to monitor sobriety," says Hines of Bartenders Express.

"Tip jars are appreciated but not always appropriate. If you wish to forgo the tip jar, a tip is appreciated at the end of the event for good service. The average event tip amount per bartender is $100," says Milham.

"Guests can't serve themselves alcohol it must be served by a TIPS certified and insured bartender," Engelke of Moonlight Bartending.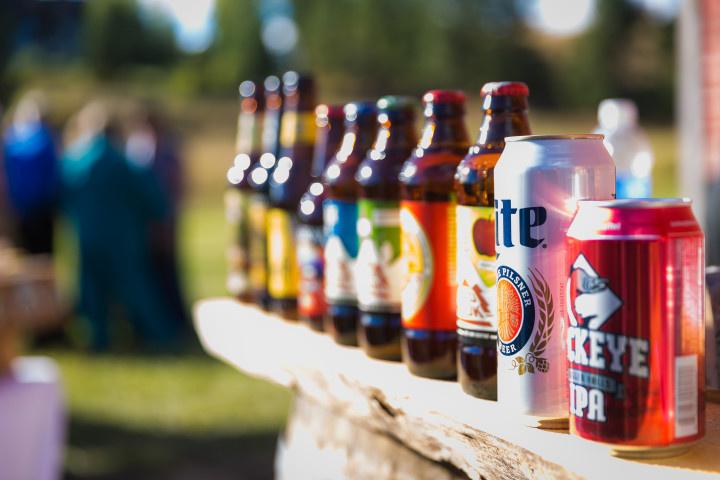 Photo: Cimbalik Photography
Are there different types / styles of open bars?

"Build a bar to your taste or attitude. Things such as your signature drinks named alike are a great way to clue guests in to a little bit about who you are and what your interests are," says Love of Just Bartending.

"Tiki-themed bars with mimosas, margaritas and such are great summer bars. Martini / whiskey themed bars are popular now, and premium bars can offer top-shelf alcohol, usually with a high-end tequila as well," says Hines of Bartenders Express.

"It can range from a basic open bar (vodka, rum, whiskey, gin, tequila, beer and wine) with well alcohol or a specialty craft or themed menu with top shelf alcohol," says Milham of LG Event Services.

Why should couples invest in an open bar?

"It's just for everyone to have fun. This is a memorable day and having a few drinks and dancing makes it even more memorable. You want your guest to be relaxed and enjoy themselves," says Starr of Starrstruck Bartending.

"Open bars provide a client's guest options in what to drink. They also take the pressure off of guests to carry cash with them and also speeds up lines (because paying for drinks takes a good amount of time – opening tabs is time consuming)," says Callanta of Martini Black Bartending and Event Services.

"Couples have no problem investing in food, your beverages shouldn't be any different," says Smith of Bartenders4you.