Wedding Attire
Join group
Ask all your questions about wedding dresses, wedding suits, tuxedos, shoes, veils, accessories, jewelry, and more. We'll help you find the perfect looks for your wedding party too!

Discussions

Shapewear for cut out dress
So I'm in a huge dilemma! I fell in love with a wedding dress and am now having second thoughts on purchasing it because I realized I won't be able to wear any shapewear with it. The back is all open,...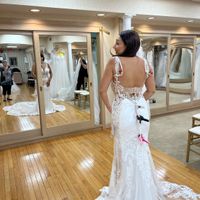 2