Want to know the best set of pans to register for or which registry has the top completion discount? Talk about it here and learn how to keep it all together in one place with WeddingWire Registry.

Discussions
Registry scam?
Allison
, on June 13, 2022 at 12:48 PM
For the past month, I have been getting text messages from a random number saying that my registry was entered into some kind of drawing and that I won a package. I went to a bridal expo in February,...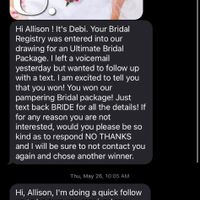 2