Wedding Attire
Join group
Ask all your questions about wedding dresses, wedding suits, tuxedos, shoes, veils, accessories, jewelry, and more. We'll help you find the perfect looks for your wedding party too!


My bridal earring choice!
Rachel
, on January 24, 2021 at 8:03 PM
Hi, everyone - I decided to take everyone's advice on my last earring choice possibility and opted for a smaller statement stud with some pearl and beaded accents. I think going with a small earring...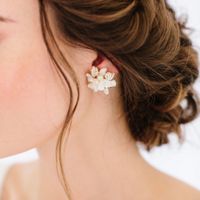 2