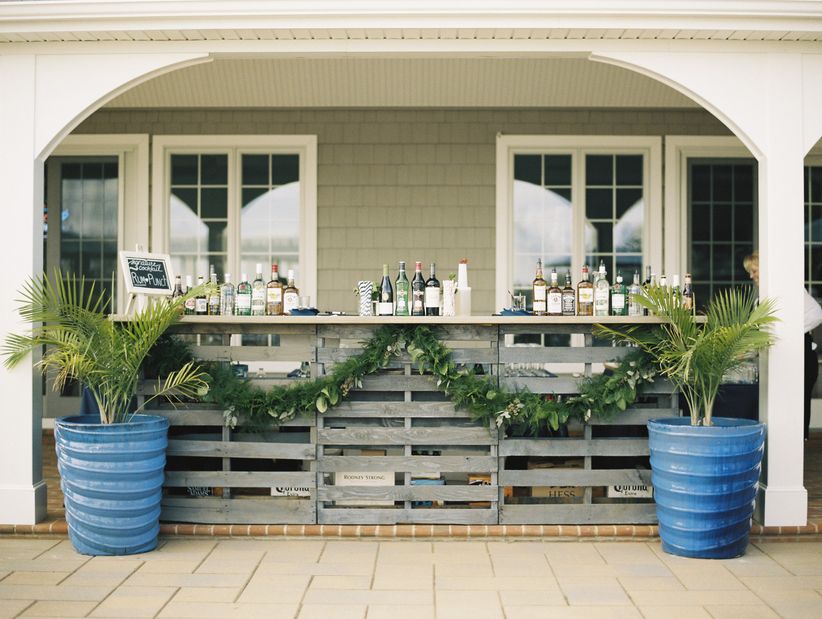 Photo: Krista A. Jones Photography
Let's admit it — while guests are always happy to celebrate the union of a dear friend or family member, their favorite part of the wedding is the food and the booze (especially the latter). A good wedding bar setup can really enhance the guest experience. But there can be a lot more to the standard drink bar than serving up beer, wine, or liquor. That's why we talked to a few experts, who shared their advice on how to create your dream bar.
Here's what you need to know about creating an incredible wedding bar setup.
Interview Your Bartender
Wedding planner Allie House of Wedding Now in Chicago, Illinois recommends first interviewing your bartender. They contribute to the guest experience more than you think. Of course you want them to be good at their job and make tasty drinks, but the right bartender can take things to a whole new level.

"I've found some of the best celebrations are made even better by hiring a bartender with not only extensive knowledge of all the booze you are interested in, but also a bartender with personality can really help keep the celebration lively!" she says.
Know What You're Serving
First things first, figure out what will be on the menu. According to Staci Mandikas of UNIQUE Weddings & Events in Tampa, Florida, a typical wedding bar setup should cover the following bases: non-drinkers, light drinkers, heavy drinkers, and dancers.

The non-drinkers, Mandikas says, typically want more than water or tea. If you have a full open bar, she recommends sodas; if not, feature punch at the bar. Light drinkers will sip wine or a weak cocktail.

"For wine, be sure to have a refreshing, light white wine and as a contrast, a full-bodied red wine," she adds. "A blush is not a requirement, but if you prefer to have a third wine, it's a good middle."

For heavy drinkers, serve a stronger signature cocktail, hard alcohol, and/or beer. "For beer, go for at least two (one domestic, one import), if not four (two domestics, two imports), options," Mandikas suggests. "A great addition to your beer selection is local, craft beer options." For hard alcohol, she recommends having six types — vodka, rum, tequila, bourbon, scotch, and gin. And, depending on your preference, you can add two specialty options, such as Kahlua, Schnapps, or Cointreau.

As for the dancers, they only want one thing after sweating it up on the dance floor — water. "You definitely want bottled water that they can grab and get back out there!" she says. "A water station with cups is another option, but be sure you have plastic cups at the station. The last thing that you want is the dancers dropping water glasses on the dance floor!"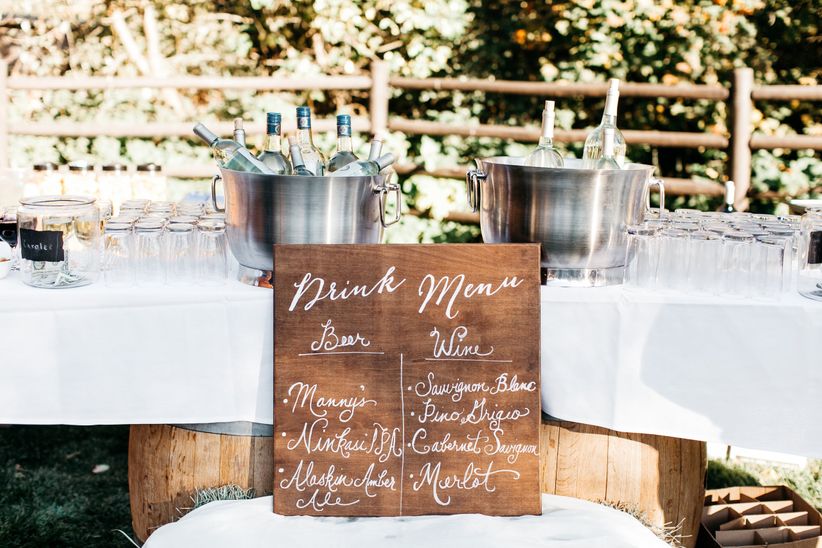 Photo: Catie Coyle Photography
Decide on Including Signature Drinks
You may be wondering if signature drinks are overdone or cliché — the answer is no. Personalized drinks are timeless and fun! "I think signature drinks for both the bride and groom are a great way to bring in their personalities and make a wedding bar stand out," says Emily Reno of Wedding & Events by Emily in Las Vegas, Nevada, who comes up with custom drinks for couples based on their favorite liquor each. "From my experience, the guests have a lot of fun trying the cocktails and a lot of times will try something they didn't even know they liked!"

"This past December the bride really loved martinis and vodka; since the wedding was around Christmas, we came up with a winter white cosmopolitan — a holiday inspired cocktail that incorporated her favorite liquors and was festive at the same time," she adds. "This is a great opportunity to branch out and offer you guests something different that reflects both of you!"

According to Mandikas, two is the magic number for signature cocktails. — one should be lighter and sweeter, while the other stronger.

Just don't forget to add special signage as part of your wedding bar setup so guests know what you're serving.
Consider a Specialty Bar
If either, or both of you, have a love for a certain drink, you may want to consider a specialty bar. "A specialty bar is a great option for cocktail hour or late night whiskey tasting, wine tasting, beer tasting, etc.," says Mandikas. "A specialty tasting bar should be treated as an activity or form of entertainment, rather than a bar replacement."
Make a Décor Statement
"When designing your drink bar, keep in mind that it is one of only a few parts to your wedding design and layout that your guests will keep coming back to over and over throughout the night," says Julia Pavlovski of Wedding Wise in Seattle, Washington. Rather than viewing your bar as a functional necessity, think of it as a chance to make a big statement!"

She suggests swapping out standard tables and basic linens for a specialty bar that fits your wedding style. "You can even incorporate popular trends into your bar design by choosing a copper bar, a bar made out of ice, a garden-inspired bar covered in flowers, or a sleek modern bar that changes color," she says. "Your guests will be wowed by your creativity and it will be remembered long after the night ends!"
Consider the Weather
Don't forget to take into consideration what's out of your control — the weather. "I can tell you from experience, having a milk and cookies station is a great idea but not at an outdoor wedding that is ninety degrees!" says Estelle Mathis of Love Perfection in Los Angeles, California.

The weather can not only guide in what not to do, but in what you should do. Let it serve as a source of inspiration for your wedding bar setup—a hot, summer day can inspire fruity cocktails, while a winter wedding is perfect for hot cocoa or eggnog.