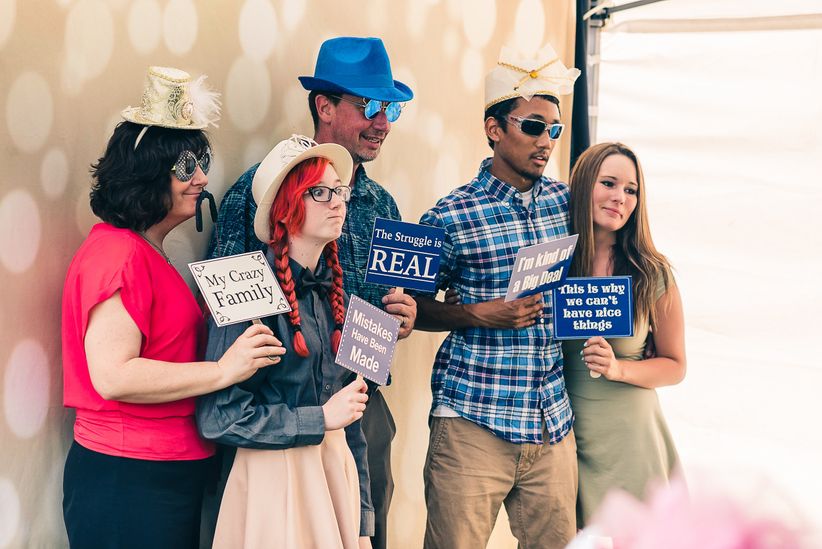 Photo: Hunter James Photography
Your wedding should be about you and your partner, reflecting your taste, style, and personality. However, there are also going to be a whole bunch of other people who have traveled and spent money to attend your big day—your wedding guests—so it's important to take their comfort and enjoyment into (major) consideration. Of course, trying to make 100 or more people happy is pretty much impossible. So how do you narrow down the wedding details that your guests will actually care about?


Well, you're in luck—we asked over 800 wedding guests to share what they really pay attention to at weddings (and what they could care less about). You may be surprised at their responses.
What your guests really do notice…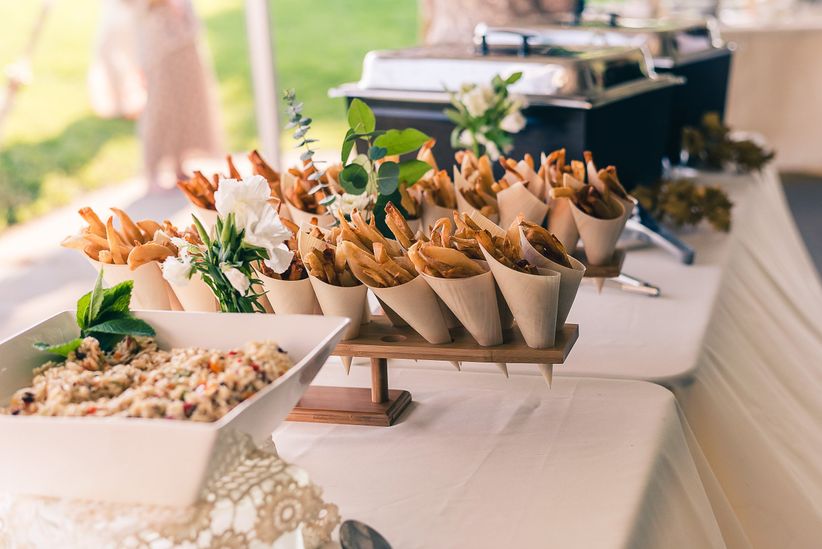 Photo: Hunter James Photography
The Food
This is probably not too surprising——64 percent of wedding guests said that food is one of the most important things they pay attention to at weddings. That's why you'll
probably spend about half of your budget
on your catering and venue—because the last thing you want is
hangry
guests. Whether you choose to
serve your wedding meal plated, buffet-style, or family-style
is your call, as long as you ensure that your food appeals to a wide range of tastes and is plentiful. That's where hiring a skilled and
experienced caterer
comes in.
Bride's Dress and Ceremony Entrance
If you're a bride, you may be fretting about that much-hyped decision—
saying yes to the dress
. And actually, it turns out that your guests actually will care about what you're wearing (about 60 percent said that it's one of the wedding details they care most about) and in particular, your "grand" entrance into the ceremony—that gasp-inducing moment. Grooms are a bit more off the hook here—only 14 percent of guests said they paid special attention to a groom's attire.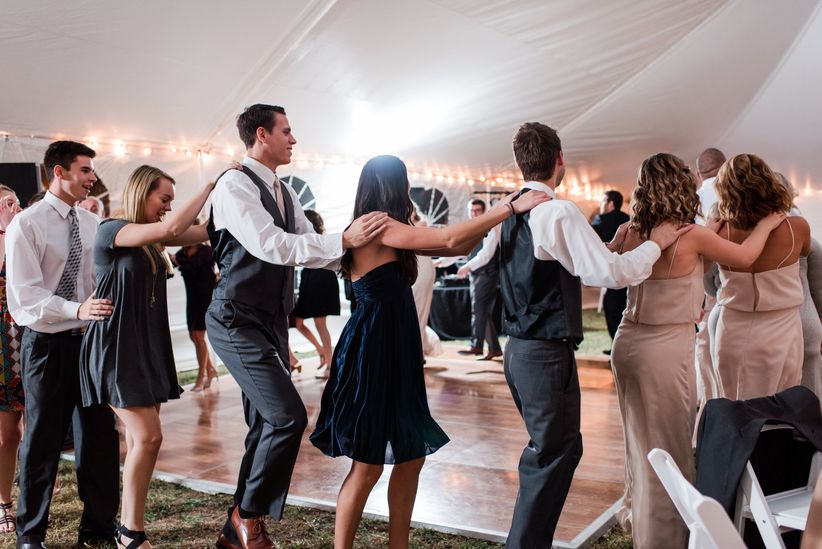 Photo: Mallori Ma Photography
Reception Music
Your guests want to celebrate you and your new spouse—and good music is essential for that party atmosphere! In fact, nearly half of wedding guests said they care about having good music at a wedding. Whether you go for a
band or a DJ
is entirely your decision, but make sure your hire a professional who can read your crowd to ensure the dance floor will be packed all night long. The last thing you want is a group of bored guests.
The Vows
Whether you're reciting religious vows or
writing your own
, your guests will be paying attention. Your friends and relatives clearly love love and the wedding vows will probably be the most authentically romantic moment of your wedding day. So be sure to work with
your officiant
to craft a ceremony that is personal and feels true to your relationship.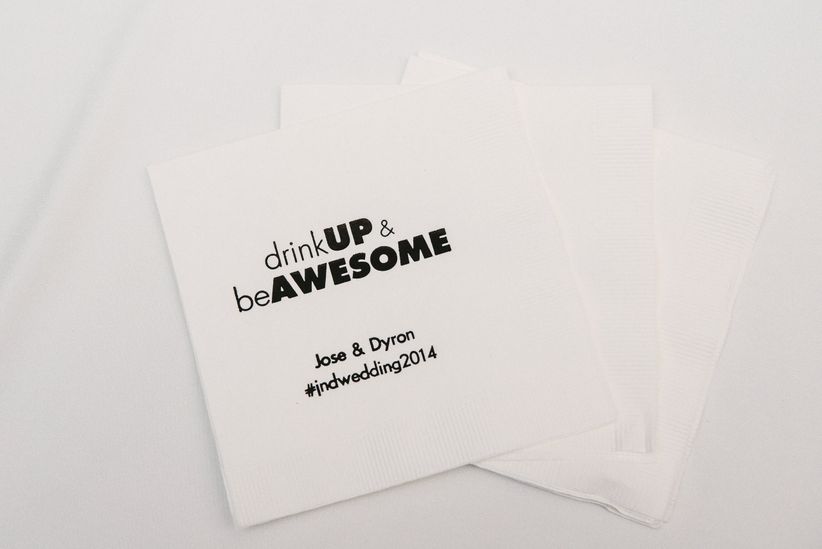 Photo: evanR photography
Décor
Both during the ceremony and reception, guests are indeed checking out your décor. That doesn't mean you need to go
Pinterest-crazy
, but working with your vendors to come up with a
cohesive color scheme
and wedding style will ensure that your décor is on point.
Bar
For some guests, the highlight of a wedding is
free booze
(about a third of guests said they care about the bar). Alcohol can be expensive, though, so don't feel like you have to offer a top-shelf selection. Know that your guests may stage a mutiny if they have to pay for alcohol, so instead, limit your bar to wine, beer, and a signature cocktail or two to save money while still providing ample drinks to your guests.
What your guests actually don't care about…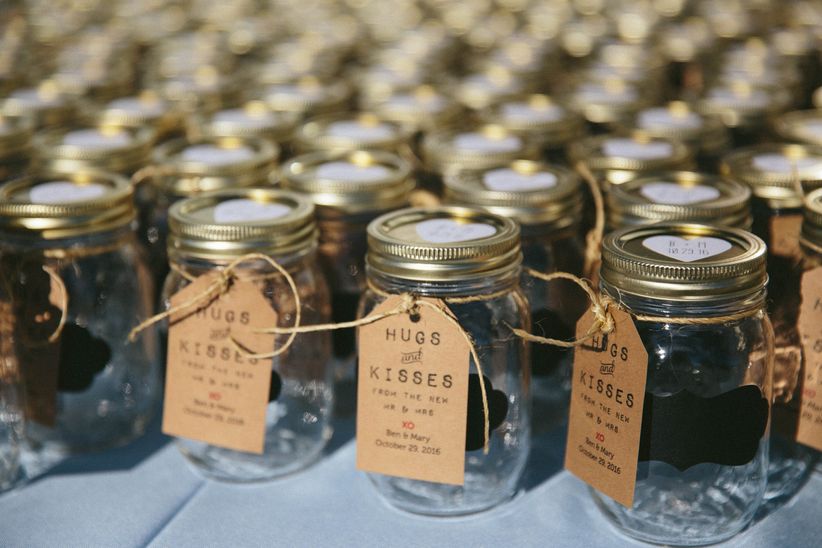 Photo: Lightbloom Photography
Escort Cards
You may be agonizing over creating that picture-perfect
escort card display
or seating chart, but here's the thing—your guests probably won't even notice (only about two percent of guests said they paid attention to the escort cards).
Favors and Amenities
It's certainly a nice gesture to give out super-personal and well-crafted favors, but it's not a deal-breaker for your guests—only 9 percent cared about favors. If you want to
give out wedding favors
, go ahead, but don't blow your budget on these treats.
Ceremony Language and Readings
The structure of your ceremony and
any added readings
will be most meaningful to you and your partner. Aside from your vows, your guests probably aren't hanging on to every single word during your ceremony.
Photo: Andrea Hallgren Photography
Recessional
Your
recessional
will probably be one of the most joyful moments for you and your new spouse, but your guests will likely be more focused on getting outta there to head to the buffet and bar!
Bouquet and Garter Toss
While some love these traditions, others find them outdated—so if you're leaning toward skipping, know that your guests probably won't miss 'em.
Grand Exit
From sparklers to pom poms, there are lots of options when it comes to your
wedding send-off
. Sorry to say, but your guests probably couldn't care less. Only 13 percent said they paid attention to a couple's send-off.