How to Choose Between a Wedding Band or DJ
It all comes down to personal preference.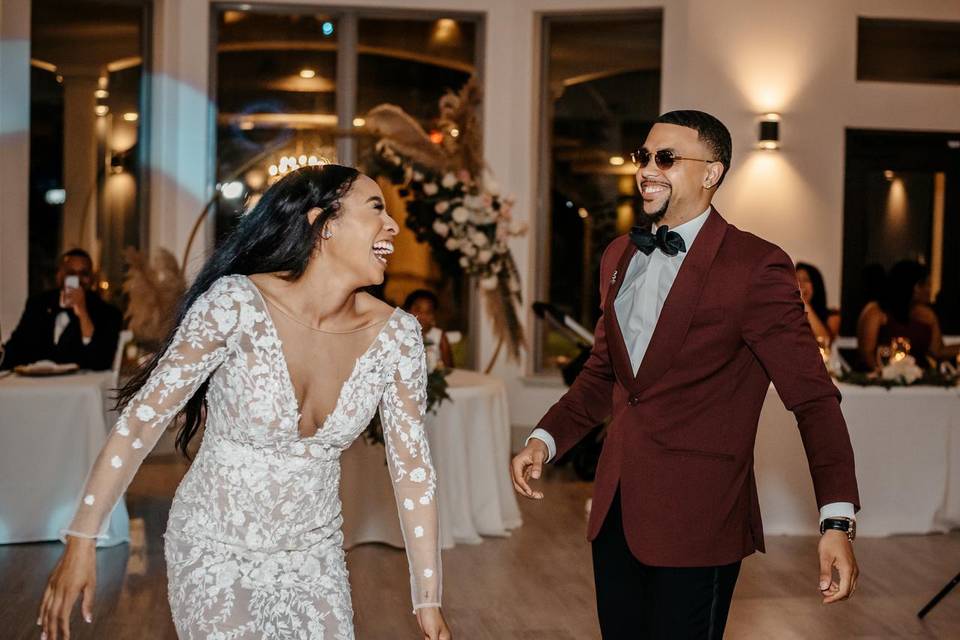 Your wedding ceremony and reception music will set the tone for your special day—so choosing between a band and a DJ can be a bit tricky. Both have their advantages, so it's all about finding the wedding entertainment that suits your needs and desires—as well as your budget. We recommend sitting down with your future spouse and any stakeholders (read: family members who will be contributing financially to the event) and having an open and honest discussion about wedding music. Answering these questions will help you decide if a wedding band or a DJ is right for you—and then its time to start researching and interviewing music pros to find your best musical match.
How much do you want to spend?
A live band is almost always more expensive than a wedding DJ (there are more people and more equipment involved) so take a good look at your budget and decide how much you can spend on your music. According to the WeddingWire Cost Guide, the average cost for a live wedding band in the U.S. is $4,500, and a DJ costs an average of $1,000. If you really want live music at your wedding but can't afford a full band for the duration of your day, consider having a band play at your ceremony or cocktail hour only, and then have a DJ spin at the wedding reception.
What type of vibe do you want to create?
Think about the type of wedding you're having: Will it be a small dinner party or a big blowout bash? Are there a lot of dancers on your guest list, or will your friends and family mostly want to chat and catch up? These questions will help you choose a wedding music professional that's right for you. A string quartet could be just the thing to create a romantic atmosphere at your small dinner reception, whereas a Big Band ensemble will get the party started on the dance floor. In both cases, a band creates a focal point and provides entertainment for wedding guests who don't want to dance.

A professional DJ who specializes in the type of music you want played at your wedding (country, hip-hop, funk—whatever your taste!) can create a wonderful, festive atmosphere. At the same time, a good DJ can play a wide variety of musical genres, cater to many tastes and easily acquire your favorite songs if they're not already in his or her collection—unlike a band, which has a set repertoire.

A final thought: A DJ will play recorded songs (so you'll know them well and your guests might sing along!) but a band can amp up the room with solos and unexpected twists on favorite tunes. Take those points into consideration when you're thinking about the vibe of your big day.
Does your wedding have a theme?
If you're having a Great Gatsby-style wedding, for example, you might want to choose a band that specializes in 1920's era music, or find a DJ who's familiar with the tunes of that age. How closely you want your music to match your theme could help you decide between band and DJ.
Are there any venue-specific restrictions to consider?
A band typically needs more space than a DJ, so check with your venue manager to see if your reception space can accommodate live musicians. There may also be restrictions on electricity use (the last thing you need is a blown fuse in the middle of your first dance!) so getting a sense of what's possible at your wedding venue will help to determine whether a band or a DJ is right for you.
What about making your own playlist?
Most couples will choose to avoid this—there's already enough work to do!—but for couples on a smaller wedding budget or those with very specific musical tastes, this could be the way to go. Know that you'll have to choose about four to five hours' worth of music, and consider the flow of the day as well as special songs you want to play throughout your wedding ceremony and reception (the processional and first dance, for example).
Questions to Ask a Wedding Band or DJ
Once you've decided between a band and a DJ, it's time to start looking for a professional. Here are some questions to ask your candidates:
How much do you charge for about four hours of music? How much is overtime?
At this point you'll want to know exactly what you need from your band or DJ—are they playing through the whole ceremony and reception, or just one or the other? Get specific fees and figures and be sure to ask about overtime pay! The party might not end at exactly the time you specify.
Are you available on my wedding date?
Bands and very popular DJs often book up six months or more in advance, so start the selection process as early as possible.
Do you know/have these songs?
Ask especially about your first-dance song and if they don't have it in their collection or repertoire, find out if they're willing to learn it or purchase it. Ask, too, about other important songs, such as your reception entrance tune and any parental dance songs.
Can you provide contact information for some of the couples you've recently worked with?
A good band or DJ will be happy to share recent references, so don't be afraid to ask (you can also check out WeddingWire to read reviews from past clients). When you contact those couples, ask the following: What are your overall thoughts on the performance of the band or DJ? Did the band/DJ arrive on time? What was the personality of the bandleader/DJ on the dance floor? Did they respond positively to song requests from guests? Did the band/DJ play all of your special wedding songs correctly and at the right time? Did they pronounce the names of everyone in the bridal party correctly? And, most importantly, did guests dance and have fun?
Will you accept must-play and do-not-play lists?
These lists are an important part of creating the wedding you want—so consider it a deal-breaker if the DJ or band refuses to abide.
Are you open to requests from guests?
This question is really up to you: You might want your guests to have some input, or perhaps you don't want your guests making requests all night. Ask the music professional how they typically handle requests, and find out what they'd say if you decide your wedding will be a request-free zone.
For bands: How often do you play together? Exactly which members will perform at my wedding?
Wedding bands often have more members than perform at a single event; this provides a safety net if a band member gets sick or can't attend a performance for some other reason. But you'll want to have a good sense of who will be playing your wedding and how often they perform together. If they're out of sync, the vibe at your wedding will be all wrong.
Can we attend a dress rehearsal or see a tape of a recent performance?
This goes for both bands and DJs: Seeing them in action is important. The personality of the bandleader or DJ will have a huge impact on the atmosphere at your wedding, so be sure you can see them play live or at least watch a video of a recent performance. You want someone who seems comfortable and confident, and whose personality works with yours. If you're hiring a band, be sure the same members are playing at the rehearsal or in the video as those who will be playing at your wedding.
How will you decorate your stage or DJ platform? What will you wear?
The last thing you want at a black-tie wedding is a DJ who arrives with a disco ball and flashing lights in tow. Find out how your wedding music professionals will present themselves at your wedding, and if you're not quite sold on an aspect of their appearance ask if they'd make a (reasonable!) accommodation.
We're ready to see the contract!
Once you've decided whom you'll hire, there are a few details to hammer out in your contract. Make sure all of these points are covered: when your band or DJ will perform (number of hours, how their break structure works); terms of payment (how much is the deposit and when is it due, do they require you to pay for meals/lodging/travel, what is the refund policy, when is the balance due); the DJ or bandleader is required at your event in person barring any unforeseen circumstances; who will replace the bandleader or DJ if he or she should fall ill on your wedding day and can you meet that person.