These 28 Broadway Wedding Songs Are Total Showstoppers
Add these musical theater hits to your playlist.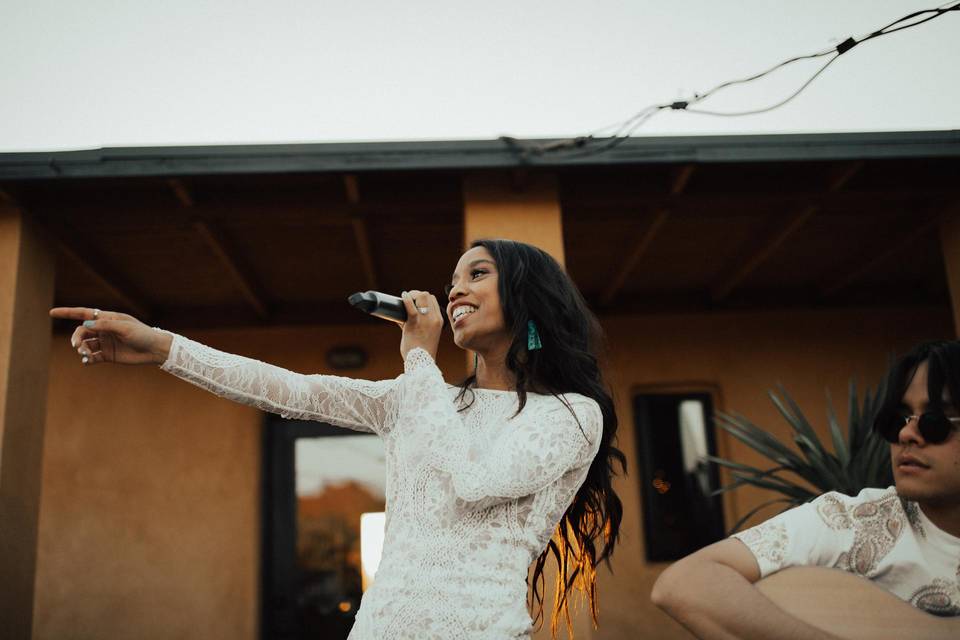 On your wedding day, you and your partner will be standing in the spotlight. Why not celebrate your love story by playing a few (or many!) Broadway love songs at your ceremony or reception? The Broadway canon features a wide range of tunes, from classic standards to more modern hits from some of the most renowned composers of our time. Depending on your taste, you're sure to find songs for your processional, recessional, special dances, and more. Check out these Broadway love songs to add to your playlist.
"Helpless" from Hamilton: An American Musical
Hamilton first opened on Broadway in 2015, and it's still one of the hardest tickets to procure in town. The musical combines hip hop, pop, soul, and traditional show tunes to create a totally unique theatrical experience. "Helpless" is perhaps the most romantic song in the score, as Eliza and Alexander declare their love for each other. The phrase "I do" is repeated throughout the song, making it the perfect Broadway love song for a recessional.
"As Long as You're Mine" from Wicked
Wicked is another musical that's still going strong after many years on Broadway—and "As Love as You're Mine" is its sultry duet. We particularly love the lyrics: "Just for this moment/As long as you're mine/Come be how you want to/And see how bright we shine." This is a great one for your first dance, or as a slow dance song to play later in the evening.
"Falling Slowly" from Once
This song was first performed in the film version of Once, and was later in the Broadway show. It's a great way to combine an indie-folk vibe with your love of musical theater. It's ideal for a unique and romantic processional or first dance song.
"Some Enchanted Evening" from South Pacific
This sweeping and dramatic Rodgers and Hammerstein song has been a favorite for decades. If you're hosting an elegant, vintage-inspired wedding celebration, this makes a perfect song to play as guests are entering the reception or as a prelude to your ceremony.
"All I Ask of You" from The Phantom of the Opera
One of the most famous duets in the musical theater canon, this song from Andrew Lloyd Weber's famous musical features swoon-worthy lyrics, like "Say you love me every waking moment/Turn my head with talk of summertime/Say you need me with you now and always/Promise me that all you say is true/That's all I ask of you." What a beautiful processional, first dance, or slow dance song for your big day.
"So in Love" from Kiss Me, Kate
Kiss Me, Kate is a classic Broadway musical with a gorgeous, sweeping score by Cole Porter. We particularly love Ella Fitzgerald's version of this song, which can be played during cocktail hour or dinner.
"Ten Minutes Ago" from Rodgers and Hammerstein's Cinderella
If you want your wedding to feel like a fairytale, this Broadway love song is a must-play. It perfectly describes the feeling of meeting your love for the first time, and with lyrics like "Ten minutes ago I saw you/You looked up as I came thorough the door/My head started reeling/You gave me the feeling the room had no ceiling or floor" your guests will be swooning. This is a beautiful song to dance to, and makes for a grand first dance. We're including the version from the Cinderella movie starring Brandy and Whitney Houston, because, well, we're obsessed.
"'Till There Was You" from The Music Man
Whether you're more familiar with the original Meredith Wilson song or the Beatles' cover, you probably already know this classic love song. This song can be played at pretty much any point during your wedding, but we particularly like it as a ceremony prelude or a cocktail hour song.
"I'll Cover You" from RENT
This Broadway song is featured twice in Jonathan Larson's rock musical Rent. The first instance is a lighthearted duet performed by Angel and Collins, while the reprise is a mournful gospel take. The former is probably more wedding-appropriate, and would work well as a ceremony interlude or first dance.
"The Next Ten Minutes" from The Last Five Years
For a more modern Broadway love song, this Jason Robert Brown favorite is an ideal choice. You'll find romantic lyrics like "There are so many lives I want to share with you/I will never be complete until I do" and references to marriage. This is a bit of a longer song, so while it might not be an ideal first dance song, it's perfect to play during cocktail hour or dinner.
"You Matter to Me" from Waitress
Sara Bareilles is known for her gorgeous melodies and poignant lyrics, and the score of Waitress is no exception. While we love the version of this song sung by Jessie Mueller and Drew Gehling on the original cast recording, you might also enjoy the pop version recorded by Bareilles and Jason Mraz.
"Last Night of the World" from Miss Saigon
If you've ever seen Miss Saigon, you'll know that its ending is far from happy. However, if you love the musical's score, this dramatic Broadway love song can definitely work at a wedding. Try an instrumental as a ceremony prelude or the full original version during cocktail hour or dinner.
"Suddenly Seymour" from Little Shop of Horrors
Yes, Little Shop of Horrors is about a man-eating plant, but it also features one of the most beloved duets in the musical theater canon. This song has been covered by everyone from Ariana Grande to the cast of Glee, and the lyrics celebrate loving someone for exactly who they are. The instrumental version makes a somewhat offbeat processional song, or play the original cast recording as a first or slow dance song during your reception.
"If I Loved You" from Carousel
If you're a fan of classic musical theater, you probably already know Carousel's score by Rodgers and Hammerstein. In this duet, Julie and Billy talk about a hypothetical relationship that quickly becomes a reality. We particularly love the instrumental version of this Broadway love song, which can be used at various points throughout the wedding day—a ceremony prelude, or during cocktail hour or dinner.
"One Hand, One Heart" from West Side Story
Leonard Bernstein's West Side Story was written as a modern-day Romeo and Juliet. In this duet, star-crossed lovers Tony and Maria act out a make-believe wedding, with swoon-worthy lyrics like "Now it begins, now we start/One hand, one heart/Even death won't part us now." The instrumental version is a popular processional song.
"It Takes Two" from Into the Woods
Sondheim fans will certainly know this upbeat, lighthearted song from Into the Woods, sung by the Baker and the Baker's Wife. The simple-yet-sweet lyrics include: "It takes two/I thought one was enough/It's not true/It takes two of us." This is a pretty short Broadway love song, so would likely work best as a ceremony prelude or during cocktail hour or dinner.
"Only Us" from Dear Evan Hansen
The soundtrack to Dear Evan Hansen features a variety of tear-jerking songs, but this one is probably the most wedding appropriate. Sung by the characters Evan and Zoe, this song features lyrics like "What if it's you/And what if it's me/And what if that's all that we need it to be/And the rest of the world falls away?/What do you say?" For a country twist on the original, check out the cover by "Only Us" by Carrie Underwood and Dan + Shay.
"Bewitched, Bothered and Bewildered" from Pal Joey
This Broadway love song by Rodgers and Hart has become a standard and has been covered by dozens of artists, including Ella Fitzgerald, Linda Ronstadt, Rod Stewart, and Cher. It can be played during lots of wedding-day moments, but will certainly catch guests' ears if it's played during dinnertime.
"Marry Me a Little" from Company
This song is from one of Sondheim's most beloved musicals (with a new gender-reversed revival opening on Broadway!). The lyrics speak of the main character's desire to start a committed relationship. Not only is this a great song to play at some point during your big day, the lyrics also make for a beautiful ceremony reading.
"You're the One That I Want" from Grease
For a more upbeat vibe, the closing number from the musical Grease is a perfect choice. It's fun, sexy, and lighthearted—and makes a great singalong song. Play this as your cake cutting song, last dance, or to make all of your guests rush the dance floor.
"Unusual Way" from Nine
While this song expresses feelings of unrequited love and heartbreak, it's still a beautiful tune to play during cocktail hour or dinner. There are several different versions of this song, from both the stage and film versions, so pick your favorite!
"(You'd Be So) Easy to Love" from Anything Goes
If you and your partner are considering an Old-Hollywood-style dance routine for your first dance, this Cole Porter classic is a lovely choice. You'll love gliding across the dance floor to this tune.
"A Heart Full of Love" from Les Miserables
This passionate Broadway love song depicts the (kinda awkward!) first meeting of Marius and Cosette—as well as Eponine's unrequited love. Of course, the vocals are beautiful, but the instrumental version is a stunning choice as a ceremony prelude.
"What About Love?" from The Color Purple
Sung by the characters Celie and Shug, this song features some of the most gorgeous harmonies we've heard. And with lyrics like "Will you be my light in the storm/Will I see a new world?/In your eyes/With you my whole spirit rides," this love song conveys a beautiful sentiment.
"A Whole New World" from Aladdin
If you're a fan of both Disney movies and Broadway show tunes, this song is the best of both worlds. While you might not have an actual flying carpet at your wedding, you can still channel Aladdin and Jasmine while twirling to this timeless love song.
"On the Street Where You Live" from My Fair Lady
Imagine waltzing across the dance floor to this beautiful Broadway love song, sung by the character Freddie as he walks by Eliza's home. This makes a unique and elegant first dance song, or you could play it during cocktail hour or dinner.
"Can You Feel the Love Tonight" from The Lion King
How could you not love this Disney-Broadway crossover hit? From your prelude to your first dance to your cake cutting, this song fits into any wedding-day moment. It even makes a sweet grand entrance song!
"I Do, I Do, I Do, I Do, I Do" from Mamma Mia!
For a cheeky twist on the traditional Broadway love song, this ABBA tune makes a fun addition to your wedding playlist. In the show Mamma Mia!, Sam sings this to Donna as he proposes marriage—so it's totally appropriate for your nuptials! Play this one during one of the more lighthearted moments of the day, like the cake cutting or bouquet toss.