34 Wedding Cake Cutting Songs to Sweeten the Moment
Dessert is going to be a main highlight of your wedding day. Make the tradition even more memorable with one of these fun wedding cake cutting songs!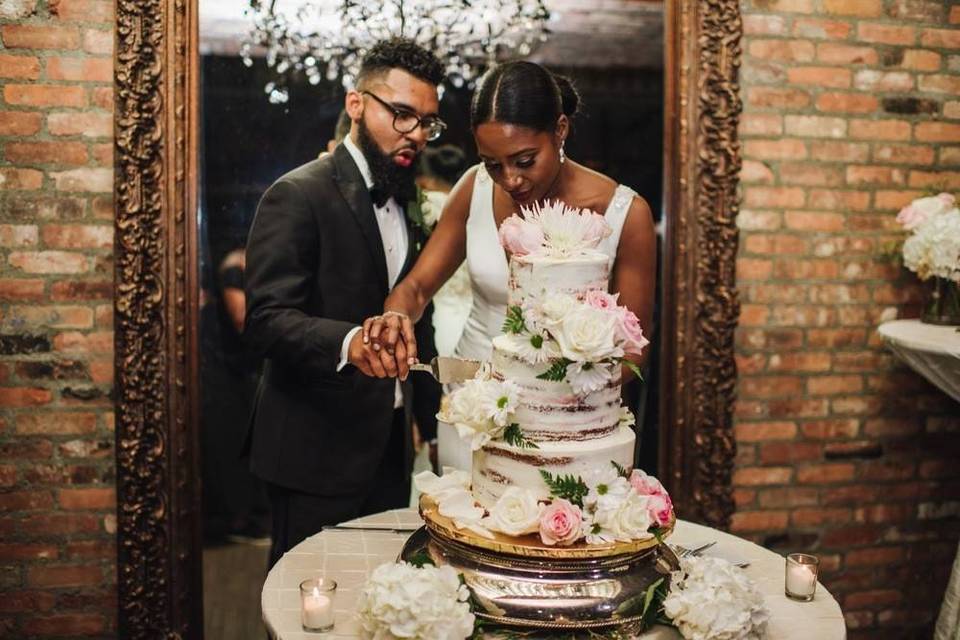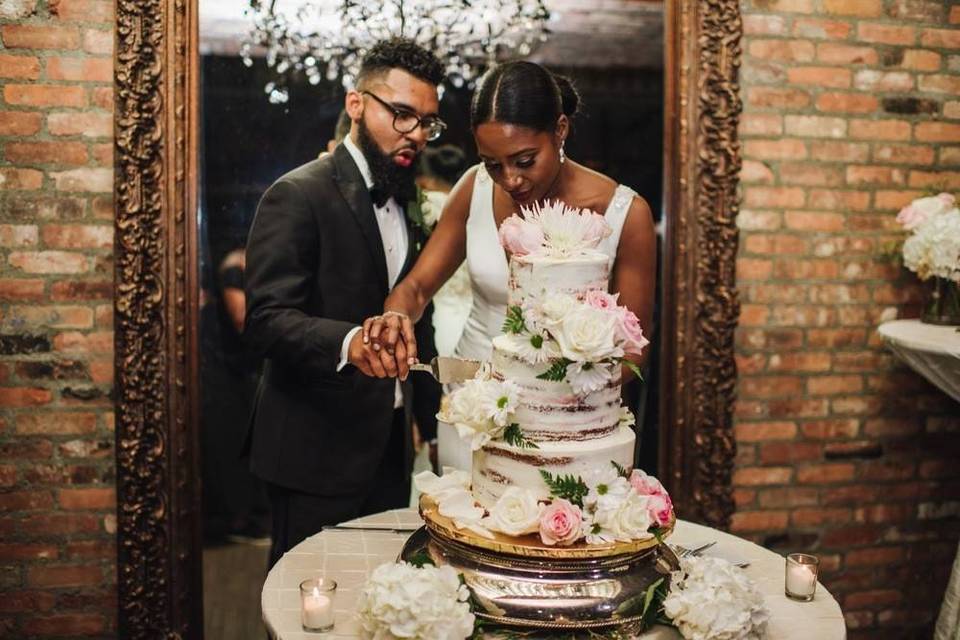 After you've said 'I do,' when the wedding reception meal is over and the wedding toasts have been given, it's time to get the real party started. That can only mean one thing: dessert! These wedding cake cutting songs are perfect for that exciting moment when you and your brand-new spouse slice into your wedding cake (and ultimately perform your first official duty as newlyweds by smashing it into each other's faces, right?). There are plenty of tried-and-true cake cutting songs out there—pretty much any song with the words sweet, sugar or cake in the title—but if you need a refresher before meeting with your wedding DJ or band, then check out this playlist of tunes that will add a little extra something when it's time to cut the cake.
"How Sweet It Is (To Be Loved by You)" by James Taylor
Use this wedding cake song if you're looking for something mellow and timeless. It's also a great choice if you're having a live band performance!
"Pour Some Sugar on Me" by Def Leppard
This classic rock song will bring the energy to your cake cutting moment—and get all of your guests dancing and singing along in the process.
"Good Feeling" by Flo Rida
Gather your guests and get the good vibes going with this upbeat 2010s hit that's always a party-starter.
"Sugar, Sugar" by The Archies
As one of the most popular wedding cake cutting songs of all time, "Sugar, Sugar" is a crowd favorite for guests young and old. Bonus points if you can get everyone to clap along to the beat while you cut into your cake!
"Better Together" by Jack Johnson
We'll never get tired of this sweet acoustic tune. Use it for your cake cutting song or your first dance if you want to slow things down a bit.
"Sweetest Thing" by U2
Your dessert table will be the sweetest thing at your wedding reception, and this song is a perfect fit when it's time to cut the cake.
"Today Was a Fairytale" by Taylor Swift
Put the cherry on top of your dream fairytale wedding by using this romantic song for your cake cutting moment (Taylor's version, of course).
"I Want Candy" by The Strangeloves
There are a handful of covers of this iconic wedding cake cutting song. This 1965 version by The Strangeloves is the original, but you could also use the '80s remake by Bow Wow Wow or the 2000s version by Aaron Carter.
"Love You Madly" by Cake
Band name aside, "Love You Madly" is one of the best cake cutting songs if you're looking for an unexpected, indie-rock tune.
"Lucky" by Jason Mraz ft. Colbie Caillat
We'd use this acoustic, laid-back duet as a wedding cake cutting song at an outdoor summer wedding.
"I Got You Babe" by Sonny & Cher
This classic '60s song will bring a smile to everyone's faces as soon as it starts to play.
"Cake by the Ocean" by DNCE
Although the lyrics of "Cake by the Ocean" aren't actually about cake, Joe Jonas and DNCE gave us this musical masterpiece that always makes us want to dance.
"Happy Together" by The Turtles
Pick this wedding cake cutting song to instantly bring an upbeat, happy mood to your reception.
"That's Amore" by Dean Martin
If you're having an Italian wedding, you already know that this song is a must-play at some point during your reception. Even if you're not Italian, it's a fun choice as your cake cutting song!
"Grow Old With You" by Adam Sandler
This song from one of our favorite wedding movies also happens to be a great choice when it's time to cut the cake. It's less than a minute and a half long, keeping it short and sweet.
"Sugar" by Maroon 5
It's impossible not to have fun or sing along whenever this song plays—it's just so catchy.
"You're My Best Friend" by Queen
If you just married your best friend, why not celebrate it with a song? "You're My Best Friend" is one of the most popular wedding cake cutting songs and first dance songs ever.
"The Way I Am" by Ingrid Michaelson
The quirky lyrics of this cake cutting song are a sweet way to say 'I love you' in musical form.
"I Can't Help Myself (Sugar Pie, Honey Bunch)" by The Four Tops
​From the very first opening notes, this Motown classic will get everyone excited to watch you cut the cake.
"This Will Be (An Everlasting Love)" by Natalie Cole
As the daughter of Nat King Cole, it's no surprise that this 1970s song by Natalie Cole was an instant hit and remains one of the most popular wedding songs today.
"Sweet Thing" by Keith Urban
Keith Urban has some of the best modern country love songs out there, and "Sweet Thing" is no exception. This cheerful wedding cake cutting song would be a great cake cutting song choice for a rustic summer barn wedding under the stars.
"Kiss Me" by Sixpence None The Richer
You can't go wrong with this classic '90s hit. We've seen couples use this as a first dance song, but we think it also fits as a cake cutting song.
"Everything" by Michael Bublé
Michael Bublé knows how to steal our hearts. The chorus lyrics, "And in this crazy life, and through these crazy times / It's you, it's you, you make me sing / You're every line, you're every word, you're everything," are SO romantic and make an upbeat backdrop to a wedding cake cutting.
"Love On Top" by Beyoncé
Channel your inner Beyoncé and dance your way over to the cake table with this irresistible wedding cake cutting song. It will probably have your guests wanting to get up and dance too!
"Brand New" by Ben Rector
This cake cutting song is like four minutes of instant happiness. What more could you ask for?
"I'm a Believer" by The Monkees
You probably know the 2001 Smashmouth remake of this song, but the original version is just as catchy, making it one of our top wedding cake cutting songs.
"Silly Love Songs" by Paul McCartney & Wings
Classic rock lovers and Beatles fans will especially appreciate this popular cake cutting song.
"Best Song Ever" by One Direction
If you're secretly (or not so secretly) a Directioner, have no shame. This 1D track is an instant party-starter when it comes to modern wedding cake cutting songs.
"Crazy Lucky" by Better Than Ezra
Let your S.O. know how special they are to you with "Crazy Lucky" by Better Than Ezra. The lyrics, "If the world is four times bigger than the moon / Then tell me, how on Earth did I find you" will have you feeling even more grateful for each other than you already do.
"Hit Me With Your Best Shot" by Pat Benatar
If you're planning to do a cake smash, this '80s hit is one of the top cake cutting songs to bring out your (friendly) competitive side.
"Loving You Easy" by Zac Brown Band
This easygoing song is a little bit country and a little bit rock and roll. We love the studio version but think this cake cutting song would also sound fantastic performed by a live band.
"24K Magic" by Bruno Mars
"24K Magic" is always an instant crowd-pleaser, whether you use it as a cake cutting song or a grand entrance song.
"Love Never Felt So Good" by Michael Jackson & Justin Timberlake
Any song by these two legends is an instant favorite in our book. The King of Pop originally recorded a demo of "Love Never Felt So Good" in the '80s, and the official version was released in 2014.
"Feel Again" by OneRepublic
OneRepublic are known for their happy, inspirational songs, and this feel-good track is one of our favorites by them. If you want your guests to get out of their seats and join you while you're cutting the cake, this should do the trick!