20 Italian Wedding Ideas Inspired by Mediterranean Style
Embrace la dolce vita by adding these colorful and chic Italian-themed wedding ideas to your special day.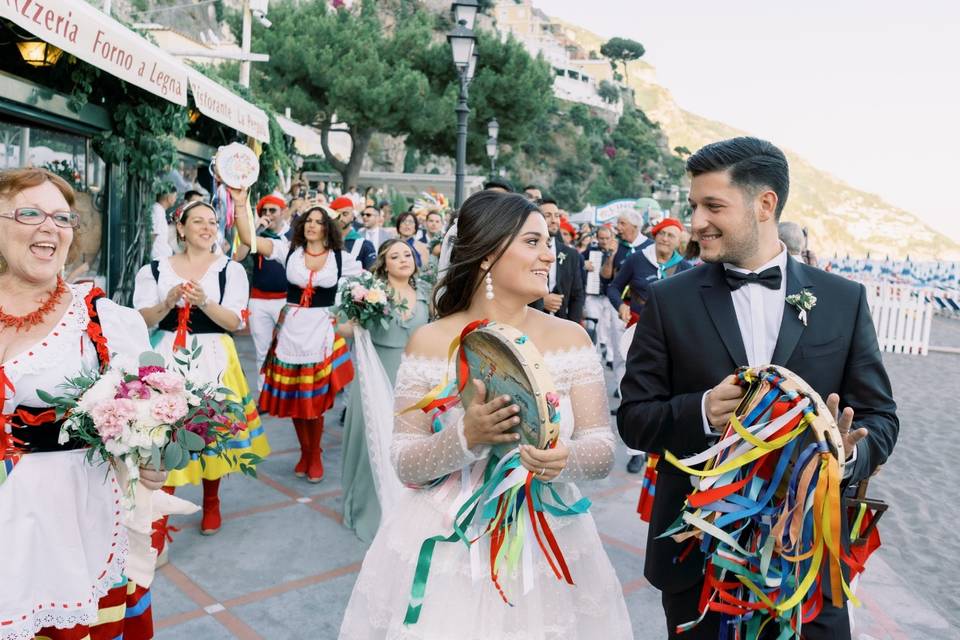 Italy is one of the most beautiful places in the world, and it's an incredibly romantic place to get married if you're able to host a destination wedding. But if you can't make it all the way to the Tuscan countryside or the Amalfi Coast, you can use these Italian-themed wedding ideas to infuse the friendly, happy spirit of Italy into your big day, no matter where you're celebrating.
The Best Italian-Themed Wedding Ideas
The goal of hosting an Italian-inspired wedding should be to create an upbeat, welcoming atmosphere that bridges the gap between elegance and playful. As much as Italians are sticklers for tradition and sophistication, they're also big on having fun and living in the moment—so don't worry about taking things too seriously!
Focus on balancing out classic elements, such as a lace wedding dress or calligraphy wedding invitations, with whimsical details, like bold color palettes, fruit centerpieces, and statement accessories. Need some wedding inspiration for your big day? Check out these ideas and traditions to pull off the perfect Italian wedding.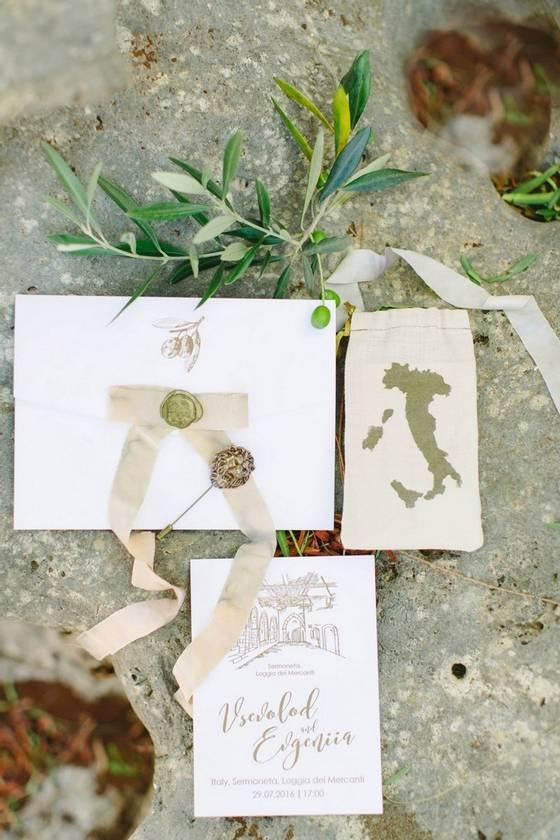 Wedding invitations
Whether you're having a destination wedding in Italy or hosting your Italian-inspired celebration closer to home, your invitations are the perfect place to incorporate your wedding theme. Add sophisticated details like calligraphy and wax seals to your stationery suite to elevate the design.

Ornate high heels
Italy is home to some of the biggest fashion and couture houses in the world, including designer brands like Missoni, Versace, Gucci, Prada, and Valentino. So when it comes to your wedding day, we definitely suggest bringing your fashion A-game. One way you can easily add glamour to your look is with dramatic accessories, like these Dolce & Gabbana block heels.

Wedding welcome bag
We especially love this idea if you're hosting a destination wedding. Treat your guests to an Italian-themed wedding welcome bag at their hotel upon arrival—fill the bag with vacation essentials and local goodies, such as candies, maps, and refreshments.

Dress by Monique Lhuillier
Lace wedding dress
While Italy may be known for its trend-setting fashion houses, conservative attire is preferred for weddings, especially if the ceremony is taking place in a house of worship. This gorgeous fitted lace wedding dress is proof that you can look sexy and flaunt your curves without showing a ton of skin.

Trendy tuxedo
Formal attire doesn't have to be boring. This patterned emerald green tuxedo jacket is the perfect example of a trendy-meets-traditional look for grooms.

Outdoor wedding ceremony
If you're not getting married in a house of worship, look for a venue that offers incredible views (even better if it overlooks the Italian countryside). Keep the ceremony decor minimal with folding wooden chairs and a simple backdrop so you don't detract from the scenery.

Vespa photo op
No explanation needed for this idea, other than it's cute! Station a colorful Vespa or moped at your wedding venue for a fun photo backdrop that your guests will love. If you're feeling extra creative, ask your florist to create an arrangement to complete the setup.

Colorful tile escort cards
Skip the basic paper escort cards—these colorful Mediterranean tiles are so much more decorative. Use tiles with varying patterns in the same color palette to recreate this display.

Terracotta centerpiece vessels
These ceramic pots are the perfect combination of rustic and earthy. Fill them with greenery and fragrant herbs, like rosemary and basil, for a tablescape that reflects the pastoral vibe of the Italian countryside.

Sunflowers
Tuscany isn't on the Italian coast, but the fields of sunflowers that bloom there each summer are famous (and for good reason). These cheerful yellow blooms will bring a happy energy to your wedding bouquets, centerpieces, and other flower arrangements.

Colorful table linens
Add a pop of color to your wedding reception decor by using colorful patterned table linens. This pink and white striped tablecloth reminds us of the beach cabanas you'll find along the Amalfi Coast.

Homemade Italian bread
Freshly baked bread is a staple of any authentic Italian meal. Kick off your cocktail hour or reception by serving warm homemade bread with a dipping sauce of olive oil, pepper flakes, and parmesan cheese.

Place settings
Keep your Italian-themed wedding place settings simple but stylish with individual menu cards, gold flatware, and an olive branch or other sprig of fresh greenery.

Italian wedding cookies
No Italian family gathering or party is complete without traditional cookies like pizzelles, amaretti, biscotti, and rainbow sprinkle cookies. Serve these as the main dessert or as sweet treats in addition to your cake.

Campari-infused cocktails
This bitter Italian apéritif can be added to a variety of recipes to make negronis, spritzes, and other fruity cocktails.

Bocce ball
Need to fill some time between your ceremony and wedding reception? Set up a bocce ball court at your venue so guests can pass the time watching or playing this beloved Italian game.

Jordan almonds
If you've ever attended a traditional Italian wedding, you likely went home with a tulle bundle (or bomboniere) of sugar-coated almonds as a favor. In Italy, these almonds are actually called "confetti," and there's a sweet meaning behind them. The almonds are typically given out in groups of five to represent longevity, wealth, happiness, fertility, and good health.

Limoncello wedding favors
Here's a wedding favor idea that won't get left behind at the end of the night. Surprise your of-age guests with miniature bottles of limoncello, the sweet but potent lemon-flavored liqueur that's popular throughout Southern Italy.

Italian wedding band
Music is a huge part of any wedding, but you could argue that Italians take it to a whole new level. Hire a band that specializes in Italian folk music and other Italian wedding traditions, like the tarantella (and maybe a Dean Martin song or two).

Millefoglie cake
Instead of the American-style wedding cake, consider serving the traditional Italian cake, called the millefoglie. It's a circular or square cake made from layers of crisp pastry, cream, fresh berries, and topped with powdered sugar.