18 Types of Wedding Chairs to Add to Your Event Rental List
We're breaking down the most popular types of wedding chair rentals to help you find the best ideas for your style.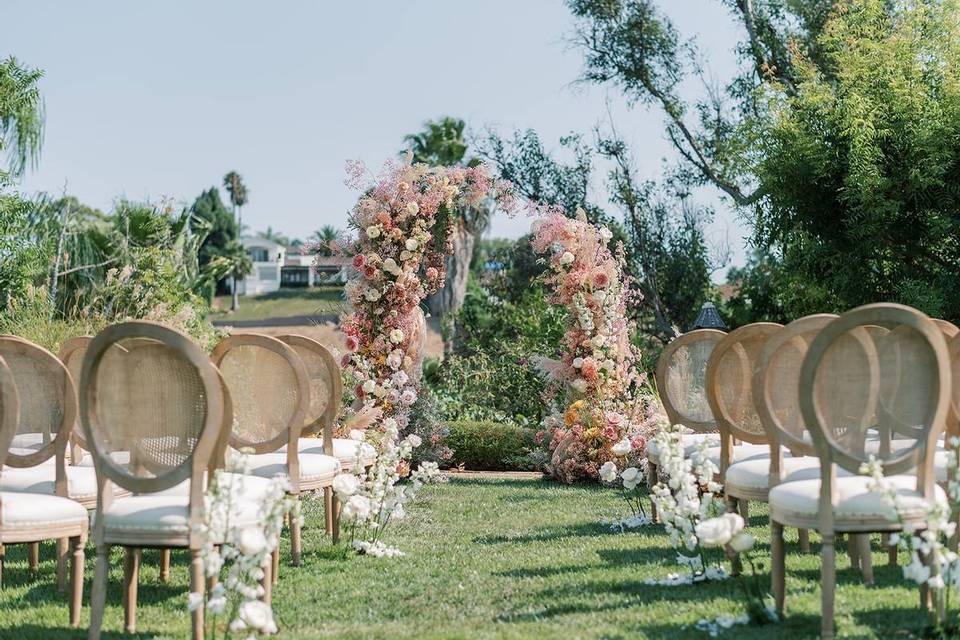 Wedding chairs are absolute essentials for your big day. Your guests will need a place to sit during the wedding ceremony and throughout the reception, but the types of chairs you choose can also influence your wedding decor and overall aesthetic. With so many other details (guest list, flowers, food, attire...to name a few) to worry about for your wedding day, it's easy to leave the wedding chair rentals on the back burner, especially if your wedding venue provides them or you don't have wiggle room in your budget to splurge on fancy event rentals. But keep in mind that the chairs will be in a lot of your wedding photos—and depending on the size of your guest list, you could have hundreds of them throughout your venue. Even if you only invest in a few special wedding chairs for your head table and keep the rest simple, we think they're worth it! Take a look at these popular types of wedding chairs to decide which options fit your style.
Where do you find wedding chair rentals?
If your wedding venue doesn't provide chairs in-house (or you want other options), the best place to start looking is by researching wedding rental companies in your area. Once you find a vendor you're interested in, ask if they have a showroom you can visit to check out all of your options in person. If you're working with an event stylist or wedding planner, they will already know plenty of event rental companies who fit into your wedding aesthetic and budget. Along with wedding chairs, most of these event specialists can provide other party rentals you'll need for your big day—think wedding tents, dance floors, flatware, glassware, and tablecloths that you can use to customize your decor.
How much do wedding chair rentals cost?
According to the WeddingWire Newlywed Report, the average cost of a wedding venue (and the accompanying wedding rentals, including chairs) usually accounts for 50% of your wedding budget. The exact pricing of wedding chair rentals will vary based on how many guests you're inviting, the types of chairs you choose, and even your location. Simple wedding chair designs, like folding wooden or metal options, will cost significantly less than more ornate options.
Wedding Chair Rental Ideas
Ready to pick out your wedding chairs? Here are some of the most common styles you can rent to elevate your wedding ceremony or reception decor.
Peacock chair
No boho wedding is complete without these show-stopping chairs. Peacock chairs are typically made of rattan or white wicker, and they feature a dramatic, highly arched back that fans out like a peacock's tail—hence the name! Use two of these side-by-side at your head table or as part of a wedding lounge area.
Modern velvet chair
Going for a modern, streamlined style on your wedding day? Upholstered velvet chairs with gold metal legs bridge the gap between contemporary and elegant.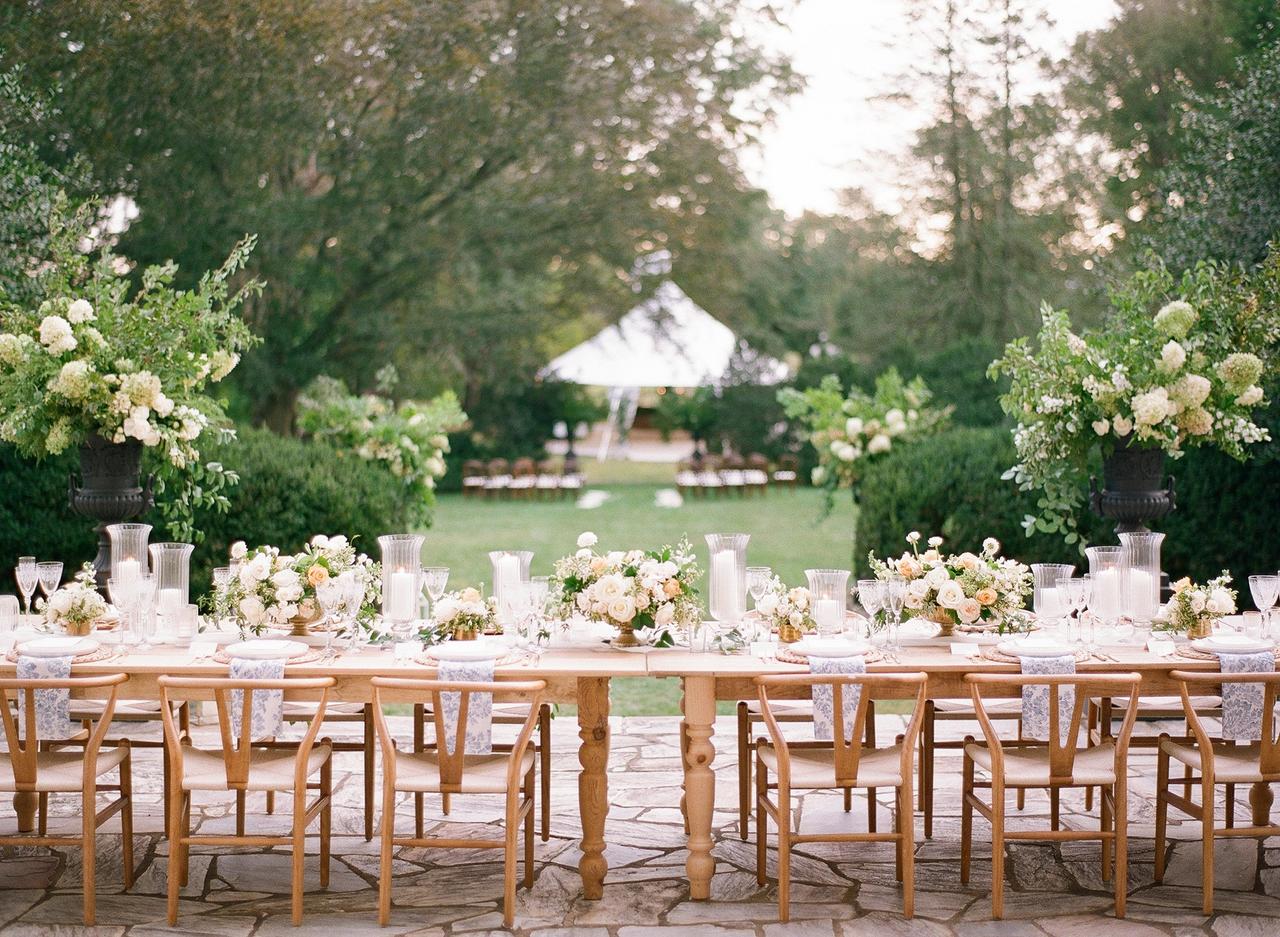 Wishbone chair
This minimalistic wedding chair style is inspired by midcentury modern design, and the natural wood finish adds a warm, inviting look to your decor.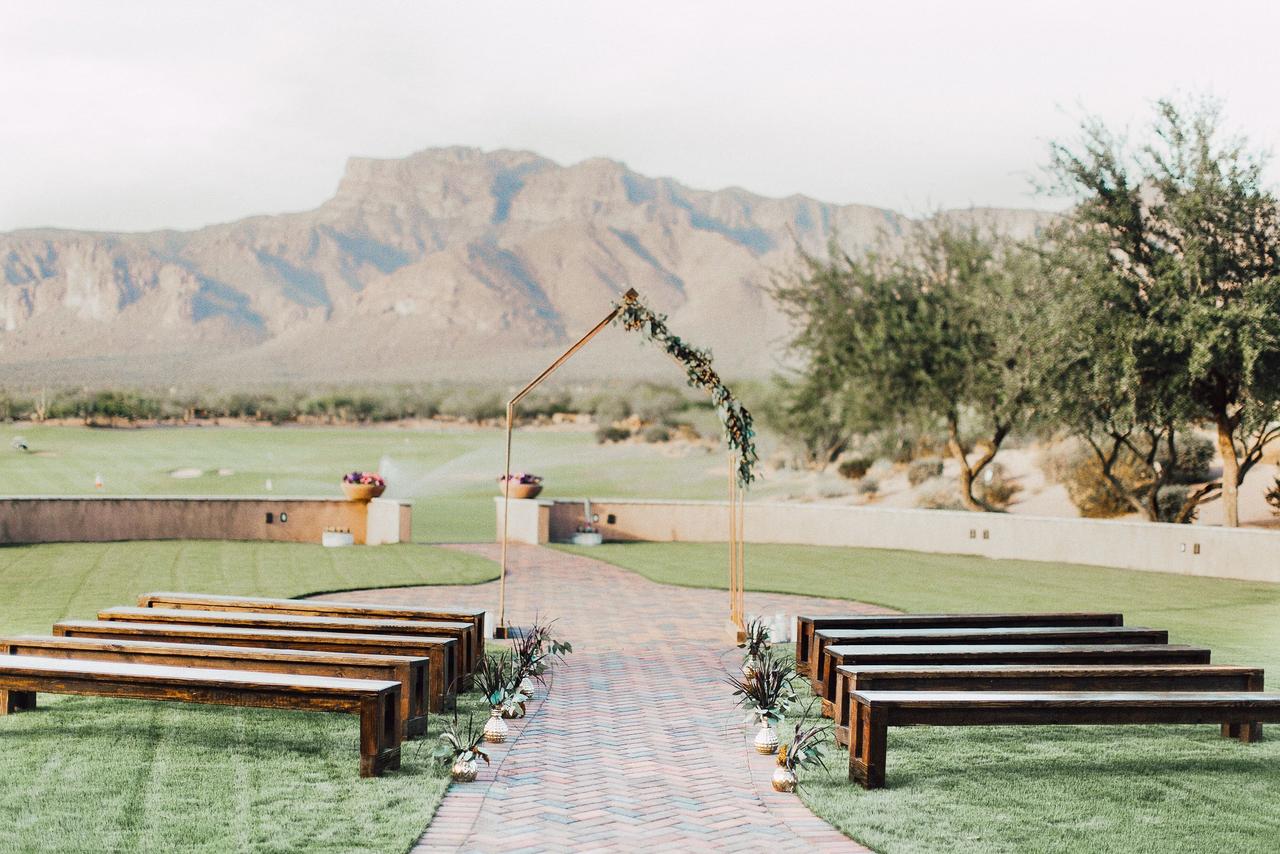 Wooden benches
Keep things informal and relaxed by using long wooden benches instead of individual chairs. Pair dark brown benches with farm tables for a modern rustic vibe at your wedding reception, or look for repurposed church pews from vintage event rental companies if you want an eclectic, shabby chic aesthetic.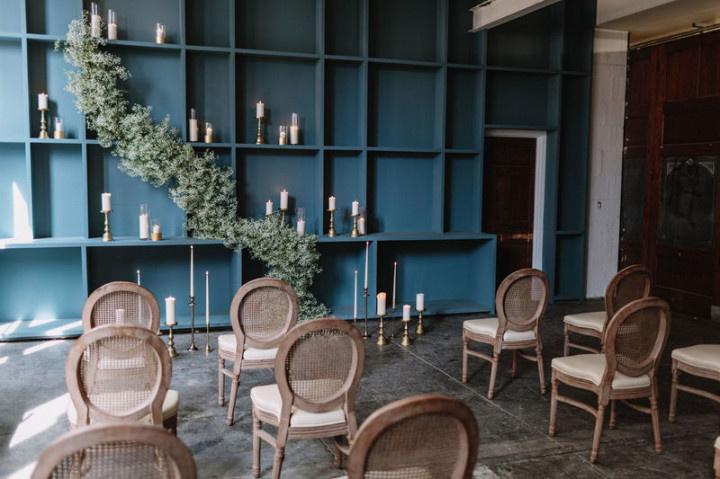 Cane back chair
The trademark of this antique-inspired chair style is the caned back, which is typically woven from strands of dried grasses, palms, or bamboo. Cane back chairs were popular during the height of the French colonial period. Today, they're a top choice for Old World wedding style and often feature a neutral color palette with linen, velvet or satin cushions.
Infinity chair
Also called the phoenix chair, the infinity chair features an oval back with two overlapping circles that create a loop-inspired pattern. The end result is an "infinity" effect by being unable to tell where each circle begins or ends. We love these wedding chairs for an ultra-chic celebration. You can find infinity chairs in several colors, including white, gold, black, wooden styles, and even clear acrylic.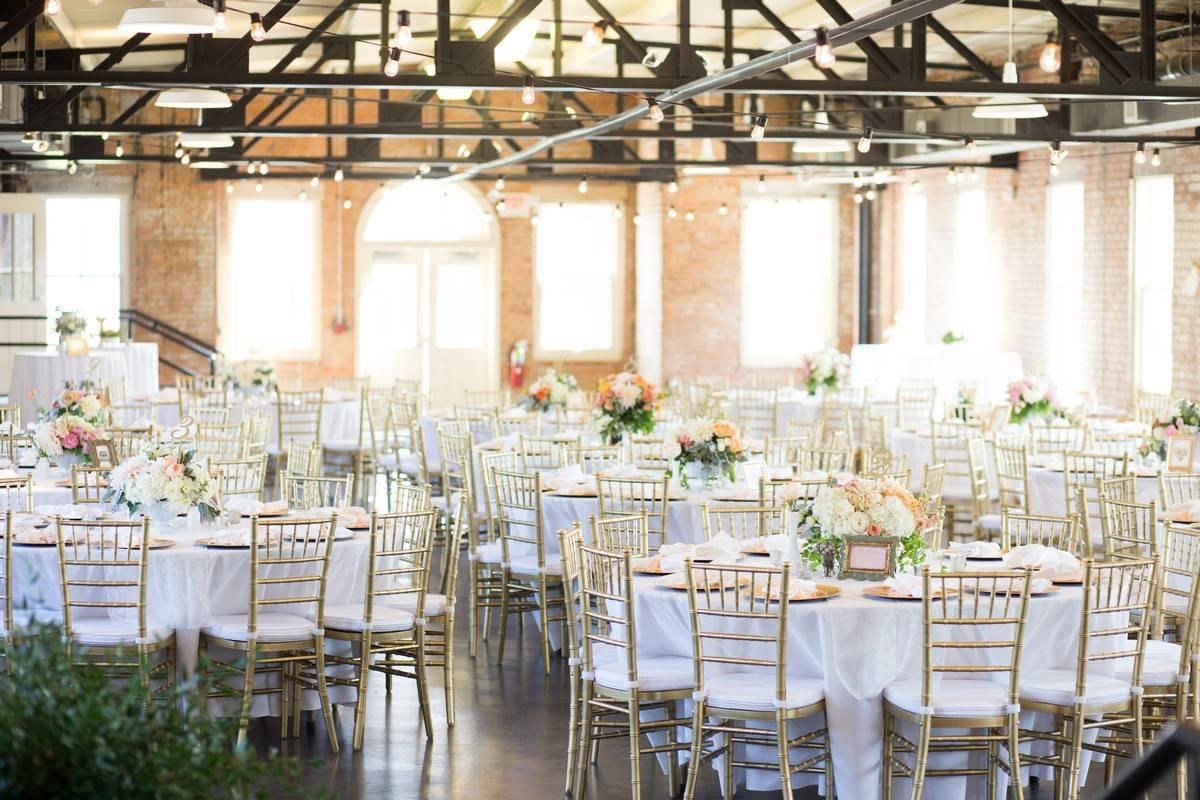 Chiavari chair
This faux bamboo option is one of the most popular wedding chair styles. Chiavari chairs are often seen in natural wood, neutral tones, or metallics, but some rental companies offer bright colors, pastels, or even transparent varieties. They're most often used at traditional weddings and formal events, and can be left bare or dressed up with fabric chair covers.
Opera chair
Opera chairs look similar to Chiavari chairs, with a few subtle differences. Instead of a straight edge along the back, the opera chair features a more delicate scalloped edge, with tapering spindles. These wedding chairs are a beautiful option for a vintage them or a Parisian-inspired wedding.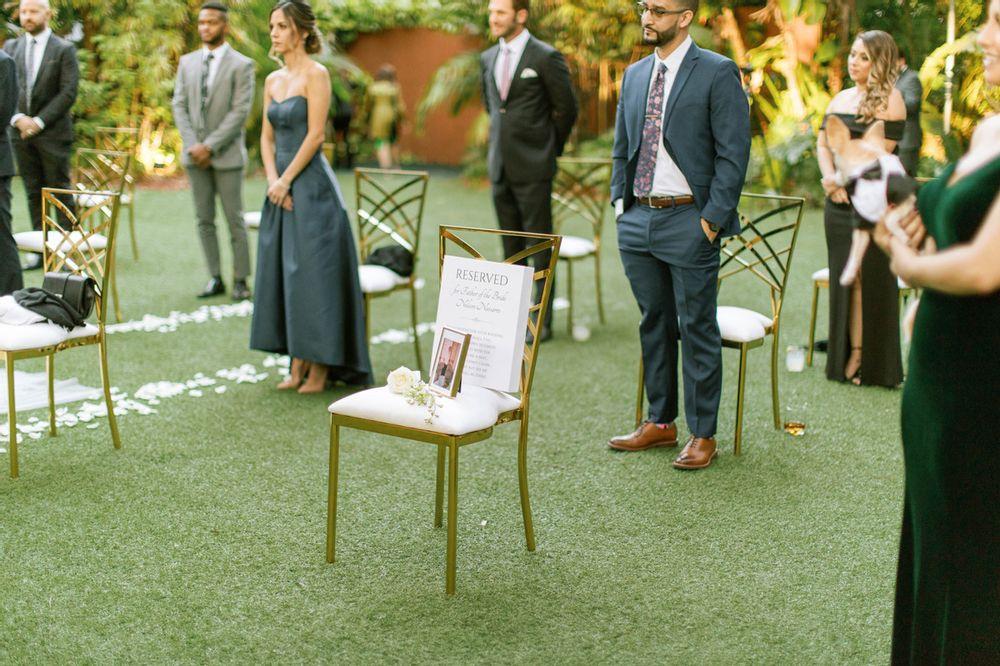 Chameleon chair
If you don't recognize these chairs, that's because they're usually draped in fabric or otherwise disguised (hence the name). These wedding chair rentals are also known as fanfare chairs for their festive crossed bars. The metal frames can be customized with colorful cushions, stylish sashes, or decorative slipcovers. They can also be kept bare like this for a more contemporary look.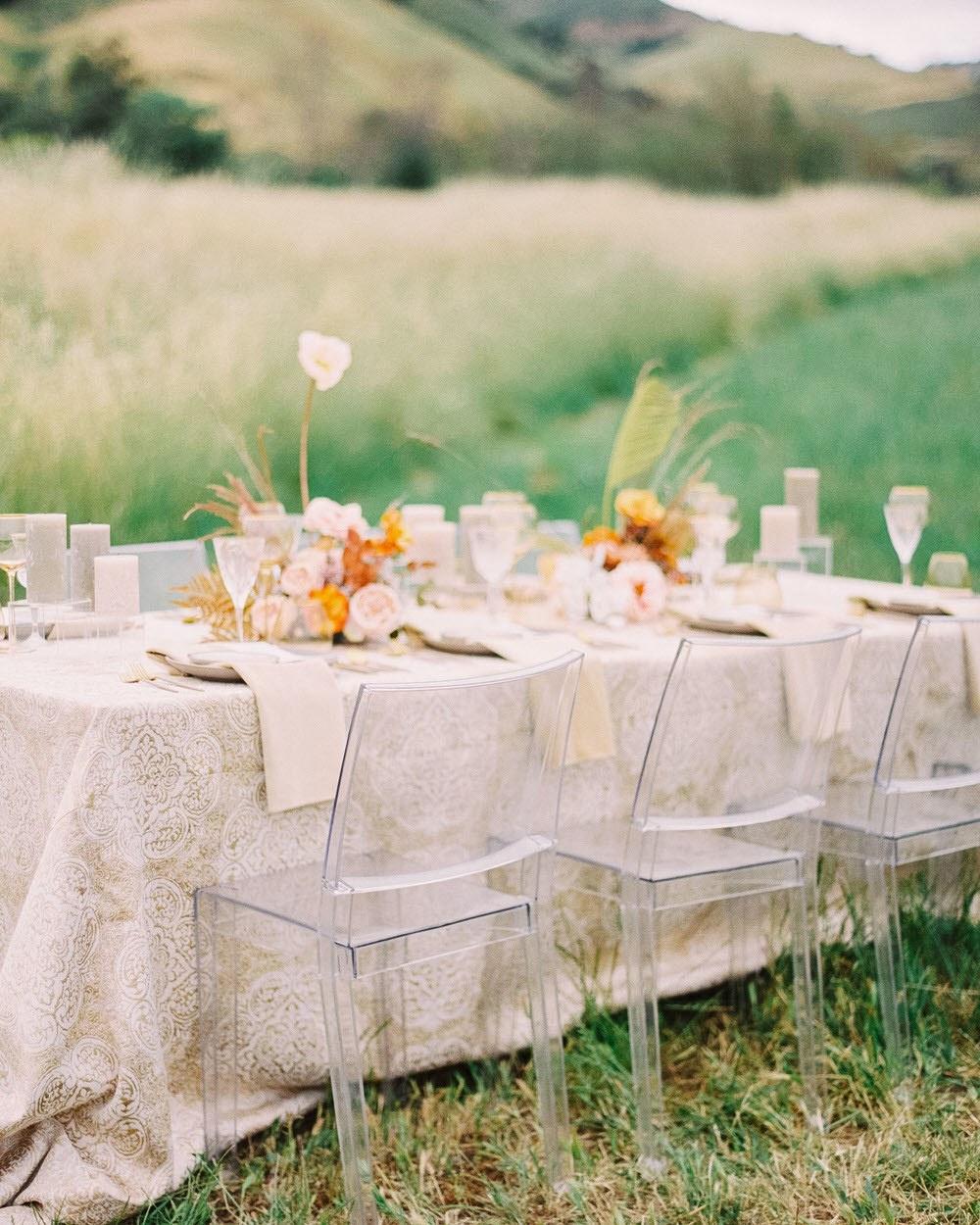 Ghost chair
These wedding chairs are made entirely of acrylic or lucite. Ghost chairs are most often seen with rounded backs, but you can also find them with square backs for an ultra-modern look. They're typically used in a clear finish for a sleek, minimalist effect, but if you want to go bold for your special event, look for a colored ghost chair option like opaque black, translucent gray, pink, blue, green, or orange.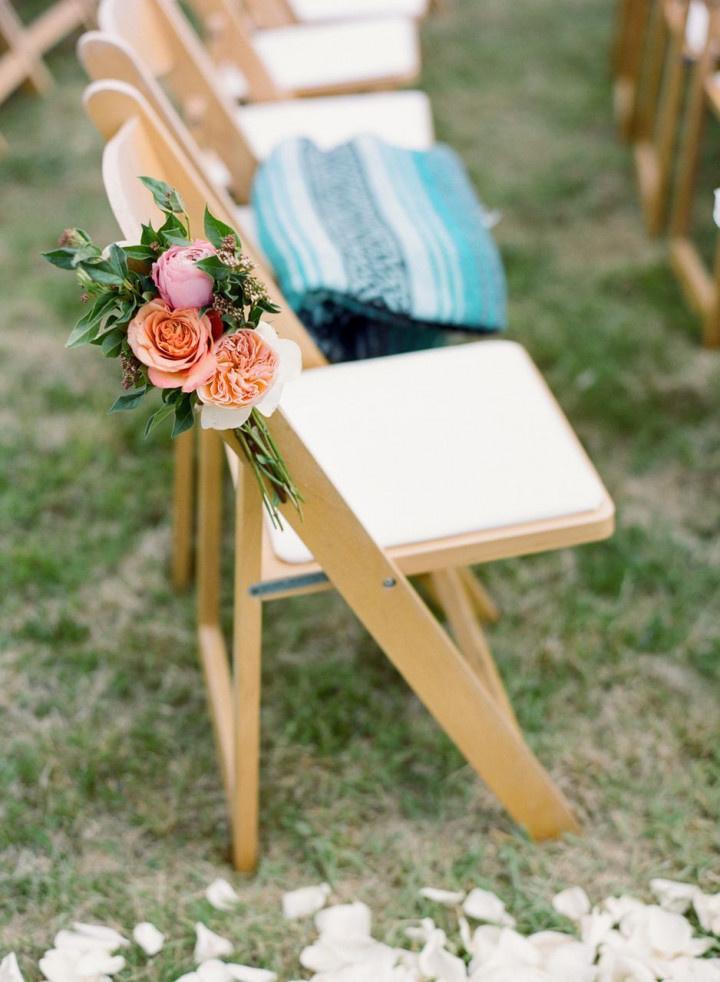 Folding lawn chair
A popular option for any wedding style, these folding chairs can be left alone or easily dressed up using aisle markers and other adornments. Wooden folding chairs are especially great for an informal wedding, and they make an ideal choice for couples who want a hint of sophistication without too much fuss.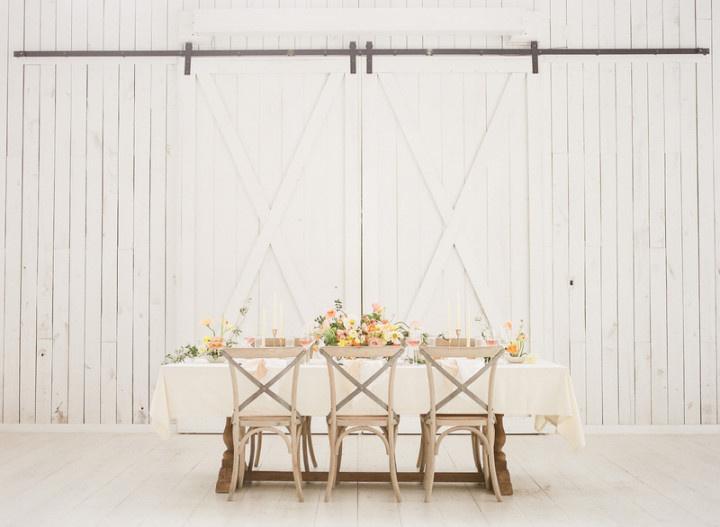 Cross-back chair
These wedding chairs feature a Tuscan-inspired design with a natural wood finish and the signature "X" on the back. Cross-back chairs embody rustic elegance and are one of the most popular wedding chair rental styles for farms, gardens, vineyards, and barn venues.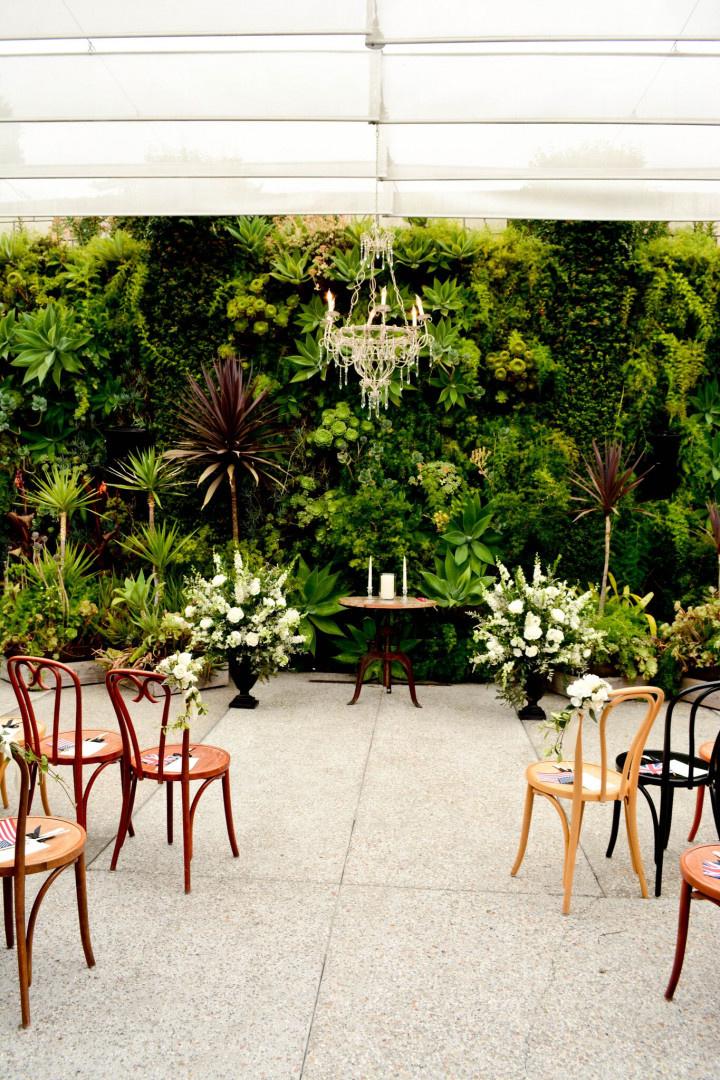 Bentwood cafe chair
Bring a bit of European flair to your wedding with bentwood cafe chairs. This fashionable style was made popular in the 1800s by prominent chair maker Michael Thonet. These chairs are the epitome of laid-back, effortless elegance and are a great choice for weddings set in a historic museum, restaurant, or swanky loft.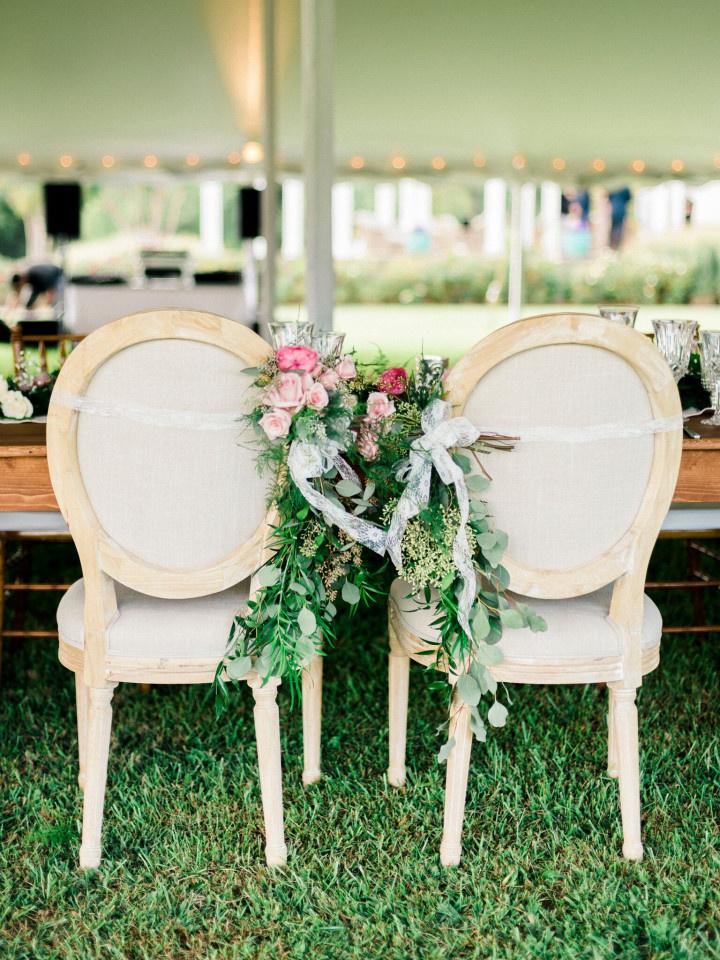 King Louis XVI chair
Hello, opulence! King Louis XVI chairs are named for the French monarch who, like his wife, Marie Antoinette, was known for his indulgent taste. This French neoclassical design is recognized by its oval back and typically features upholstery in a natural linen or soft velvet. King Louis chairs are must-haves for weddings taking place at elegant estates, gardens, and historic mansions.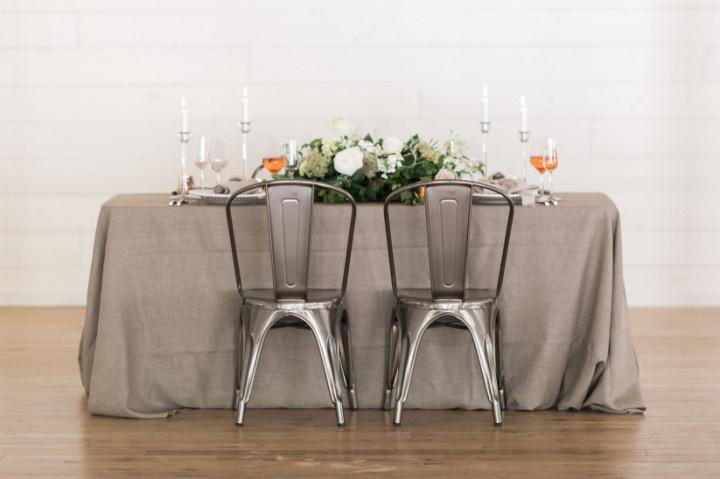 Marais chair
These stylish steel chairs will give your wedding an industrial edge. We love them paired with rustic tables for a farmhouse-meets-modern look, but they're just as cool with streamlined furniture to create a contemporary feel. Marais chairs are most often seen in metallic finishes such as silver, rose gold, and bronze and are available in a variety of heights.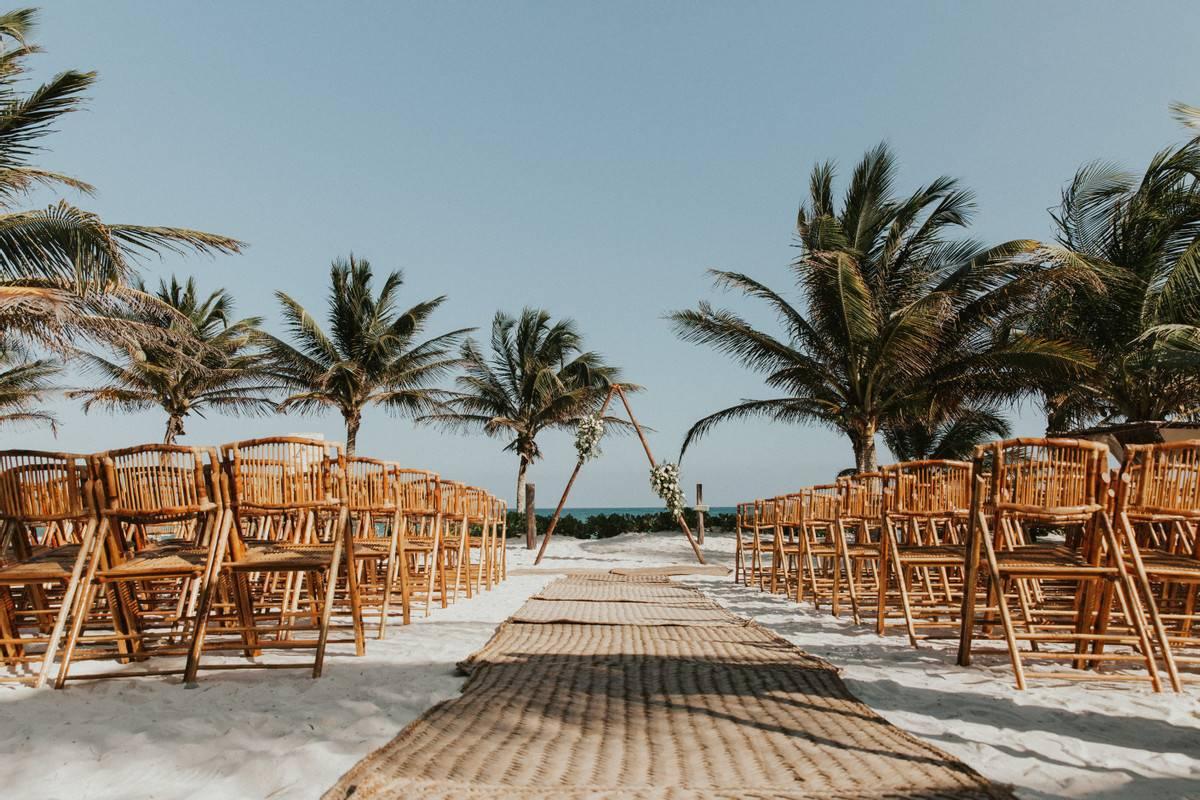 Folding rattan chair
Even if you're not getting married on a tropical island, rattan chairs will make it feel like you are! These wooden folding chairs are a festive choice for a trendy waterfront event and go perfectly with a tropical wedding theme.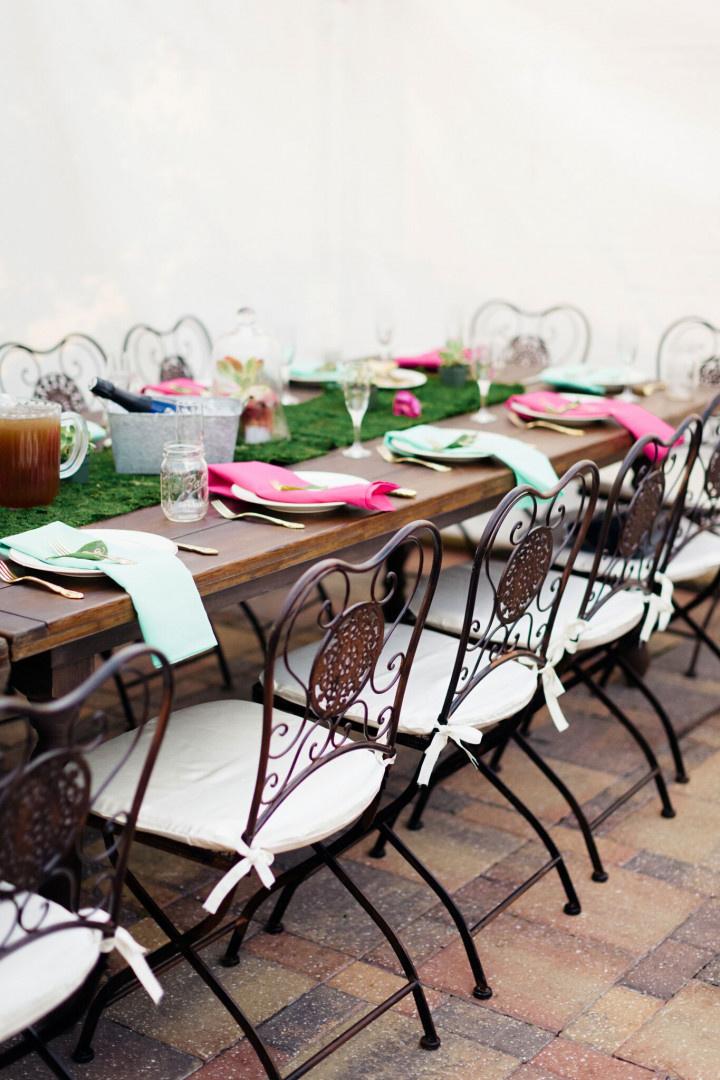 English garden chair
These sweet wrought-iron beauties can be rented from a variety of vintage furniture companies. They come in a range of designs, from classic scrolls to preppy lattice or romantic hearts. Metal chairs are a lovely choice for a garden wedding—just make sure you provide cushions!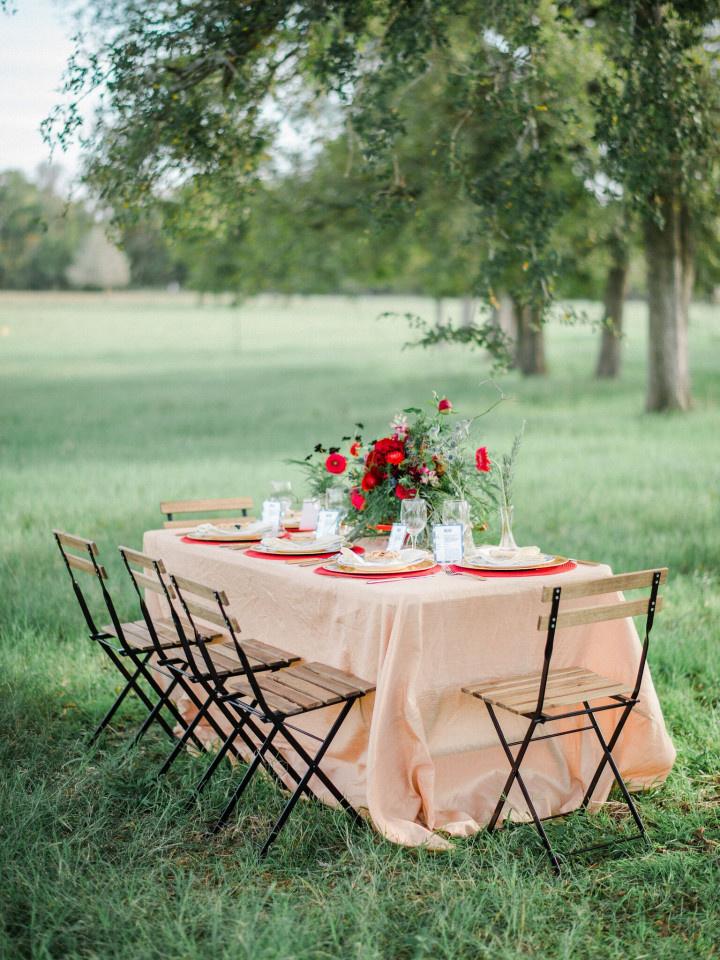 Slotted chair
Reminiscent of trendy European bistros and outdoor cafés, wooden slotted chairs are a perfect option for a relaxed wedding with style. Add extra personalization (and comfort for your guests) with colorful seat cushions.