How a Simple Checklist Can Level up Your Wedding Planning
A simple wedding checklist can make the biggest difference when it comes to staying organized and on track throughout your wedding-planning process.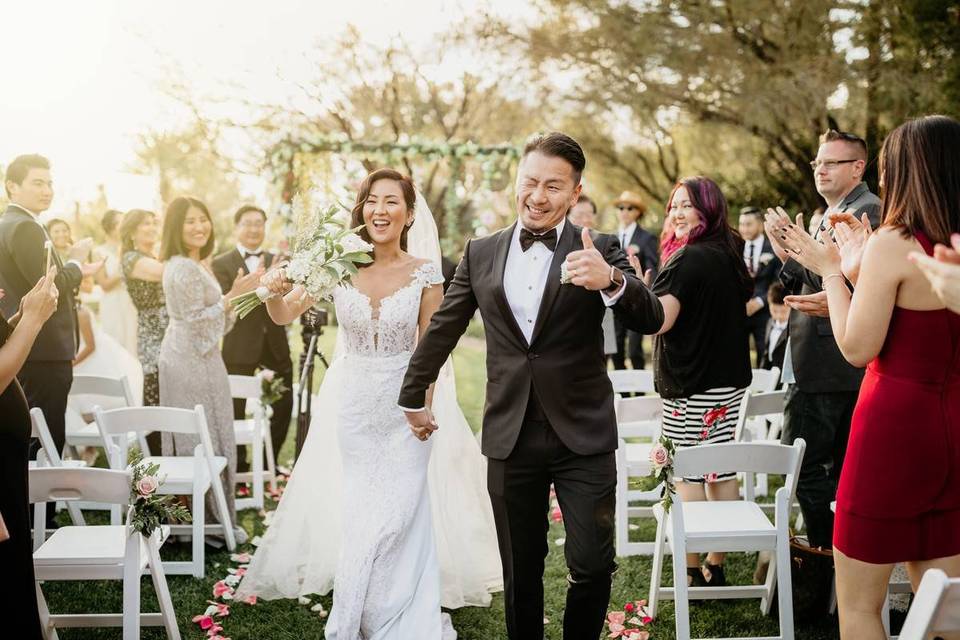 With so many little details to tackle, wedding planning can stress out even the most organized couple. But a simple wedding checklist can be a real lifesaver when it comes to figuring out all the ins and outs of planning your big day. Perhaps the easiest way to create and manage your wedding to-do list is to use an automated checklist tool, like WeddingWire's! Simply enter your wedding date and it will generate a timeline of tasks for you, from deciding on a budget to hiring vendors to finalizing those last-minute details, making it a breeze to schedule yourself and stay on track for the wedding day. Here's why a simple wedding checklist will be a huge help when it comes to planning your special day—and a sample checklist to help you get started.
It's accessible from anywhere.
By using a digital wedding planning checklist, you can access and update your task list from your computer, mobile device, tablet, wherever. So whether you just dropped your wedding invitations off at the post office or met the photographer of your dreams, you can check off each task in real time. No more toting your wedding planning binder everywhere you go—it's all online!
It's free.
We get it, weddings are pricey—and your wedding checklist shouldn't be an added expense. Our planning checklist is just one of WeddingWire's suite of free wedding-planning tools, including a budget tracker, guest list, seating chart creator, wedding website builder, and more.
It works with YOUR wedding timeline.
Whether you're planning your wedding in two years or three months (or somewhere in between), it's ideal to find a simple wedding checklist that will schedule all of the important tasks in your timeline. On WeddingWire, just enter your wedding date and the checklist will be scheduled for you. That way, you can prioritize the tasks to handle right away and those that can wait.
You can customize it.
No two weddings are created equally—and the same goes for checklists. By using a simple wedding checklist online, you can add tasks that are unique to your wedding (For example, "Help Grandma make her travel arrangements" or "Start on DIY escort card project.")—and remove those that don't apply to you (For example, you may not need to hire a caterer or florist if your wedding venue includes one.). By customizing and personalizing your wedding checklist, it will feel far less daunting and even more useful as you plan your big day.
You can sort it by date and category.
We've all had those middle-of-the-night wedding-planning-related panic attacks: "When do I have to get a marriage license?" or "Do I have enough time to order wedding favors?" By using an online wedding checklist, you can not only sort your tasks by date so you can easily preview your upcoming responsibilities and know your lead time, but also filter by category. Whether you want to review all of your tasks relating to your DJ or figure out what you need to do the week before your wedding day, a simple wedding checklist will ensure you've got it all covered.
It syncs with your wedding budget.
Creating a budget is one of the most important first steps of any wedding planning checklist and using an online budget tool can help you stay on track. WeddingWire's simple wedding checklist actually syncs with its budget tool to provide payment reminders and related expenses to make the planning process even more streamlined.
Tracking your progress is so satisfying.
Checking a task off your list is such a great feeling, and online wedding planning checklists make it so simple. You can also easily see how many tasks you have completed and how many have yet to finish, helping you track your progress in an easily-accessible way. You can even quickly see a list of all of the tasks you've completed for that extra dose of satisfaction.
You can share it.
Whether you and your partner are handling the bulk of wedding planning yourselves, or you've enlisted the help of family members, friends, or a professional wedding planner, a simple wedding checklist can easily be downloaded or printed (we love a free printable!) so it can be shared with your planning crew. You can easily delegate responsibilities to family or wedding party members ("Mom, you can handle all of the tasks relating to flowers.") or simply keep your loved ones posted on your progress.
Simple Wedding Checklist Example
To give you a sense of what a simple wedding checklist is all about, here's a brief example based on a 12-month wedding-planning timeline (if you're working with a shorter timeline, that's okay—the online checklist tool can adjust for that!). For a more detailed wedding planning checklist, head over to WeddingWire's tool!
10 to 12 months before
Start the guest list
Set a wedding date
Book your wedding venue(s)
Hire a wedding planner
Book some vendors

Caterer, photographer, florist, videographer

Create a wedding website
Start your wedding registry
Browse attire (wedding dress, tux, etc.)
Choose your wedding party members (bridesmaids, groomsmen, bridesmen, groomsladies, maid of honor, best man, flower girls, ring bearers, etc.)
7 to 9 months before
Book more vendors

Music pros (band, DJ, and/or wedding ceremony musicians), officiant, wedding cake baker, event rentals, stationer, hair stylist, makeup artist, transportation

Purchase wedding attire
Finalize guest list
Choose and send save-the-dates
Book hotel room blocks for out-of-town guests and wedding-night accommodations
Start planning rehearsal dinner and post-wedding brunch
Shop for wedding party attire
4 to 6 months before
Purchase wedding accessories
Wedding party members start planning pre-wedding parties such as bridal shower, bachelor and/or bachelorette party, etc.
Plan honeymoon
2 to 3 months before
Month before
Create wedding-day timeline
Get marriage license
Discuss wedding-day playlist with music pros
Attend attire fittings
Confirm and finalize wedding details with vendors
Receive RSVPs
2 weeks before
Week before
Pick up attire
Make final payments
Day before
Day of