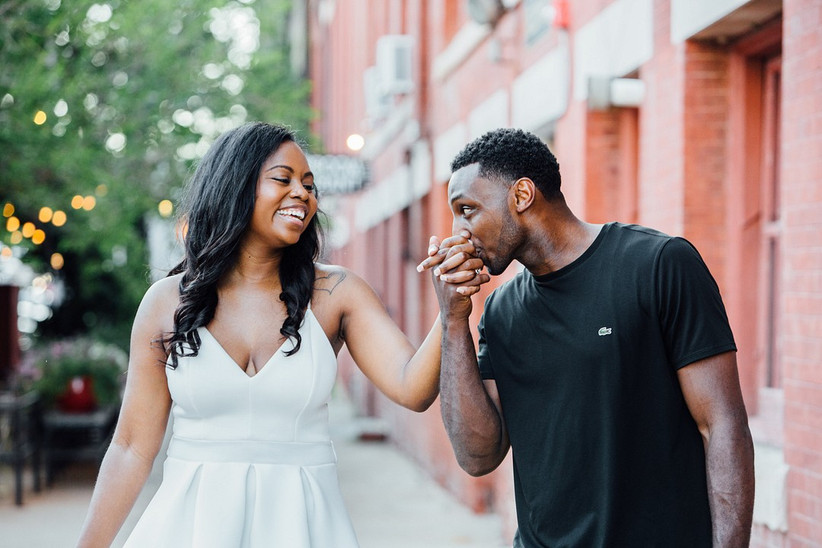 If you're just engaged, it can be super-tempting to immediately dive into wedding planning. After all, you probably started getting questions from well-meaning loved ones within seconds of announcing your engagement. When's the wedding? Are you getting married in your hometown or a faraway locale? What will you wear? It can be easy to feel the pressure to kick wedding planning into high gear within days (or even hours!). Our advice? Wait. No matter how hard it may be, wait. Give yourself and your partner a little time to simply enjoy being engaged. You'll thank us, we promise.
So, how long can you savor that "just engaged" feeling? And how long should you take to plan your big day? Well, it all depends on your wedding planning timeframe.
The one conversation to have immediately…
While we don't recommend starting to actively plan your wedding within seconds of being just engaged, we do think there's one important conversation to have shortly after the ring is presented. Talk to your partner about if you want to have a long or a short engagement. There are indeed advantages to each, and the general engagement length you choose does have an impact in your planning timeline. You don't have to have an extensive discussion with your partner about your wedding just yet, but the estimated timeframe is a good one to chat about right away.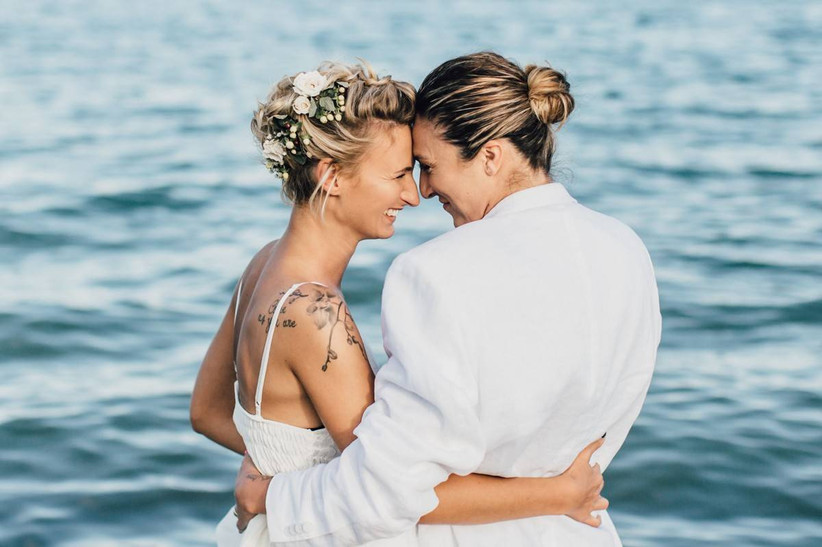 If your wedding is more than 18 months away...
Having a long engagement can be a major luxury. You'll be able to relax and take on wedding planning with a generally slow and leisurely pace, and with less stress. You'll likely have your pick of wedding vendors as well—vendors usually book up about a year in advance, so if your timeframe is longer than that, most vendors will generally be available. For these reasons, there's no need to rush to start planning. Spend at least one month enjoying that "just engaged" feeling—perhaps celebrating with an engagement party, but without any pressure to start even thinking about the actual wedding.
If your wedding is a year or more away...
The average couple is engaged for 13 months, and we think that's a great timeframe if you can make it work. We recommend waiting about three weeks before jumping into wedding planning. This gives you time to revel in your engagement, but not too long so you don't lose momentum. Once you're ready to start planning, take it step by step—it's not a good idea to try to plan your whole wedding at once. Start by coming up with a budget and an estimated guest count, then begin researching venues at your own pace. Depending on where you're marrying, it's unlikely that many venues will be booked up just yet, so your likely to have your pick of dates, venues, and vendors.
If your wedding is in less than a year...
There are lots of reasons why a timeline of less than a year might be right for you and your partner. Perhaps you got engaged in December and always dreamed of a fall wedding, but don't want to wait nearly two years to wed. Or maybe you just don't want to wait that long—totally fine! If you're planning on going from "just engaged" to married in less than a year, we recommend waiting about two weeks before starting to think about the specifics of your wedding. You don't even have to talk about your wedding for this timeframe, and just brush off any questions you may receive from family members or friends. This is your time to enjoy this blissful period, so feel free to ban that wedding talk until you're good and ready.
If your wedding is six months away...
Want to plan your wedding on a shorter timeframe? You're not alone. Turns out that 19 percent of couples plan their weddings in six months or less. While you might not have your pick of vendors, there's no reason why you need to start planning immediately and stress yourself out. Giving yourself a week or so to relax and bask in that "just engaged" glow won't put you at a disadvantage when it comes to wedding planning—you still have time. When you're ready to start planning, follow our six-month planning timeline to help you get started.
If your wedding is three months away (or less than that!)...
You have exactly ten minutes to not think about your wedding—JUST KIDDING! If you're planning your big day with a somewhat abbreviated timeline, you may not want to wait too long before starting to plan. But know that you could probably plan your wedding in a week if you wanted to. Take a couple of days to get your bearings and then jump into wedding planning (this three-month checklist is a great reference!).