How to Plan an Engagement Party in 8 Easy Steps
An engagement party is the first of many events to celebrate your upcoming marriage. Here's how to plan an engagement party everyone will rave about.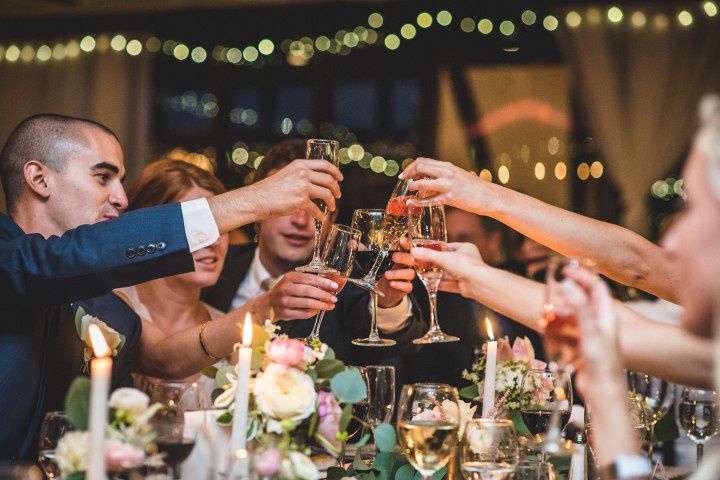 If you're unsure of how to plan an engagement party, it can be a little difficult to get started. While an engagement party is traditionally hosted by the parents of the bride, it can also be thrown by the groom's parents, close friends of the couple, other family members, or even the newlyweds-to-be themselves. Once you nail down who is throwing the celebration for the couple, you can get started on the nitty gritty details of how to plan an engagement party.
Need to know how to plan an engagement party? Check out these tips.
Pick a location
If you're planning an engagement party, you'll find have to decide where you want the celebration to take place—and fortunately, there are a lot of engagement party venue ideas to choose from. If you don't want to host the engagement party at home, scout local venues like bars, restaurants, country clubs, or any centrally located spot that can accommodate private parties. A venue that offers in-house catering, beverage service, and easy parking is always a plus!
Consider a theme
In our opinion, an engagement party doesn't really need a theme beyond "Congratulations!" However, a creative engagement party theme can certainly take your celebration to the next level. When in doubt, take a cue from the season. Think a campfire cookout theme with spiked cider and rustic farm tables for fall or a poolside fiesta theme with margaritas and vibrant picado banners for summer.
Compile a guest list
If you're thinking about how to plan an engagement party, one of the first steps is coming up with a guest list. Work with the couple to create a list of people they'd like to include. An engagement party can range from an intimate gathering of immediate family and close friends to a big bash with neighbors, colleagues, and acquaintances mixed in. It all depends on the venue size and the type atmosphere you'd like to achieve. Just make sure not to include anyone whom you don't plan to invite to the wedding itself.
Gather addresses
Once you've finalized the list, email a mailing address request to all of your guests (shameless plug: you can do this with our online guest list manager), then recording all of the updated addresses. This way, you will be ahead of the game when it comes to sending out wedding invitations later!
Pick a festive invitation
Since the wedding invitation is typically more formal and subdued, we recommend taking this opportunity of an engagement party invitation to go with a fun, playful design to get guests in the party mood. Think vibrant colors, bold fonts, or celebratory motifs like confetti poppers or clinking cocktail glasses. We recommend sending invitations about three to six weeks in advance of the event. Tip: since gifts are usually not expected at an engagement party, consider including a simple "no gifts, please" line somewhere on the invitation. This way, guests won't confuse this occasion with a shower.
Plan the menu
Decide whether you'd like to pass hors d'oeuvres, set up a simple buffet, or serve a seated meal. Lighter fare works well at an engagement party as it's more conducive to mingling and cocktailing, but a buffet is a great choice for a large, hungry group, and a seated meal is best for a more formal, intimate setting. Either way, make sure to include some crowd-pleasing items and even some vegetarian options to cover your bases.
Stock the bar
Cocktails (or mocktails) are a must for any celebration! Offer a selection of wine and beers or come up with a clever signature cocktail incorporating the couple's favorite flavors. And don't forget to stock up on champagne for toasts! Speaking of which, don't forget to....
Prepare a little toast
While you may be trying to figure out how to plan an engagement party, you'll likely need to write a speech, too! As the host, you'll be expected to run the show—and that means saying a few kind words about the engaged couple and the new chapter they're starting together. It certainly doesn't need to be long or especially profound, but make sure you have a little something prepared to cheers to the newlyweds-to-be.