9 Things I Learned Throwing My Friend's Engagement Party
Follow this valuable advice from someone on the front lines of engagement party planning.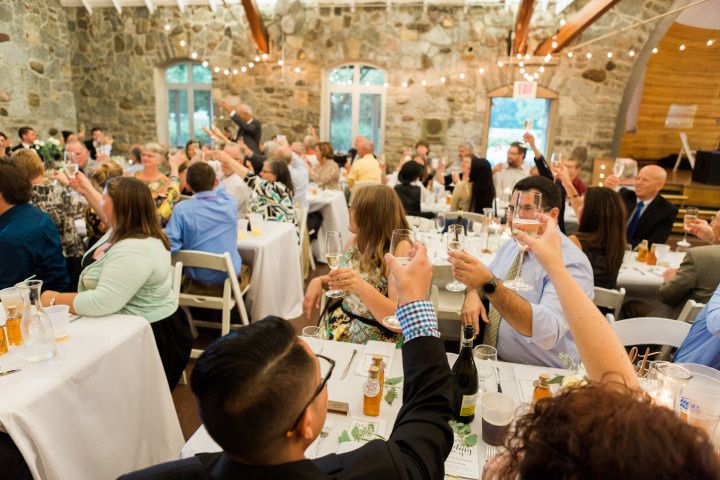 Hi there! My name is Jacqueline and I am an editorial assistant here at WeddingWire. This year one of my very best friends got engaged, and asked me to stand beside her on her big day! In the midst of helping her choose between chiffon or sequined bridesmaid dresses, (which is still very much up in the air) I decided to help throw her an engagement party, as well. Engagement parties, which traditionally are hosted by the bride and groom's family, can also be thrown by family or friends close to the couple.
Are you trying to plan an engagement party and need some advice? Here are some helpful tips I picked up along the way.
Be Flexible With Dates
Since I was one of three loved ones who was helping to plan the party, we had to find a date that worked for everyone. We knew we wanted it to be in the spring, so we started a group text to compare schedules. After going back and forth with the other hostesses, we finally found a weekend that worked for everyone.
Have a Set Guest List
Things can very easily get out of control when it comes to the guest list. Provide your guests of honor with a maximum number of invitees, and also be sure to only invite those who are also invited to the wedding (but not everyone!).
Have a Theme
We decided right away to host a brunch-themed bash. It fit perfectly with the couple's classic style, and gave us a cohesive theme to help us with all of our decision-making, from the decor to the menu.
Send Out Invitations Early
The sooner you send out invitations, the better—at least a month before is usually a good rule of thumb. This means finalizing the guest list and getting those addresses quickly! Use WeddingWire's guest list tool too, which helps you easily secure and organize all of the guest information.
Plan a Menu
For my friend's engagement party, some items were homemade and others were catered by a local restaurant. Dividing and conquering the food prep was a big help. We had a plethora of breakfast foods, like mini pancakes and sausages, and then had a build your own bloody mary and mimosa bar for guests to get creative with their cocktails.
Look Your Best
Being one of the hostesses and meeting a lot of people for the first time, I wanted to make sure I presented myself well, but not over the top. I ended up going with a long sleeve fitted dress accessorized with heeled booties. As for the the bride-to-be, she looked extra pretty in a new sundress and strappy wedges. We had included a casual attire dress code on the invitation as well, for guest to be clued in on what to wear. Although if you really aren't sure about your outfit, get someone else's opinion. My friend and I had sent multiple outfit options to one another via text until we both found something that worked.
Have a Backup Plan
I had planned for the party to be held both indoors and outdoors. However, as the day finally rolled around so did clouds and cooler temperatures. Luckily, I knew that spring weather is never predictable and was able to move the planned outdoor elements indoors. If you're planning an outdoor fête, be sure you have an indoor plan B.
Set Aside a Place for Gifts
Even though gifts aren't typically given at an engagement party, some guests may still show up with a wrapped present. I designated a small area for guests to drop off any gifts for the newly engaged couple. Then, once the party cleared out, we decided to open them with only their immediate family—less awkward that way.
Don't Sweat Over the Toast
As a host, it is always nice to plan out a short toast in order to congratulate the couple and thank everyone for coming. However, don't stress too much over it. I was a bit nervous since I tend to stumble over my words during speeches, but I was able to keep it short, simple and to the point. That way, the attention wasn't taken away from the lovely couple!