Here's How to Throw a Virtual Engagement Party
With a little planning and a few creative ideas, a virtual engagement party can be major fun and totally memorable.
We have included third party products to help you navigate and enjoy life's biggest moments. Purchases made through links on this page may earn us a commission.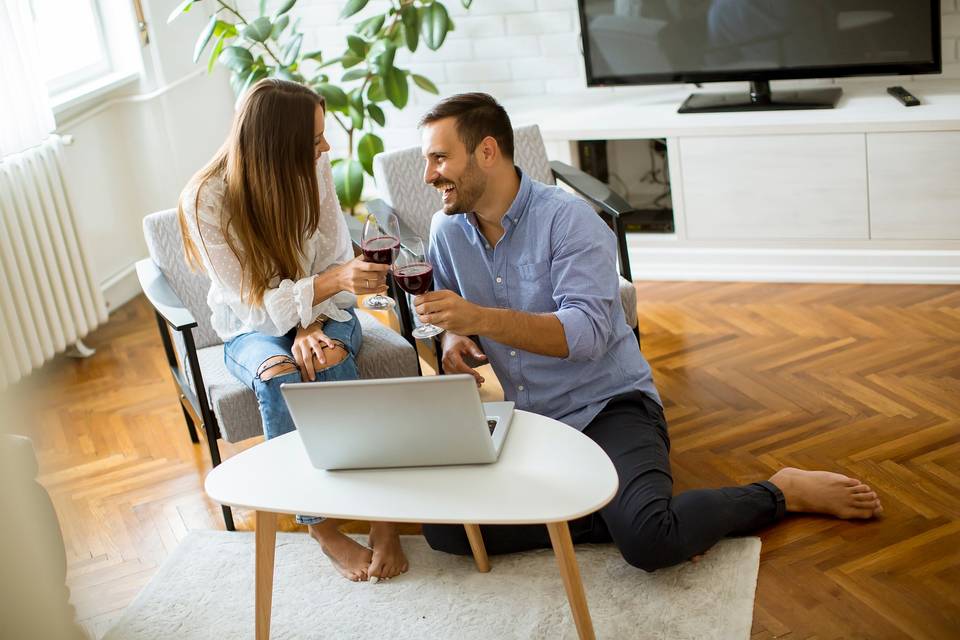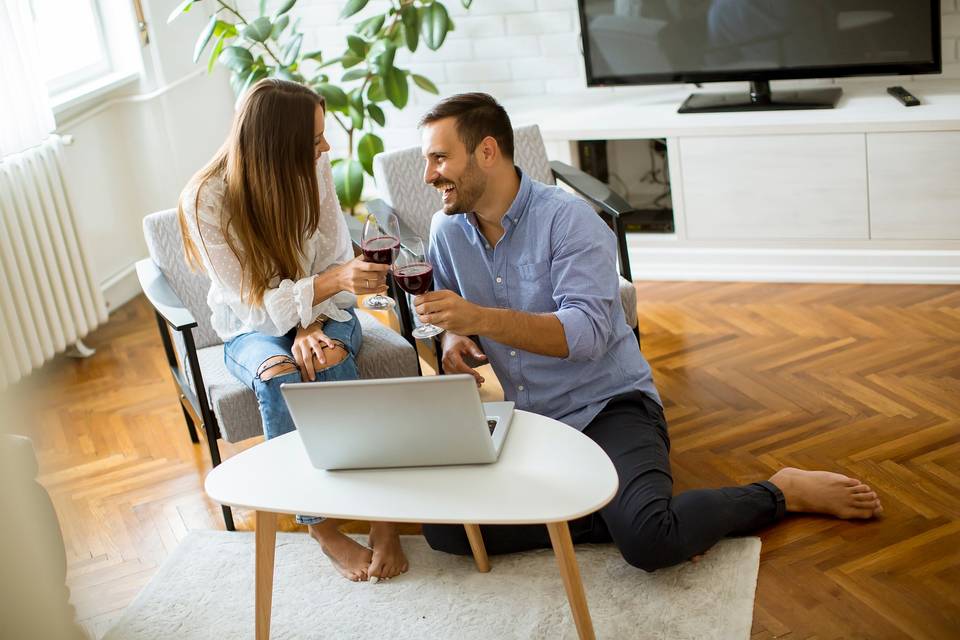 If you recently got engaged, you might be having a tough time figuring out the best way to celebrate this exciting and monumental time in your life. Under normal circumstances, you might have hosted an in-person gathering with friends and family, but the current coronavirus pandemic is preventing these kinds of events from occurring. Luckily, there is another option: hosting a virtual engagement party.
Through a digital platform such as Zoom or HouseParty, couples can host an engagement party right from their home, and invite all of the same guests they would if they had an in-person party—and more. Even loved ones who live across the country—or the world—are now able to partake in the celebration. "Couples can still play the traditional engagement party or shower games virtually, and the hosts can prepare these in advance as they normally would," says Allie D. Walker, owner and planner at Katharine Marie Weddings in Anderson, South Carolina. "These virtual parties can also have a theme (high tea, Derby Day, picnic style, Harry Potter—whatever the couple enjoys)."
While throwing a virtual engagement party is easier than hosting an in-person one, it still requires some careful planning. Here's what the experts say you should know before hosting a virtual engagement party.
Be mindful of the number of guests you invite.
Without the same budget restraints you would normally be under if you were hosting an in-person engagement party, you may be tempted to invite an extra dozen people—or more. But remember that your guest count still matters. "If you've been on any large Zoom calls lately, then you know how overwhelming it can be with dozens of people all talking over each other at once," says Leah Weinberg of Color Pop Events in Long Island City, New York. "If you want to have a party where folks can actually connect and be able to chat, then you're going to want to limit the invite list somewhat." And remember, anyone who is invited to the engagement party should also receive an invite to the wedding.
Spread the word.
Be sure to send an actual invitation so that your guests know all of the details for the celebration. Danielle Rothweiler of Rothweiler Event Design in Verona, New Jersey, suggests updating your wedding website with all of the key information about the party and even delegating two to three bridesmaids to help get the word out. You may be surprised by how eager your friends will be to help you, especially during these trying times!
Preset a menu.
Although you and your guests can't sit down and enjoy a meal together physically, you can do it virtually. JoAnn Gregoli of Elegant Occasions in New York City, recommends setting a menu and encouraging guests to make something very easy—like a cheese and charcuterie board or muffins. You can also include a dessert section so that you and your soon-to-be spouse can practice feeding each other for the big day!
Mail out party decoration kits.
If you really want to up the celebratory ante, you can go the extra mile by sending at-home party decorations so that your guests can decorate the area where they'll be joining the call. For example, Weinberg suggests sending everyone a celebratory banner that they can hang as a backdrop or party hats that they can all wear. "Sending items like that in advance is a fun way to unite everyone when we can't all be together," she says. "And it will make for spectacular screenshots of the party."
Provide some kind of agenda.
Weinberg recommends having an agenda in place for the virtual engagement party so that it doesn't turn into chaos once everyone's on the line. "Consider doing a group check in at the start where the host calls on each guest to say hi and give an update on life," she says. "Maybe you have group questions or prompts to make sure everyone is included and connected." She also suggests going around the group and having everyone give their advice or well wishes to the engaged couple.
Play some games.
A few carefully-chosen games will not only liven up your virtual engagement party experience, but also provide a bonding opportunity for your guests who may not know each other or live in different parts of the country (or world!). Here are a few game ideas for your virtual celebration:
1. The Newly-Engaged Game
There are a few different ways to play this game (usually called the Newlywed Game), but here's one option. Each guest of honor is asked questions about their partner ("If Jordan could only listen to one song forever, what would it be?"), and writes their answer on a notepad or whiteboard. Their partner answers the question and sees if their answers are a match. This game is similar to the Shoe Game, often played at weddings, if you're more familiar with that one.
2.
Who Knows the Couple Best?
Send each engagement party guest a printable (like this one) before the event, where they can answer fun questions about the couple, then share the correct answers during the party. Whoever gets the most right, wins!
3. Name Boggle
Using the letters of the couple's first names, see how many words the guests can come up with in 60 seconds.
4. Two Truths and a Lie
This is a great icebreaker to play, especially if you've invited guests who don't know each other yet. Each guest shares two truths and a lie about themselves, and everyone has to guess which statement is the lie. This game is probably best for virtual engagement parties with smaller guest lists, but you could also create breakout rooms so smaller groups can play together.
5. Pictionary
Everyone brings a notepad and marker to the party, and the group is divided into teams. One member of the team picks a noun (there are random Pictionary word generators online you can use), draws a picture that represents their word, and their team has to guess what they're drawing. Whichever team has the most correct guesses, wins.
6. Charades
Divide the guests into teams and use an online charades idea generator to find words and phrases. Each team has a minute to guess the word or phrase that is being acted out.
7. Jackbox
Jackbox offers a variety of raucous online party games that are great for groups—Fibbage, Quiplash, and Drawful are a few of our favorites. Each guest will need their mobile device handy to play, and the host can share their screen on Zoom so everyone can view the game.
Record the event.
Make sure that someone is recording the party, as it is important to capture this moment. You can record your virtual engagement party through your computer, or likely through an online meeting service like Zoom. Just make sure you know how to record, and have tested it out a couple of times before the actual event. And once the party is over, be sure to share the recording with your guests so everyone can relive the fun.