32 Engagement Party Decoration Ideas That'll Put You in the Mood to Say "I Do"
Celebrating your upcoming nuptials with a fabulous fête? These engagement party decoration ideas will instantly stir up some excitement.
We have included third party products to help you navigate and enjoy life's biggest moments. Purchases made through links on this page may earn us a commission.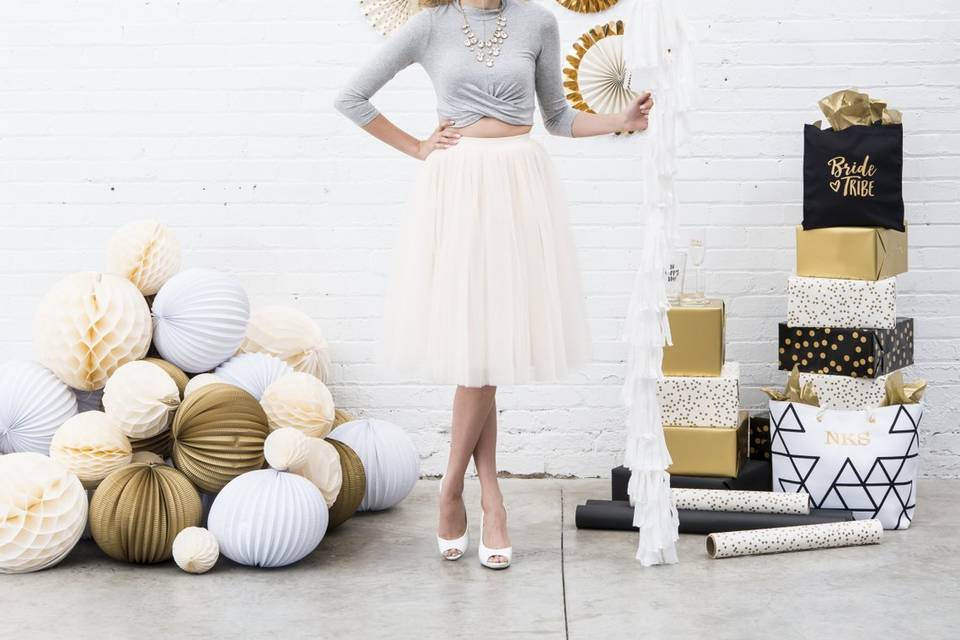 If you've recently gotten engaged, congrats! You're about to embark on one of the most exciting journeys of your life—and with your favorite person, too. It doesn't get any better than that. Or does it? These engagement party decoration ideas will make the celebration of your new fiancé status all the more special. We've picked out a variety of decor deserving of your biggest pre-wedding bash, from centerpieces and table decorations to balloons and lighting. When it comes to planning an engagement party, the sky's the limit. You can host your own, or friends and loved ones can throw one for you. Either way, you'll need some Insta-worthy decor to make the fȇte complete. So, whether you've booked your venue or you're still on the fence about having an engagement party, these decoration ideas are sure to inspire.
Finding the right decor for pre-wedding events can be tricky, but lucky for you we've gathered lots of amazing ideas you can easily shop online. Find decorations for everything from a casual at-home engagement party to a formal outdoor soiree. If that's not enough, check out the WeddingWire Shop for even more affordable decor and inspiration.
Engagement Party Centerpieces
We've got decoration ideas for every engagement party theme, whether it's an "I do" barbeque in your parent's backyard or an elaborate ballroom affair. When it comes to centerpieces, there are two things you can always rely on: candles and flowers. For the latter, your best bet is to work with your local florist. They'll be more than happy to provide custom arrangements in line with your preferred color palette and theme. Plus, you can pick up a few unique vessels to put them in, like rustic mason jars or fancy vases.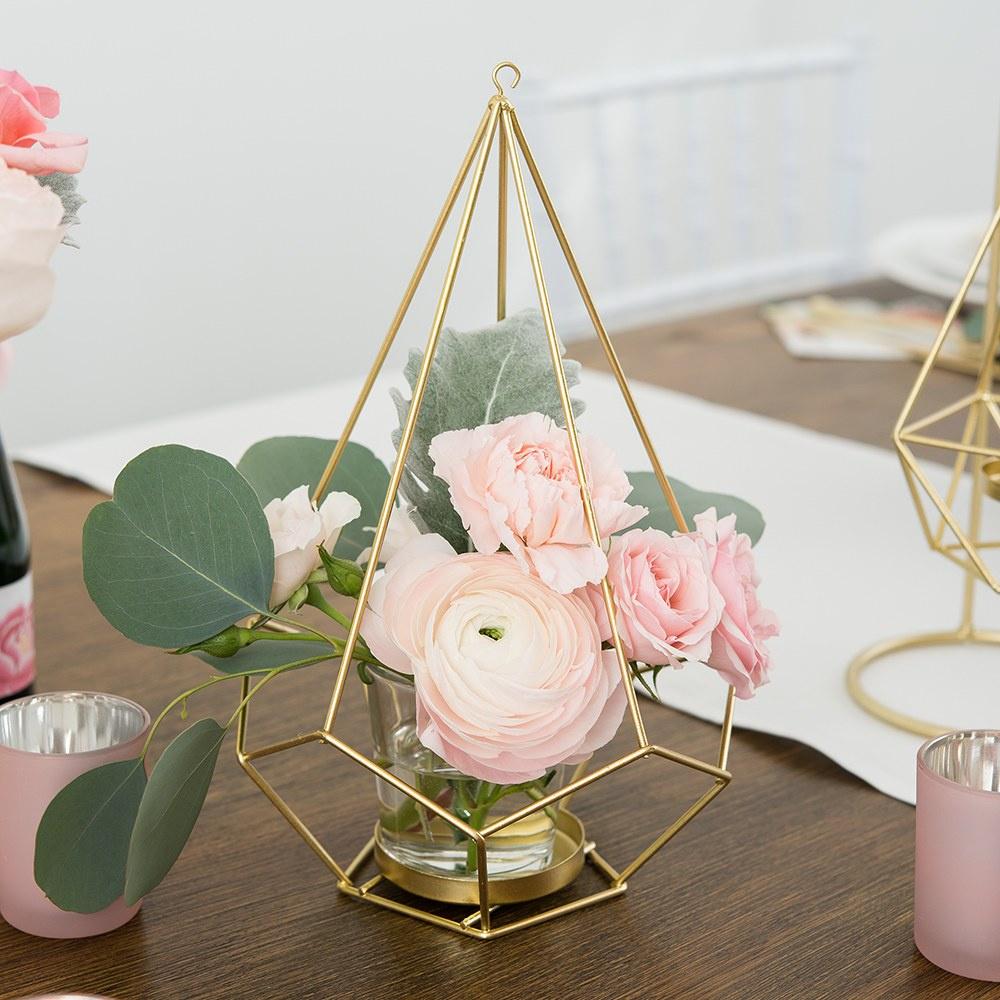 For an elegant, modern spin on your engagement decorations, why not opt for this lovely geometric centerpiece? It holds either a candle or flowers, and it'll work just as well at your wedding reception as it does at your engagement party.
WeddingWire Shop tall gold geometric centerpiece, $20, WeddingWire Shop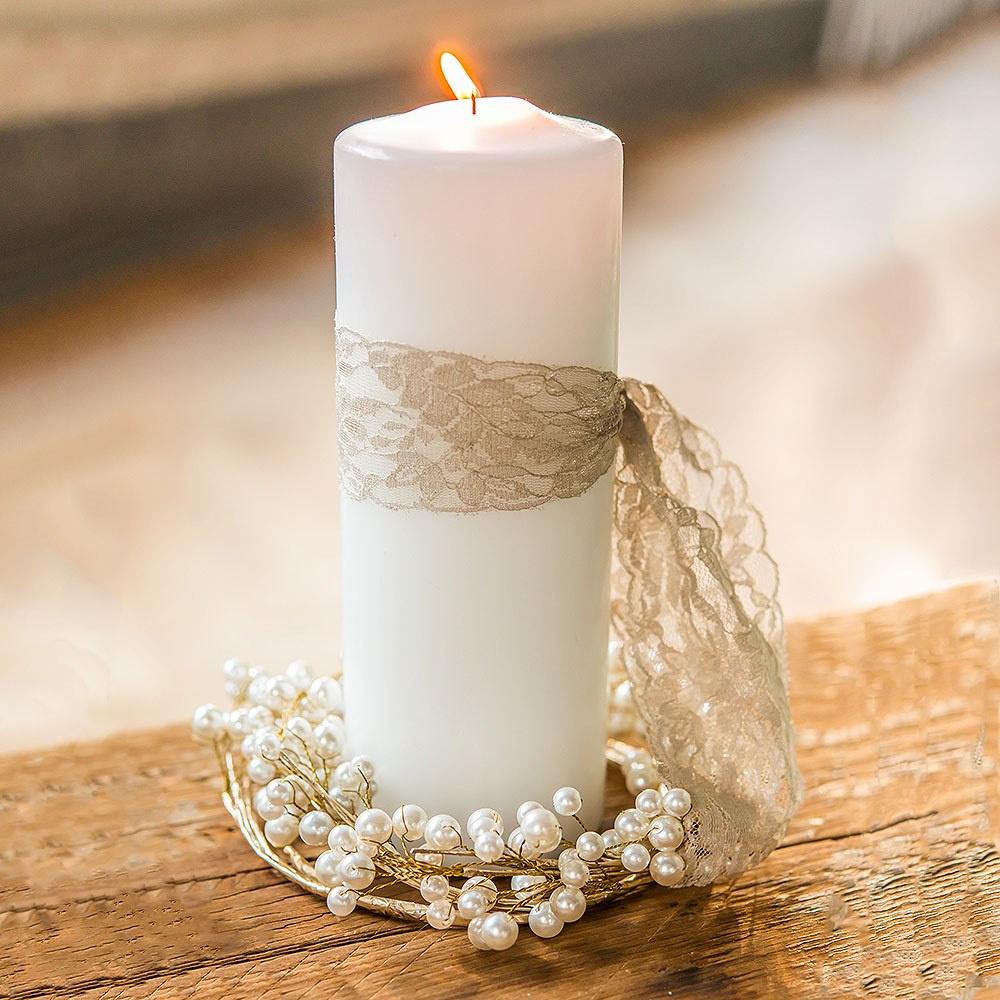 Candles are versatile engagement party centerpieces that can easily be dressed up or down to fit a theme. We love the vintage charm of this pillar candle paired with a pearl and gold wire garland.
WeddingWire Shop thick medium round pillar candle, $18, WeddingWire Shop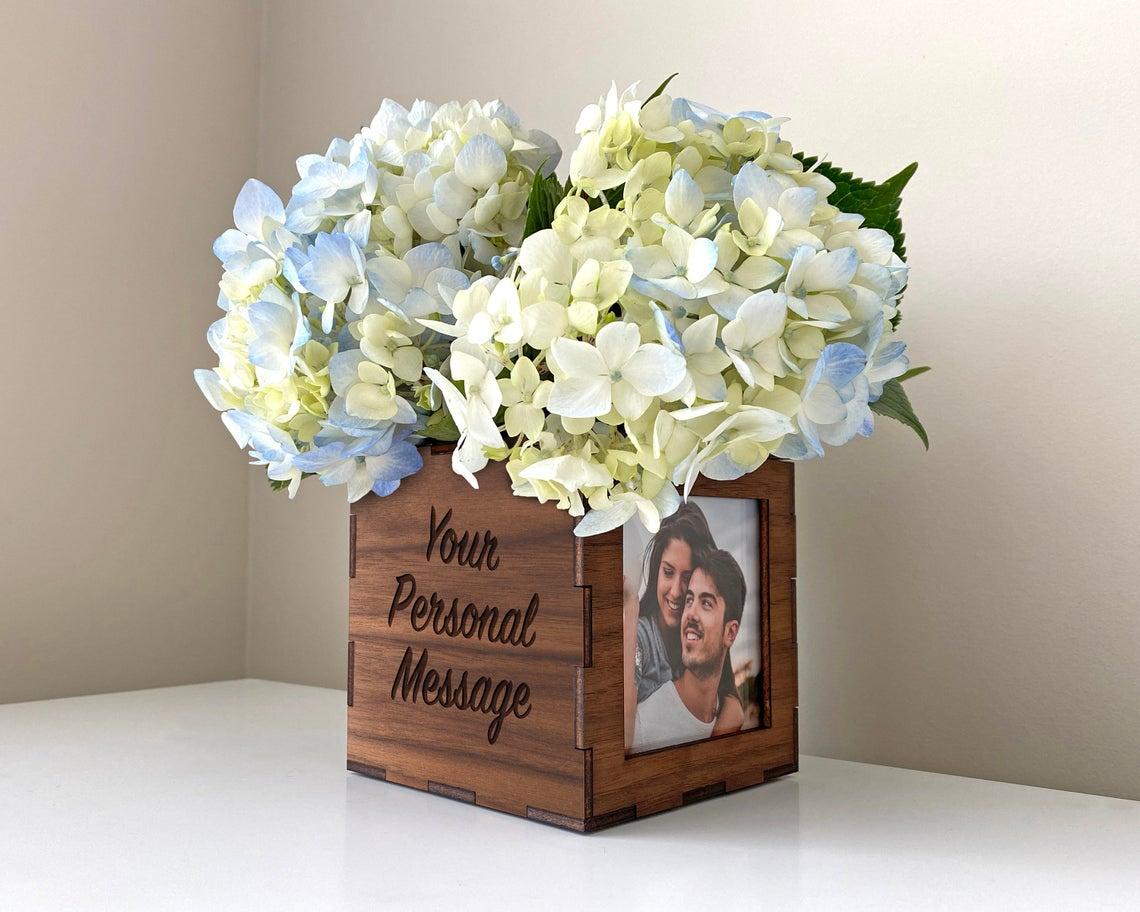 Your guests are there to celebrate you! Show off your unique relationship with a centerpiece including a sweet photo of you and your other half. Have a personal message (or table numbers, maybe?) engraved on the side and finish it off with some seasonal blooms.
Invisible Sparks personalized photo engagement centerpiece, from $56, Etsy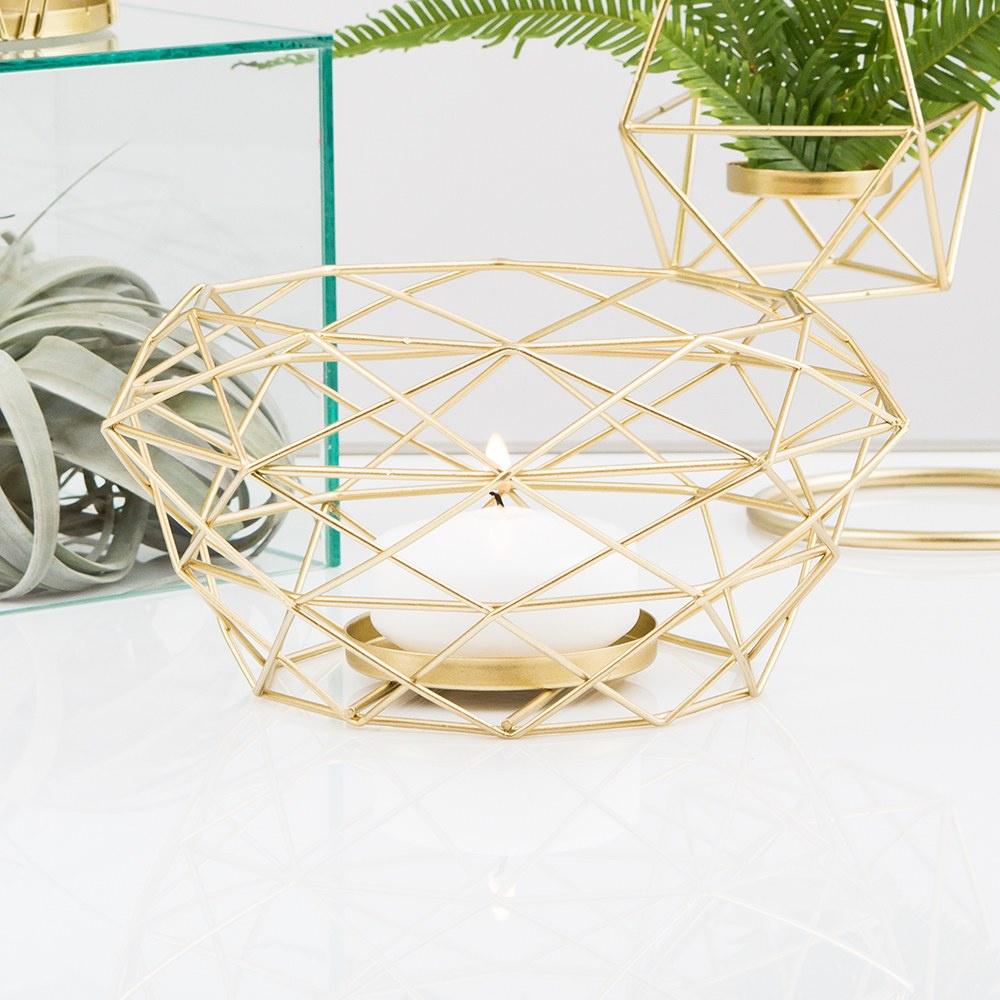 We've got plenty more awesome engagement party decoration ideas where those came from. Check out this sleek, geometric ornament perfect for encasing tealights, succulents, or some other refreshing greenery. Contemporary garden theme, anyone?
WeddingWire Shop modern gold geometric metal table centerpiece, $16, WeddingWire Shop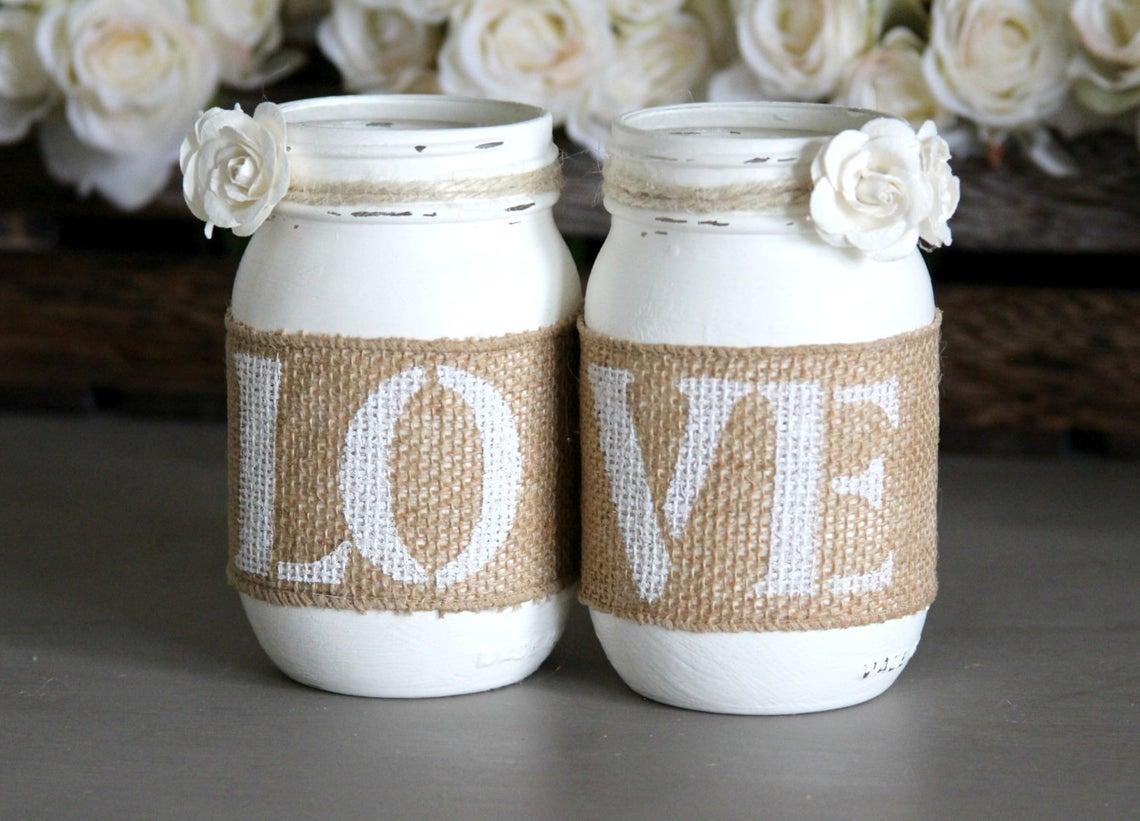 Etsy has tons of cute, handmade decor for all kinds of wedding-related events. And if you're on the hunt for all things rustic, we've got engagement party centerpiece ideas for you too. Fill these sweet mason jars with flowers, colorful beads, or even candy for your loved ones.
Jarful House engagement party table centerpiece, $36, Etsy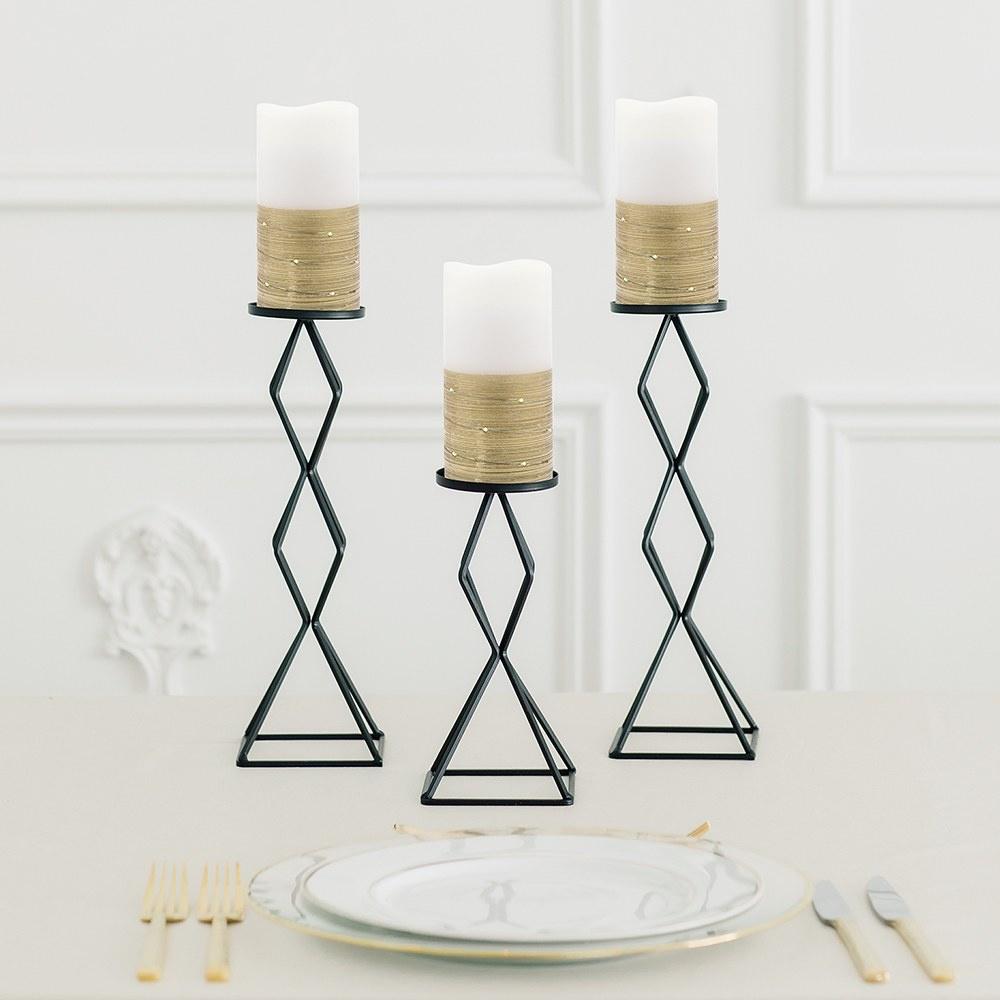 If your chosen venue doesn't allow candles, fear not. These LED pillars look just like the real thing (minus the fire hazard). Pair them with some modern geometric candle holders for an unusual and eye-catching centerpiece.
WeddingWire Shop white & gold wire artificial flameless LED pillar candle, $8 each, WeddingWire Shop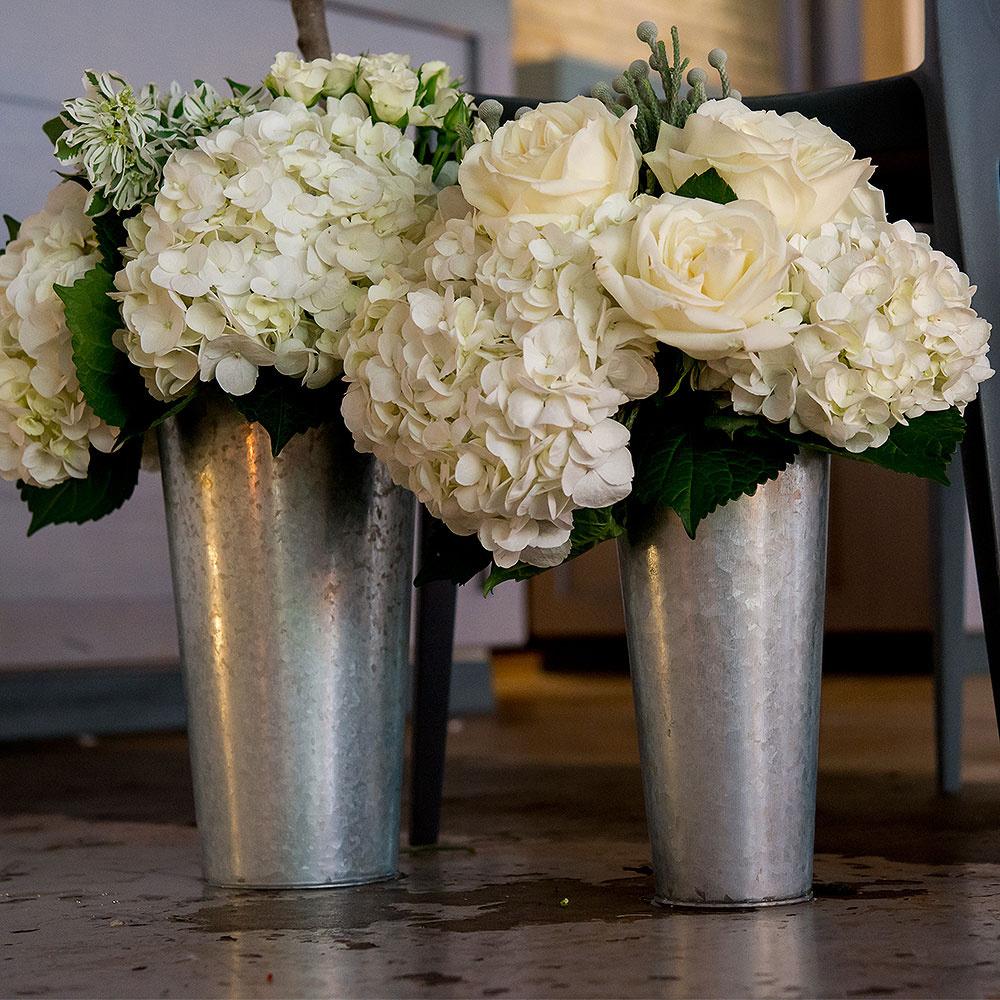 Use these vintage market buckets to make flower centerpieces for your engagement party that really pop. Again, working with a professional florist is key to creating the perfect botanical decor.
WeddingWire Shop large galvanized flower market bucket with handle, from $8 each, WeddingWire Shop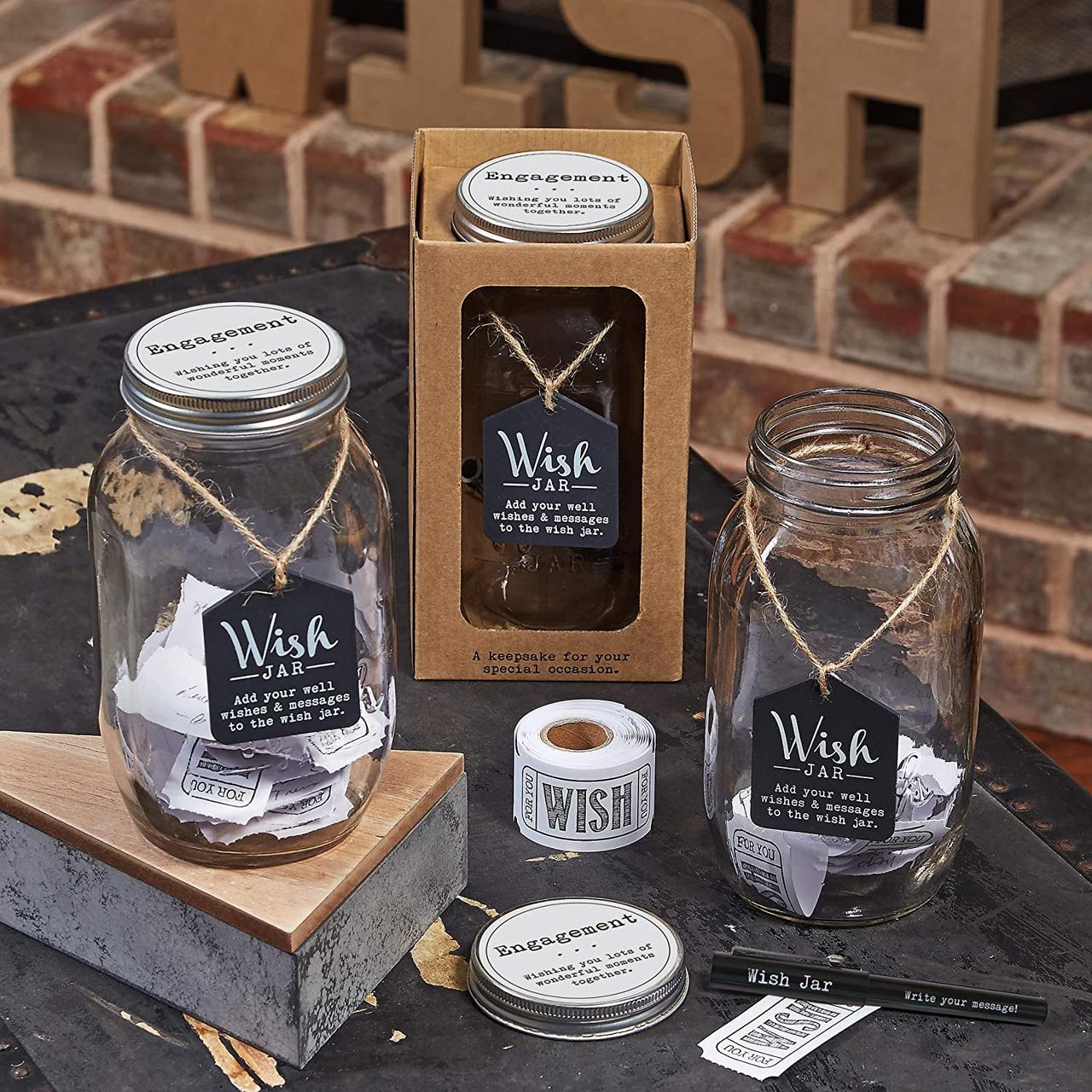 Here's one of our favorite engagement table centerpieces: it's a wish jar for guests to write down their special wishes for you and your new fiancé. You'll have a blast going through all their responses, from the sentimental to the hilarious.
Top Shelf engagement wish jar with 100 tickets, pen, and decorative lid, $28, Amazon
Engagement Party Backdrops and Banners
If capturing perfect pictures for the 'gram is top of your priority list, you won't want to skip this section. A cute or customized backdrop or banner will take your photos to the next level—and your guests will want in on the action too. That's why we've placed them as the second stop on our list of engagement party decoration ideas.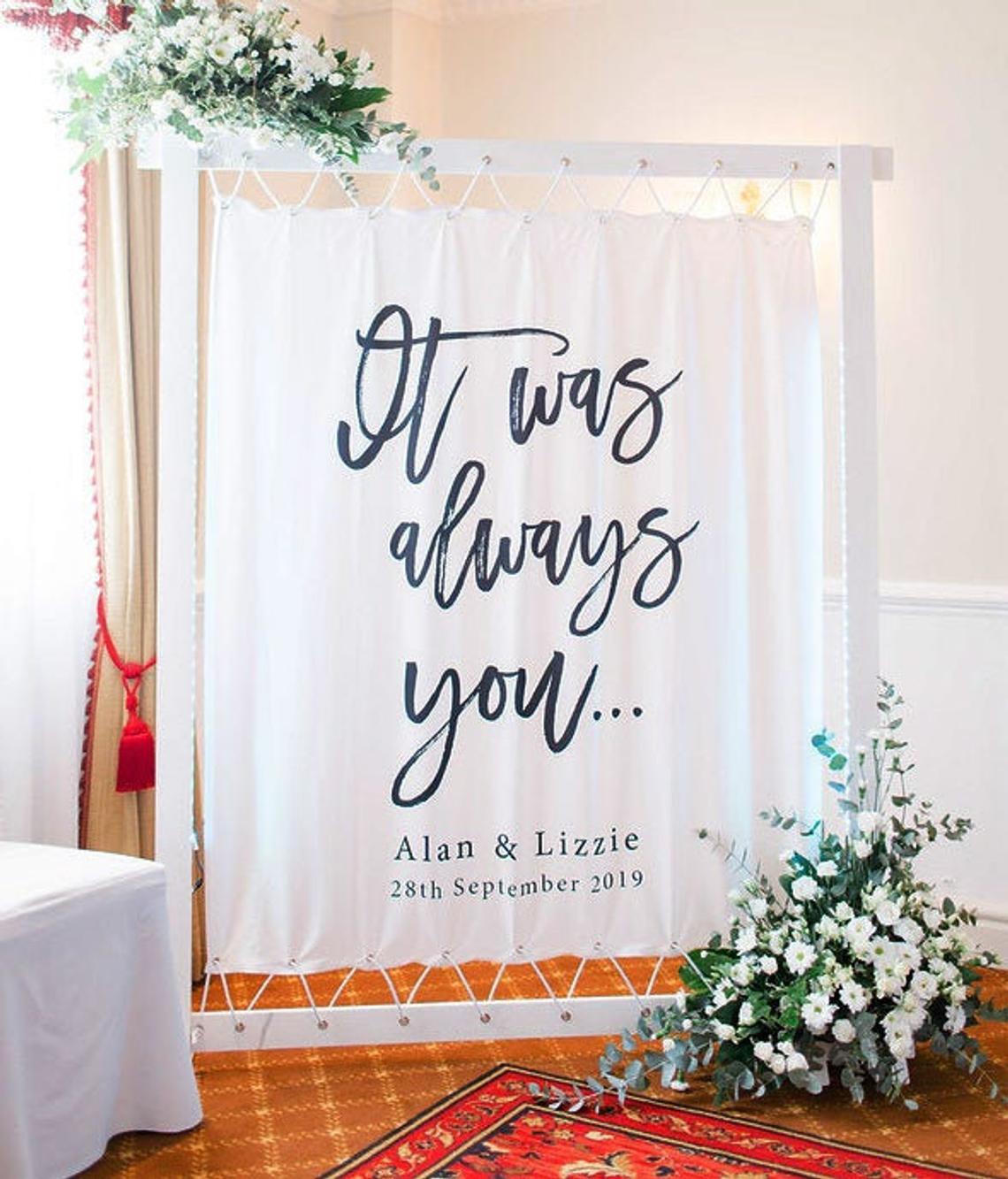 This personalized engagement backdrop won't just look good at the party—it's an excellent opportunity to announce your new fiancé status on social media. Get ready to rake in the likes.
Blushing Drops It Was Always You backdrop, from $76, Etsy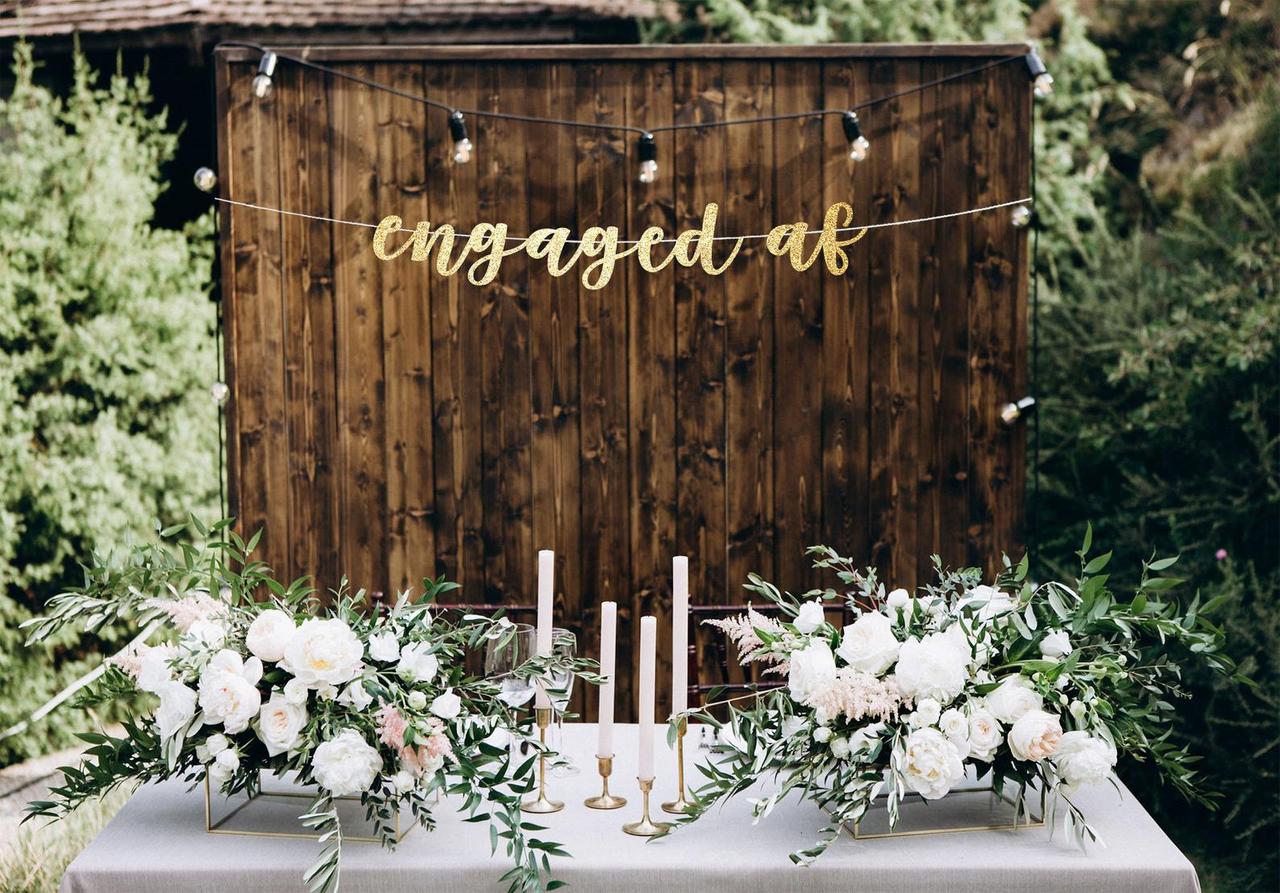 Who says you can't have a little fun with your engagement decorations? This glittering gold banner reads "engaged af."
cake to the top engagement party banner, from $10, Etsy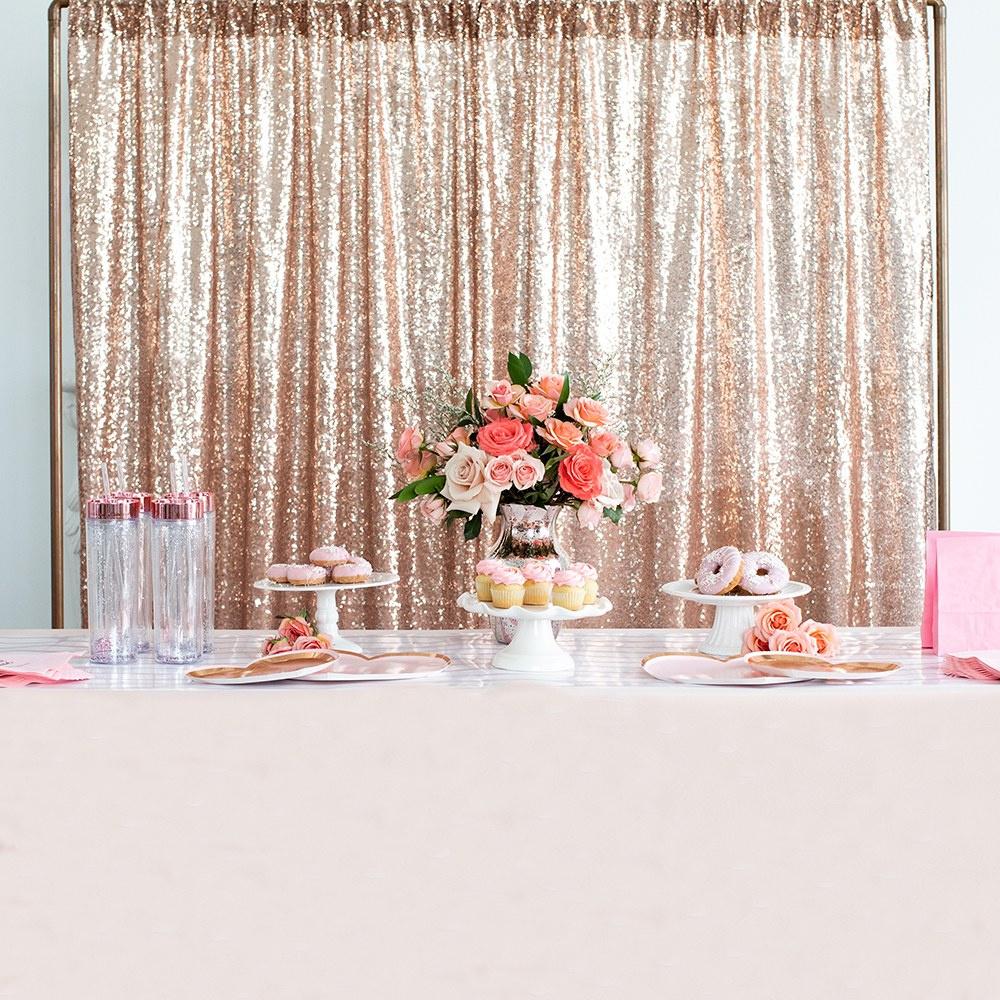 Speaking of glittering engagement decoration ideas, we're obsessed with this stunning sequin backdrop. It comes in silver, gold, or rose gold to suit your personal style.
WeddingWire Shop custom wedding photo backdrop decoration, $60, WeddingWire Shop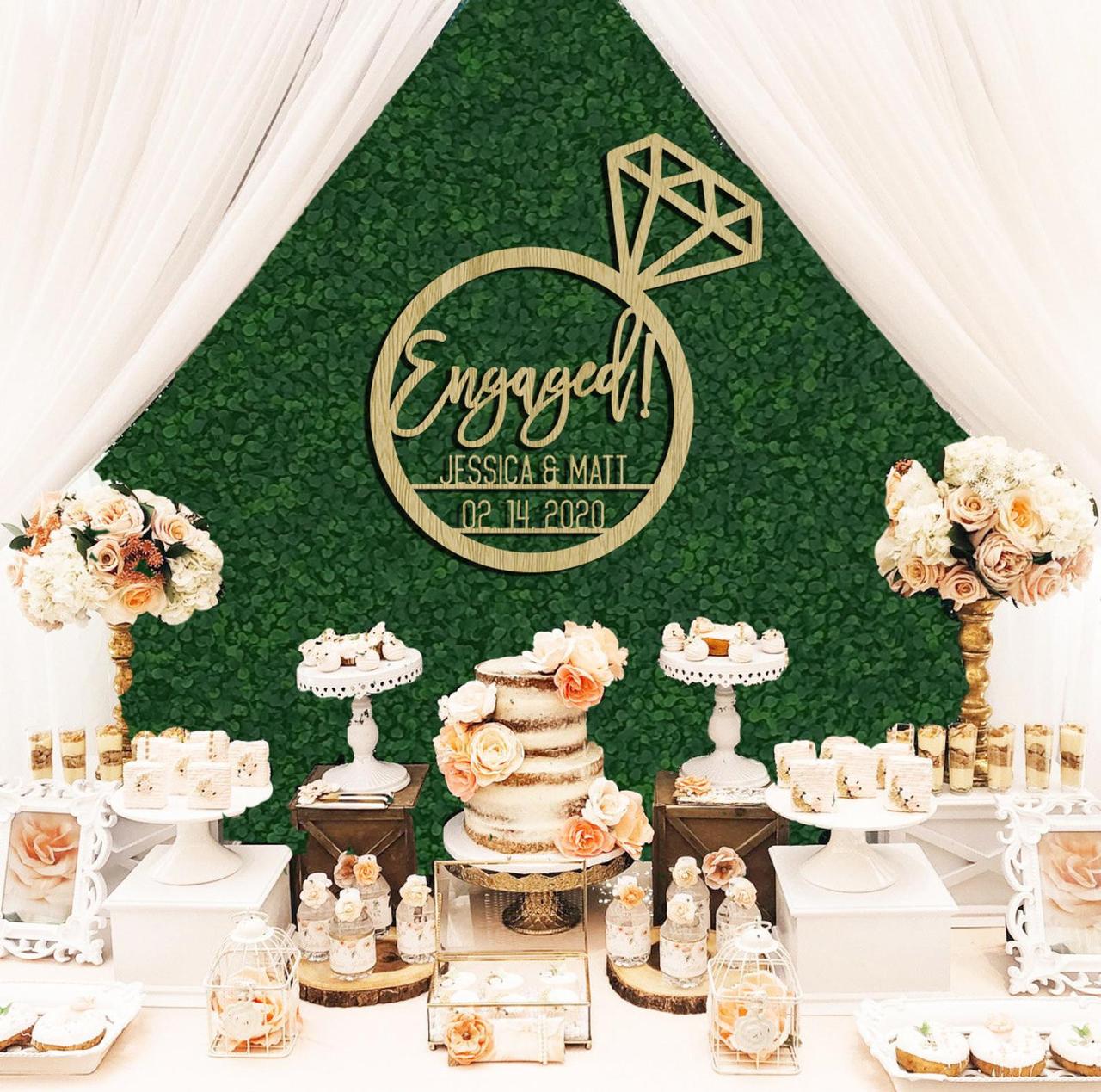 Feel free to get a little more creative with your engagement backdrop decorations. We love the idea of a personalized sign in the shape of a dazzling diamond ring.
Lavender Dots Design engagement party backdrop, from $50, Etsy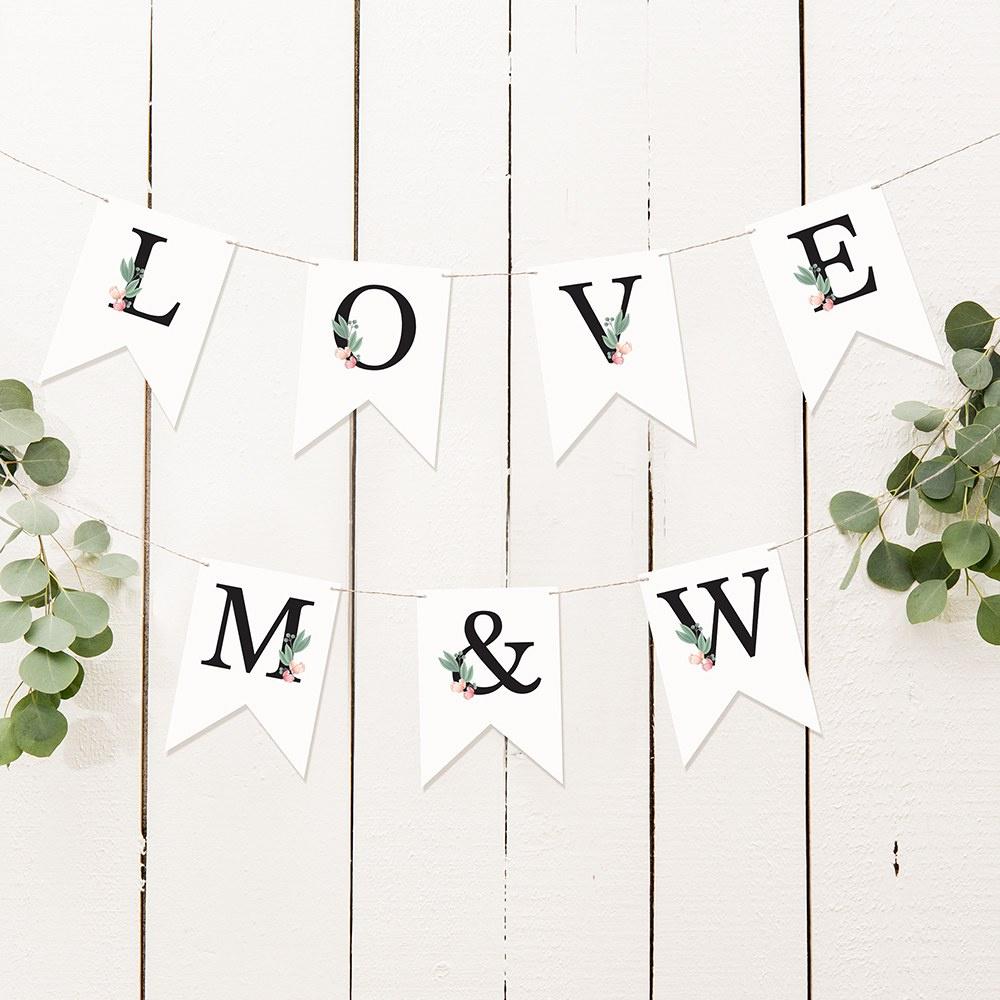 Planning a budget-friendly engagement party doesn't mean you have to miss out on pretty, personalized decorations. Pick up a few of these adorable bunting banners adorned with you and your S.O.'s initials. The floral motif is perfect for a garden party.
WeddingWire Shop floral initial custom decorative pennant flag party bunting banner, $1, WeddingWire Shop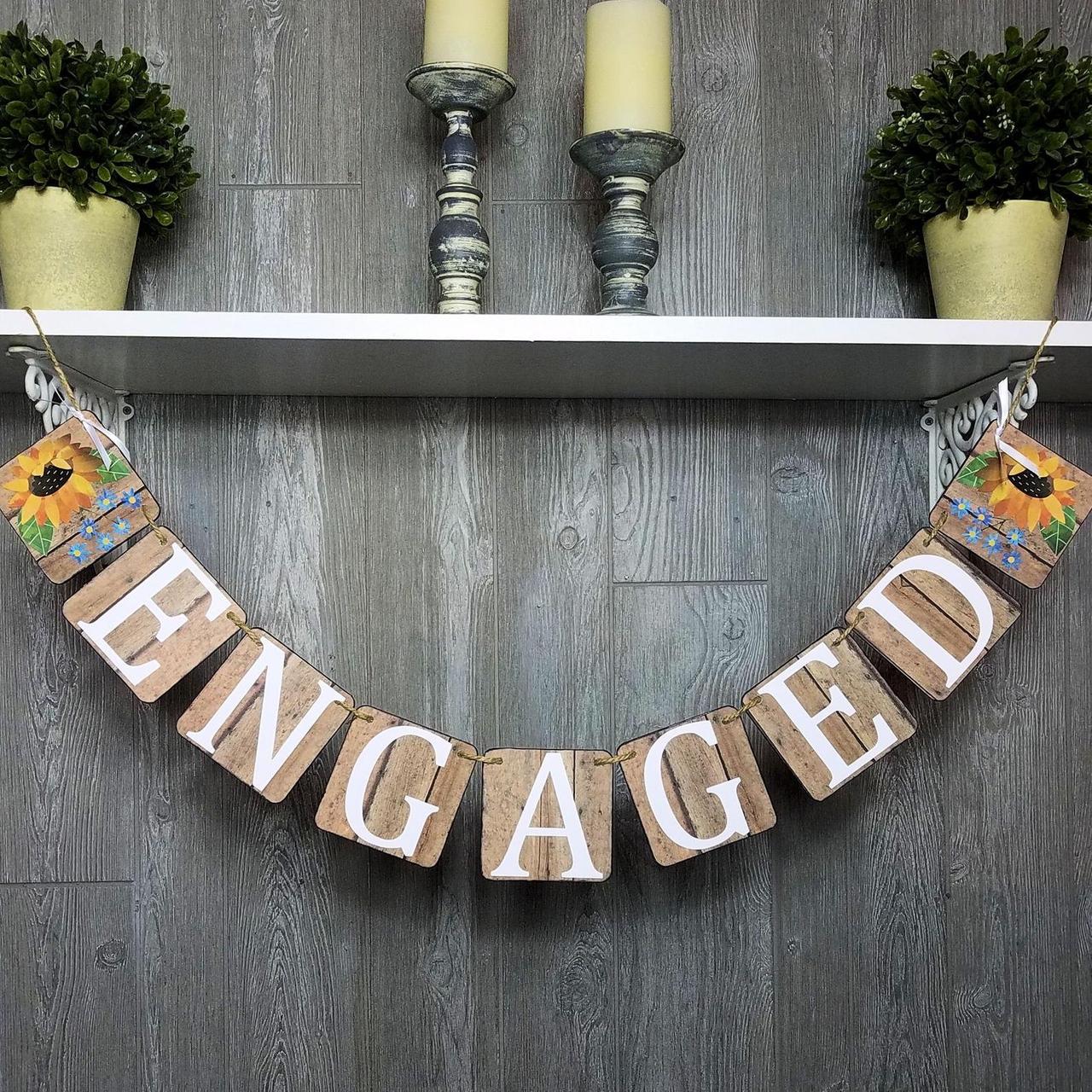 This rustic engagement party banner is made from faux bois paper on sturdy clipboard panels. The sunflower design makes it best suited to spring and summer celebrations.
Pandas and Pineapples sunflower wood look clipboard engaged banner, $17, Etsy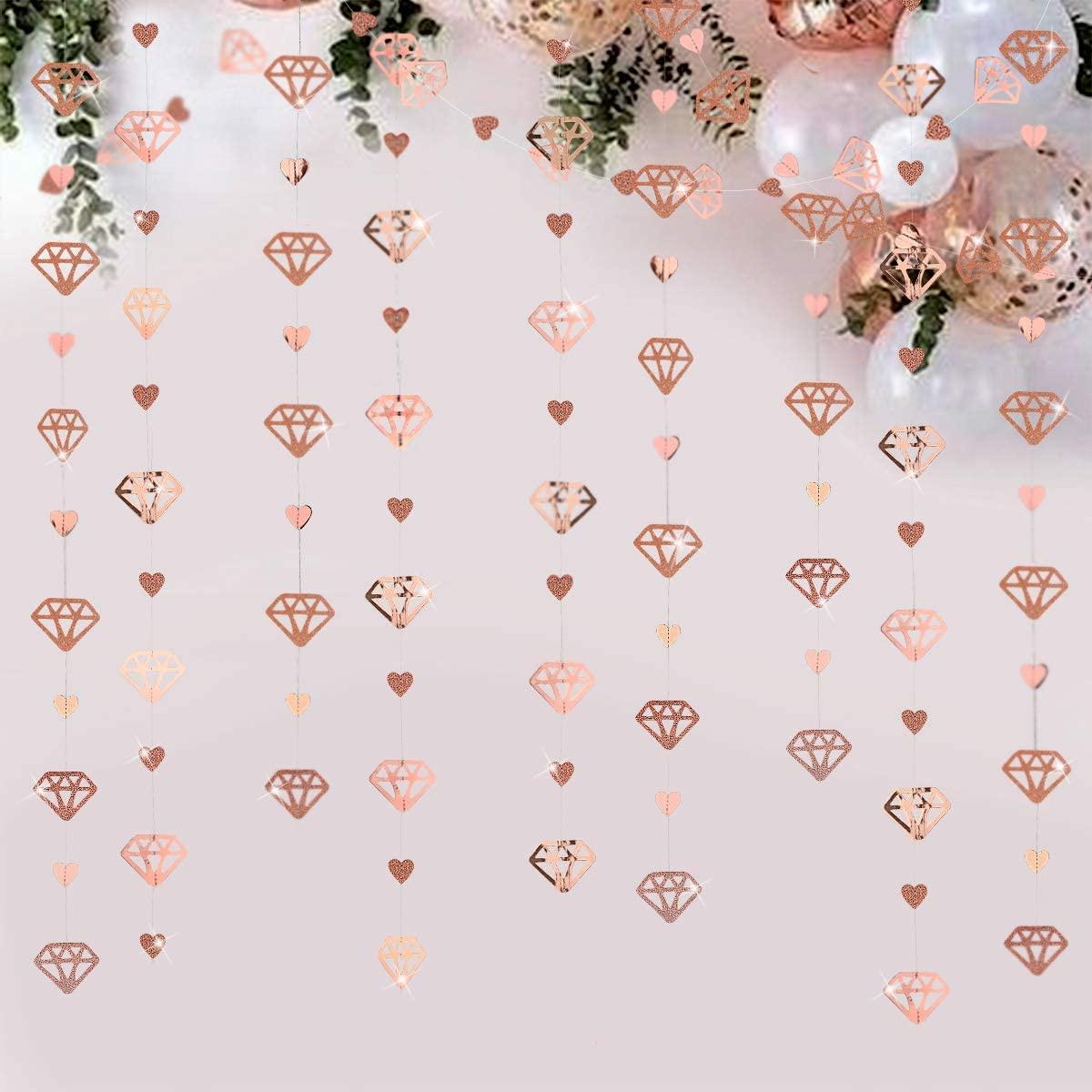 This stunning rose gold diamond and heart garland would make the perfect backdrop for your dessert table or photo booth. Either way, if you're looking for creative engagement party decoration ideas, we think this pretty set should top your list!
PinkBlume rose gold metallic engagement party backdrop, $13, Amazon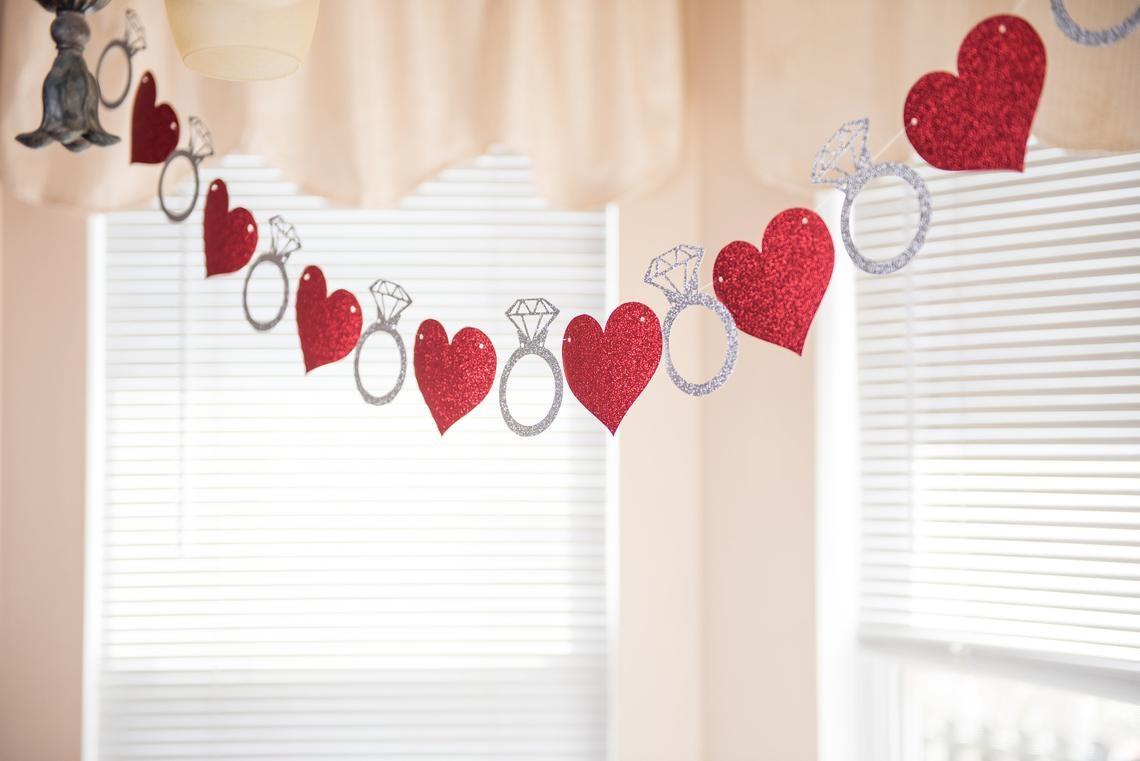 Diamond ring designs are always popular when it comes to engagement party decoration ideas. This 60-inch banner will bring any venue up to scratch thanks to the on-theme engagement rings and sparkly red hearts.
Savvy Corner Shop engagement ring garland, $12, Etsy
Engagement Party Table Decorations
Table decorations are the finishing touches that'll make your venue really stand out. Whether you're celebrating at home, outdoors, or at the restaurant you had your first date in, these convenient little extras will bring the wow factor to your pre-wedding party.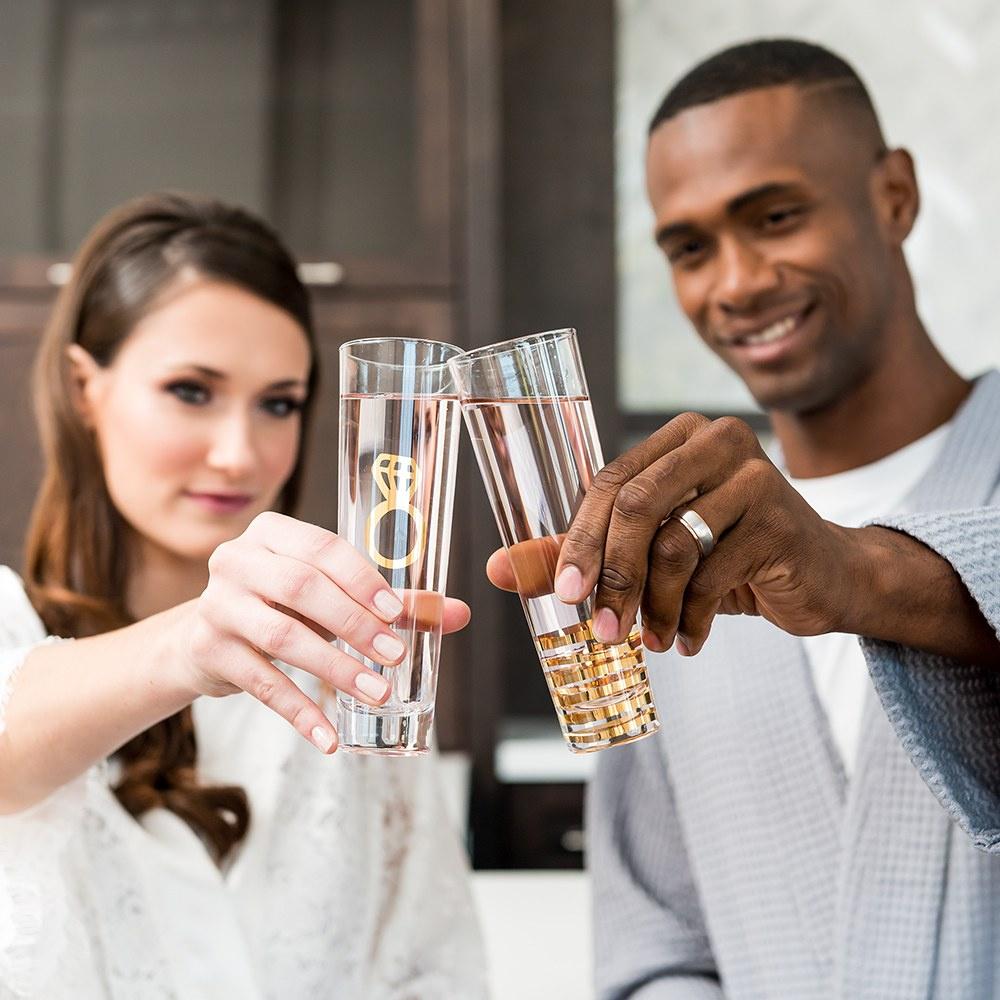 What's an engagement party without a meaningful toast? Raise your glasses to the upcoming nuptials with these stemless champagne flutes. Metallic gold details and an engagement ring motif are the perfect finishing touch for these festive engagement decorations.
WeddingWire Shop stemless champagne flutes, $10 for a set of 2, WeddingWire Shop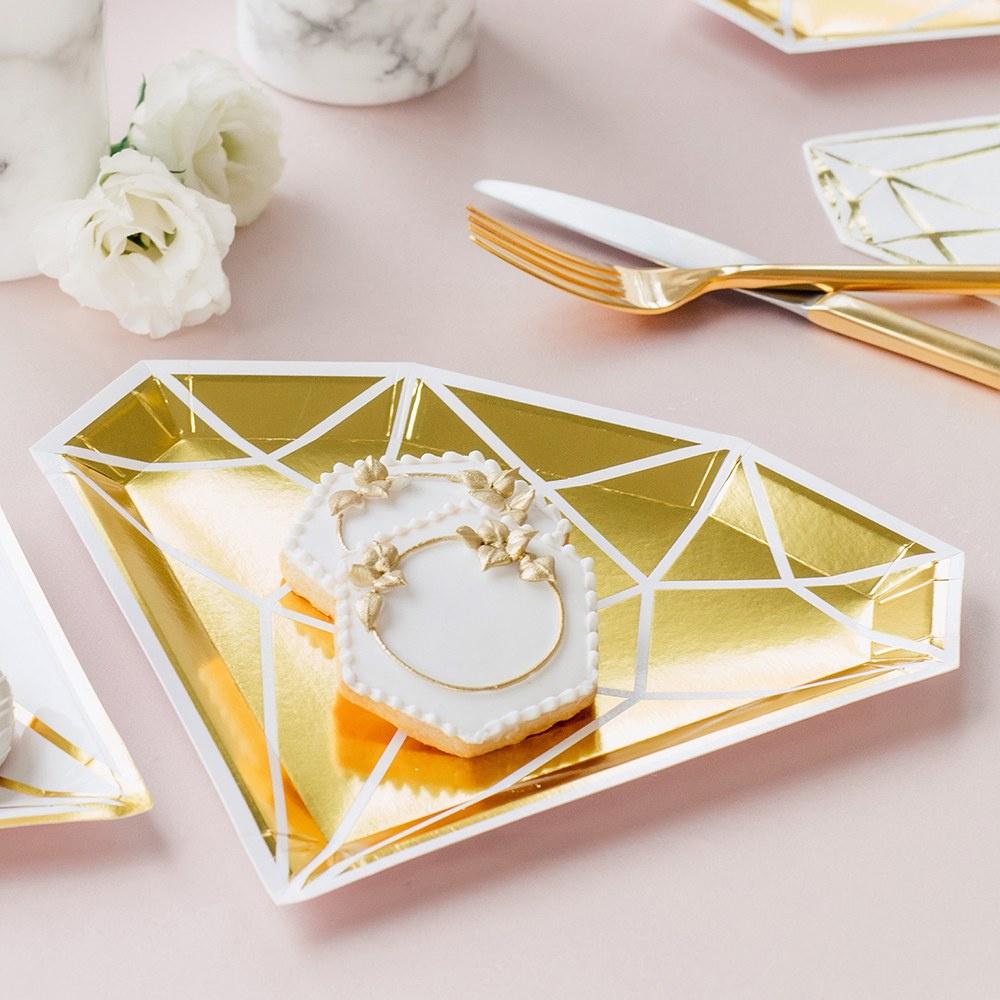 Toasting glasses aren't the only thing that can serve as table decor at your engagement party. These bold plates make for creative decorations, and trust us—no one will forget why you're celebrating!
WeddingWire Shop large diamond paper plates, $6 for a set of 8, WeddingWire Shop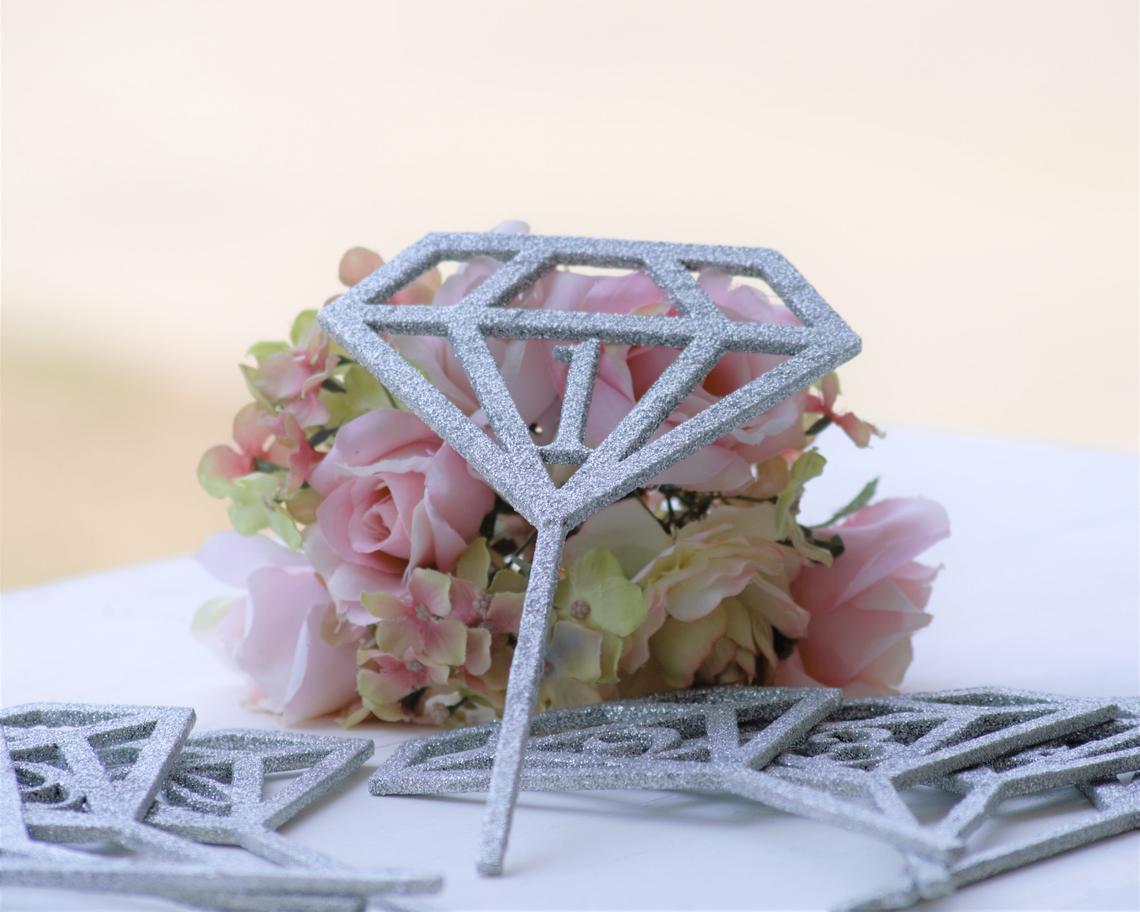 Table numbers are another great opportunity to nod to the theme or the occasion. Simply add these sparkly diamond table signs to your centerpieces and voilá: you've got gorgeous, on-theme engagement decorations.
Red Heart Creations engagement party decorations, from $7, Etsy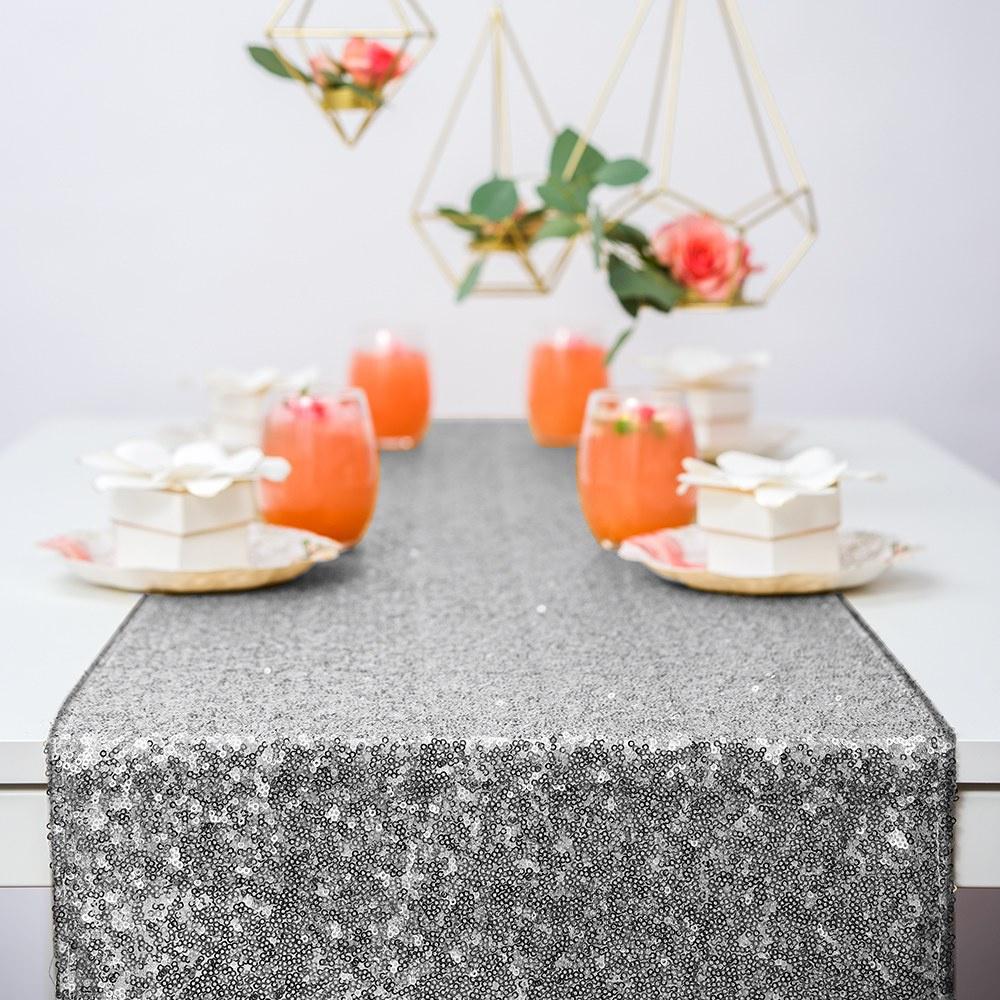 If you want a little more bang for your buck, a nice table runner can transform your dessert station or guest tables in a matter of seconds. This silver sequin one just screams celebration!
WeddingWire Shop metallic silver modern sparkle sequin table runner, $13, WeddingWire Shop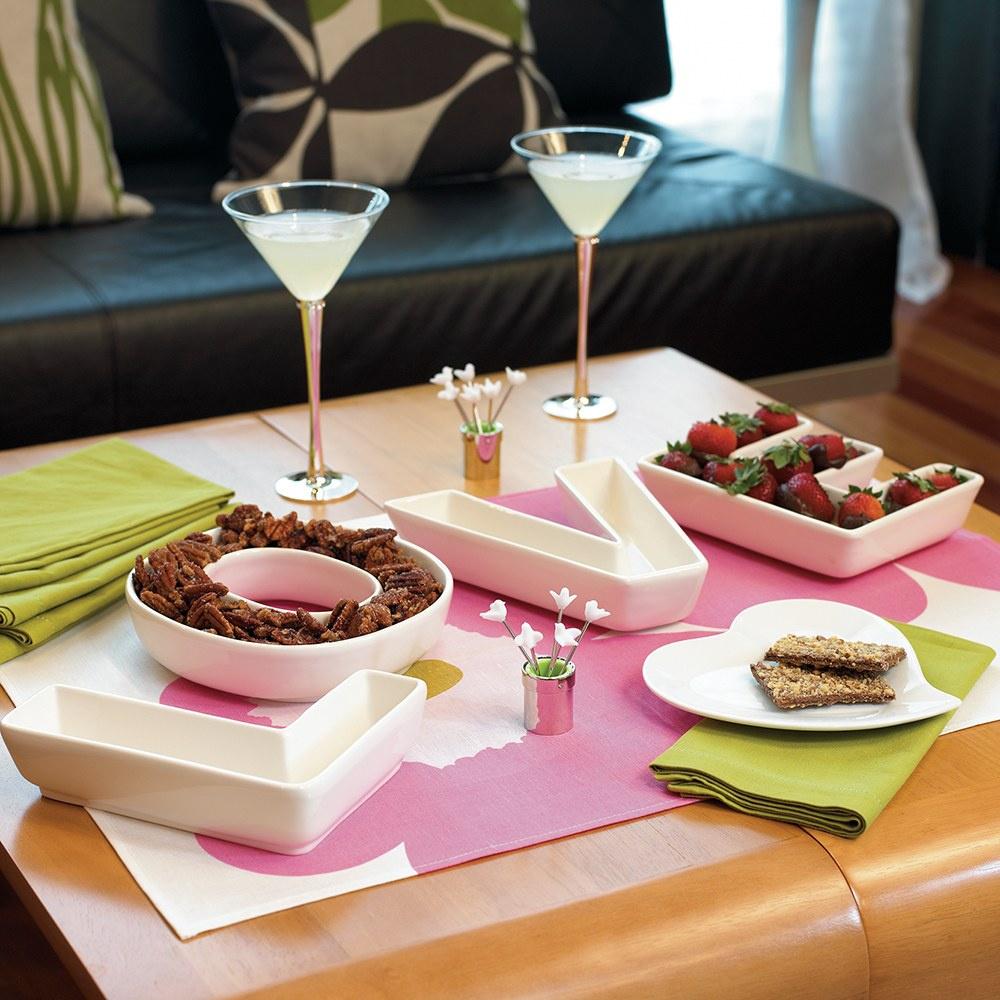 Looking for more creative engagement party decoration ideas? These L-O-V-E dishes will let you boldly state your love for each other—with snacks! Fill them with nuts or other finger foods at your engagement bash for a cute display your guests will love. They're especially fitting for an at-home or virtual engagement party spread.
WeddingWire Shop LOVE plates set, $40, WeddingWire Shop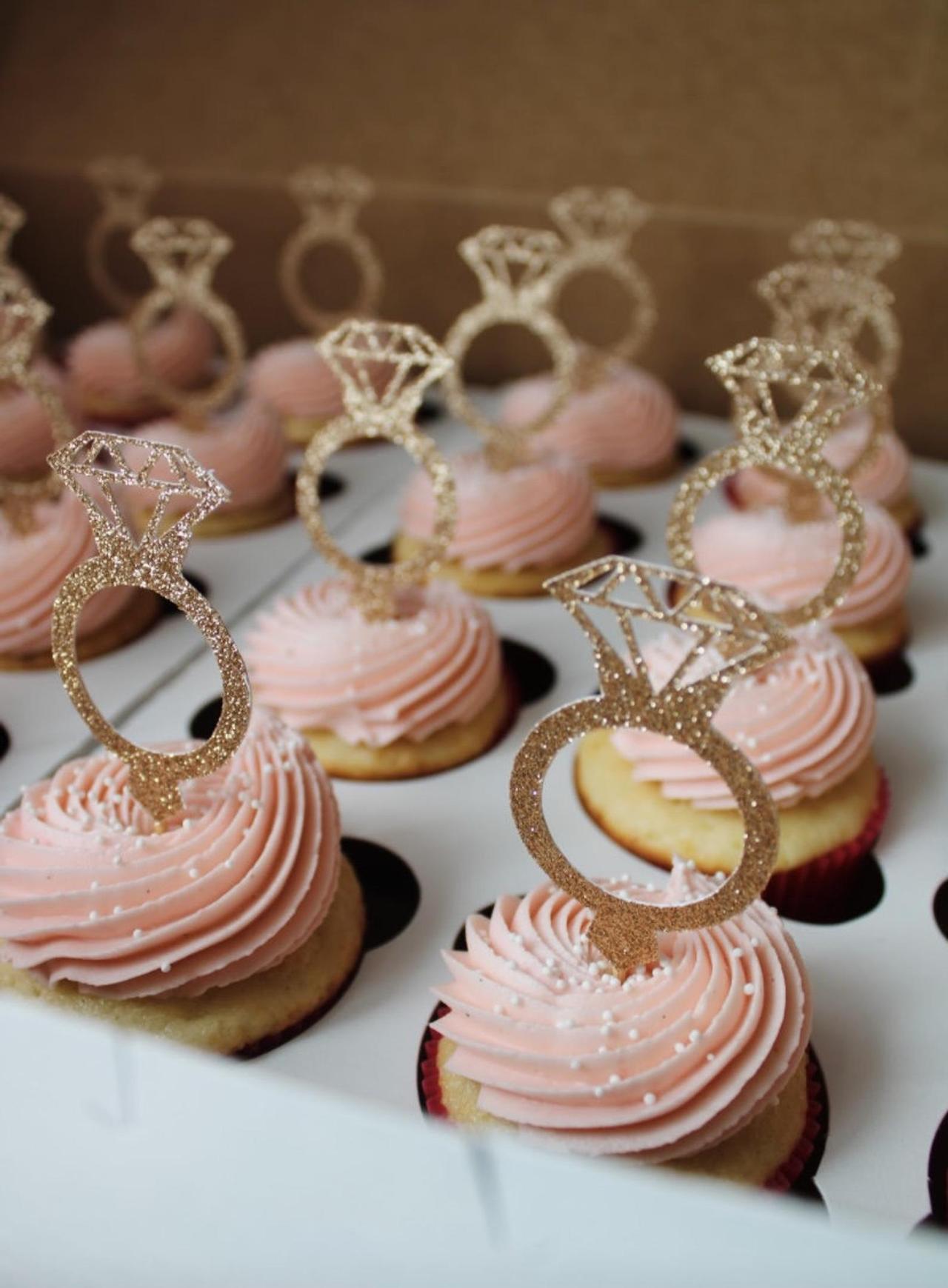 Or, if cupcakes are more your speed, work with your local bakery to come up with a sweet selection complete with these fun diamond ring-shaped toppers. They'll make for a delicious (and Insta-worthy) display wherever you choose to put them.
Cake Make By Haneen custom cupcake topper engagement decoration, from $13 for a set of 24, Etsy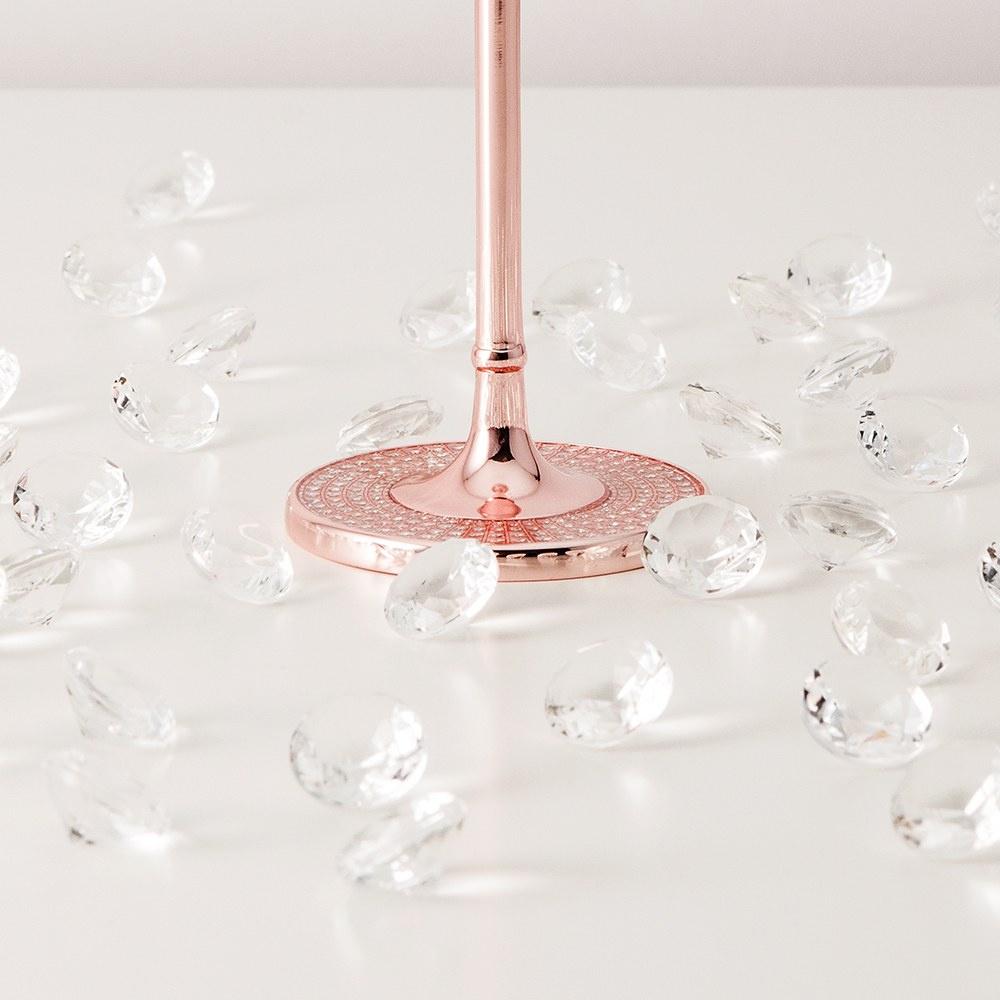 These small faux diamonds are unique engagement party decorations that can be displayed in rustic glass jars or placed on guest tables like confetti. They're the perfect table decorations for the soonlywed obsessed with their new sparkler.
WeddingWire Shop small decorative acrylic cut diamonds, $9 for a pack of 80, WeddingWire Shop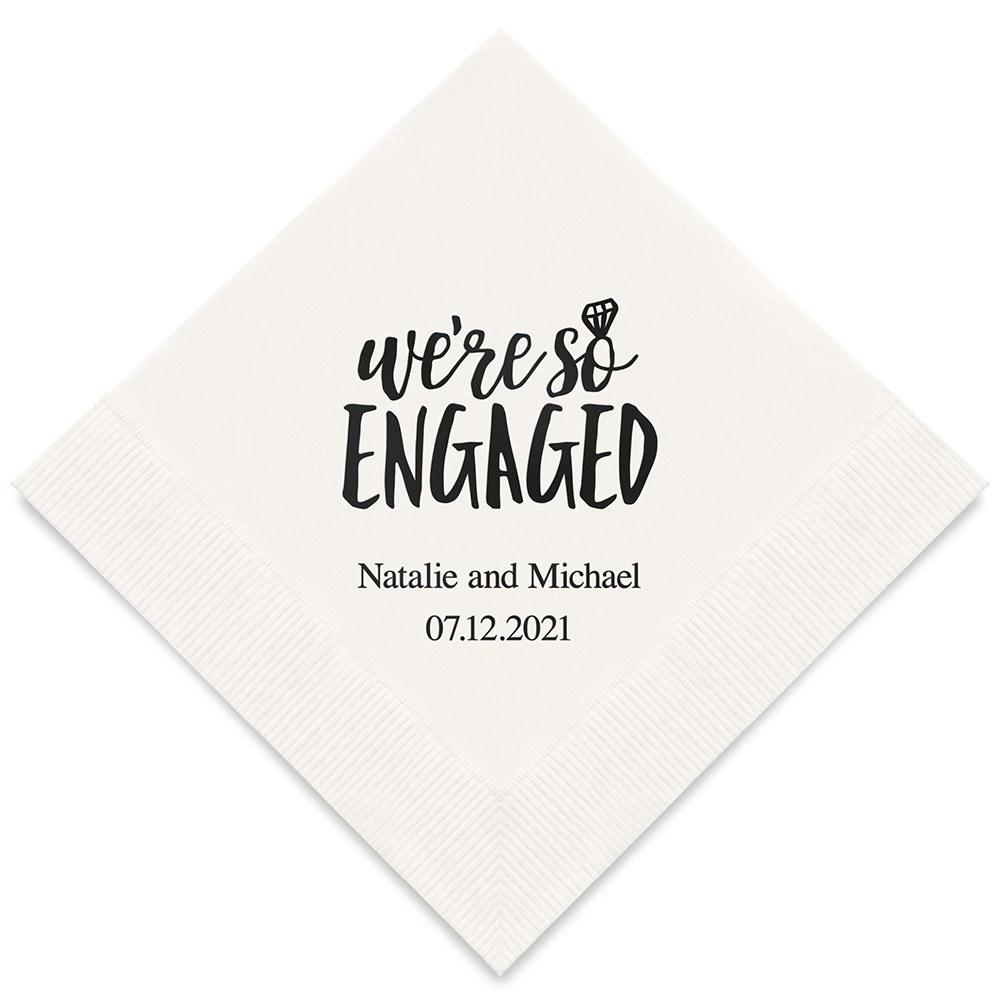 Don't forget to add on-theme napkins to your list of engagement party supplies! They may seem like a simple detail, but your guests will be beyond impressed. These adorable napkins state "we're so engaged" along with your names and the date you (or your partner) said yes.
WeddingWire Shop We're So Engaged personalized foil printed paper napkins, from $13 for a set of 50, WeddingWire Shop
Engagement Party Balloons and Lighting
Decorations are a fun and creative way to set the mood at your pre-wedding bash. For example, bold and bright balloons create a fun, airy atmosphere. On the flipside, twinkly string lights feel cozy and romantic. Check out some of our favorite engagement party decoration ideas below that'll make setting the mood a piece of cake.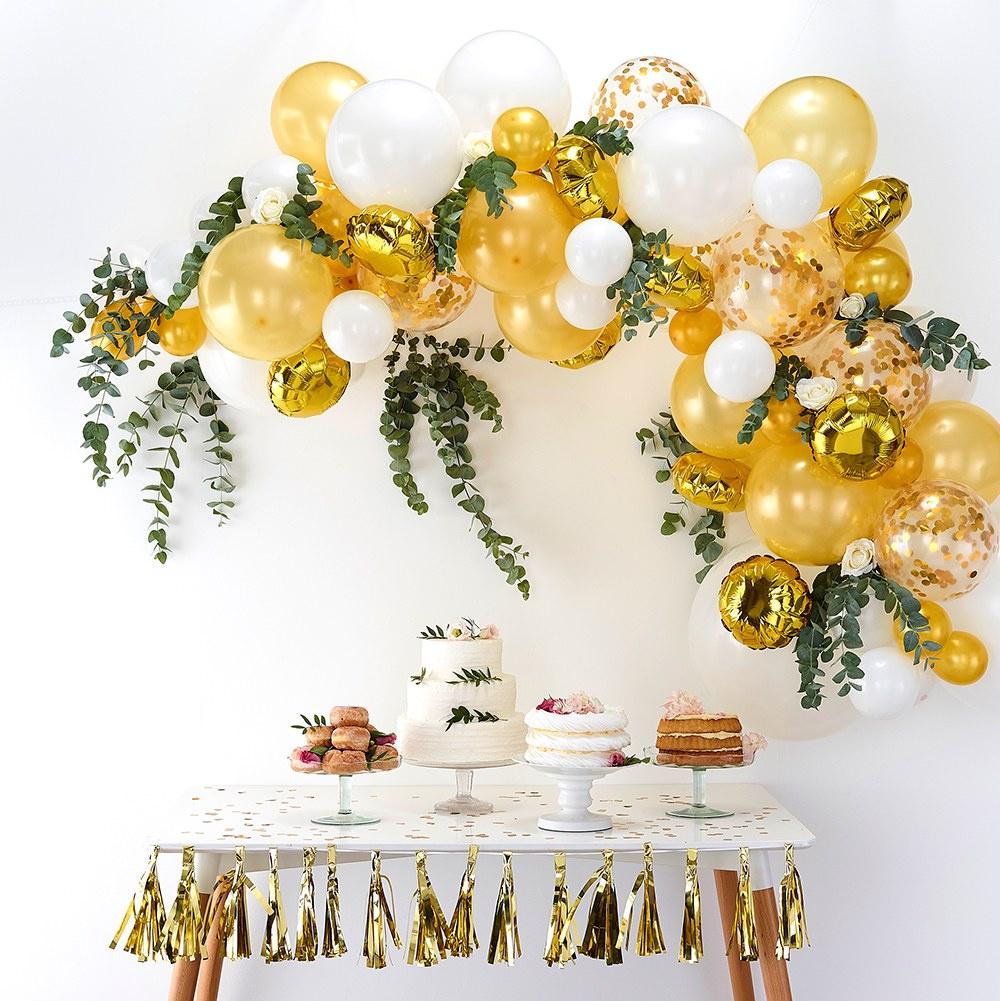 Who doesn't love a balloon arch? This gorgeous DIY kit comes with everything you'll need to create your own fun and inflatable masterpiece. Just think of the photos!
WeddingWire Shop balloon arch kit, $33, WeddingWire Shop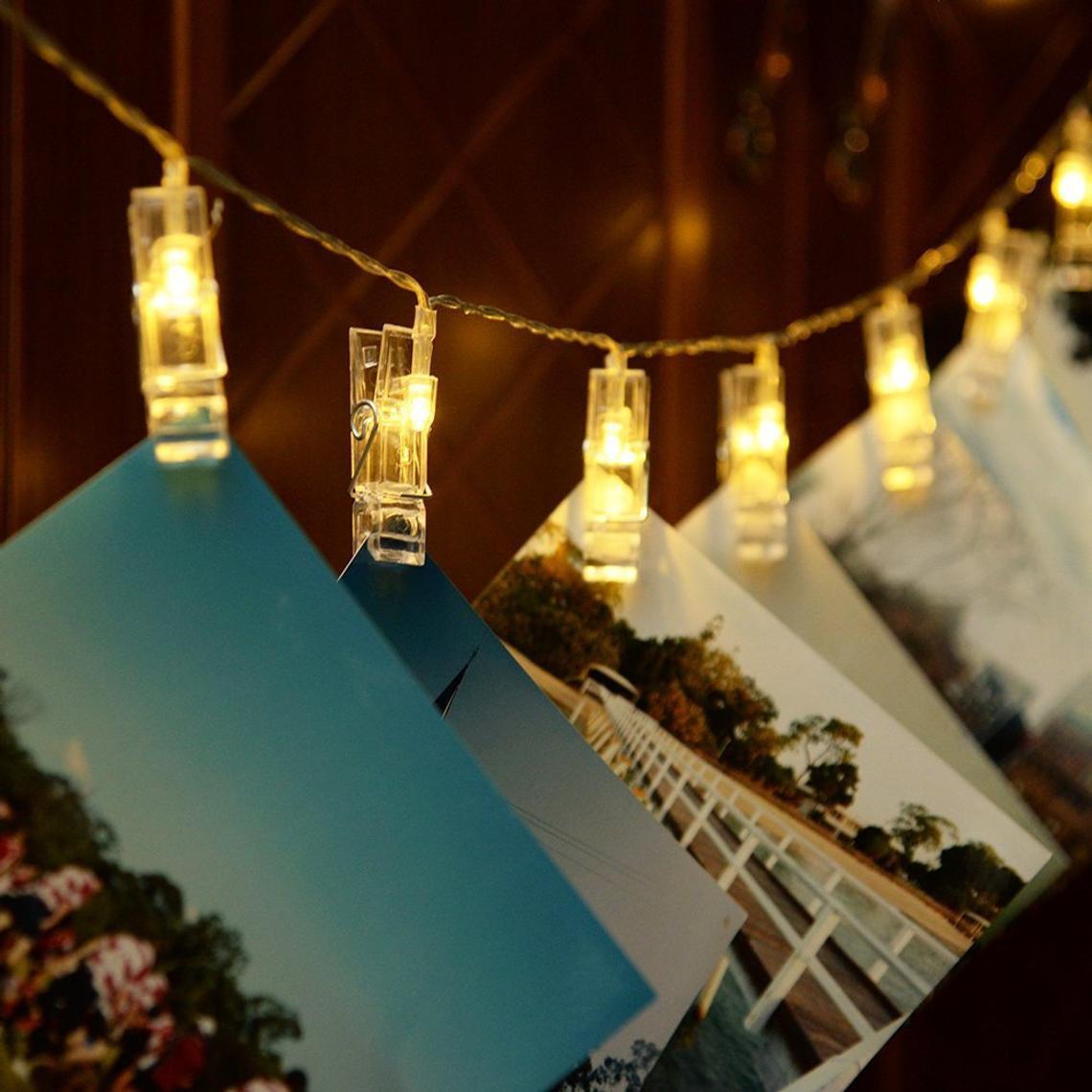 Showcase your favorite moments as a couple with these super-cool string lights that are also photo clips. Personal, affordable, and easy to set up, it's one of our favorite ideas for engagement party decor.
Perfect Holiday 40 LED 14ft photo string lights, $15, Etsy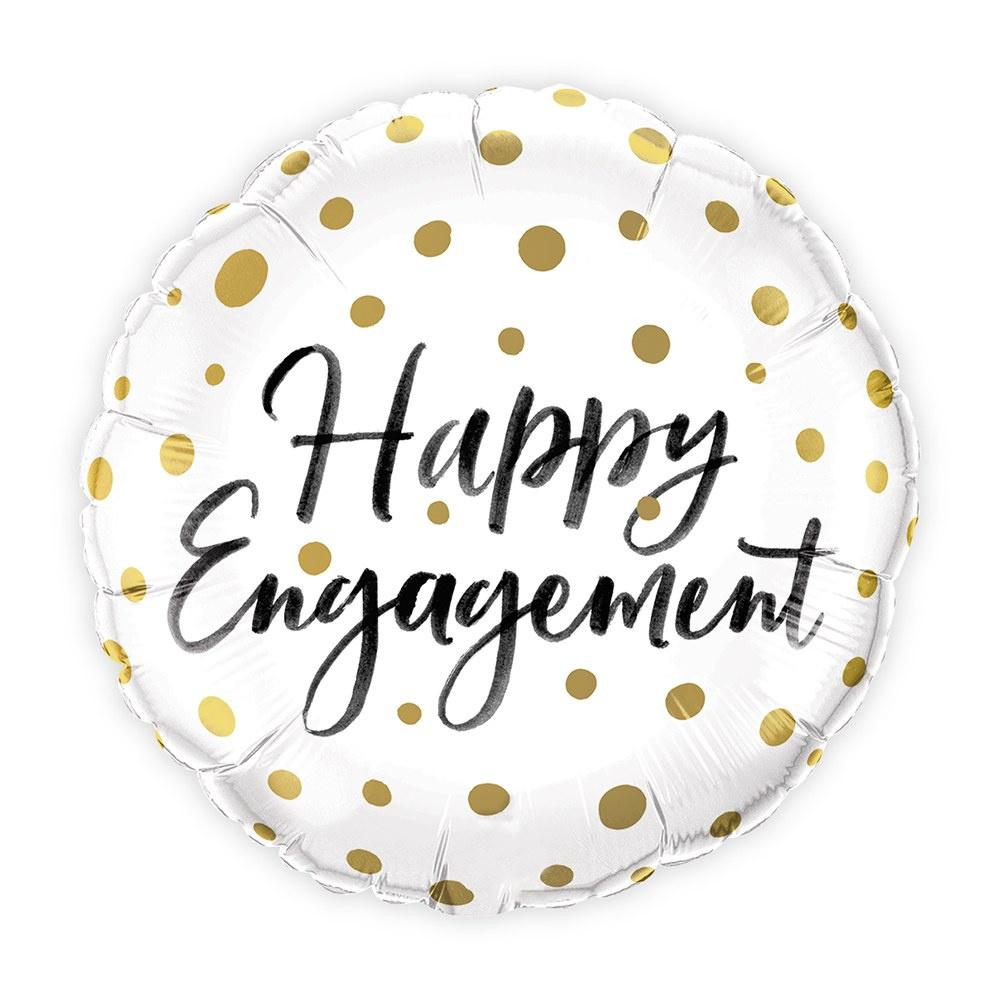 No party is complete without balloons. We love this festive white and gold option with the words "happy engagement" emblazoned across the front.
WeddingWire Shop gold polka-dot engagement mylar foil helium party balloon, $4, WeddingWire Shop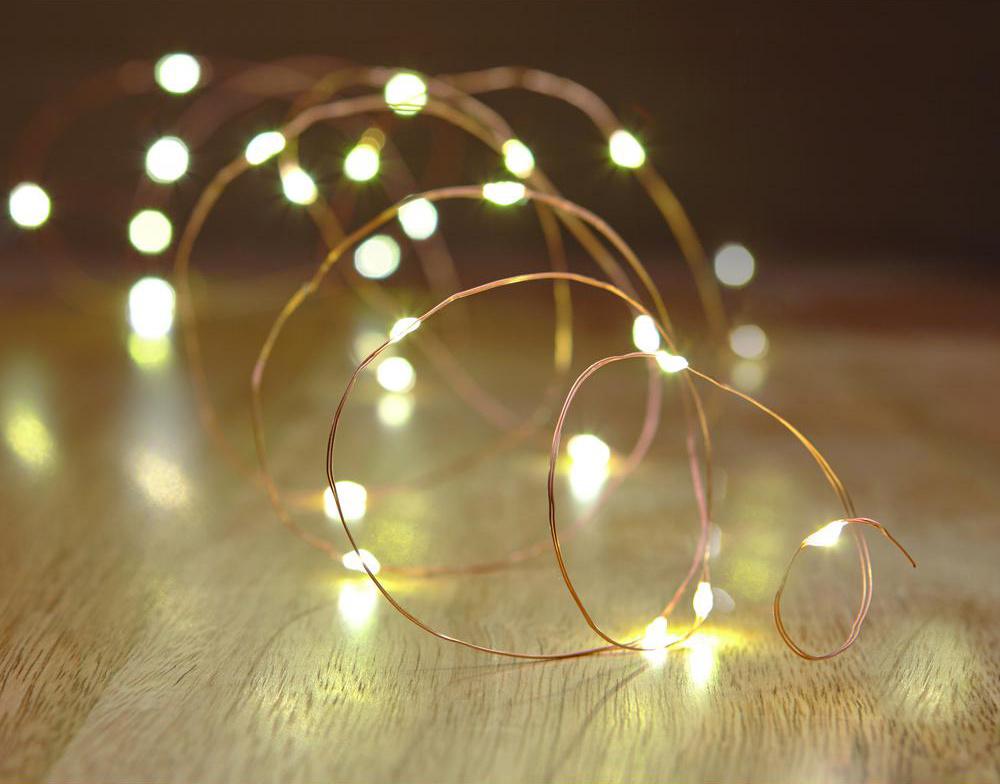 Looking for outdoor engagement party decoration ideas? These rustic copper string lights can be draped from tree branches or placed in glass jars or empty wine bottles on guest tables to create a warm and welcoming glow.
Hampton Bay 16 ft. battery powered 25 bulb copper wire indoor/outdoor string light, $8, Home Depot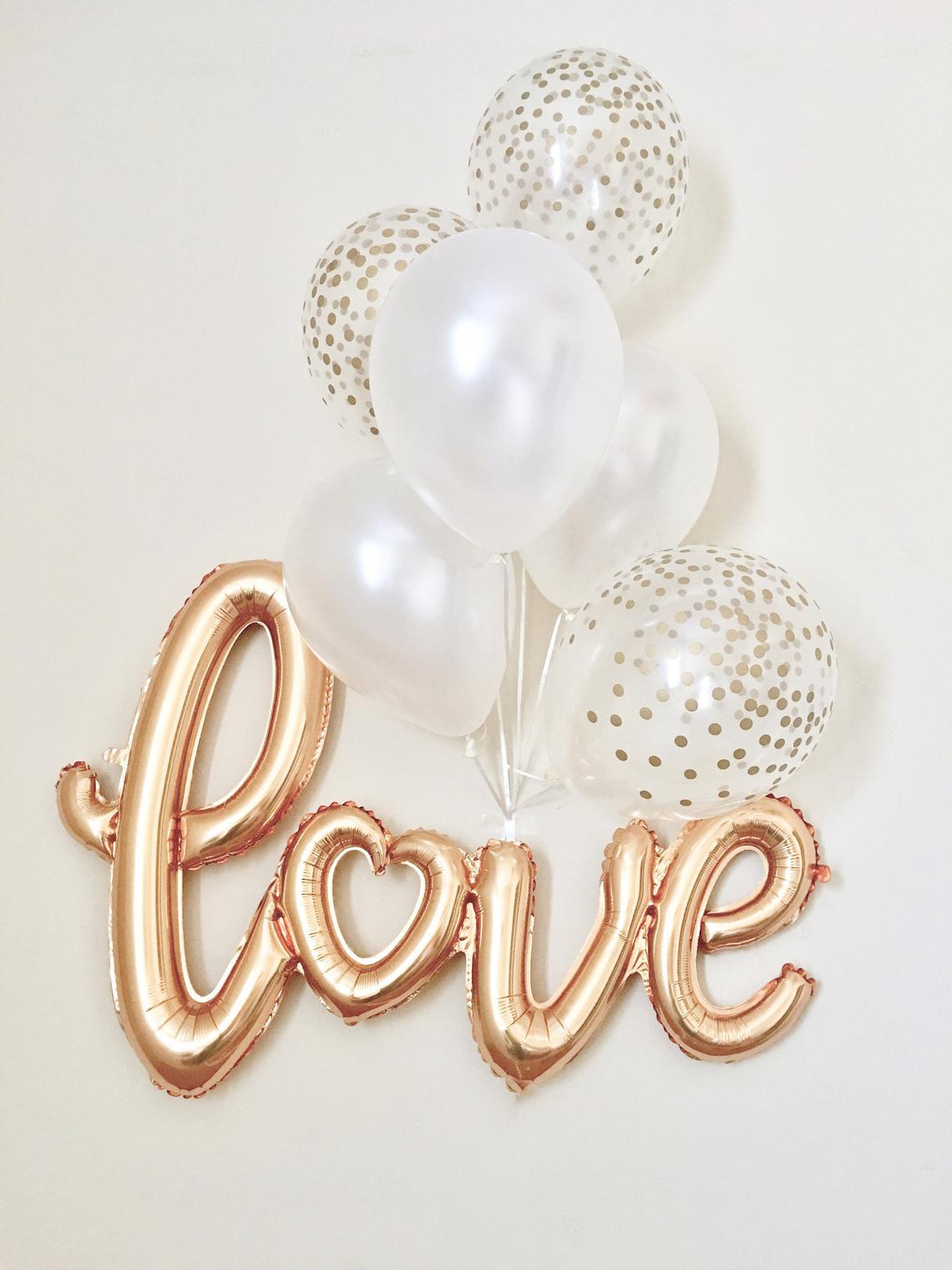 For engagement decorations worthy of the 'gram, stick with a particular color palette and incorporate it throughout the event. This romantic balloon arrangement features soft metallic shades.
Sweet Escapes by Debbie Love gold script engagement party balloon, $14, Etsy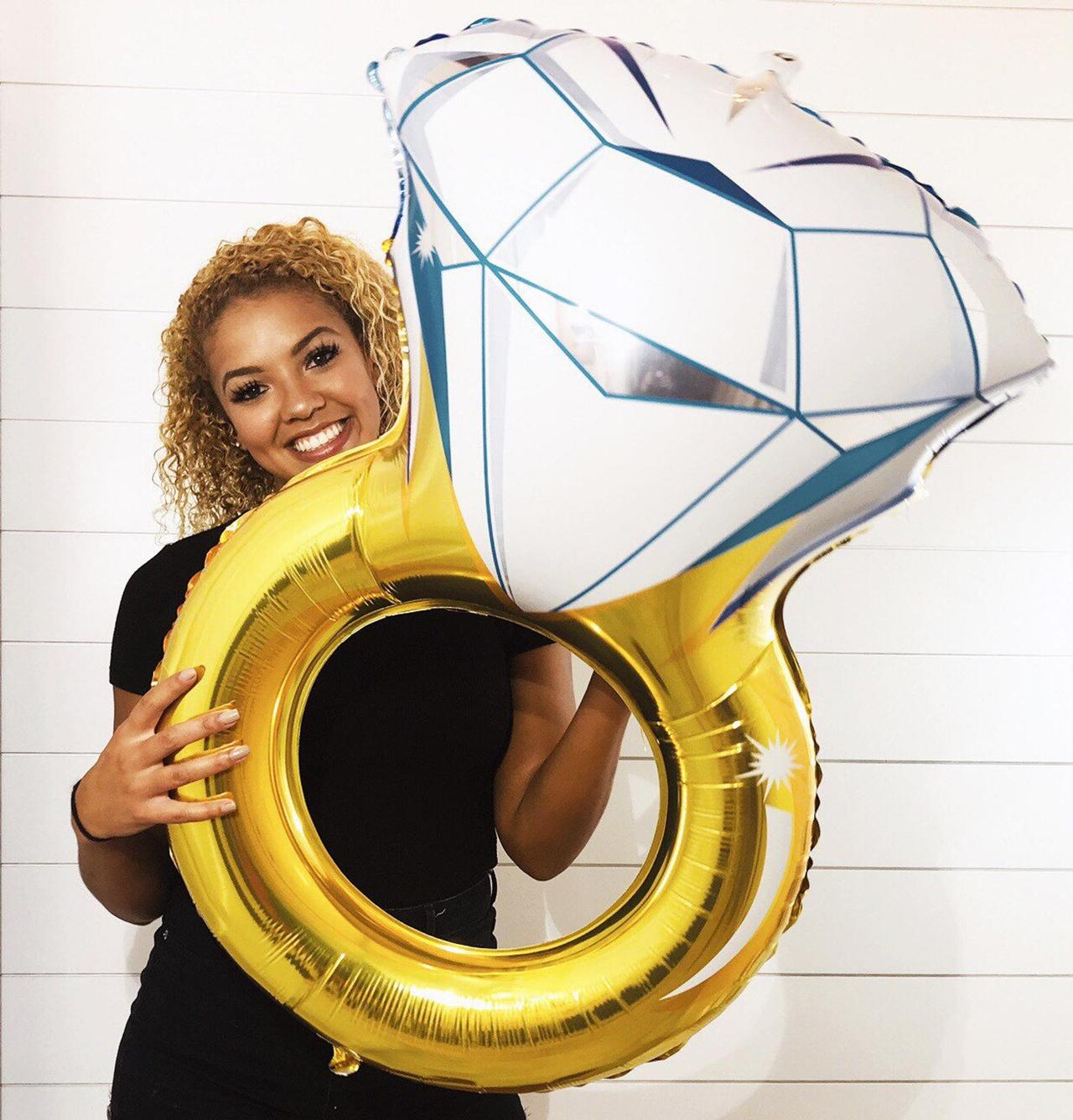 Diamond motifs make some of the best engagement decorations, especially if you're not tied to a specific theme. Honor the occasion with this giant, shiny balloon in the shape of an engagement ring.
Brant Point Prep large foil engagement party diamond ring balloon, $8, Etsy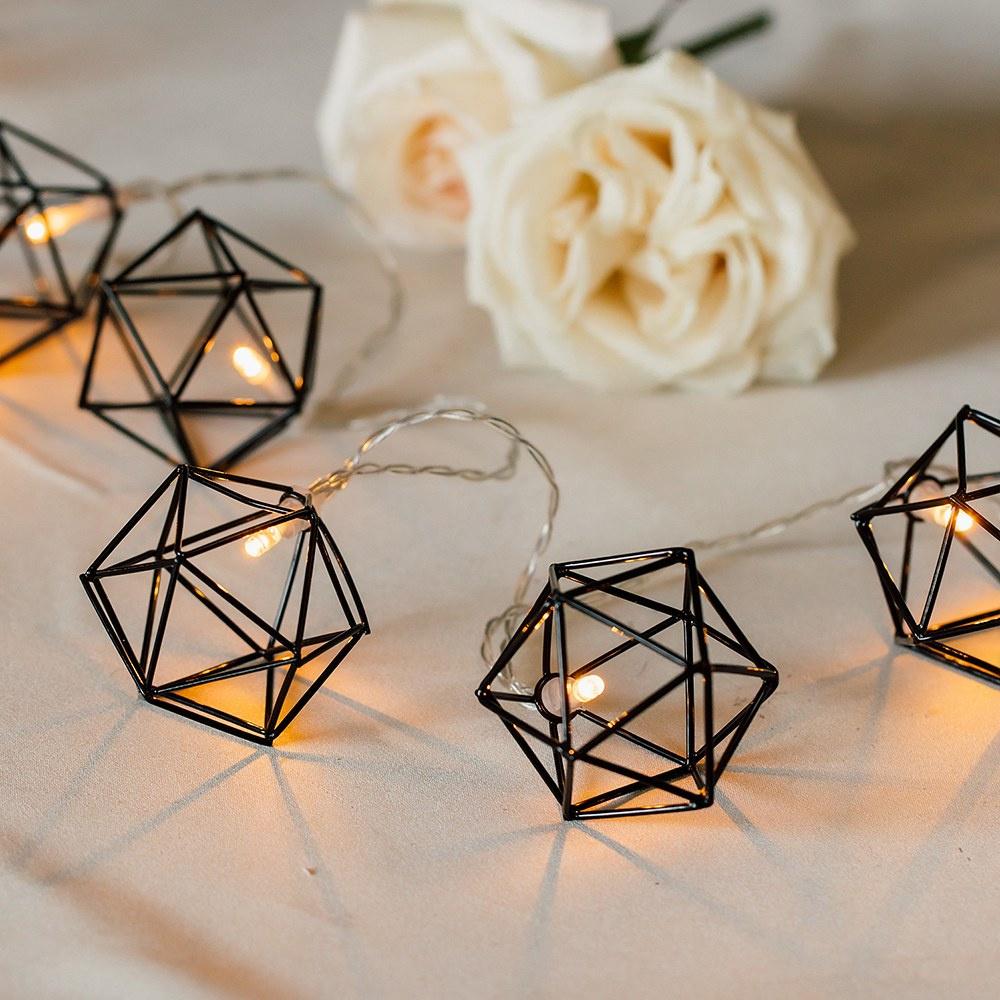 String lighting doesn't have to be rustic. These contemporary, geometric lights will look ultra sleek wherever you decide to put them.
WeddingWire Shop black geo decorative battery operated LED string lights, $16, WeddingWire Shop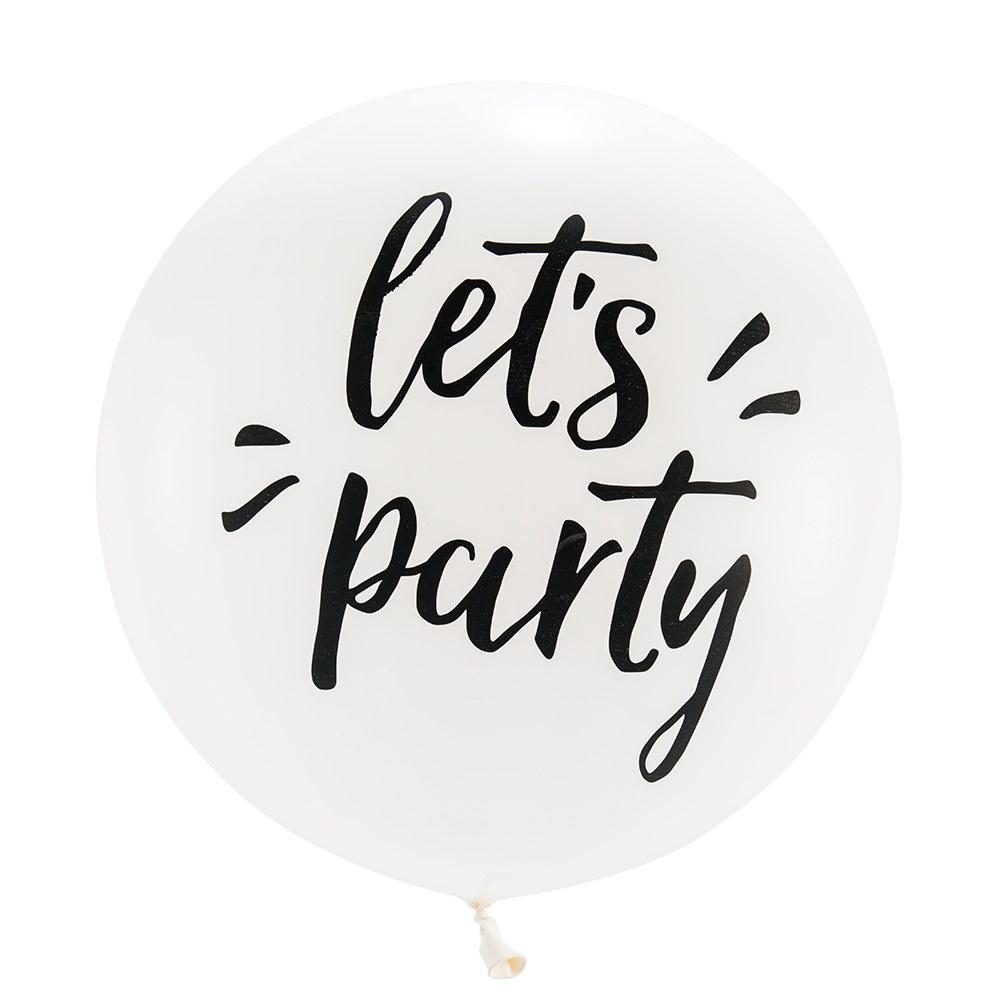 This super-size engagement party balloon says it all. Let your guests know exactly what they're in for the moment they lay eyes on your beautifully decorated venue.
WeddingWire Shop Let's Party extra large 36" white round wedding balloon, $20, WeddingWire Shop