If you've recently gotten engaged, congrats! You're about to embark on one of the most exciting journeys of your life—and with your favorite person, too. It doesn't get any better than that. But before you kick the wedding planning into high gear, consider whether or not you'd like to have an engagement party. When it comes to engagement parties, the sky's the limit. You can host your own, or friends and loved ones can throw one for you. Either way, you'll need some engagement party decorations to make the fete complete.
Need some inspo? We've rounded up a list of our favorite creative engagement party decorations to get you in the mood to celebrate your upcoming nuptials.
An engagement party is the perfect opportunity to toast the new couple! And these stemless champagne flutes are the perfect way to do just that. Ring-shaped metallic gold details are the perfect finishing touch for these festive engagement party decorations.
WeddingWire Shop stemless champagne flutes, $10 for two, WeddingWire Shop
This stunning rose gold diamond and heart garland would make the perfect backdrop for your dessert table, or for a photo booth. Either way, if you're looking for creative engagement party decorations, we think this pretty set should top your list!
PinkBlume rose gold metallic engagement backdrop, $13, Amazon
No fete is complete without balloons—they make perfect engagement party decorations! And we love these festive white mylar balloons with gold polka dots. The words, "happy engagement" emblazoned across the front make them just right for any engagement gathering, whether formal or casual.
WeddingWire Shop polka dot engagement balloons, $4 each, WeddingWire Shop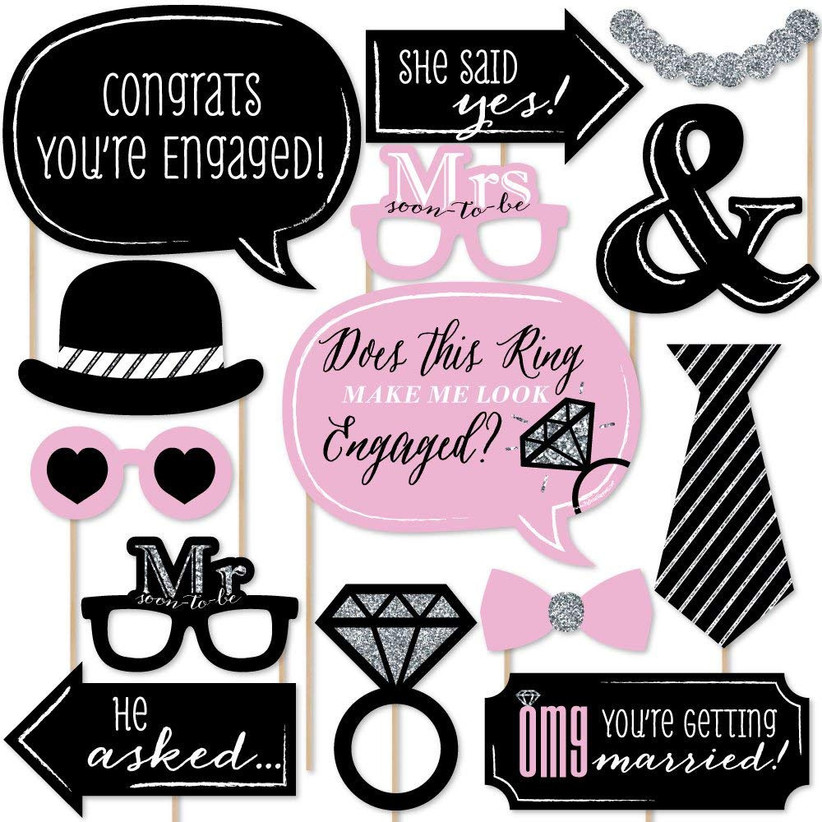 These days, it's not an engagement party unless there's a fun photo booth, right? Make yours next-level fun with this large assortment of engagement-specific props. Each designed with a pink-and-black color scheme, there's sure to be something for everyone here.
Big Dot of Happiness getting married photo props, $16, Amazon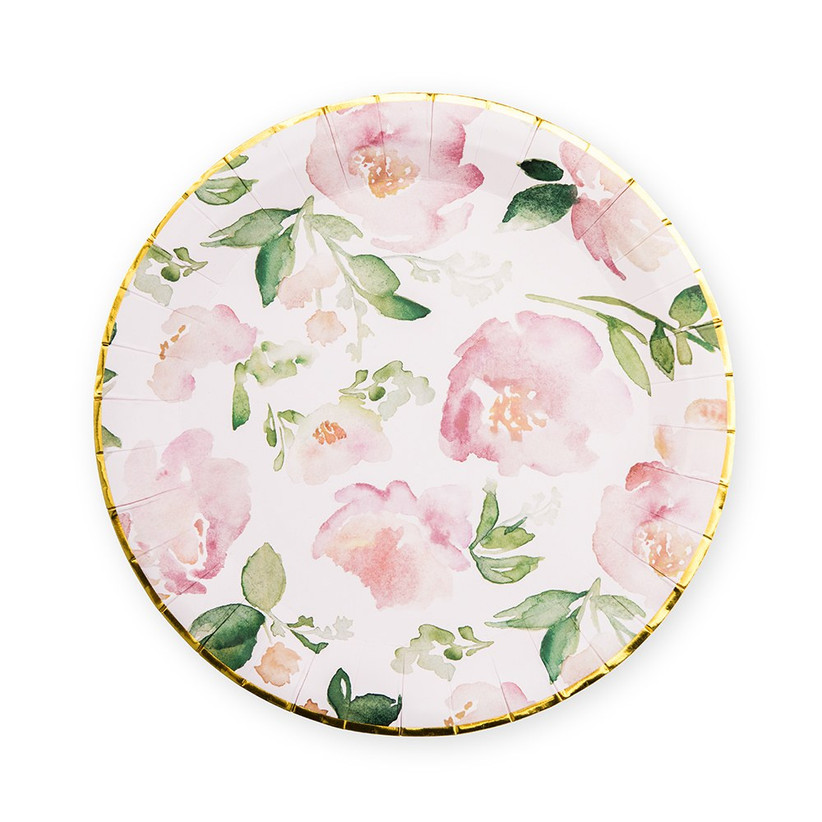 A garden party is a super popular theme for an engagement party. If that's the route you'll be taking for your celebration, you'll love these beautiful floral plates. Floral watercolors in soft shades of pink and green make these plates the perfect accompaniment for your table—they're a great way to round out your engagement party decorations.
WeddingWire Shop garden party floral paper plates, $5 for 8, WeddingWire Shop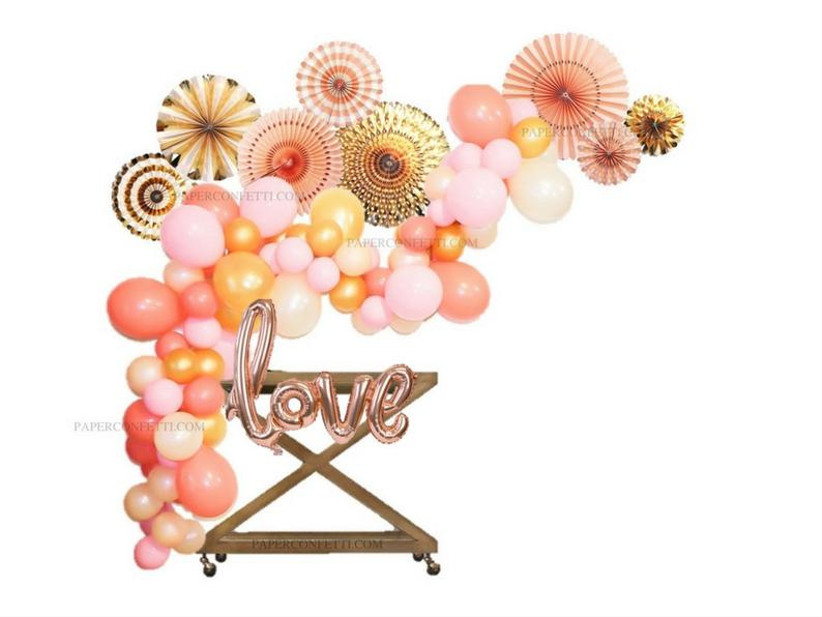 Your engagement party decorations can be super duper extra when you opt for this enormous 59-piece decoration, complete with multicolored balloons and paper fans. You can be sure your engagement party will be one to remember! We love the coral-hued color scheme, but it's available in lots of other colors, too.
Paper Confetti Dot Com 59-piece engagement decoration, from $7, Etsy
Can't come up with a theme for your engagement party? Why not get creative and have everything be ring-shaped? These bold plates make for creative engagement party decorations, and trust us—no one will forget why you're celebrating!
WeddingWire Shop large diamond paper plates, $6 for 8, WeddingWire Shop
These creative engagement party decorations allow you to boldly state your love for each other—with food! Fill these L-O-V-E dishes with nuts or other finger foods, or even sweet treats like M&Ms at your engagement bash for a cute display your guests will "love."
WeddingWire Shop love plates set, $37, WeddingWire Shop
This attractive banner definitely deserves a spot among your engagement party decorations. It's a two-strand banner, with each of your names on one level, and the word "engaged" on top. Able to be personalized up to 16 characters, this banner arrives on heavy cardstock for a professional look you're sure to love.
The Banner Company engagement party banner, $24, Etsy
And speaking of banners, why not string up this sparkly one to proclaim your newly engaged status as guests enter your engagement party. It's available in glittery gold, silver or black to match your décor, and comes with or without rings.
Show Pony Party Shop engaged banner, $14, Etsy
Don't forget to add napkins to your list of engagement party decorations! They may seem like such a simple detail, but your guests will be impressed with these adorable napkins, which state, "We're so engaged" along with your names and the date you said yes.
WeddingWire Shop We're So Engaged print napkins, $16 for 50, WeddingWire Shop
If you're looking to go all out with creative engagement party decorations for your bash, these adorable ring-shaped pom poms are sure to fit the bill. They come in a set of 3 so you can hang them from the ceiling or in a doorway.
Hooray Days engagement ring decorations, $8, Etsy
For creative engagement party decorations, stick with a particular color and incorporate it throughout the event. These paper pom poms are a quick and easy way to adorn the ceiling of your chosen venue with festive color.
WeddingWire Shop small paper pom pom, $1 each, WeddingWire Shop
If you'll be throwing an engagement party, you need some sweet treats! And there's no better way to celebrate your impending union than with cupcakes topped with these cute little glittery rings. For just a few dollars, you can create some blingy cupcakes your guests will love.
TKMOS ring cupcake toppers, $7 for 50, Amazon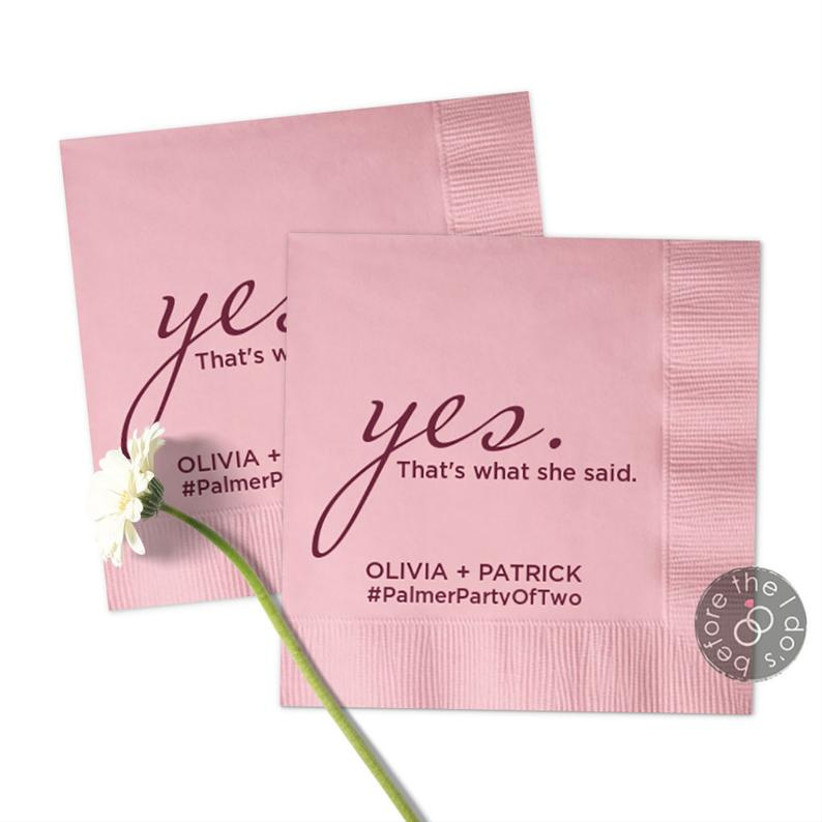 It's nice when something as simple as napkins can double as engagement party decorations. And that's what you'll get when you opt for these cuties with the phrase, "Yes. That's what she said"—perfect for The Office fans. They're available in an array of napkin colors, and ink colors too, so no matter what kind of theme you've chosen, these party napkins will fit right in.
Before the I Dos napkins, $37 for 50, Etsy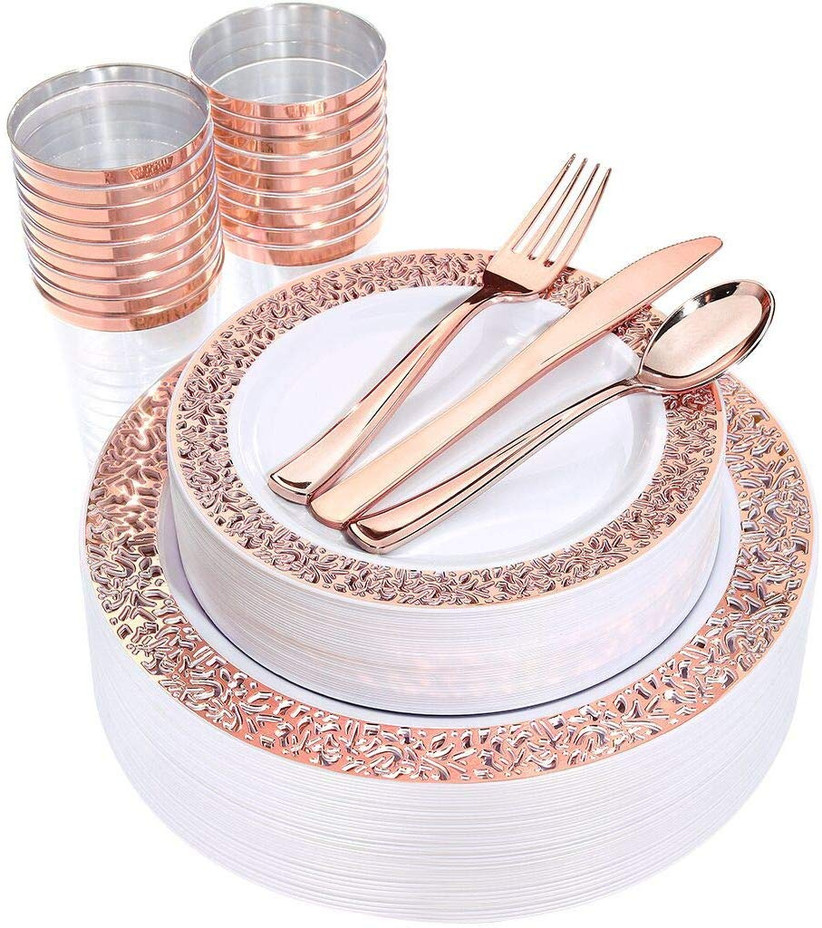 This set of engagement party decorations from Amazon has everything you need to throw a fancy, rose gold affair. It comes with dinner plates, dessert plates, cups and silverware, with enough to provide for 25 guests. Pair these with some of the cute engagement napkins on our list for the perfect table setting for your party.
WDF disposable rose gold dinnerware, $37 for 150 pieces, Amazon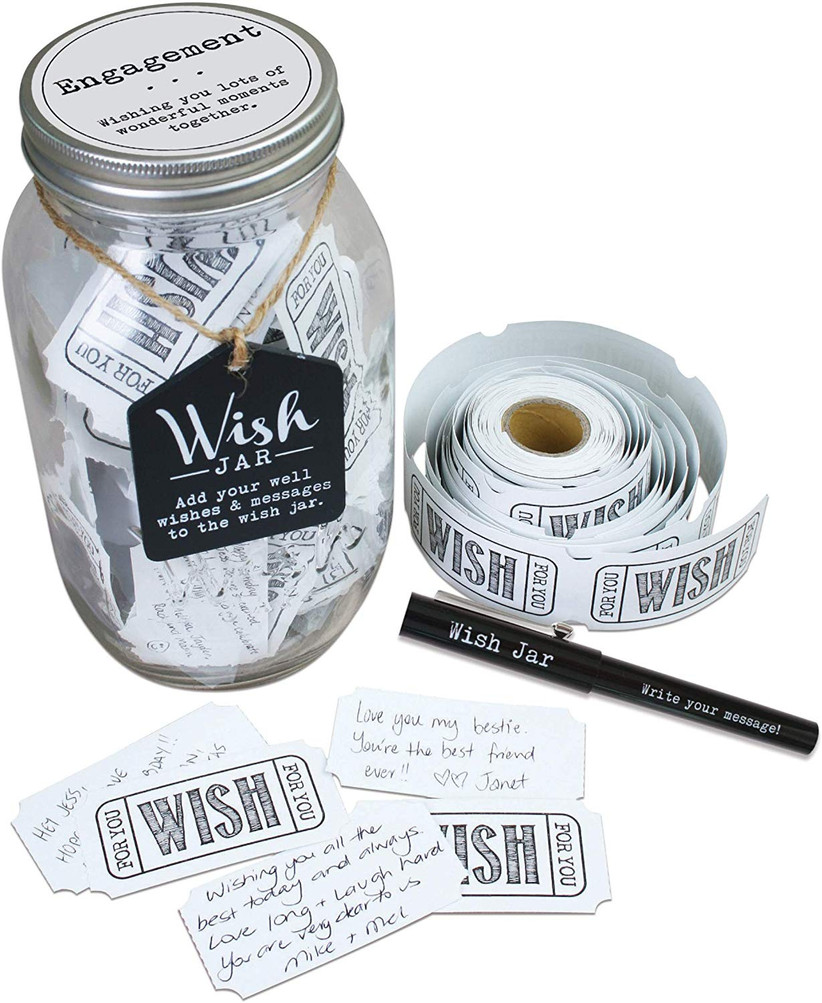 Here's one of our favorite creative engagement party decorations: it's a wish jar you can set up as guests enter your party, where they can each write down their special wish for you. You'll have a blast going through all their responses, from the sentimental to the hilarious. Jar comes with a pen and a decorative lid.
Top Shelf engagement wish jar, $17, Amazon
For an elegant, modern spin on your engagement party decorations, why not opt for this lovely geometric centerpiece? It holds either a candle or flowers, and it'll work just as well at your wedding reception as it does at your engagement party.
WeddingWire Shop tall gold geometric centerpiece, $19, WeddingWire Shop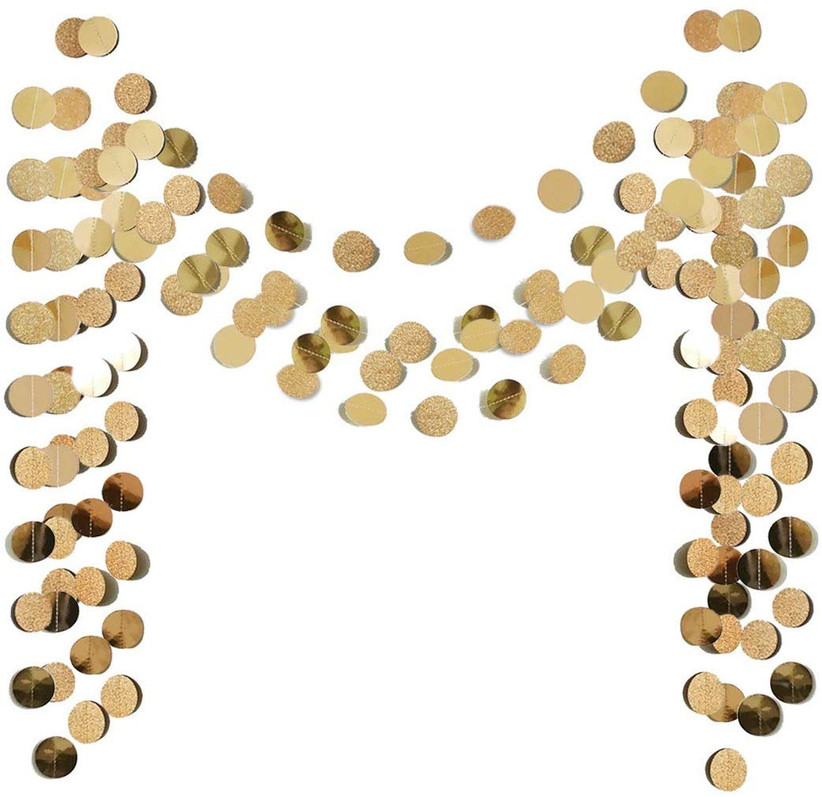 Party on! This stunning gold garland is the perfect engagement party decoration, no matter what your theme. It's beautiful and festive, and can be used in a ton of different ways; use it to adorn your food table, as a backdrop for your photo booth, or hang it in the doorway to make your grand entrance!
TTSAM gold glitter garland, $10, Amazon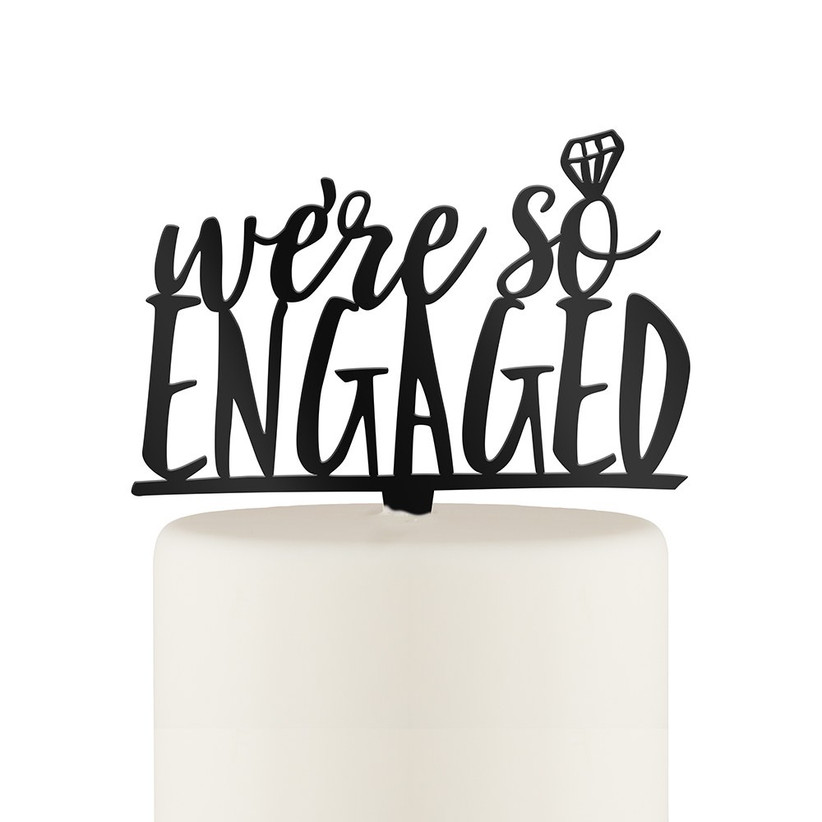 Flaunt your newly engaged status with this cute little cake topper that boldly proclaims, "We're so engaged." Just in case anyone was left wondering.
WeddingWire Shop We're So Engaged acrylic cake topper, $19, WeddingWire Shop
Disclosure: This post contains affiliate links, some of which may be sponsored by paying vendors.