22 Cute Engagement Announcement Ideas You'll Want to Copy
Trust us—you won't want to spill the beans until you've seen these cute and creative engagement announcement ideas.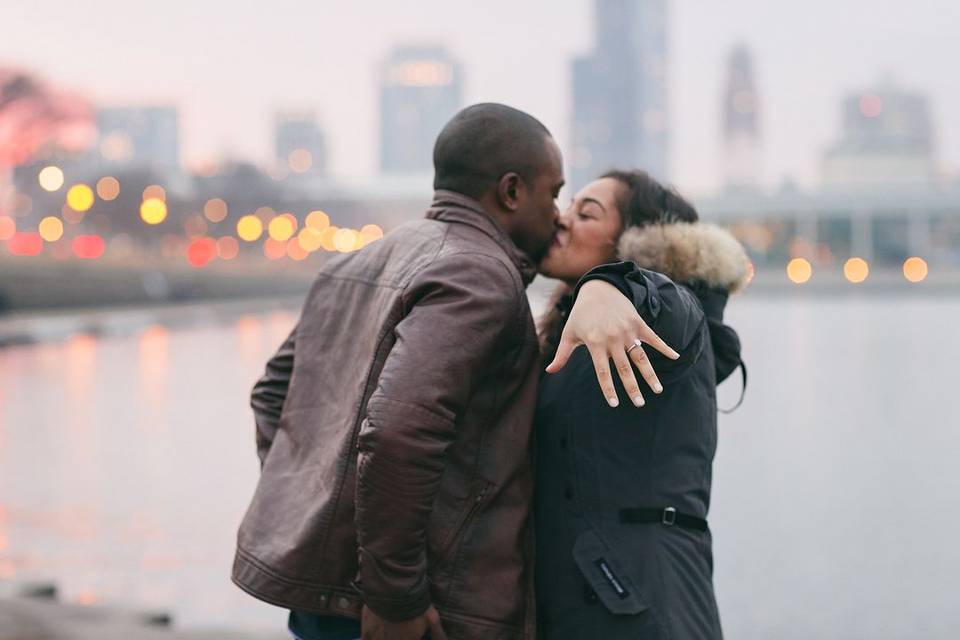 Congrats, you're engaged! Now how do you share with your family and friends that you said yes (or better yet, announce it to the world)? Start with these engagement announcement ideas that you can easily recreate with the help of your engagement photographer. From statement-making engagement ring shots to the cutest engagement announcement signs and unique photo ideas for your save-the-dates, all the inspo you'll need to reveal that you and your S.O. are officially together forever is right here. Ready for more? Check out these creative and romantic engagement announcement ideas.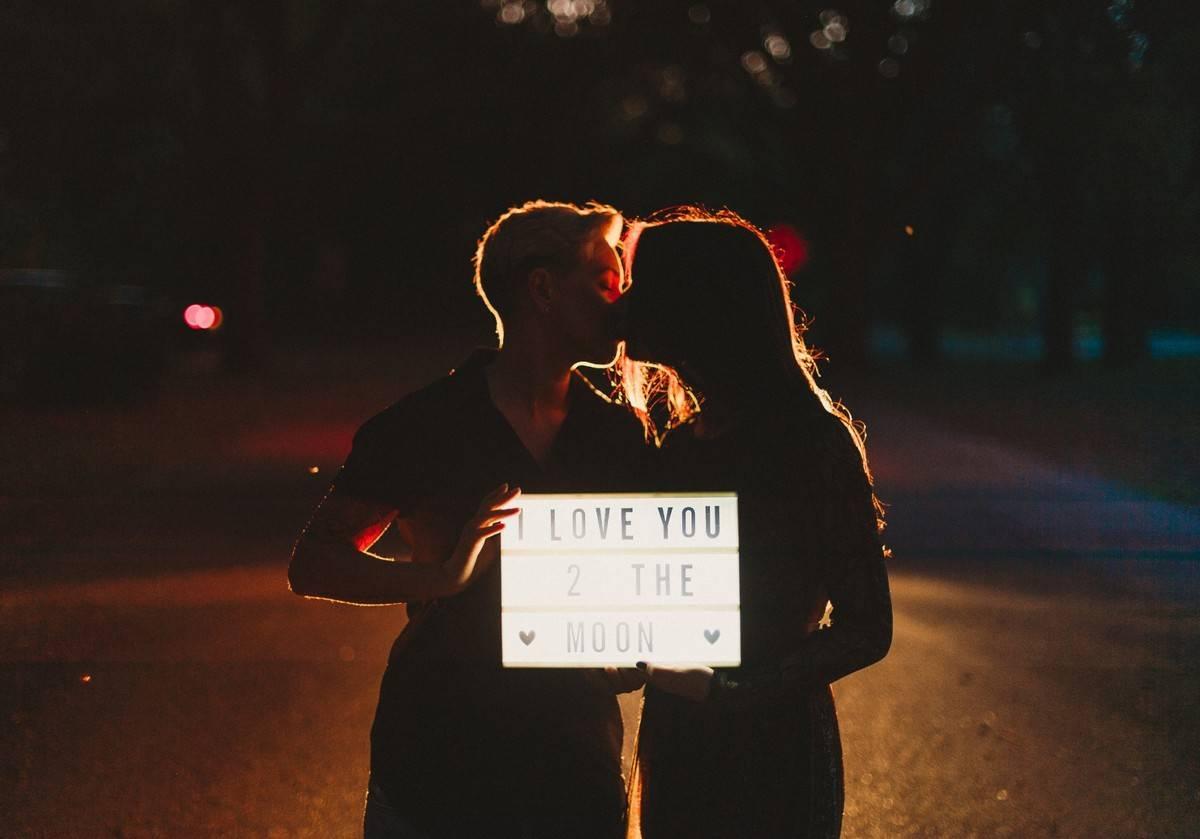 Lightbox sign
For a totally unique way to announce your engagement, plan a nighttime shoot with your photographer. Bring a battery powered lightbox sign to display a cute quote or your wedding date, if you've already decided when you're getting married.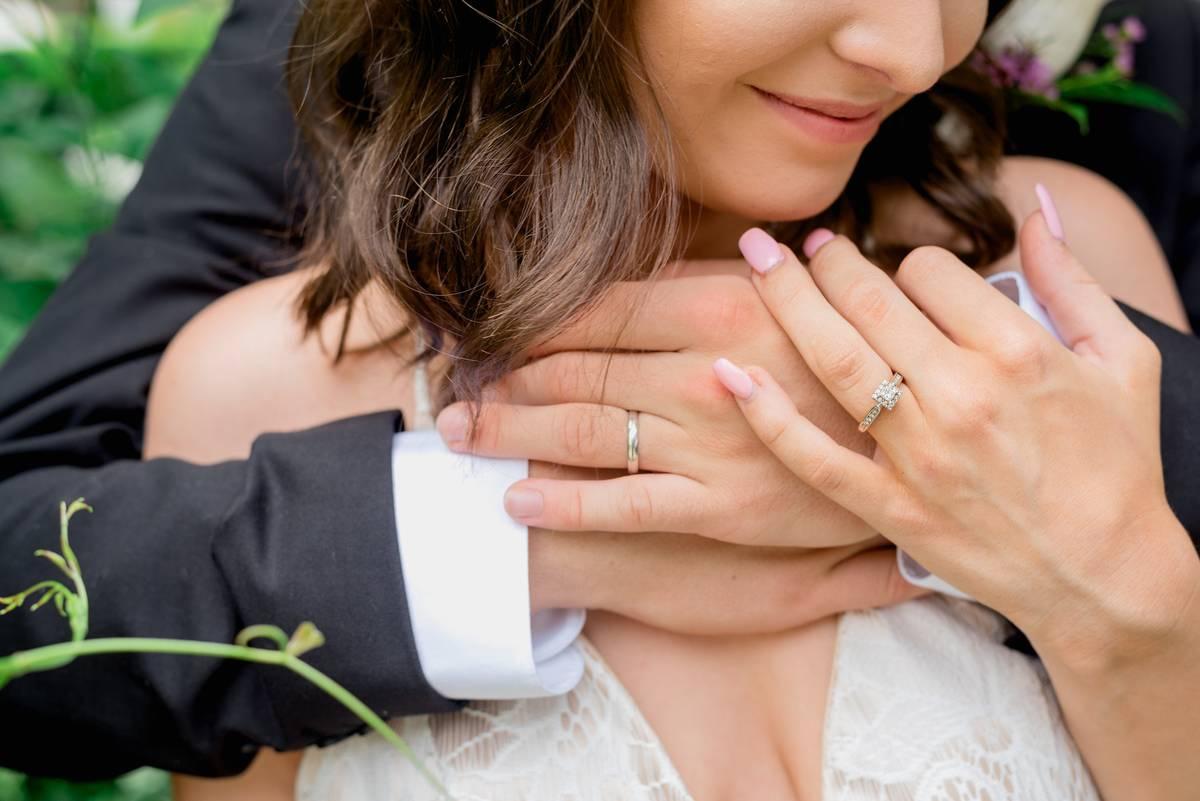 Close-up portrait
What's cuter than Eskimo kisses? An intimate close up with your engagement ring in clear view is a subtle and sweet way to say, "I'm engaged," while showing off that bling.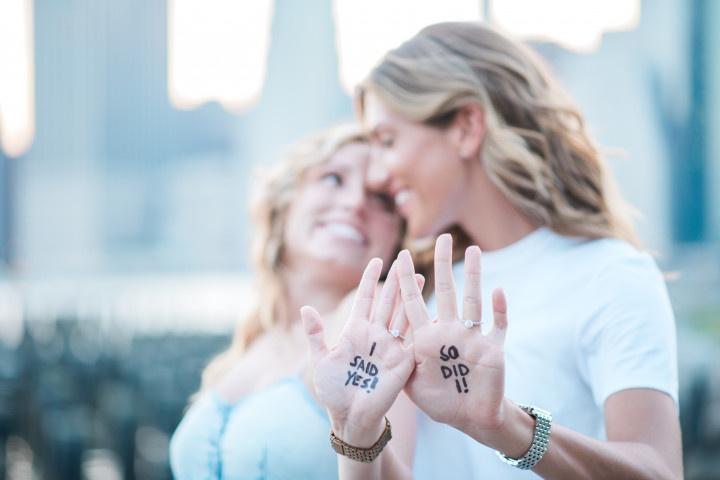 Hand-written messages
Write your excitement on your palms—and spin those rocks around so no one misses their sparkle—with this super-cute (and easy!) engagement announcement idea.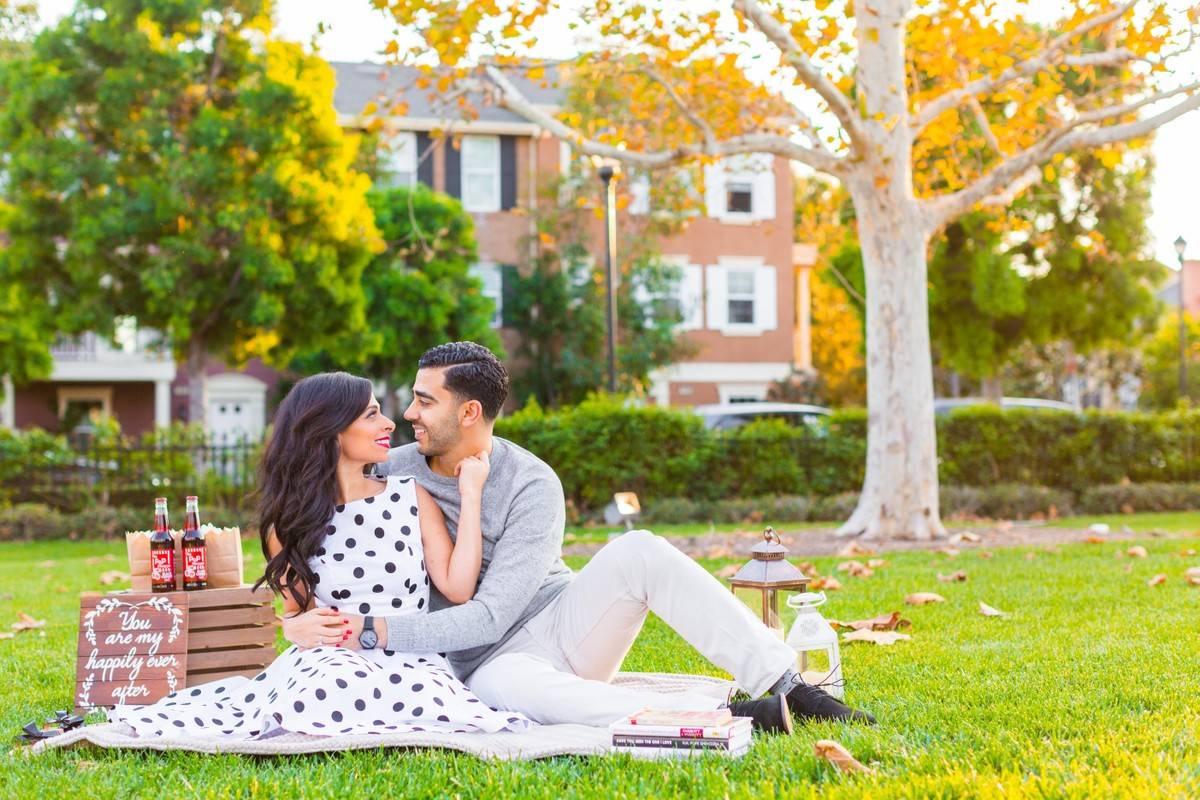 Outdoor picnic
This adorable engagement announcement photo idea can be as simple or as styled as you want. Either way, we recommend adding a sign with your favorite love quote, wedding date, or other sentimental phrase to let everyone know the big news.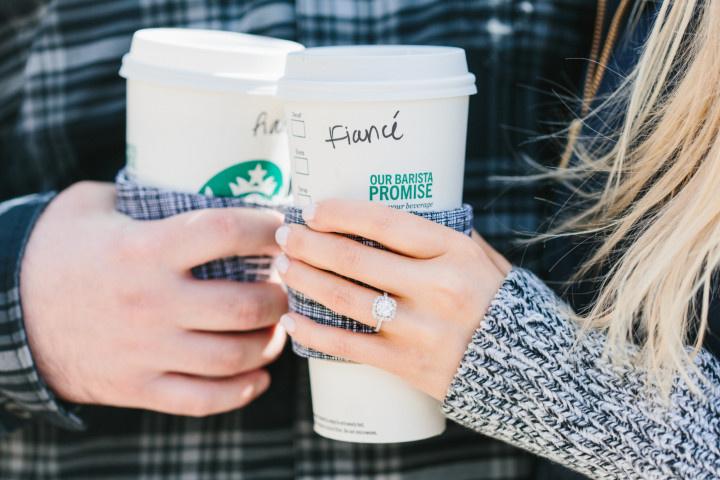 Coffee cups
One of our favorite engagement announcement ideas! Grab Starbucks for a cozy fall photo and a creative way to announce your new relationship status. Have the barista write "fiancé," "Mr." and "Mrs.," or "I asked" and "he/she said yes," on each cup, respectively.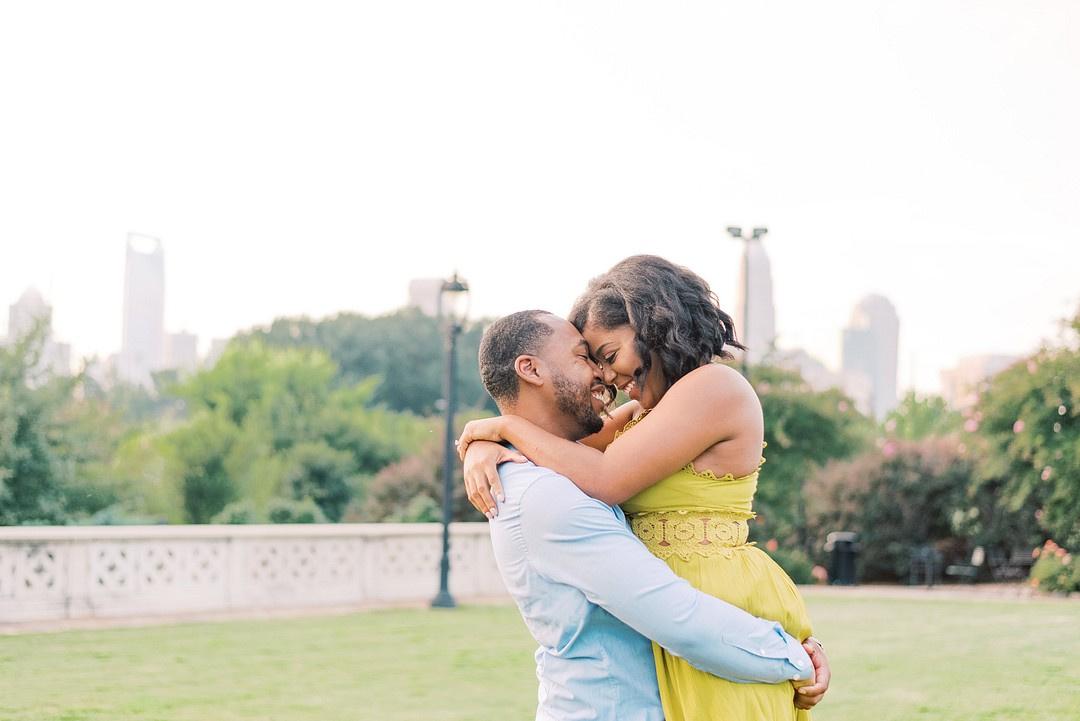 Candid portrait
Your engagement announcement doesn't have to be anything over-the-top—in fact, some of the cutest moments will come from you and your S.O. simply being yourselves. Embrace your newly engaged bliss and your photographer will handle the rest!

Furry friend
Get your pet involved for a cute fam shot—ring included, of course! Consider it their first training lesson if you're planning to have them as part of your big day.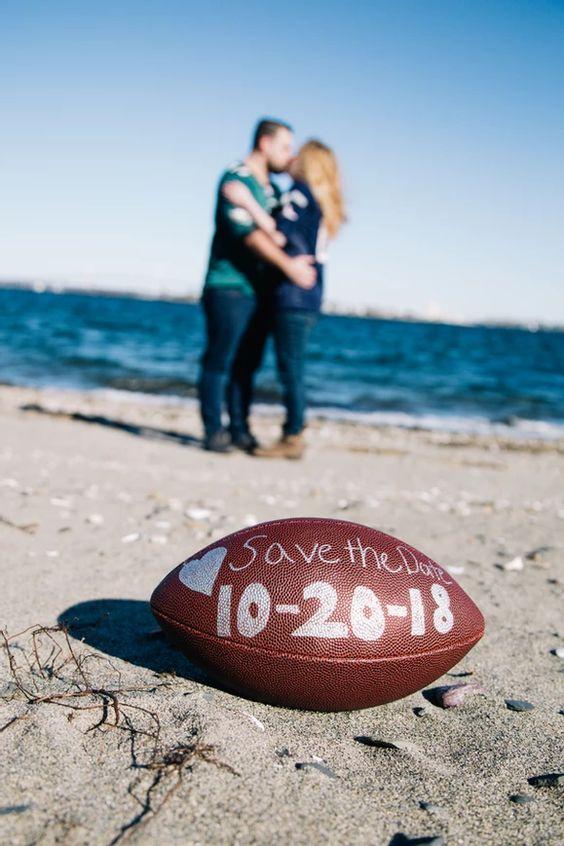 Save-the-date football
Grab your favorite jerseys, a marker, and a brand-new football to recreate this cute engagement announcement idea. It's the perfect way to show off your love of the game—even if you can't agree on a team.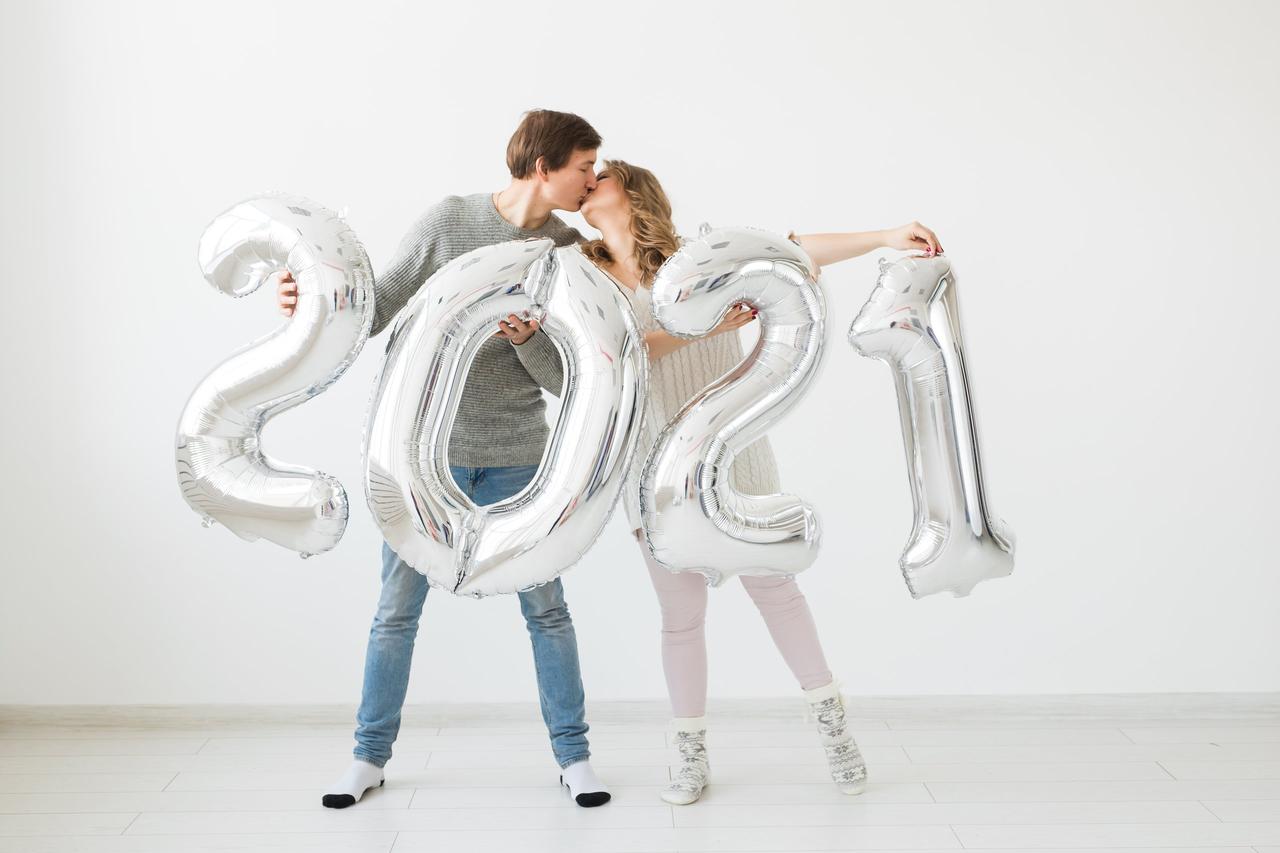 Mylar wedding date balloons
If you've got the date set, display it with fun and playful metallic number balloons for a touch of whimsy. Try our wedding date finder if you're still deciding when to get hitched.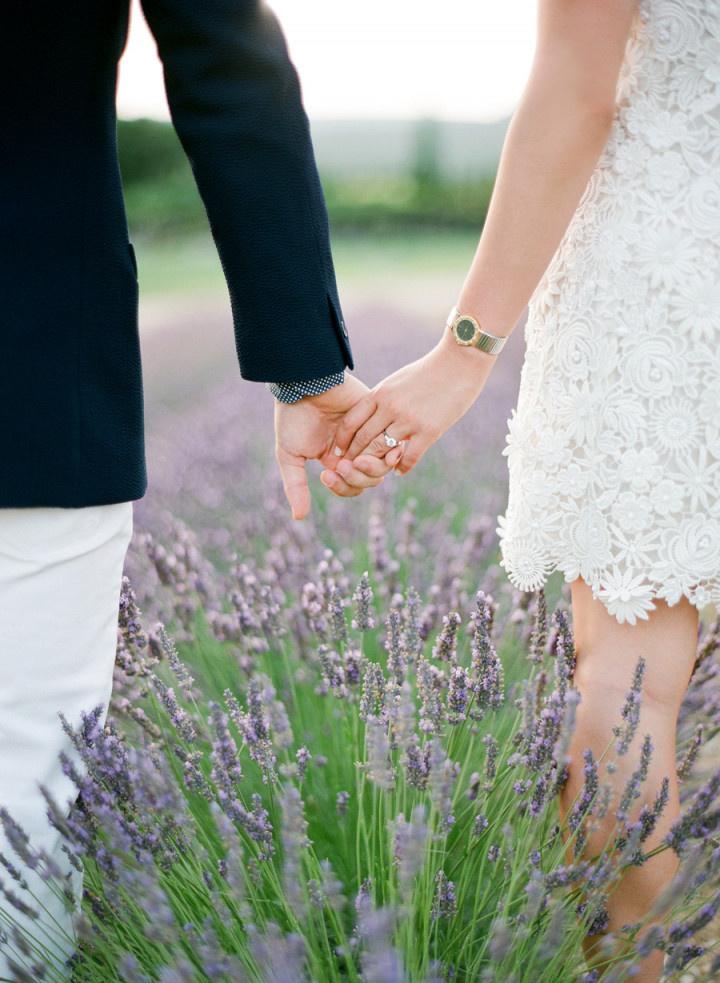 Holding hands
There's just something so adorable about holding hands (especially in a sweet field of lavender). It says, "we're in this together" and gives you an excuse to display that ring.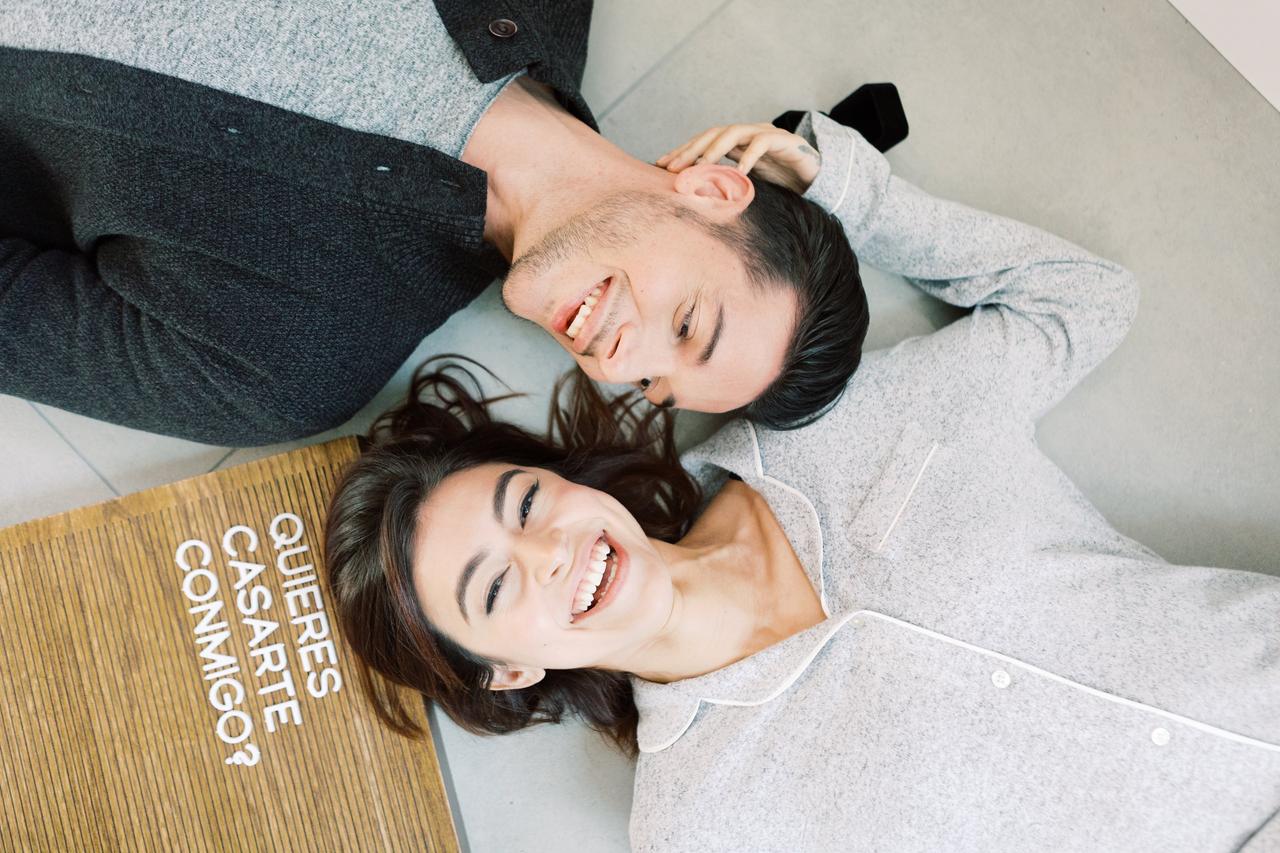 Proposal sign
If your S.O. used a "will you marry me?" sign or something similar during your proposal, it can be a great addition to your engagement announcement photo—especially since everyone will want to know exactly how they popped the question.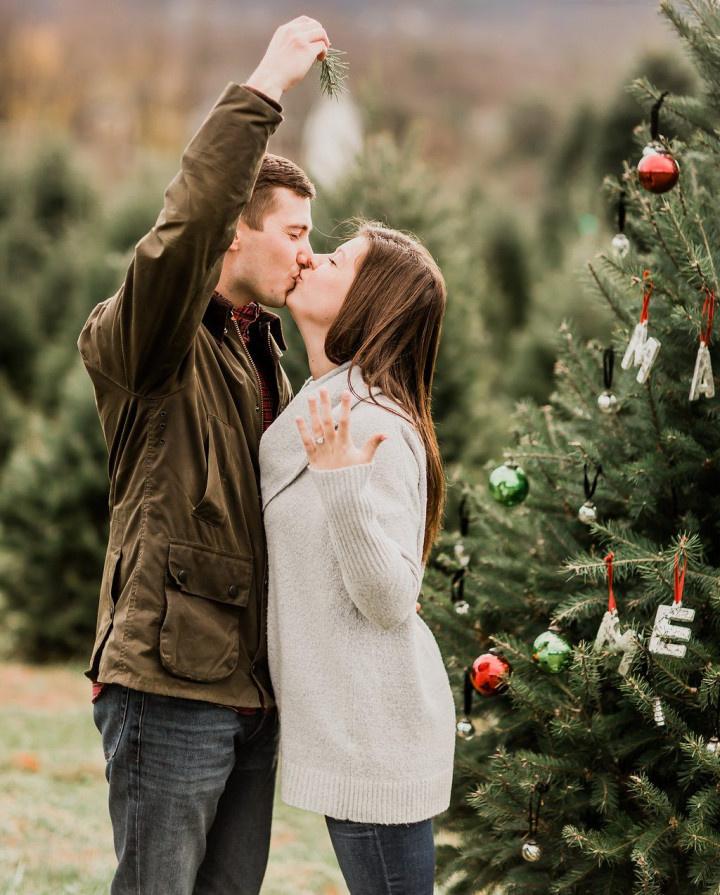 Mistletoe engagement announcement
Behold, the perfect couple's Christmas card idea: announcing your engagement at an evergreen tree farm under a festive piece of mistletoe.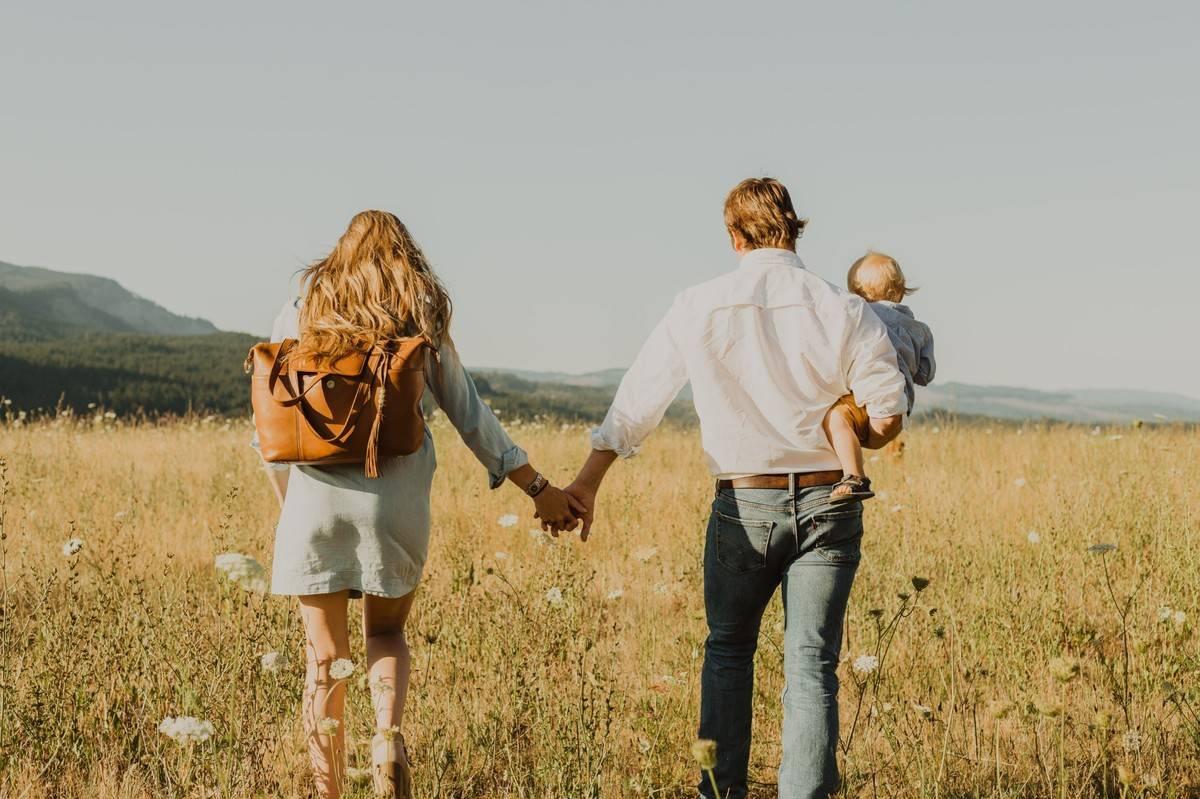 Family photo engagement announcement
If you have a little one but you're not married yet, a sweet photo of the three of you is an adorable way to let everyone know you're taking the next step as a family.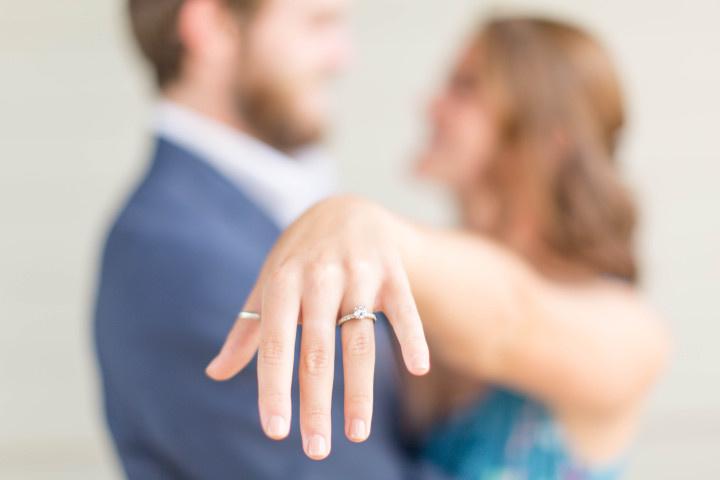 Engagement ring front and center
Why be subtle when your ring is as dazzling as this? Put that sparkler in the limelight with a simple but frame-worthy engagement announcement photo.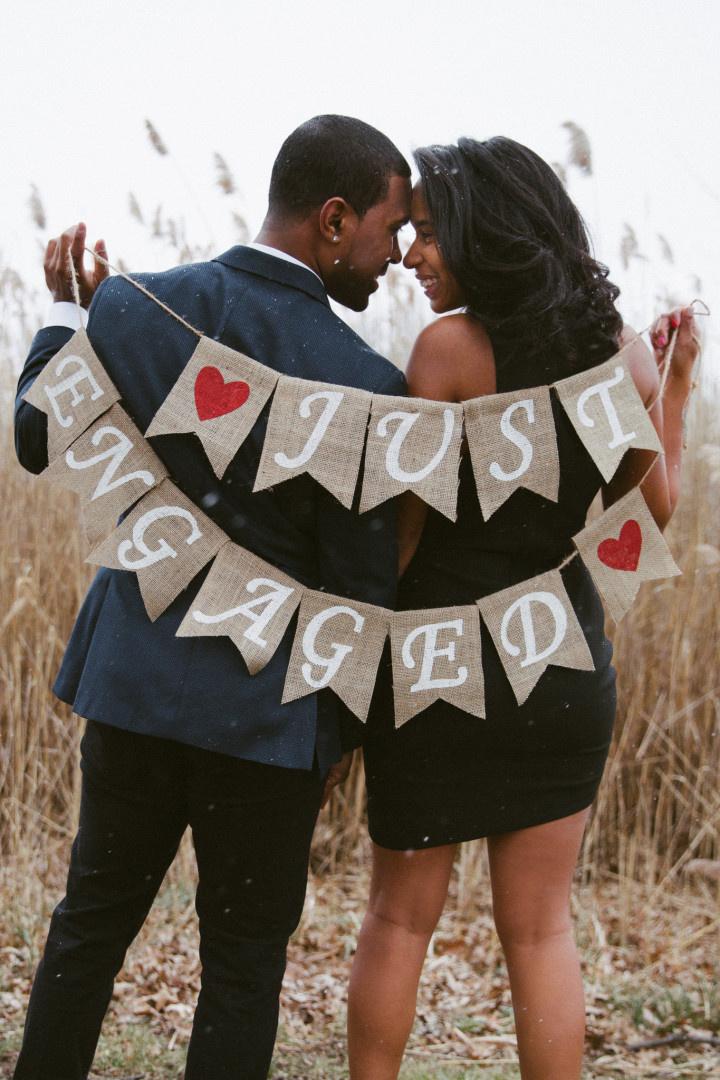 Burlap bunting engagement announcement
Seriously, how cute are these two? Your just-got-engaged status can't get much clearer than this! A burlap banner declaring your big news is romantically rustic.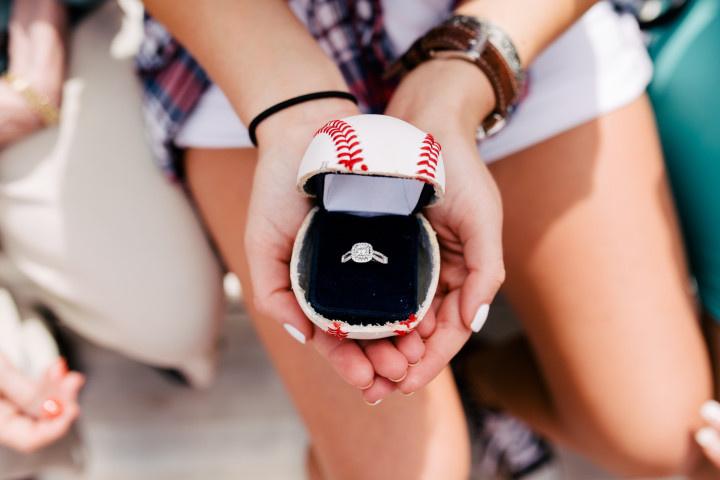 Baseball engagement ring box
If your partner proposed with a unique ring box, why not include it in your engagement announcement? Take this baseball-themed ring box as a creative example.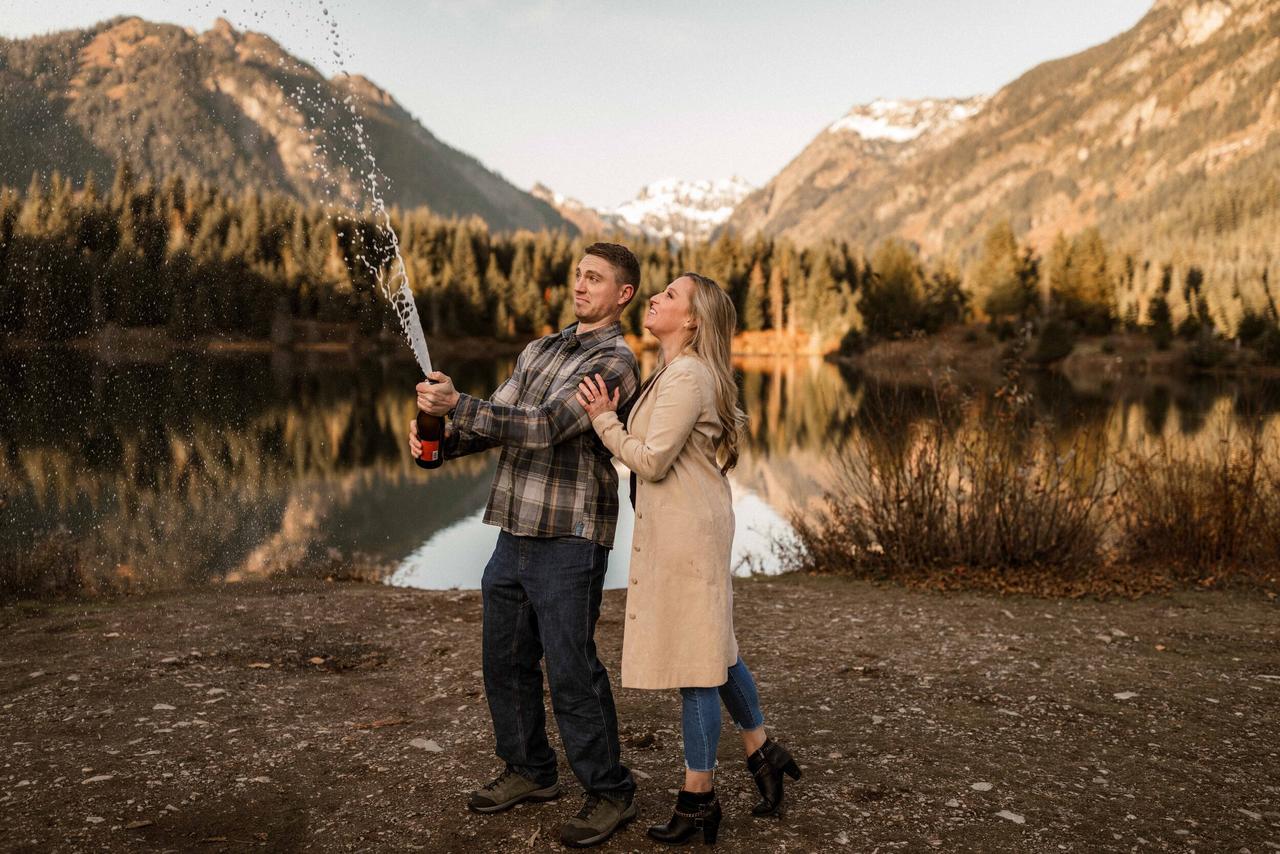 Champagne engagement announcement
We can't think of a better occasion for a toast! A bottle of champagne gives off the perfect celebratory vibe (save the fancy stuff for sipping—grab a budget-friendly bottle you can use solely for recreating this spray photo).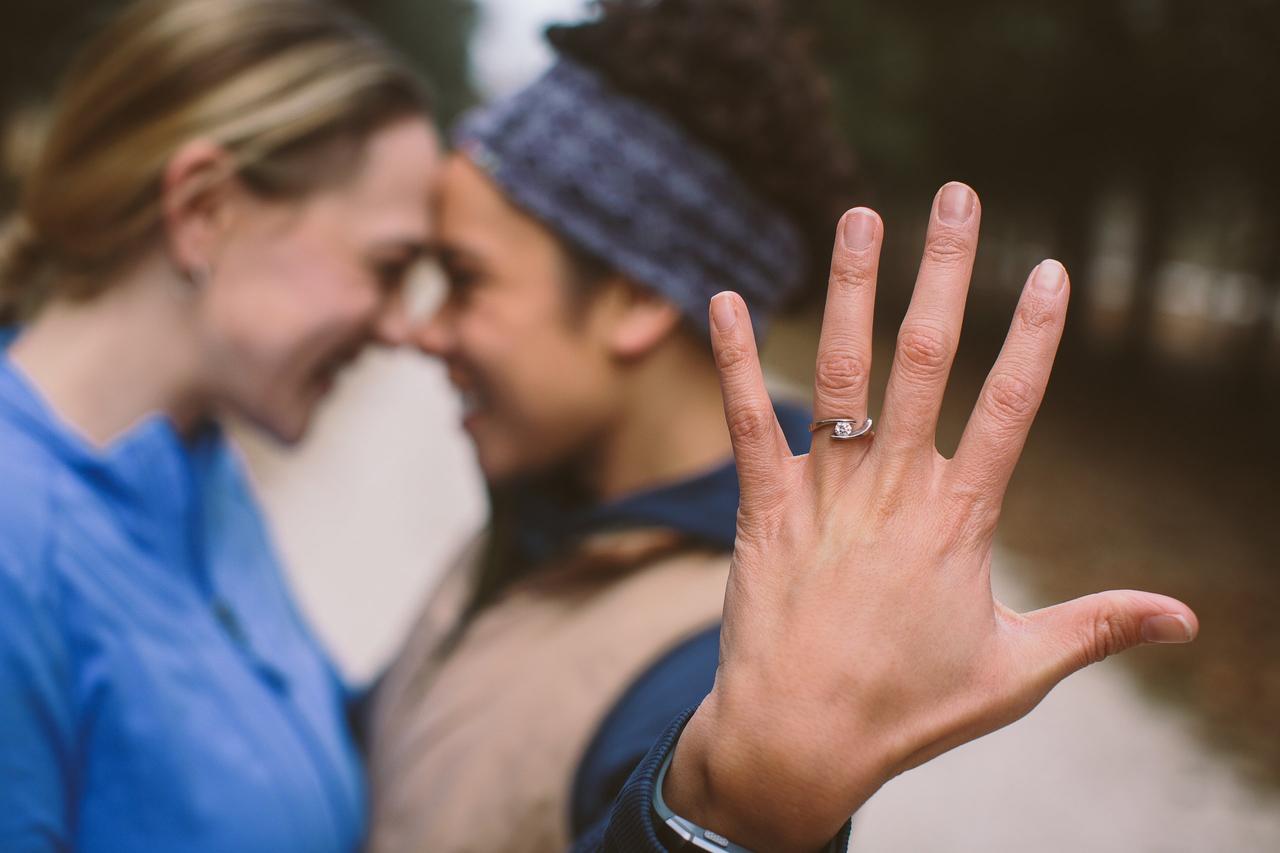 Out-of-focus pose
This cute engagement announcement idea captured with an out-of-focus mode expertly draws the eye right toward the big dazzler.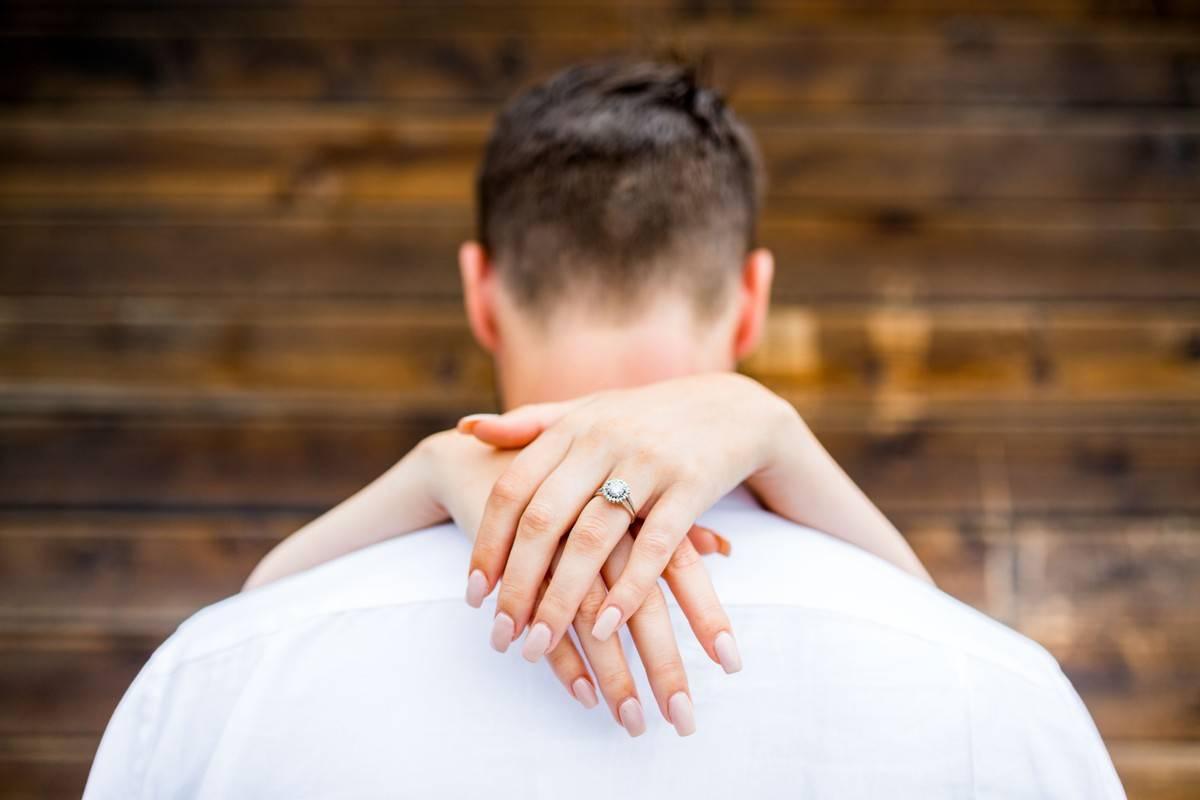 Over-the-shoulder hug
Wrap your arms around your S.O. for one of the sweetest engagement announcement photos that captures both your love and your new piece of hardware. It's also the perfect reason to spoil yourself with an at-home manicure if you can't get to the nail salon.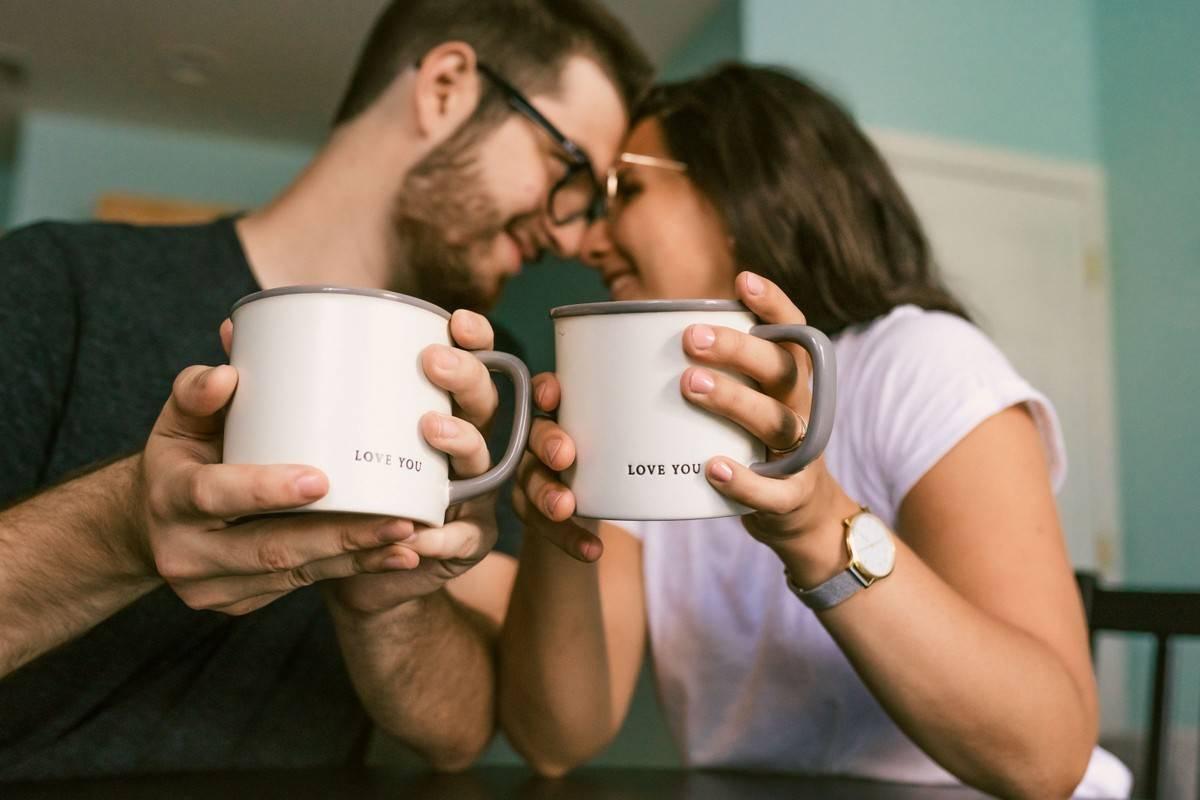 Engagement photos with ceramic mugs
There's nothing as intimate or authentic as at-home engagement photos. Curl up with your partner and some lovey-dovey mugs for a laid back, down-to-earth way to announce your engagement.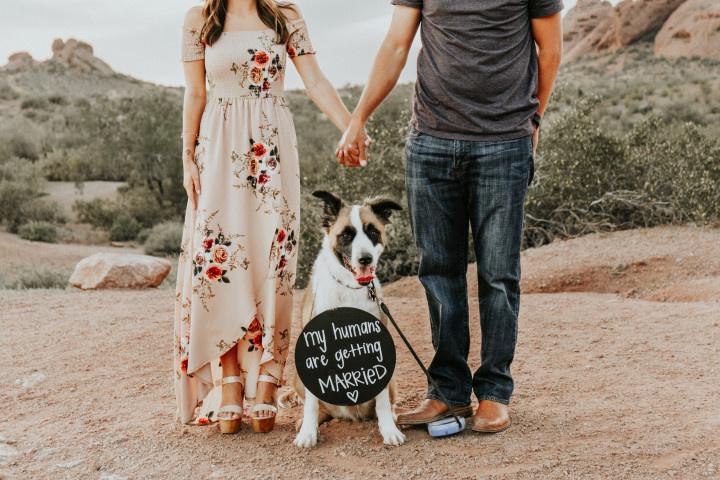 Chalkboard sign
What's more exciting than mom and dad getting married? Leave it to this cute pup to make quite the engagement announcement idea (and see more pet wedding ideas right here).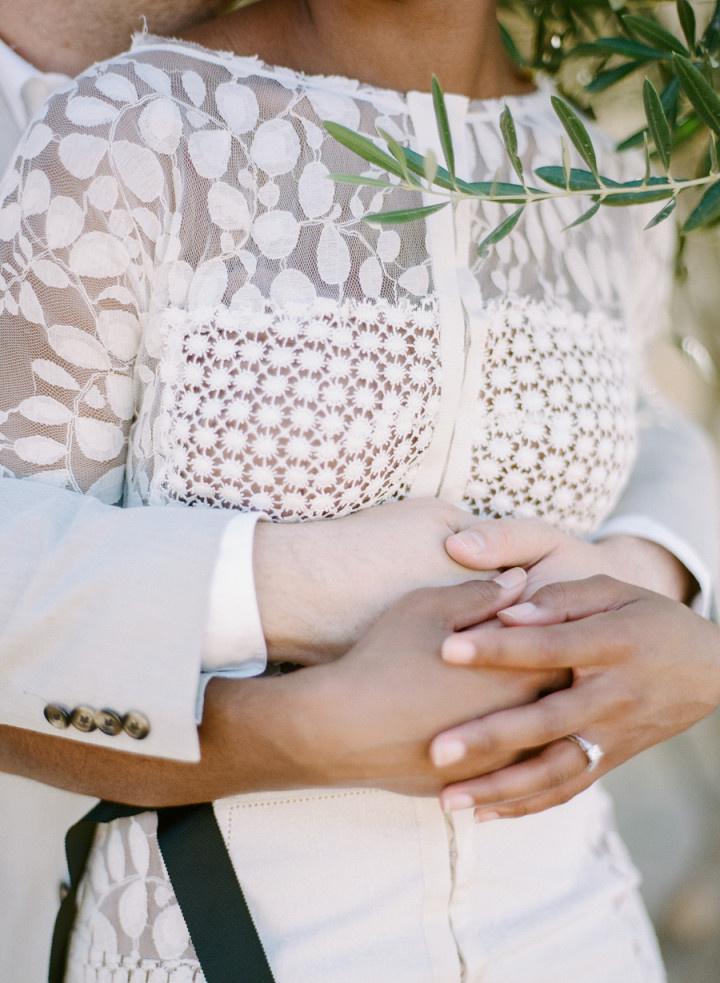 Hands around waist
The sweet gesture of a tight embrace says "forever" when complemented by a shiny engagement ring.