6 Engagement Photo Shoot Ideas and Tips
Ready to take your pre-wedding photos? Check out our top tips for a successful engagement photo shoot.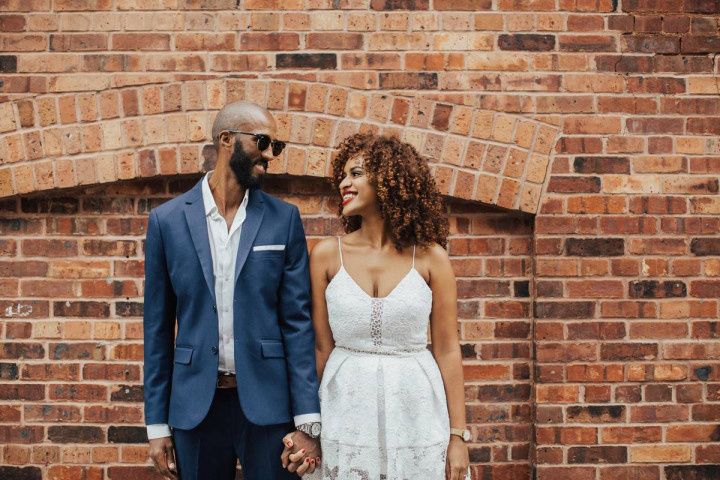 An engagement photo shoot is a great way to get acquainted with your photographer and to have a lasting memory of this amazing time in your life. You can also use engagement photos for your save-the-date, guestbook, or other wedding décor. But you only get one shot at an amazing engagement photo shoot, so you'll want to make the most of your photo sesh.
Here's some helpful advice on how to have a truly amazing engagement photo shoot.
Find a talented and personable photographer.
Check out WeddingWire's vendor directory to find a photographer near you. It's always a good idea to interview several photographers to find the one you and your partner best "click" with. You'll be spending a lot of time with your photographer, so it's best to make sure that he or she is someone you actually like. Ask potential photographers to share examples of engagement photos so you can see their work and get ideas for your own photo shoot.
Figure out the date and time.
Usually an engagement photo shoot occurs at least two to three months before your wedding date. And while most engagement photo shoots occur in warmer weather, there's nothing wrong with a gorgeous winter engagement shoot either—just bundle (and snuggle) up! Also, consider the timing of your engagement shoot—the light is usually at its most flattering at sunset or first thing in the morning.
Pick the right place.
When deciding on a location for your engagement photo shoot, think about places that are meaningful to you and your partner. A local park is a classic option, but also think about the streets of the town where you live, a historic landmark you like to visit, the spot where you got engaged (or first met!), or even a favorite café. Also consider seasonal locations, like a pumpkin patch in the fall, the beach in the summer, or a botanical garden in the spring! As long as you're comfortable in the location, anything goes! You can have even take your engagement photos at home, if you so desire.
Coordinate, don't match.
Picking an outfit may be the most stressful part of your engagement photo shoot, but there's no need to fret. You and your significant other don't need to perfectly match, just wear clothes in colors that look good together. Also make sure that you coordinate in terms of formality–if he's wearing jeans, don't put on your fanciest dress. Avoid bold patterns, and steer clear of brand-new clothing (and shoes!) that you're uncomfortable moving around in. You want your engagement shoot to reflect your personal style, so make sure your ensembles reflect that. And don't forget to bring a change of clothes or two, just in case.
Bring props.
This isn't a must, but if there are certain items that speak to your relationship, feel free to bring them to the photo shoot. A picnic lunch, favorite books, a board game you love, even your pet–props, so long as they don't look forced, can help add a personal touch to your engagement photo shoot—and help you remain comfortable and relaxed while your photographer is taking pictures.
Act natural.
It can be difficult to be yourself in front of the camera, but if you focus on your partner and not the photographer snapping away, it can be easy! Try to avoid too much posing, and definitely get up and move around! If you're not majorly into PDA, it's no biggie, but definitely show some affection, even if it's just holding hands or sharing a loving gaze. Listen to your photographer, as a talented pro will know the best angles and poses to ensure you look (and feel!) your best.