9 Quirky Tricks Wedding Photographers Use to Capture Amazing Photos
Some of these photographer-approved secrets may surprise you.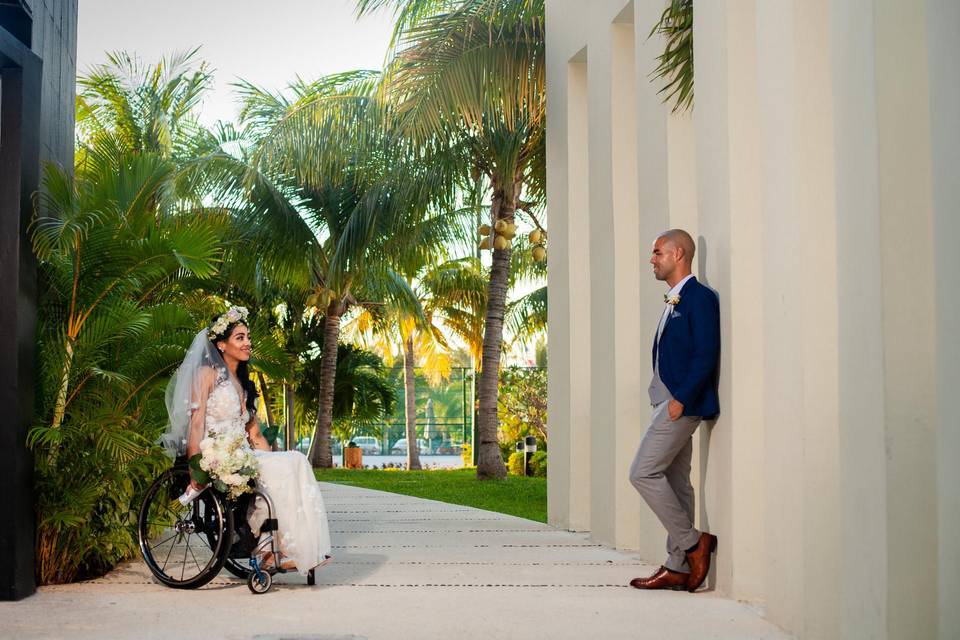 While some parts of wedding planning can be stressful (like budgeting and family disagreements), others are super-exciting. For most couples, picking a photographer to capture the special day is a fun experience, since you can browse through websites, poll your friends for their advice, and ultimately, pick someone who will make you feel comfortable. And, of course, take images you'll treasure for a lifetime.
As you drool over photographer portfolios, you may be amazed by what they're able to snap a photo of: a dog looking straight at the camera, a kiss that seems so natural and romantic, or the perfect gust of wind floating through a wedding dress. While these are dreamy images, they require much practice and some cool, quirky tricks from expert photographers. So, how do they do it? Here, we asked them to spill their secrets:
Set the tone.
When photographer Bobbi Brinkman of Bobbi Brinkman Photography in Savannah, Georgia first meets a couple for engagement photos, she does her best to set the scene so they are comfortable and at ease for the session. "I explain that no matter what happens in the next half hour, there will be no laugh-out-loud moments that result in that ugly laugh face," she says. "At this point, I am standing in front of them and ready to immediately capture that ice breaker expression. These are often some of the most favorite images from the session."
After getting the couple warmed up in front of the camera with some simple standing in one spot poses, she says it is time to go to the next level, moving photo poses, so asking the couple to hold hands and walk toward her. As they walk, they bump their hips together, like the old disco dance craze. Usually, she says, this results in the most genuine expression of joy.
Make a high-pitched noise to get the attention of children and animals.
For many duos, their pets and/or their children are a must-have for wedding or engagement photos. Since a marriage ultimately creates a family, wanting these beloved fur or human babies as part of the experience makes it that much more memorable. However, it's not always getting the attention of these creatures and distracted toddlers. That's why photographer Victoria Grace of Victoria Grace Photography in Asheville, North Carolina has developed a high-pitched dolphin-sounding noise that makes these unruly subjects look directly at her. "I honestly cannot tell you how many times adults thought maybe I had a squeaky toy in my pocket," she adds.
Joke about a runaway bride or groom.
Sure, no one wants a Julia Roberts situation where the bride or groom is nowhere to be found. Hopefully, this isn't even a possibility for most couples, so it can be okay to joke about the funny thought, says Maureen DeVries of M.E. Photo & Films in Cancun, Mexico. She often says, 'You can still run away, you know?!' to break the ice. "Usually, the situation is pretty tense because of all the emotions," she continues. "This phrase always creates laughter and immediately relaxes the situation. They are instantly relieved, and it shows in the photos."
Ask couples to talk about their next meal.
When you see a photo of a couple wrapping their arms around one another, looking lovingly into each other's eyes and smiling, you may think they're thinking about the life they'll share together. In reality, they are probably being prompted by their photographer to discuss something entirely different. As an example, Grace says she often asks one of them to whisper their favorite meal, like, "I can't wait to get out of here and get burritos and nachos." This usually works, she notes, because it's true!
Follow the wind.
DeVries says everybody loves a photo of a pretty flowy wedding dress in the wind. However, it's impossible to predict the weather forecast, so a natural shot isn't a reality for all wedding days. Instead, she asks a bridesmaid or even the bride's partner to help her create this photo. "Throw it up in the air and let the wind do the rest of the work. It creates texture and much more dynamic visuals," she says.
Skip the "cheese" with young kiddos.
You may be accustomed to saying "cheese" when a photographer snaps your photo, but photographers get a little more creative with their cues for unique reactions. When Grace is shooting elementary-aged students, she takes a different route, like 'say stinky feet soup' or 'say broccoli Pop Tarts.' "They say it, hear it, and then giggle." That makes for the best image since it's a genuine reaction.
Try some, ahem, dirty talk.
Since you are spending your life and sharing your home with your partner, you probably have some PG-13 and X-rated thoughts about them. DeVries dives into this intimacy by encouraging dirty talk. "During the couple session, you want some spontaneous moments. So when the couple is holding each other, I often tell one person to say something dirty or silly in the other's ear that they know will really make their partner laugh," she continues. "It makes for an awesome and super natural shot."
Capitalize on the dance floor.
Photographer Amy Sims of Amy Sims Photography in Kew Gardens, New York takes pride in her dance floor shots because she makes herself part of the action. "Trust me, if you want someone to stop dancing, shove a camera in their face," she continues. "In order to avoid this and get some seriously remarkable, bizarre, and glorious dance floor shots, I hit the dance floor myself! Once they see me dancing, they let their guard down, and I get the shot I'm looking for, which is people feeling free and having fun."
Encourage lots of smooches.
DeVries says it's not always about the kiss. In fact, it's the moment right before the smooch where all of the magic happens. That's why she lets couples know that you'll ask them to kiss several times, but you won't deliver just "kissy" photos, but instead use that spectacular moment of their expressions just before the kiss. "Of course, everybody wants a few kissing photos, but not all of them. It's great to explain your intention, so they don't feel like they are just kissing all day long," she adds.