We've all seen those wedding photos where the couple looks effortlessly amazing, relaxed, and absolutely radiant with happiness. For those of us who aren't accustomed to striking a pose in front of the camera on a regular basis, figuring out how to take wedding photos can be a bit (or extremely) daunting. That's why hiring a professional wedding photographer is so important. Your photographer will ensure that you and your spouse look incredible, even if you're feeling more super-awkward than supermodel—but there are a few things you can do to help them along.
Follow these 11 wedding photo tips to learn how you can pose like an expert on the big day.
Take engagement photos
"Schedule an engagement session!" says Kristy Roderick of Kristy Roderick Photography in Murrells Inlet, South Carolina. "Not only for the images, but for the practice as well. It's amazing how much more confident a couple is if they have already had a bit of practice with their photographer. It also allows you to get to know your photographer and build the trust that is needed on the big day."
Think comfort over style
"If you do not wear high heels on a regular basis, you should rethink them for the wedding day," says Domenick Michael of Domenick Michael Photography in New Rochelle, New York. "Part of enjoying your wedding day is comfort, so wear shoes with heel heights that you normally wear."
Focus on each other
"Don't think about your hands, your smile, your body," says Domenick. "Don't even think about posing. Focus on your significant other. This will help create connecting body language. Connected body language is what sell's posing."
Stay physically connected
"We encourage our couples to maintain some kind of physical connection when being photographed, like having the groom's hands around his bride's waist and the bride reaching up to wrap her arm around his neck," say Nicole Dimotsis and Noelle Andrews of Femina Photo + Design in New York, New York.
Forget the spray tan
"From a photographer's perspective, sometimes spray tans can look unrealistic in photos, especially if you're not naturally tan," says Michelle Wolfe of Michelle Lea Photographie in Tennessee. "You're beautiful just the way you are without a tan, but if you still feel like you need a little golden glow I recommend testing your spray tan two months before the wedding to see how you like it. In the case that you don't, your tan will have time to fade before your wedding."
Hire a planner
"If you're stressed on your wedding day, it will show in your photos!" says Michelle. "Having a wedding planner will allow you, and both your families to enjoy your wedding without the added stress of getting everything done."
Don't worry about rain
"I think every couple's hope is that it won't rain on their wedding day," says Michelle. "I promise having rain on your wedding day will not ruin your photos. Hire a professional seasoned wedding photographer that can handle any situation. Talk with your wedding photographer beforehand to have a game plan if it does rain. Don't be afraid of a little rain! Some of my prettiest photographs have been taken while it's been raining!"
Just smile
"I always tell my clients: 'If you are smiling, there will be pictures,'" says Kristy. "Your candid happiness truly is the key ingredient to every single image."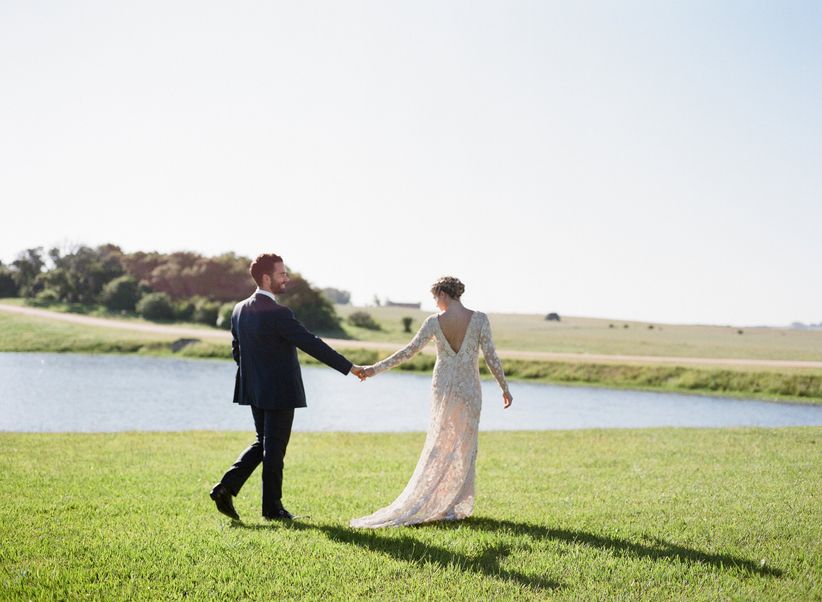 Have your partner help out
"Sometimes depending on a bride's hairstyle, her hair can fall in front of her face in profile shots, so we like to remind her partner to gently brush back her hair," says Nicole and Noelle. "Not only does it create a sweet moment between them but it allows us to see her face better!"
Do the "runway walk"
"After the portrait session, I get the couple to walk back and forth as if through a runway, I get them to stop and stare at each other, and really show their love," says Claudia Cebrian of Clau Photography Poetic Photojournalism in South Florida. "I really like taking pictures when the couple look each other on the eye and really feel why they are together."
Whisper silly nothings
"We love when couples can laugh and have fun during their portrait session so we encourage them to just be themselves and goof around," say Nicole and Noelle. "We will even suggest that one of them whisper something to the other to make them laugh and feel comfortable (we promise we can't hear!)."