9 Ways to Slay Your Wedding Photos
Wedding photos last forever. We asked pro photographers and planners how to put your best face forward.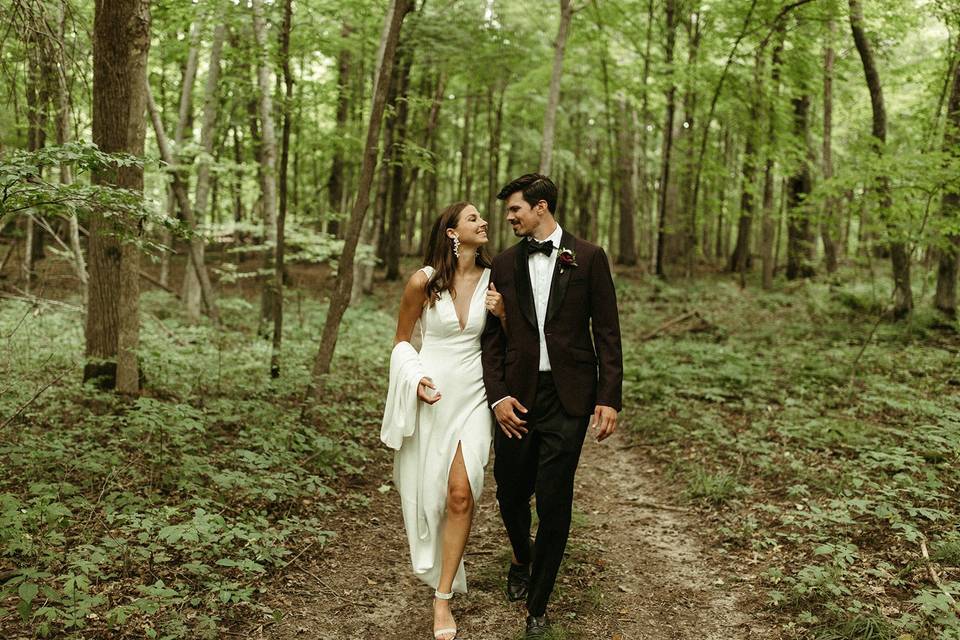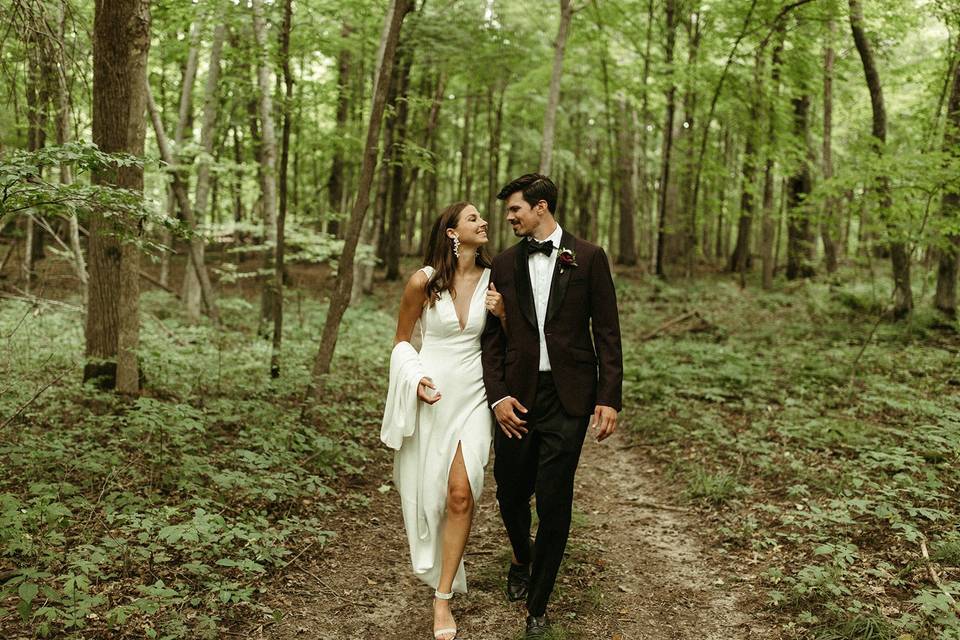 As you scroll through Instagram photos of perfectly posed couples with beaming smiles under warm golden hour light, you think, "How the heck am I supposed to look like that?"
For most of us, the idea of striking a pose in front of a relative stranger, while also cuddled up to our beloved, is less than natural. A camera flash goes off and the best we can offer is a, "cheese!" and a smile. But, don't worry, this is why you hire a professional wedding photographer. With an experienced and talented creative by your side, you'll end up with wedding photos that you'll look back on fondly for years and generations to come.
From hiring the right person to knowing the exact shots you want to scouting out the best locations for your vision of a perfect portrait, here are expert photographers' and planners' top wedding photography tips to help you nail those shots.
Hire the right photographer for you.
There are countless wedding photographers out there with different styles, personalities, and ways of working with couples. What's important for great wedding photos is hiring the right one for you. Before all else, consider the actual photography skills and whether you like a photographer's editing style—you won't love your photos if you don't like the style. Chrissy Wolfman of Plan to be Wowed in California, says to look to social media to get an idea of what their photographer can do. "Couples should pick a photographer that can nail their personal style and editing preferences." Sites like WeddingWire can also provide reviews from past clients to help you narrow down the options in your area.
Then, set up meet and greets to find someone you click with. Morgan Pirkle, founder and lead photographer of Kept Record in California, loves working with couples who she wants to hang out with. "My biggest tip is hiring a photographer you genuinely vibe with. Getting your photo taken can be a vulnerable process and it's important to find someone who you feel comfortable capturing you at the height of emotions!"
Get to know your wedding photographer.
Megan Abbott, photographer and one half of the Wedding Sidekicks duo in Los Angeles and Florida, encourages couples to go beyond the quick meet and greet with their photographer and, instead, form a genuine rapport. She says, "Get to know your photographers! Grab a coffee or drink with them and create a meaningful relationship. That way, on your wedding day, your nerves will melt away because you're working with your friends."
When there's a friend on the other side of the camera, that's when you capture some of the most authentic moments. So, set up a date or two with your photographer to not only discuss the wedding shoot and the workflow of the day, but to get to know each other as people. It's easier to let loose when you know that the person behind that fancy mirrorless camera also enjoys a margarita and tacos on a Tuesday night, just like you do.
Tip: If there's a second shooter, get to know them, too! They could be the one getting ready with you, so you may want to know them on a first-name basis before they show up to you in your robe.
Take engagement photos.
Engagement photos your chance to have your makeup artist do a trial run to make sure you're camera ready, to see if you really like those presets you've seen on social media, and to understand the different angles that work for you when posing for a professional wedding photographer. Hey, you can even practice that first kiss a few times (tip: most couples will exaggerate the pucker as soon as there's a DSLR pointing at them!).
Sarah Ascanio of Sarah Ascanio Photography in Minneapolis, Minnesota, echoes this sentiment for multiple reasons. "Don't skip the engagement session! I treat each session as though I'm hanging out with friends and it is a helpful time to build a connection with my couple's prior to the big day. You'll also get an idea of the awesome images your photographer will deliver, which will give you confidence heading into your wedding day."
Open the lines of communication before the big day.
Pirkle advises couples to communicate with their photographer as much as possible before the wedding day. Between toasts with the bridesmaids, catching up with family members, grooving on the dance floor with friends and even trying to catch a few private moments together as a couple, there's often too much hubbub to communicate the special moments you want to capture or let your wedding photographer know that, 'hey, this is my good side!'
She goes on to say, "We go in depth over the timeline together a few weeks before. Newlyweds shouldn't explain to the photographer the shots that are important to them for the very first time on the wedding day, or important changes to note. That's how things get missed in the whirlwind!"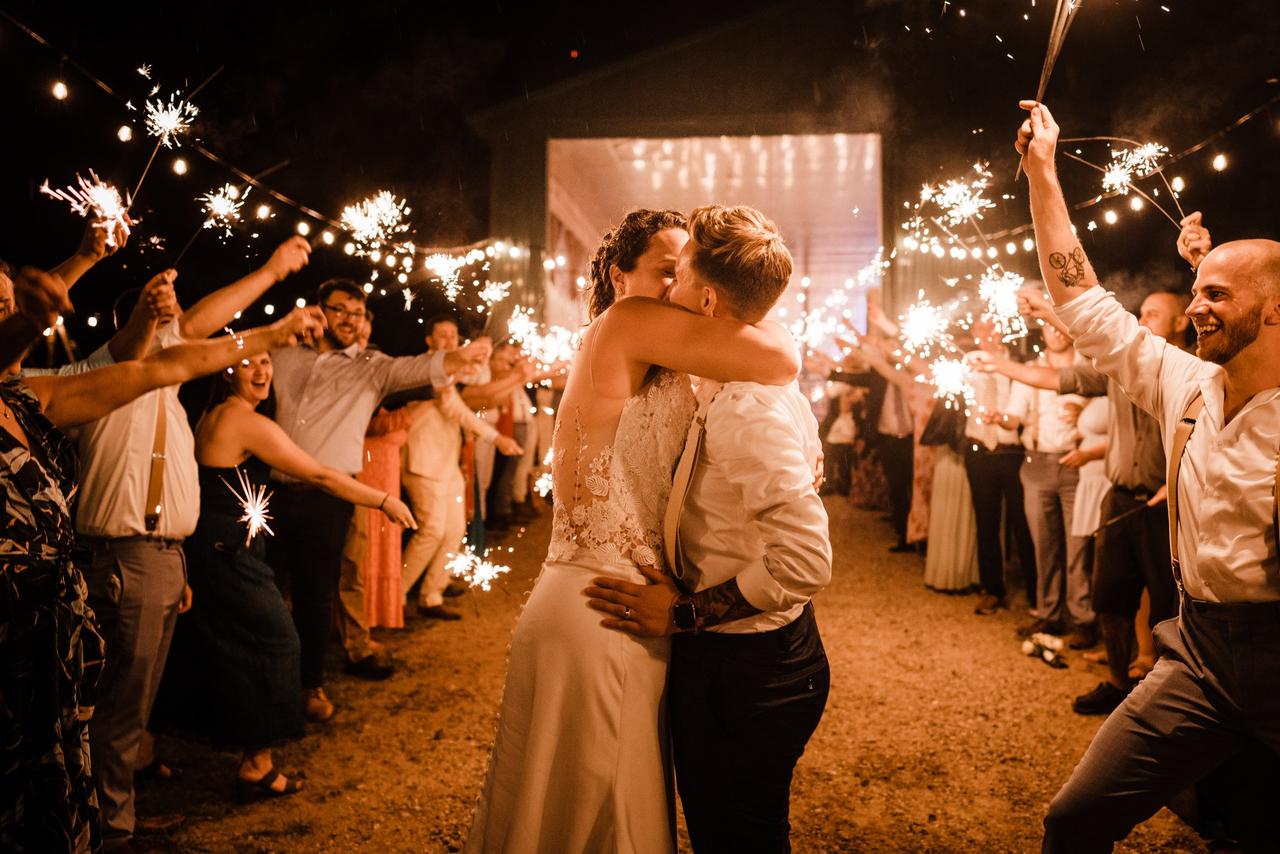 Scout your surroundings.
If you want great photos, you need to know where you're taking those photos. Rachel Behar, owner and lead planner at Rachel Behar Events in Brooklyn, New York, tells her couples to scout out the venue not only for the ceremony and wedding reception, but also from the angle of taking photos, where natural light will hit throughout the day, and the best places to snag wide-angle shots, a first look, sunset portraits, and more.
She says, "Put thought into the surrounding areas you are getting married! Scope out these areas beforehand and enlist your photographer for their insight –– they will know where the sun will hit during the time of your photos and make the photos come out beautifully."
If you're having a destination wedding and a pre-wedding walk through isn't possible, don't worry. Take to social media and see what other wedding photographers have done previously. This will also help your photographer know the best camera to bring, the camera settings they need to have ready to go, and how they'll need to move along the timeline. Shooting weddings may be their photography business, but each location presents new challenges and opportunities.
Trust your photographer will help pose you.
Robb McCormick of Robb McCormick Photography in Columbus, Ohio, puts couples at ease by posing them for close-ups, portraits, and candid moments in a way that feels natural. He says to those feeling awkward about what to do with their hands, "Put one hand in your pocket rather than just letting them hang. The small of their back is always a good spot for the other or just grab their hands and be playful."
He also reminds couples, "Stand tall and stretch your neck." Trust us, from those who've been there, you don't want to look back at your getting ready photos and think, "Whoa, I should have rolled those shoulders down my back!"
Create a shot list.
Wolfman recommends, "A few weeks ahead of the wedding day create a detailed wedding shot list of specific people and poses you want to make sure you are photographed and share that with the photographer and planner." This could include everything from a shot of your wedding dress hanging in a dramatic window to one of the bridal party shooting off confetti to the first dance, cake cutting, or even a photoshoot with your dogs.
Think of every wedding as a photographer's first wedding and spell it all out. If there's something that you absolutely want to see in your wedding photographs, make 100% sure it's on that shot list. Wedding photographers are good –– but they're not mind readers.
Don't forget to make a detailed roster for group photos.
Lindsey Nickel, wedding planner at Lovely Day Events in Napa, California, is used to wrangling groups for family shots, tracking down rogue groomsmen and bridesmaids, and working with schedules to make sure there's enough time to fit in every member of the immediate family. She always reminds her clients to spend time working on the roster to make sure all possibly combinations of wedding party and family are accounted for. How else will the wedding album be complete?!
She says, "Be sure to make a list of combinations of all people for your photos. From that list, pick your five must-have photos, for example, you, your future spouse and your grandmother. This will ensure that the photographer doesn't skip a photo that you had your heart set on."
Additionally, it's helpful to have someone beyond the planner or photographer who can locate everyone for the group shots when their turn pops up. "Pick someone to help the photographer with gathering the groups for the photos. Since the photographer doesn't know everyone in your family, it helps to have someone who can collect each group of people for photos. This will also help to make family photos happen faster."
Remember to take a moment and breathe.
Lastly, even though you want every photo of your first look, wedding ceremony, and reception to look absolutely perfect, even though you want a wedding album your children and grandchildren will cherish, that's not the most important part of your big day. Take a moment to relax, be together, and enjoy the moment.
Ashley Paul, wedding planner at C&A Event Planning in South Carolina and New York, reminds her clients, "Don't stress the small things. Allow the day to flow organically. Give yourself time to breathe and also remember that it is your day—take a moment to take it all in—your photos will tell your love story for years to come."