11 Reasons a Professional Wedding Photographer Is an Absolute Must
Think you can DIY your wedding photos? Think again. Here's why you really, really need professional wedding photography to capture every moment of your big day.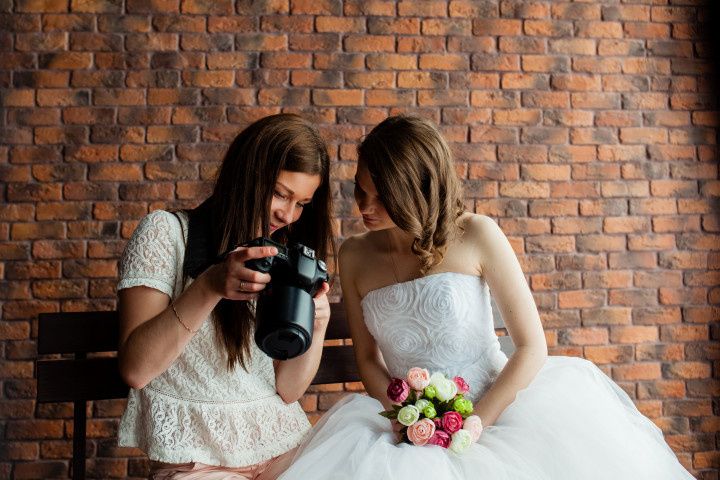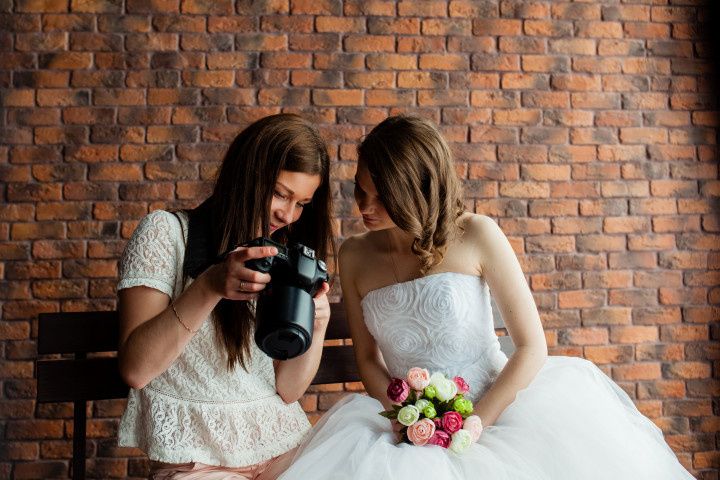 As you start researching vendors, you might encounter a bit of sticker shock and ask yourself, even just for a moment, "Do I really need a professional wedding photographer?" Whether you're hosting a destination wedding, a traditional ceremony, or an elopement, the answer is an unequivocal yes. We could go on and on for days about why an experienced wedding photographer (not your little cousin who just got a cool new camera) is a must—and it's not just about taking photos. In fact, a photographer has an even bigger role to play on your special day, and some of the tasks a professional wedding photography studio is responsible for might surprise you. Here's why you need a wedding photographer—aside from the fact that they'll capture all the special moments of your big day.
They'll make sure you look amazing in photos.
You and your future spouse will certainly look (and feel!) your best on your wedding day—and your wedding photographer will ensure that all of that amazingness translates into photos. Yes, you need a wedding photographer because they know every trick in the book, from lighting to poses and more, to ensure that you truly slay those photos. Trust a professional photographer's expertise, and you'll be rewarded with beautiful images that make you look like a supermodel.
They'll make sure your wedding looks amazing in photos.
Wedding photographers don't just photograph people, they photograph all the details of your big day, from the invitations to the flower arrangements, the escort cards to the cake, the wedding venue, the food, and more. Again, using appropriate lighting and angles, an experienced photographer will make sure that every aspect of your wedding looks straight out of a magazine.
They can take engagement photos.
An engagement photo session isn't a must, but it's a great way to get to know your photographer and gain experience in front of the camera. This photo shoot also gives you an opportunity to try out hair and makeup in advance of the big day. Plus, you'll receive photos to help share your love story on your wedding website, save-the-dates, or social media. If an engagement session is part of your photography package, we highly recommend it.
They have a style all their own.
The best wedding photographers have a distinct style, whether it's traditional portraiture, photojournalistic, fashion, or fine art. By reviewing the online galleries of photographers near you, you'll be able to find a photography style that resonates with you and your future spouse—and find the perfect wedding photographer for your big day.
They'll make everyone feel comfortable.
If you're feeling nervous or awkward, it will likely show in photos. That's why you need a wedding photographer with a winning personality—they're absolute pros at making people feel relaxed and confident in front of the camera. In fact, you might have so much fun with your professional photographer that you'll forget they're even taking pictures! This goes for any of your loved ones, too, whether it be your self-conscious mom, your rambunctious flower girl, your over-it groomsman. A great photographer can really bring out those natural smiles.
They can make themselves scarce.
One of the best compliments a wedding photographer can receive from a couple is "we barely knew you were there!" Yes, experienced photographers are absolute pros at being unobtrusive, meaning there won't be flashes in your face while you're trying to say your vows. Wedding photographers have a variety of lenses at their disposal, so they're able to capture incredible shots from most distances.
They're the ultimate team players.
As you hire vendors for your big day, you're building a team. And a photographer is one of the most crucial members of your vendor team. They'll work with almost all of your pros, from your wedding videographer to your planner, venue coordinator, hair and makeup artists, florist, and more, to ensure the day runs smoothly. A seasoned wedding photographer will have experience working with all of these different vendors and will bring out everyone's best work.
They're the timeline enforcers.
An organized photographer will ensure that your wedding runs on schedule. Your photographer will work with your wedding planner, or whoever is creating your day-of timeline, to determine how long couple portraits, family and wedding party photos, and the like will take. Then, on your wedding day, your photographer will keep everything (and everyone!) moving so that he or she gets all the photos you've requested in a timely manner—and takes advantage of natural light.
They'll catch the moments you'll miss.
Having all of your loved ones in one place on your wedding day means that there will be lots of memorable and important moments—including some you might miss (you're going to be pretty busy!). You need a wedding photographer to catch all of these moments and memories—from the major (your first kiss as a married couple) to the minor, but still fun to look back on (your great-aunt grooving on the dance floor).
They can conceal any flaws.
A big part of a photographer's job actually comes after the wedding itself. During post-production, a photographer will subtly edit your images so that they still look natural, but just, well, better. For example, there's a gorgeous photo of you—except you have a tiny smudge of lipstick on your cheek from your Aunt Betty's smooch. An experienced photographer can easily remove the mark so the image is frame-worthy. You might not even notice the changes made during the editing process, but it's part of the reason why wedding pictures from a professional wedding photographer are that much more amazing than ones you'd take yourself.
They'll help you create a wedding album.
With an experienced photographer at the helm, your wedding photos are going to be frame-worthy. But we've heard too many stories of couples whose wedding photography lives on a computer instead of displayed in their homes—not an ideal way to keep memories of your wedding alive. The prints you order from your photographer will be of the highest quality, and he or she can likely help you create an album that will be among your most precious family heirlooms.