The Ultimate Wedding Photography Timeline
Here's how to get every last shot—and still enjoy your day.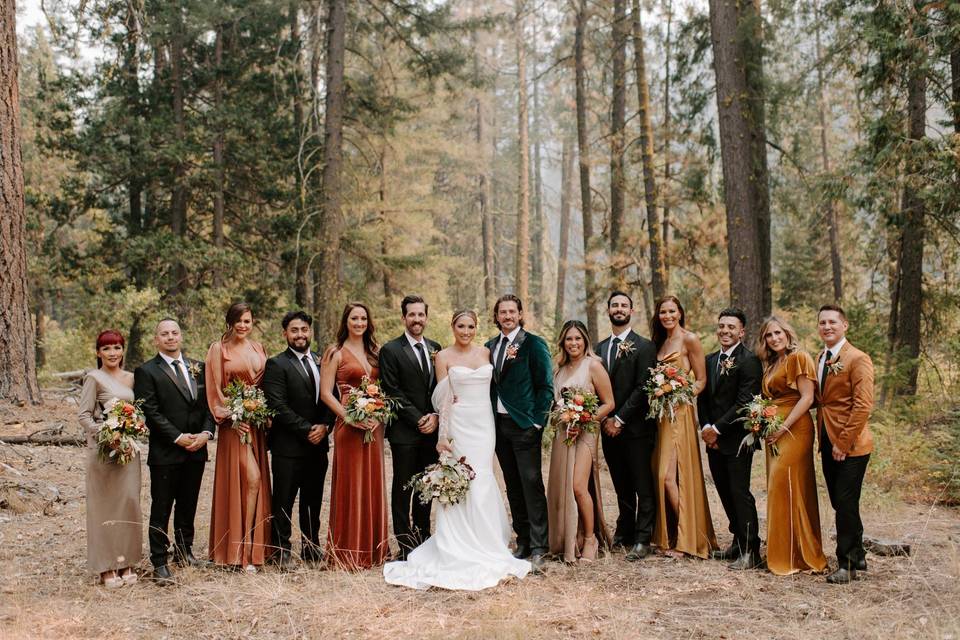 While the most amazing wedding photos may look effortless, there is a good deal of time that goes into creating those incredible images. Therefore, creating a wedding photography timeline is an absolute must. But how much time do you really need to reserve to take your photos? And what does a wedding day photography timeline actually look like?
We spoke to wedding photographers Christin Berry of Blue Martini Photography in Toledo, Ohio, Jasmine Norris of Jasmine Norris Photography in Lafayette, Indiana, Kelly Vasami of Kelly Vasami Photography in Scarsdale, New York, Nick Gillespie of Blue Bend Photography in Asheville, North Carolina, and David Stephen Kalonick of David Stephen Photography in Cincinnati, Ohio to find out the answers. Here's the best way to plan your own (stress-free!) wedding photography timeline.
Figure out the portraits you want.
While the main focus of your wedding portrait session will be you and your spouse, you will probably want family and wedding party photos, too. Most photographers provide a "suggested formals list" of portrait groupings that you can refer to and edit based on your needs. While your parents may try to insist take formal portraits with all of your distant relatives, remember that the more portraits you take, the more time you will spend away from your big day. Try to keep your formal portraits to a minimum (Jasmine suggests 15 groupings for family portraits) and include only your wedding party, immediate family members, and perhaps a few special relatives.
Decide on locations.
Now that you've decided who will be included in your wedding portraits, it's time to figure out where you'll be taking the photos. The easiest locations are your wedding ceremony location and/or reception venue, of course, but the hotel where you're getting ready can also be a good spot. If there's a particular location where you've always dreamed of taking your wedding photos (a local beach or park, a neighborhood in your city, etc.) or you want to take photos at different locations, you'll have to factor the travel time into your wedding photography timeline—and plan for transportation so that all of your VIPs get there safely and on time.
Settle the "first look" debate.
Choosing whether or not to do a "first look" is a personal decision. Many photographers think it's a good idea because it allows you to take many of your wedding photos before your ceremony so that you can enjoy your cocktail hour with your guests. If you decide to stick with tradition and wait until the ceremony to see your partner, you can expect to spend your entire cocktail hour (and possibly more) taking portraits. Be sure to decide which path you prefer to take before creating your wedding photography timeline.
Know how long wedding photos will take.
Talk to your wedding photographer about how long he or she will need to take the different types of wedding portraits. For the best results, photographers agree that wedding party portraits take about 30 minutes, family portraits take about 30 minutes (if you're sticking with only photographing close family), and couple portraits take between 45 minutes to an hour. If you're having a "first look," all of these can be completed before the ceremony. If you're not having a "first look," you can still take separate family formals, and photos of the wedding party before the ceremony, but any portraits with the couple together will be taken during cocktail hour.
Write it out and spread the word.
Work with your wedding planner to create a fully written-out schedule of your wedding day, including the wedding photography timeline. Add five minutes of "buffer" time throughout the day to account for any hiccups, and don't forget to factor in travel time if you're moving between different locations. Be sure that all of your VIPs are aware of this schedule, and know where to be at what time. Even if you're the "always early" type, weddings have a funny way of running late—so encourage your loved ones to stick to the schedule so you'll have plenty of time.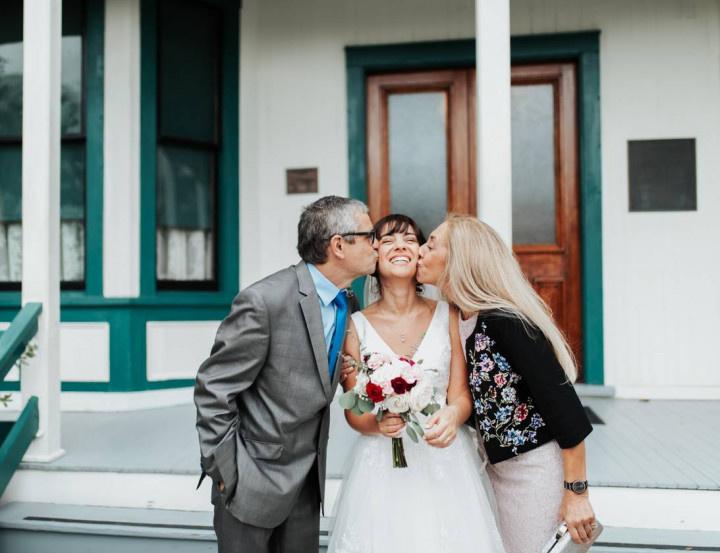 Wedding Photographer Timelines
(Remember, every wedding is different—these are just suggestions!)
Wedding Photography Timeline Template #1 (for couples having a "first look"):
11:30 a.m. - Wedding Photographer Arrives
12 p.m. – 1:00 p.m. – Getting Ready Photos
1:15 p.m. - 2:00 p.m. – First Look and Couple Portraits
Couple together
Bride/groom solo
Partner solo
2:15 p.m. - 2:45 p.m. – Wedding Party Portraits
Whole group
One side of wedding party with couple
Bride/groom with their side of wedding party (bridesmaids, groomsmen, etc.)
Bride/groom with partner's side of wedding party
Other side of wedding party with couple
Partner with bride/groom's side of wedding party
Partner with their side of wedding party
2:45 p.m. - 3:30 p.m. – Family Portraits (during cocktail hour)
Couple with bride/groom's parents
Couple with bride/groom's parents and siblings
Couple with bride/groom's parents, siblings and grandparents
Bride/groom with parents
Bride/groom with each parent individually
Couple with both sets of parents
Couple with partner's parents
Couple with partner's parents and siblings
Couple with partners parents, siblings, and grandparents
Partner with parents
Partner with each parent individually
4:30 p.m. - 5:00 p.m. – Ceremony
5:00 p.m. – Cocktail Hour
6:00 p.m. - Wedding Reception
Couple's grand entrance
First dance
Guest table photos
Guest on the dance floor
Parent dances
Toasts and speeches
Bouquet/garter toss
Cake cutting
Last dance
Send-off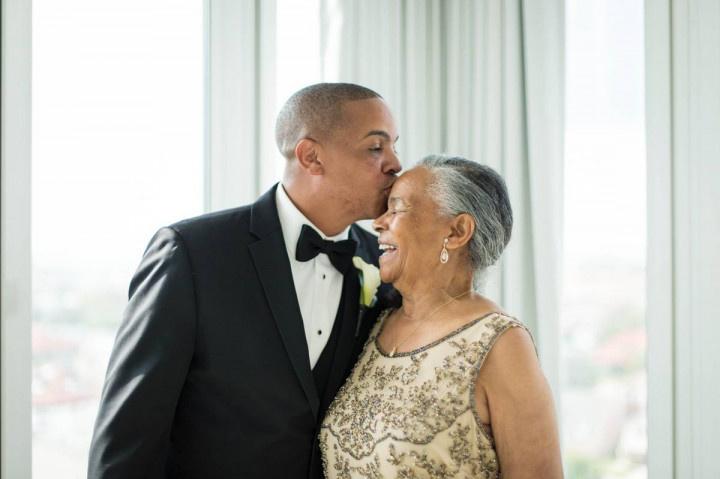 Wedding Photography Timeline Template #2 (for couples not not having a "first look"):
(Note, if you're having a second shooter present at your wedding, wedding party portraits may be taken at the same time at separate locations.)
1 p.m. - 2:00 p.m. – Getting Ready Photos
2:15 p.m. - 3:30 p.m. – Separate Wedding Party and Family Photos
Bride/groom with his/her side of wedding party
Bride/groom with parents
Bride/groom with each parent individually
Bride/groom solo
Partner with his/her side of wedding party
Partner with parents
Partner with each parent individually
Partner solo
4:30 p.m. - 5:00 p.m. – Ceremony
5:10 p.m. - 6:15 p.m. – Couple Portraits and Group Portraits (during cocktail hour)
Couple
Couple with wedding party
Couple with one side of wedding party
Couple with other side of wedding party
Couple with bride/groom's parents
Couple with bride/groom's parents and siblings
Couple with bride/groom's parents, siblings and grandparents
Couple with both sets of parents
Couple with partner's parents
Couple with partner's parents and siblings
Couple with partner's parents, siblings, and grandparents
6:30 p.m. – Wedding Reception
Couple's grand entrance
First dance
Guest table photos
Guest on the dance floor
Parent dances
Toasts and speeches
Bouquet/garter toss
Cake cutting
Last dance
Send-off