The Art of a Great Engagement Shoot
We asked the pros for their best tips to put you at ease and produce amazing pictures. Here's what they had to say.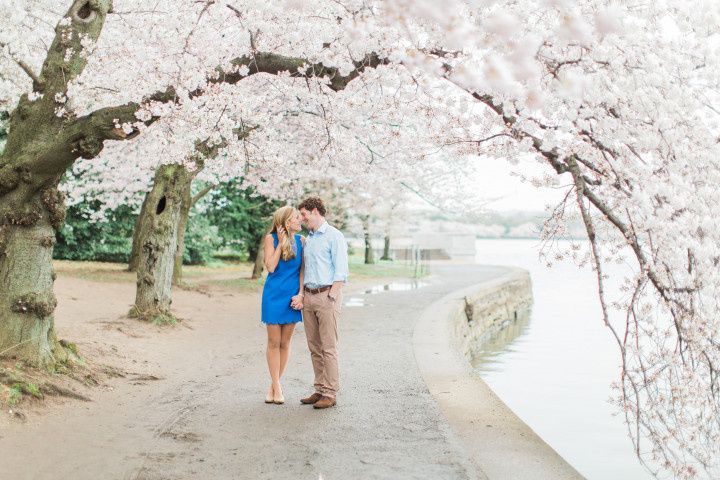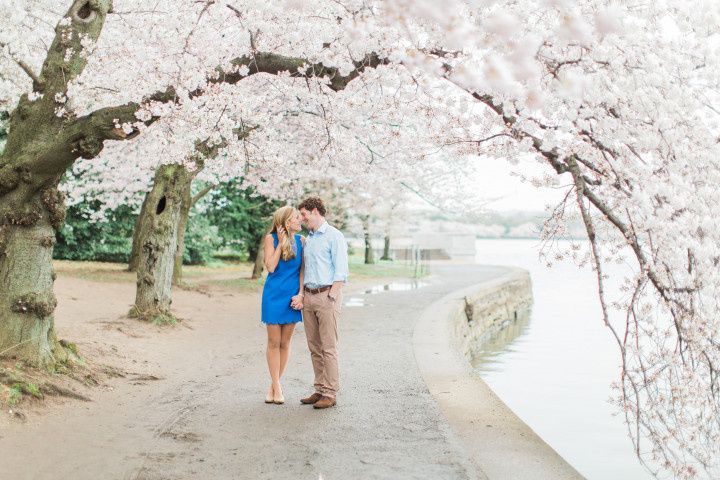 Photo: Abby Grace Photography
Engagement photos are a special way to mark the beginning of this exciting chapter in your lives, but let's face it—they can be intimidating. For many couples, it's the first time in front of a professional camera, putting a little PDA on display, and getting to know your wedding photographer. But you don't want any of that discomfort to come through the lens!


So we asked the pros—wedding photographers who work engagement shoots on a weekly basis—for their best tips to put you at ease and produce amazing pictures. Here's what they had to say:

Look your best so you can feel your best

The first step in feeling comfortable in front of the lens is feeling comfortable in your own skin. And that means choosing outfits that make you and your partner feel flawless. "Knowing you look great in whatever outfit you've donned will mean you're not focusing on adjusting a hem or hiding a part of your figure you're not fond of," explains Abby Grace Springmann of Abby Grace Photography. "You'll be able to be totally present with your partner, which allows your photographer to document you both that much more authentically."

If you're both staring at your closets blankly, consider outside help. "If you're on the hunt for a cute sundress or glamorous gown but don't want to break your credit card, Rent the Runway is the perfect solution," says Springmann. "My brides have found so many stunning solutions at RTR for everything from laid-back elegant looks to a more glamorous, sophisticated bride."

Solid jewel-tone color outfits work better than prints, which can be distracting. And consider getting your hair and makeup done. "Having an extra layer of polish will only add to your confidence, which always makes for a more enjoyable session and even better photographs," says Springmann. Speaking of polish—don't forget your nails. "Reds, pinks, and neutrals are perfect colors to compliment that rock on your finger," says photographer Elizabeth Fogarty.

And if you're still feeling stuck after all this—talk to your photographer! Send them a few outfit choices by email and ask their opinion of what will look best in front of their lens. Trust us, they're happy to help you look your greatest!

Pay attention to your environment

On top of the perfect fit and perfect feel, consider the weather forecast. "If you are doing an engagement session in the winter, you might not want to wear a cute little spring dress," Fogarty says. Comfort is key—and just like you don't want to be fiddling with a hemline, you don't want to be shivering in the snow or sweating in the heat.

"The same goes for summer when it is super-hot and humid—that probably means your hair should be down since it will get frizzy pretty fast outside. If your session is in the middle of a field, bring flats so you can walk easily. If there is a chance of rain, bring your Hunter boots and a cute umbrella. Embrace your environment."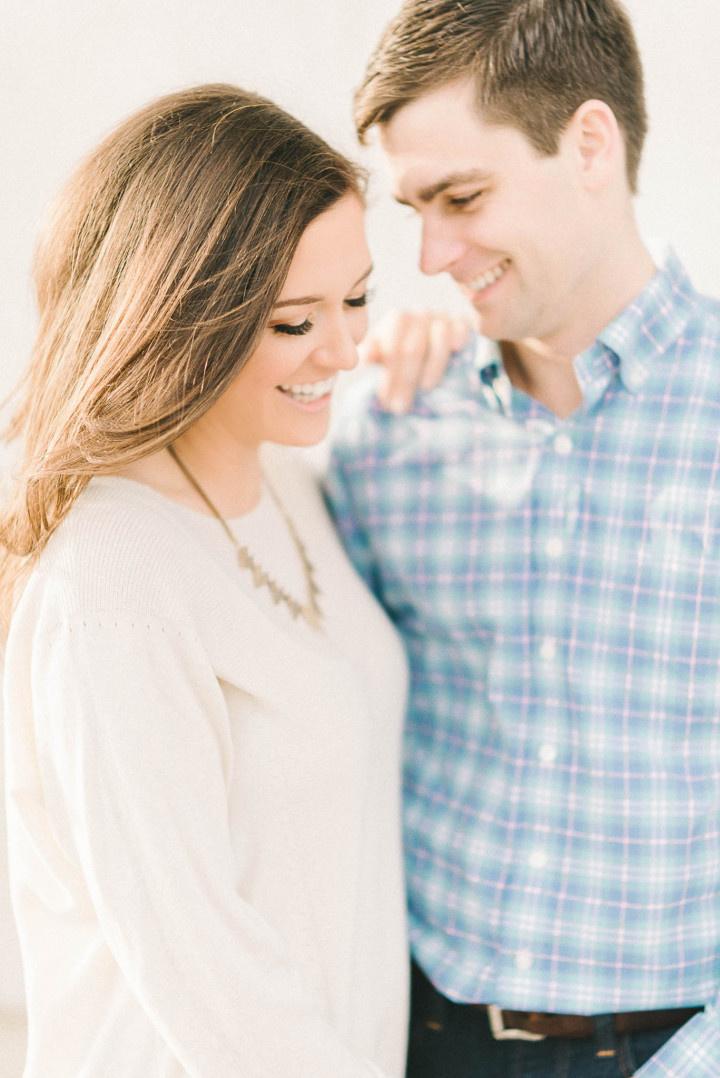 Photo: Elizabeth Fogarty
Location, location, location

Choosing your location can be just as tricky as choosing your outfit. Consider a favorite spot that is meaningful to the two of you—an ice cream parlor, a park, your favorite museum. But also consider where you'll feel most relaxed in front of the camera. If you'll feel anxious posing in front of a crowd, consider a more private location like a secluded grove or even your own home. But if you're determined to get those shots in a tourist or people-heavy destinations, like the DC monuments or Central Park, consider the time of day. "Plan for a sunrise session," says Springmann. "It cuts down on the number of people walking through the background of your photographs and gives you the opportunity to enjoy your shoot without hundreds of spectators!"

And if that early wakeup call feels like a lot of effort, consider the pay off. "The location for the photos is important, sure, but to me the lighting and time of day is much more important," says photographer Bonnie Sen. Sunrise and sunset are great times to consider for this very reason. Often called "the magic hours" in photography, sunrise and sunset portraits allow for great natural light—without the harsh and direct sunlight you'll experience midday.

Loosen up

If this is your first time posing in front of a professional camera, you and your partner may find yourselves a little shutter-shy. So do what you can to relax beforehand. "I love to start sessions with a drink, it usually helps loosen everyone up!" says Sen. Ask your photographer to meet you for a cocktail ahead of time. A little liquid courage and good get-to-know-each-other conversation can go a long way in making those poses feel less awkward in front of their camera.

During the shoot, trust your photographer to pose you. While some of the most beautiful pictures may be the candid moments that happen in between each shot, and allowing your photographer, who is an old pro at posing, to guide you there will go a long way. "You hired a professional photographer for a reason. Trust her!" says Fogarty. But do speak up if a pose doesn't feel natural. Usually, they'll be able to tell by your stiff posture or awkward smile, but if you two aren't game for dancing in the middle of the street or prom-style poses, let your photographer know. Your photographer wants you to be as natural as possible, and learning what poses do and don't work at your engagement shoot will also produce better results on the big day!

Pay attention to the details

Details are important, but "be realistic," warns Fogarty. "We love to pin photos of couples on a boat like The Notebook or a couple having fun on a moped in Rome, but if I am following a board, I am totally missing out on the real moments between you and your babe." Instead of going over the top, think of smaller details that represent you two as a couple instead of striving for hard-to-achieve Pinterest goals.

"Get creative, not cheesy," says Fogarty. "A simple elegant bouquet that looks like it's been freshly picked goes a long way. Or have your calligrapher write a secret message from your groom that you can read during the session. Think outside the box."

No matter what you do, the most important tip any photographer can give is to be yourselves! This is a time to celebrate you as a couple—be authentic as you share your love story.