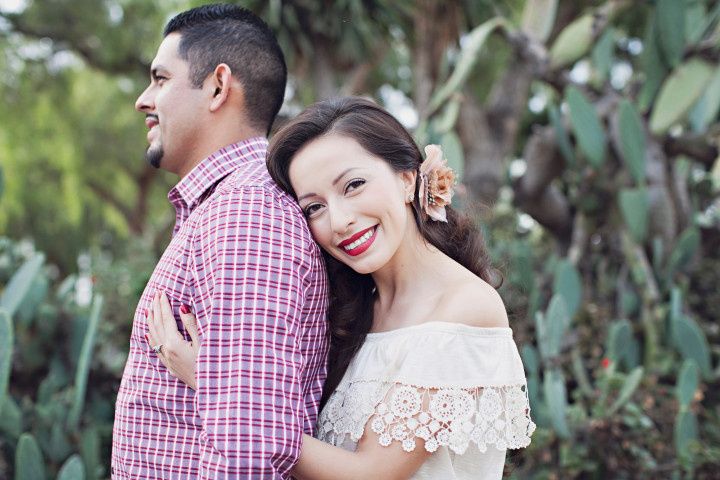 Photo: Lisa Marie Figueroa Photography
Engagement photos are one of our favorite modern wedding traditions.

Not only are they a great way to capture your love sans formal wedding attire (and provide images for your wedding website), they also serve as a practice round with your wedding photographer before the big day! Not sure what to wear to your engagement session? Check out these nine useful tips towards finding your perfect outfit(s).

Colors should be complimentary, but not matchy-matchy.
If your fiancé(e) is wearing a checked shirt, pick one color from the pattern and opt for a solid dress in that color. If they're wearing a solid color, try incorporating that shade into your shoes, belt, or neckwear. The goal here is not to over-coordinate, but still look like a cohesive unit.

Go for timeless over trendy.
Engagement photos are like proto-wedding photos—you'll want them to feel relevant even when your grandkids are looking at them. Stick with outfits that feel less of-the-moment and more authentically you—that way you won't distract from the subject of the day (your love) and there will be less what-the-heck-were-they-wearing moments down the line.

Keep things fitted.
Fun fact of clothing on camera: everyone looks skinnier (and taller) when they're wearing something that's properly tailored. Opt for clothes that follow the natural shape of your body without feeling too tight and you're guaranteed to look your best.

Consider wearing heels.
Even if your a die-hard flats kind of gal, consider donning heels for a few of your standing portraits. They'll temporarily realign your posture so that your shoulders are more thrown back, which will make for better portraits.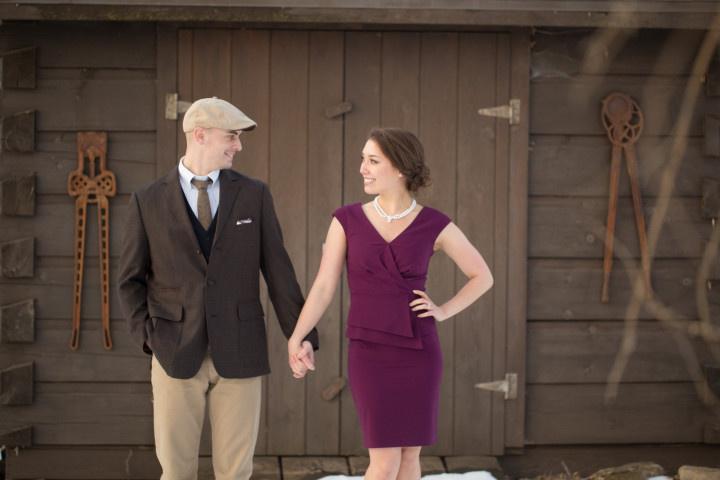 Photo: Grant Watkins Photography
Your backdrop matters less than you think.
Yes, a sundress will feel out of place on a snowy tundra, and a down parka has no business being at the beach. For the majority of engagement sessions, however, your background environment is just that: a background environment. Most of the focus will be on you and your fiancé(e), so don't stress too much if your favorite dress is a tad too dressy for a stroll in the country.

Avoid coats if you can.
Most people's coats are black or dark brown, and they often sacrifice shape for warmth. We are in no way judging that! They just don't make for the most stylish engagement sessions. If you still plan to be outside during a brisker month, try adding a scarf or layering a blazer or sweater over your ensemble. You can always jump back into your parka between takes.

Don't go overboard with jewelry.
Bunches of bangles will get in the way of those tender shots where you raise your hands to your fiancé(e)'s face. Don a statement necklace and statement earrings and it will distract from the loving gazes you'll throw in each other's directions. If you feel better while bejeweled, opt for just one statement piece.You'll feel glamorous without detracting from the occasion.

Bring a change of clothes.
We recommend one dressy set of outfits (dresses and ties) and one more casual set of outfits (jeans and sweaters; something creative). Clothes can change the way you interact with one another on camera, and you won't regret having both reactions on film.

Try the flower crown NOW.
Floral crowns are a bold look, and can be distracting if you're not used to wearing one. If you're thinking about a floral crow for your wedding day, we strongly recommend trying the look during your engagement session first. That will help you determine if you like the look and if you are comfortable posing and interacting in one. If you decide to forgo it for your wedding day, you'll always have these shots to fall back on!