The 5 Key Reasons to Take Engagement Photos
Wondering why you should take engagement photos? Are engagement sessions really necessary? These are the five reasons you should definitely consider this special photo shoot.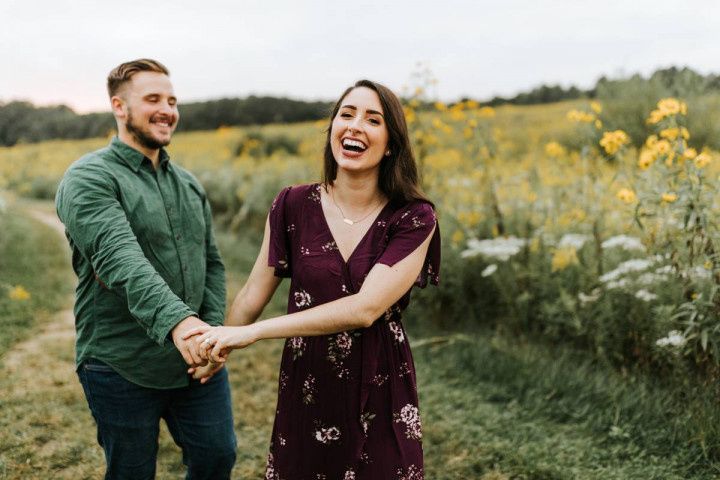 If you're recently engaged, you might be hearing a lot about engagement sessions, or e-sessions as they're sometimes called. With all the craziness (and cost!) of wedding planning, your schedule is already packed, so why take these engagement photos?
Engagement photos are a once-in-a-lifetime opportunity to capture the sense of joy and excitement before marrying the one you love. But perhaps more importantly, they're an opportunity to get to know your photographer and to loosen up in front of the camera before the big day comes around. Of course, budgeting for an engagement session can feel like just another wedding expense, but it's an investment you truly won't regret.
Not quite convinced? We're laying out five reasons why taking engagement photos are absolutely worth it.
You'll celebrate your love.
Newsflash: you're engaged to be married! Your engagement is one of the most exciting seasons of your life, and you should take the opportunity to document it with a photo session. Go ahead and set aside any preconceived notions that engagement photos are cheesy or unnecessary because every couple deserves a collection of professional photos to look back on and cherish. You might not see it right now, but one day you'll come across on your engagement photos and comment on how you young and in love you looked.
You'll receive new images for your announcements.
If you're thinking about why you should take engagement photos, know that they're important for so many sentimental reasons but don't forget to consider how helpful a new set of photos are from a logistical standpoint. During the planning process, you'll likely build a wedding website, mail out save-the-dates, design a guest book, print photos for your showers and events, plus share wedding updates on social media, all of which will feature images of you and your partner. Rather than make do with mismatched snapshots from your phone's camera roll, investing in professional images will help elevate both your printed and digital wedding materials.
You'll learn to loosen up in front of the camera.
Unless you happen to be professional models, not many couples are naturally at ease in front of the camera. It can be an awkward learning process to figure out how to pose or when to smile, especially with a photographer closely capturing your every move. Luckily, you can think of your engagement session as a trial run for your wedding day, where you'll be the subject of hundreds (if not thousands) of images.
Not only do engagement photos allow you to loosen up in front of the camera in your everyday clothes, but they also allow you to become comfortable in front of the camera without the added pressure of those wedding day butterflies.
You'll get to know your photographer.
Besides your new spouse, your photographer will probably be the person you spend the most amount of time with on your wedding day. They'll likely be with you during the getting-ready process, the first look, the ceremony, the family portraits, the cake cutting, and more, so establishing a relationship with them before the big day is especially important. During your engagement session, you'll have a chance to swap stories, share laughs, and get to know each other on a more personal level, all of which helps make the wedding day run that much smoother.
You'll be able to express yourselves creatively.
Why take engagement photos? There's no doubt you'll absolutely treasure your wedding photos, but many couples feel their engagement photos are a more authentic reflection of them. Simply put, engagement photos capture you in a more everyday style, in a natural element, spending time with your favorite person. As a bonus, you'll have the total creative freedom to choose whatever location, clothing, and overall style best represents you as a couple. So whether you take images in your favorite city or on your sofa at home, you'll have a collection of memories that are most meaningful to you.