How to Create the Very Best Wedding Photo Album
Creating the very best wedding photo album might seem like a herculean task, but by following these eight steps, it's sure to be a breeze.
We have included third party products to help you navigate and enjoy life's biggest moments. Purchases made through links on this page may earn us a commission.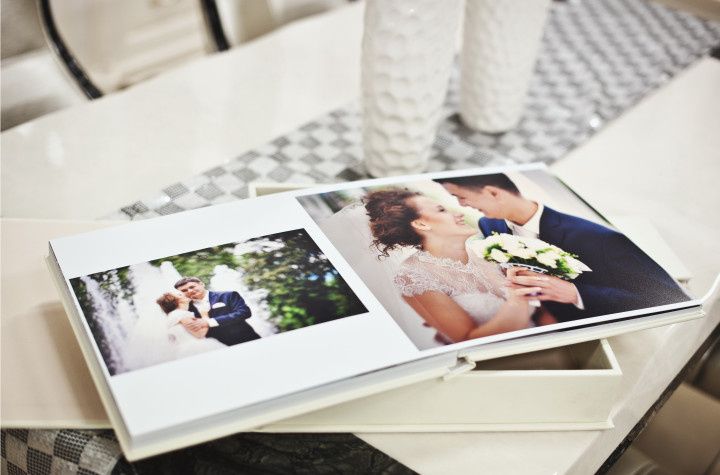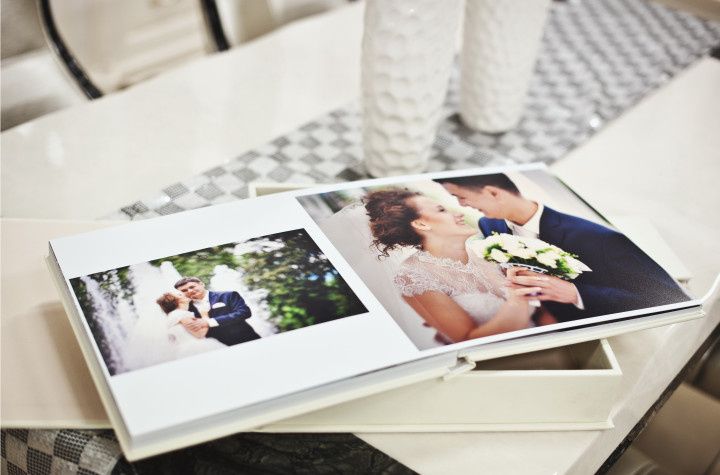 Once you've selected the photographer of your dreams and had the wedding of a lifetime, your journey to keepsake wedding photos still isn't done. It's time to create the best wedding photo album to show off all of those amazing photos—and make a family heirloom in the process. It's a task that comes well after the excitement of your big day (and may end up being your very own first anniversary gift!), but still one that shouldn't be taken lightly. Here's a guide to creating a beautiful wedding photo album, from start to finish.
1. Consider your options.
It's the easiest (although usually pricier) idea to simply select a wedding album package from your wedding photographer. You'll likely be offered this option after your wedding photos are processed and edited, but understand that commissioning your photographer to create a custom wedding album isn't your only option. Beyond creating an album from scratch yourself, there are also online companies, such as Artifact Uprising, Mixbook.com, and Shutterfly, dedicated to designing and delivering custom wedding albums that you may choose as well. As with all of your wedding-related decisions, think about what's most important to you. For example, do you just need something quick and painless, even if it costs more money? Or, do you really want to stay within a certain budget and you don't mind doing a bit more of the legwork to save a few bucks? These questions will guide your next steps.
2. Do your research.
Once you've settled on how you'll create your wedding photo album, it's time to start thinking about how you want it to look. The best way to create a sense of this is by looking at completed wedding albums. Recently married friends and family members are great resources, as well as your photographer, who will likely have some examples of their best wedding photo albums. Even if you don't think you'll hire your photographer to create your album, it's a good idea to look at what they have to offer.
You should also search online for different album sizes, templates, and styles. Although this won't give you the experience holding an album, and looking from cover to cover, you still might steal some ideas about the overall aesthetic that appeals to you. In particular, you'll want to decide if you prefer a layflat album or not. Layflat albums use a single, continuous sheet of paper for each spread, creating a seamless look for panoramic photos. Flush mount albums are a type of layflat album with thick, sturdy pages.
3. Pore over your wedding snaps.
Wedding albums are, not surprisingly, a collection of your favorite, most "Awwww"-worthy favorite photos from your special day. That's why you need to take some time to look over your wedding photos, ideally with your partner and maybe even a few friends. Just because of the sheer volume of images you'll receive from your photographer, this step might be a little daunting. Like, at what other time in your life will you be presented with hundreds of images of yourself? So, don't rush it. You might need to come back to it several times to figure out which photos are your favorites. Of course, you want to select the ones where you and your beloved look just gorgeous, but you also want to think a little about telling a story. Be sure you have photos from every stage of the day, including behind-the-scenes getting ready images, the ceremony, your guests, the reception and the send-off. There might be some photos that aren't the most Hollywood, but they really effectively tell a story about that moment of the day that you find you'll really want to include in your album.
Here's a quick list of some of the must-have photos you're sure to want to include for the very best wedding photo albums:
You and your wedding entourage: Maybe you had matching robes to don while getting ready, or maybe there's a great shot of your crew surrounding you as you put on your wedding attire. Most weddings will include this one, amazing shot of a bride or groom and their closest, closest friends, so be sure to include this.
Sweet family moments before the ceremony: You know this shot: Your mother tenderly fixing your hair, or maybe your dad pinning your boutonniere. Your siblings hugging you. These types of candid, family photos are the kind of special moments to include.
The first look: Whether this moment happened before the ceremony, or as one of you walked down the aisle, you'll want to be sure to enshrine the priceless reaction of you and your beloved meeting on your wedding day.
The first kiss: A no-brainer, but you must include! This is your first official moment as a married couple, so be sure you choose your favorite snap of this occasion.
Parent-child dances: If you or your partner were lucky enough to take a turn around the dance floor with a parent, don't forget to document this moment in your wedding album.
Dance, dance, dance shots: You and your college friends in a circle singing your favorite song; your aunt and uncle getting down to a line dance or maybe your flower girl stealing the show on the dance floor. In addition to the sweet and romantic wedding memories, you'll want to remember all the fun you had as well, so don't forget these great action shots.
A great send-off: Bubbles, rice, confetti or sparklers, the send-off moment is brilliant and full of love, so be sure you choose your favorite from the end of the day to cap off a great album.
4. Make some tough decisions.
Your wedding was the best day of your life, filled with all the people you love the most, so don't be surprised when you find the job of editing down your cornucopia of great wedding photos to just 50 images or so excruciatingly difficult. Call on your superior prioritizing skills (honed after months of wedding planning, no doubt) to really pick the best of the best wedding photos for your album. Don't worry if some photos of dear loved ones, or fun moments are left out—you can order these as single prints if you really love them, but they don't fit into your wedding album.
5. Choose the type of album you'll assemble.
In a digital world, making an analog wedding album means you've got lots of options when it comes to album design and style. Select an online company/design service that specializes in creating the best wedding photo albums, a more general online photo album maker, or purchase a traditional wedding photo album from a crafts store to turn into an album that you'll fully customize.
Whichever route you choose, you'll want to consider how you want the final product to look. There are many decisions to make at this stage, including the color and material of the album cover. Some wedding albums looks more like coffee table photo books, with one or more high-quality images splashed across the front, while others will look more like hardcover reference books in a solid, muted color, typically with your and your new spouse's names and wedding date engraved somewhere on the front cover. You might also consider a softcover wedding album, which will also allow for your images to grace the cover. While a leather cover is most popular, other high-end materials, like linen, silk, and acrylic, are also available.
All of these cosmetic details and cover options should be reflective of your wedding. A more bohemian, airy wedding might call for a lighter wedding album color and a softer material. A traditional, black-tie ceremony would be best memorialized with a firmer hardcover photo book and a more substantial shade.
6. Consider creating smaller albums for family.
Before you finalize your wedding album details, decide if you'll also be creating smaller albums at the same time. For example, a short brag book for the parents of the newlyweds, a personalized wedding photo book for members of the wedding party or any other smaller album you might be thinking of gifting to someone special (these make perfect post-wedding gifts!). These albums would only include about 10 images and be substantially smaller in stature than a traditional wedding photo album — think something you could easily slip into a purse.
If you do decide on additional albums, it'll save time and maybe even a few dollars to create and order them as you're ordering your main wedding album.
7. Organize your photos.
For this step, you'll want a digital folder with all the images you'll be including in the album. Be sure you've secured high-resolution images without watermarks from your photographer at this point. Although your photographer will likely have the images in chronological order, don't feel beholden to that order. Mix them around, group together images containing certain people, organize by emotion (i.e. romantic, sentimental or funny) or literally any system or non-system that makes sense for you and your partner.
The best wedding photo albums are reflective of your memories of the day, so go with your instincts on which images look great next to what other images. If you're laying out your images digitally using a photo album maker, be sure to vary the image orientation, so you don't end up with pages and pages of horizontal images, then pages and pages of vertical images. You can also play around with image sizes on the page layout to find creative ways to display your photos. Some might look great as a full page, while others might be better suited framed against a wide background.
Resist the temptation to place more than one image per page—each image deserves to be the star of its very own page in your wedding album!
8. Wrap it up.
If you've hired your photographer to create a wedding photo album, this stage will likely involve approving the final layout, design and order of the album. If you're creating your own album, this may include final decisions about how the album will be printed and delivered. In either case, it's not a bad idea to sleep on it before making the final, wrap up decisions.