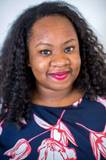 Whitney Teal is a Washington, DC-based digital editor with expertise in social media and content strategy. Since graduating from Howard University, she has written for Parents.com, The Huffington Post, and Essence. Whitney worked as a Digital Content Editor at WeddingWire specializing in GayWeddings from 2015 to 2018. Whitney is currently leveraging her years of experience as a contract social media and content strategist. Whitney is a self-proclaimed GIF making expert, Pinterest board master, frozen yogurt lover, and traveler extraordinaire.
Experience
Whitney started her career as a Freelance Web Editor at Delish.com and a Freelance Editor at Parents.com. After assuming editorial positions with AOL's Patch.com, Whitney led content marketing efforts for ACTIVE Network. Whitney then joined the WeddingWire team as a Digital Content Editor in charge of marketing for the GayWeddings brand. In this position Whitney also wrote wedding planning content for the site. Whitney has since worked as a Senior Social Media Strategist for Susan G. Komen and Head of Marketing and Community for donation platform ALMA. In her current contract work Whitney applies her specialties of advocacy audiences, style guides, voice and tone guides, and brand vision.
Education
Whitney attended Howard University in Washington, DC, where she received her Bachelor of Arts in Print and Online Journalism.
Articles published by Whitney Teal