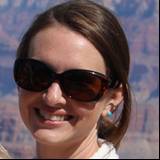 Christin Perry is a freelance writer, specializing in gift-focused and shoppable content for WeddingWire. Christin started her writing career in the wedding space, and has since written on other topics, such as lifestyle, health, and parenting. She lives in Northern Virginia with her husband and four young children. When she's not writing, she enjoys spending time with her family, mystery novels, gardening, shopping, and cooking.
Experience
Christin received her degree in Business Administration and began her career in corporate finance. She started her freelance writing small business seven years ago, and has published thousands of articles and blog posts for such publications as The Bump, Parents, VeryWell, Parade and LittleThings. She enjoys researching new products and trends, and especially helping couples as they plan their wedding.
Education
Christin attended James Madison University from 1996 to 1998 before transferring to the University of Mary Washington. She earned her Bachelor's Degree in Business Administration in 2000.
Articles published by Christin Perry