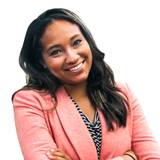 Jazmine is the host of the Office Politics podcast, as well as a full-time writer and interior stylist. She began her writing career in 2019, focusing on new music artists and pop culture commentary. These days, she focuses her writing on topics such as mental health, professional development, social change, and home decor. Born in Atlanta, Jazmine currently resides in the Lower Greenville neighborhood of Dallas, Texas with her husband and dog. Jazmine enjoys listening to true crime podcasts, baking, and cycling.
Experience
Jazmine began her career with a focus in public relations and social media, but soon shifted her focus. She spent almost five years in human resources and operations before transitioning to freelance work in 2020.
Jazmine recently launched her career and self-help podcast, Office Politics and utilizes her human resources background to offer online professional development courses. She is also a copywriter for several marketing clients. She aims to build her career in digital creation and inspire women around the world.
Education
Jazmine graduated from Ohio University, where she majored in Journalism and Communications with a focus in Public Relations. She interned at numerous Dallas-area PR agencies and was a contributor to several media outlets. After graduating, she held fellowships at Match.com and Zeno Group, an Edelman company.
Awards & Appearances
Jazmine has written for several publications, including The Financial Diet, Cupcakes & Cashmere, The Everygirl, Elite Daily, and Refinery29. Jazmine's home was featured on Apartment Therapy and Refinery29. Jazmine has been a guest on
The Gentler Podcast
,
The Winning Season
, and
Careerfluencer
and news outlets such as NBCU's LX.
Articles published by Jazmine Reed-Clark