Everything You Need to Know About Legally Changing Your Name During COVID
The coronavirus pandemic and its many safety guidelines are affecting the process of changing your name after marriage. Here's exactly how to get a name change during COVID.
We have included third party products to help you navigate and enjoy life's biggest moments. Purchases made through links on this page may earn us a commission.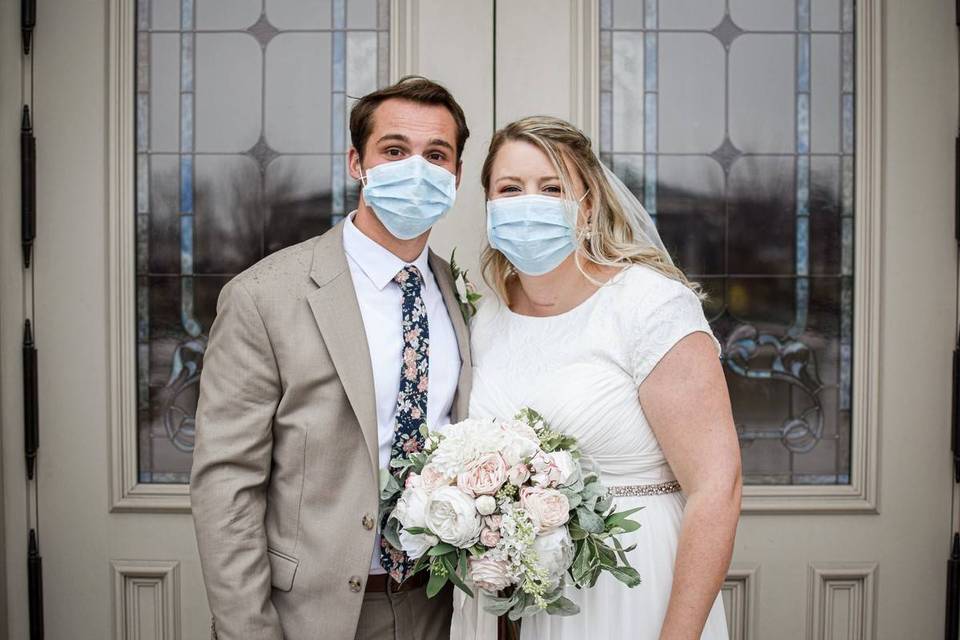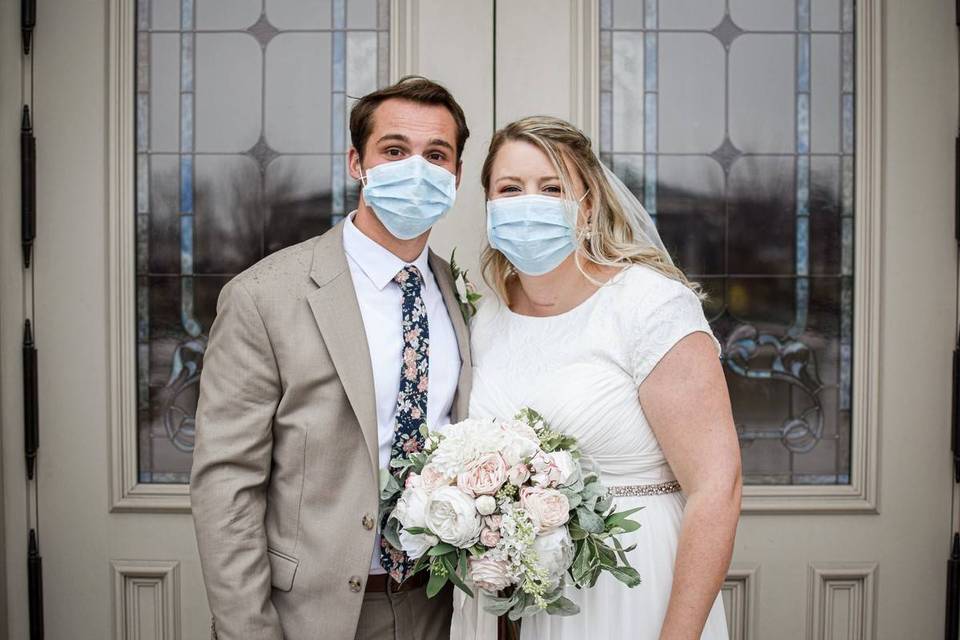 Even in more familiar times, the less glamorous administrative work that comes post-wedding, such as changing your name after marriage, obtaining a marriage license, updating your government forms, was always a bit ambiguous and tricky. Now in 2020, with many public spaces shut down or understaffed, the name change process during the COVID pandemic can feel overwhelming and all the more confusing. To help alleviate the confusion and give newlyweds and soon-to-be-married couples a sense of comfort, we've done the research and answered the most frequently asked questions on getting a name change during the COVID pandemic.
COVID Name Change FAQs answered in this article:
How has the name change process changed since COVID?
What documents will I need to make a name change during COVID?
Is there a helpful checklist or phase plan I can reference?
When can I expect to receive my new social security card and other documents?
How will changing my name affect my ability to vote in the 2020 election?
How can this affect my upcoming plans, and what else should I be mindful of?
How has the name change process changed since COVID?
Though still a cumbersome process, the biggest differences in getting a name change during COVID have to do with communication. Rather than go into local offices, you'll be communicating with government employees via telephone and mail.
For the most accurate information, we encourage you to locate your local offices' phone number and call to learn if there are any additional steps specific to your city. HitchSwitch, a one-stop-shop for newlyweds looking to change their name, is a fantastic asset and tool to help streamline the process.
It will also be helpful to note that the process is understandably much lengthier than before. Expect for the name change process to take around six months. This is due to many reasons, including delayed shipping, understaffed offices, and new process implementation time.
What documents will require a name change?
Most people will need to update the following materials when undergoing a name change:
Social Security Card
Driver's License
Passport
Credit Cards, Bank Cards
Immigration documents
Lease Agreement
Loans
Car Title / Registration
Employer
Insurance Accounts
Mortgage
Deed
Utilities
Doctor's offices
Is there a checklist or plan I can reference to change my name during COVID?
Though there isn't one source of truth for all to reference, we've broken the process down into a phased plan with numbered steps.
To alleviate overwhelm, think about the process in phases. Before you worry about updating your credit card, you are going to first update your Social Security Card.
Phase I
Federal / State, such as:

Social Security Card
Driver's License
Passport
Phase II
Personal, such as:

Credit Cards
Bank Cards
Voter Registration
Phase III
Vanity, such as:

Subscription Services
Social Media
Email Accounts
By far, the most intimidating and most important of the phases is the first.
Obtaining your marriage license
When it comes to obtaining your marriage license, each state may have a different procedure. In some states, you can appear in person, while others have to apply online. These safety measures are ever-changing, so be sure to check your local jurisdiction's clerk's office to find the most up-to-date information.
Updating your Social Security Card
This is where we begin to see 2020 updates. To file for a new Social Security Card, you need your birth certificate, original Social Security Card, forms of identification varying your age, identity, citizenship, immigration status such as a passport, and your marriage license.
Typically, you would submit these forms in-person. Now, you need to mail these important documents to the Social Security Association. Per the SSA website, "you can take or mail this signed application with your documents to any Social Security office. Any documents you mail to us will be returned to you. Go here to find the Social Security office or Social Security Card Center that serves your area."
Due to short staff, there is a likelihood that your documents will be sent out-of-state. We highly encourage you to get a tracking number when mailing your documents to ensure you know where they are at all times (even in the mail).
Updating your driver's license
As of writing this article, drivers can set-up in-person appointments at the Department of Motor Vehicles (DMV).
Per the New York State DMV (as an example), "if visiting a DMV office, you must follow all safety and social distancing guidelines in effect for the office you are visiting."
Verify the service available, hours, and appointment availability

Services and hours vary by location
Reservations may be required to visit an office

Come prepared

For a license, permit, non-driver ID, or registration transaction, you must complete a DMV Document Guide before coming to a DMV office or mail your documents.
See information and guidelines for business and customers about COVID-19 deadline extensions and office re-openings. Many DMV offices now require reservations."
Updating your passport
Details around updating your passport vary depending on how long ago your original passport was issued, and whether you're getting a new passport or renewing an old one. Check out the State Department website for more information on changing your name on your passport during COVID.
When can I expect to receive my new Social Security Card and other documents?
Anecdotally, newlyweds have said the deliverables have been taking over four months each. An Atlanta bride and her new husband said they found some relief throughout the process by checking their status online via the SSA website.
However, they urged couples to stay resilient when seeking answers, making phone calls, and quality controlling the process, as some employees may be overloaded and can only offer limited help.
How will the process of changing my name affect my ability to vote in the 2020 election?
For the most updated information on how to change your name or represent yourself to vote, please visit USA Gov's page on changing your voter registration.
How can this affect my upcoming plans, and what else should I be mindful of?
Overall, planning will be essential when going through the process of changing your name. Things such as buying a home, leasing a car, securing a loan, or taking a vacation can be affected and ultimately hindered by this process.
Finally, keep in mind that you won't have the luxury of fast answers, submitting or handling everything online, or even speaking with a live person throughout the entire process. Our advice is to research diligently, make phone calls where you can, and keep a tracking number for anything you mail in or submit.
Disclosure: This post contains affiliate links, some of which may be sponsored by paying vendors.