How to Change Your Name After Marriage in California
Making a name change in California can seem like a daunting process—but we're here to guide you! These step-by-step instructions will ensure that your name change process is a total snap!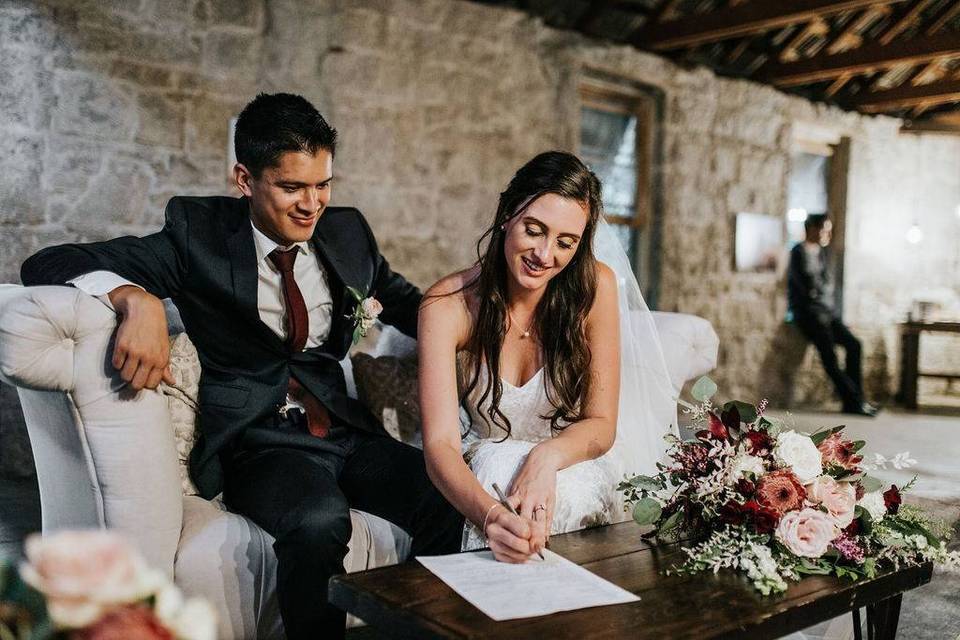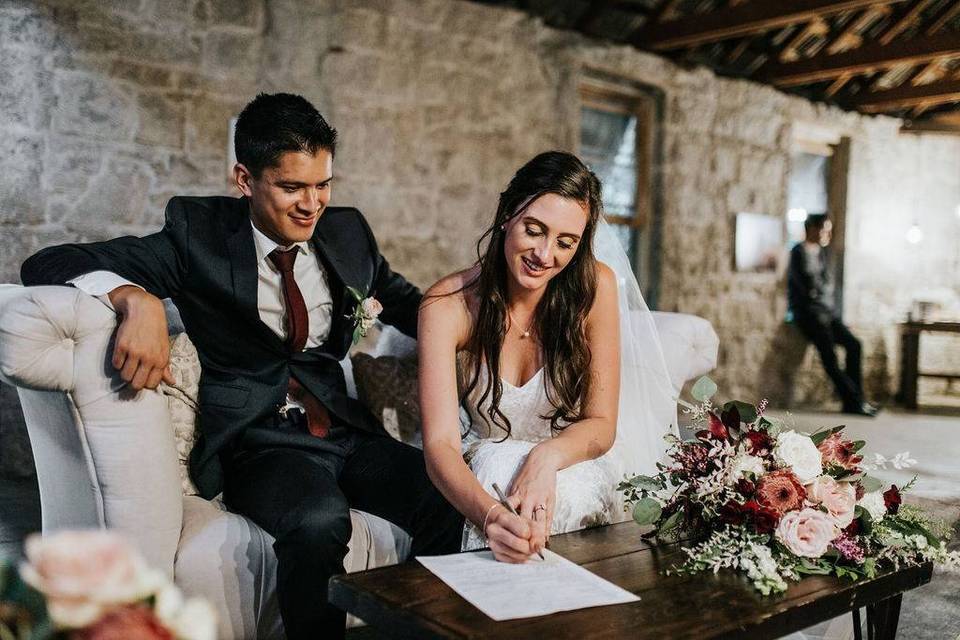 As your wedding day (finally!) approaches, you're probably ready to breathe a big sigh of relief and take a step back from all this hard work you've been doing. But if you'll be making a name change in California, there's still a bit of legwork you'll need to do after you're hitched. We know, it's a bummer, but it'll be worth it to see your legal documents sporting your brand-new name.
And if you're really ready to kick the hard work to the curb, there are services out there like HitchSwitch that'll handle the whole process for you. With three different levels of service to choose from, it's a great option for busy couples just like you! Regardless of the path you choose, here's our complete guide to how to change your name after marriage in California.
These are the steps you'll need when figuring out how to legally change your name in California.
1. Choose your new name.
While changing your name after marriage may seem as simple as dropping your surname for that of your spouse, today's couples are mixing it up in lots of different ways. You could opt to have your partner take your name, or you could hyphenate your last names. And some couples choose to come up with an entirely different last name that's a unique blend of both their last names. Regardless of what you choose, you'll need to fill out your marriage certificate with your new name, so you'll have to nail it down pretty early in the game.
In California, the state makes it a bit more complicated to do anything other than take your spouse's last name: you'll have to file for a legal name change in California in order to adopt one of the more unique options we listed above. The process could take several months and you'll even have to attend a court date before it's all said and done.
2. Obtain your marriage certificate.
You can apply for a marriage license in any county in California; it doesn't have to be in the county in which you'll wed. Licenses range from $35–$110, and you'll need to show a government-issued photo ID (a driver's license, state identification card, or passport). Payment in cash is preferred, but some offices take credit cards, so be sure to check the proper form of payment with the county registrar's office.
Once you're married, you'll need your marriage certificate as you navigate your name change. In California, certified copies are $15 and can be obtained by filling out and submitting this form. It's a good idea to request several certified copies of your marriage certificate—it will serve as proof of your marriage whenever and wherever you change your name.
3. Get married!
In California, you don't have to get married in the county where you file for your marriage license. In fact, you don't even have to be a California resident at all! One key requirement: you'll need to have at least one (but not more than two) witness to your nuptials. This person will sign your marriage certificate once you two become one. Your officiant should then return the marriage license to the County Clerk (the same one who issued the certificate). You'll receive your official marriage certificate and certified copies by mail.
4. Change your name with Social Security.
With a freshly minted marriage certificate in hand, the next step in the name change in California process is to head to your local Social Security office. Here's where you'll really make your new last name official! Be sure to make this your first stop, as other government offices won't recognize your name change until you've updated it on your Social Security card. Fortunately, this process is free and pretty straightforward. To handle it in person, download and fill out the application for a new Social Security card—be sure to include both your birth name and your married name. Bring the form, a certified copy of your marriage license and photo identification (driver's license, state identification card, or passport) to your local Social Security Office. You can also choose to apply for a new Social Security card by mail if you're not up for trekking down to the office—simply send them your form along with your certified marriage license and original ID. The process takes a few weeks.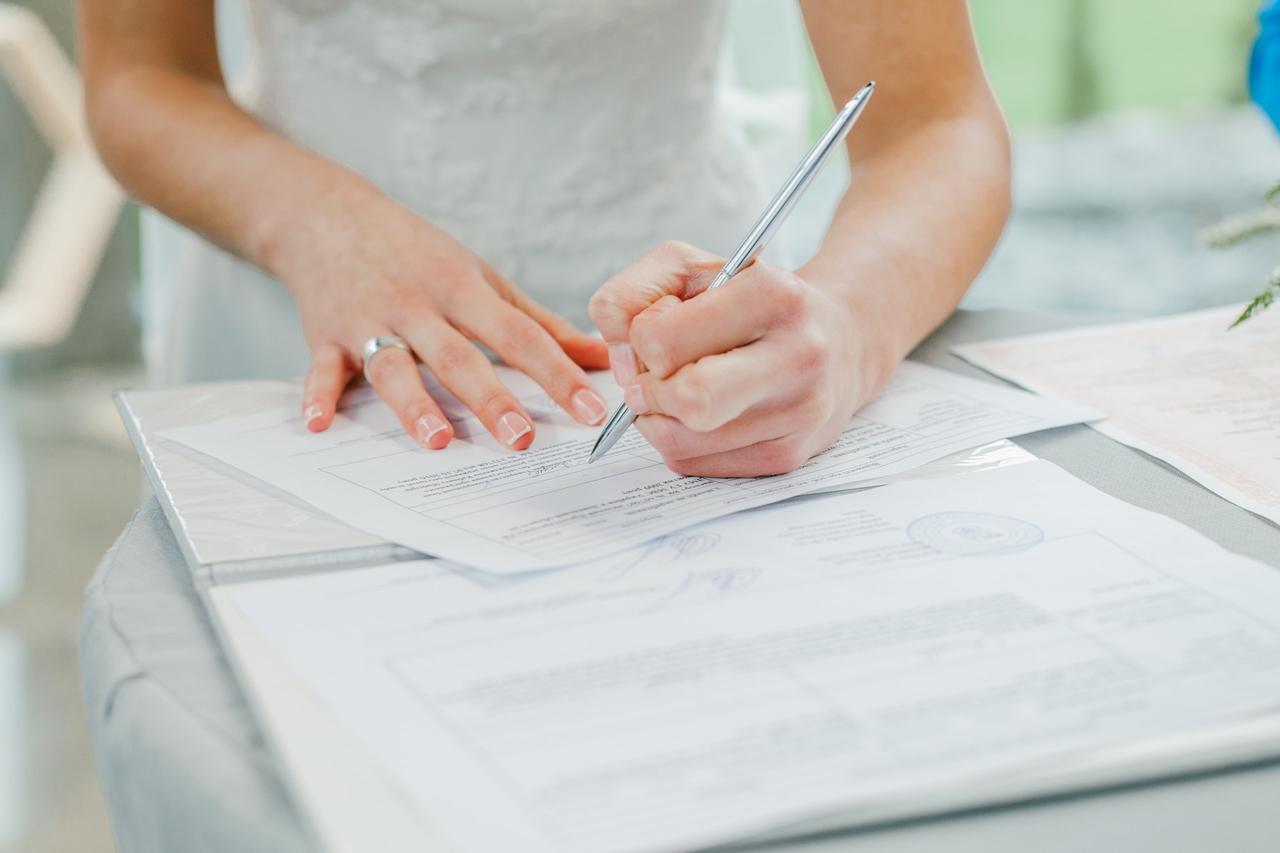 5. Make an appointment at the DMV to change your name on your driver's license.
Who doesn't dread making a trip to the DMV? But look on the bright side—if there could ever be a "fun" trip, it's this one—you'll get a fresh new driver's license that sports your brand-new moniker. When figuring out how to change your name in California, you'll need to present your current driver's license along with your marriage license, which will serve as proof of your new last name. A bit of good news? You won't have to worry about providing your new social security card. According to the California DMV's website, "DMV electronically verifies your name, birth date and social security number with the SSA."
Note: California is a REAL ID-compliant state, which means your new ID should meet the requirements for this federal program that goes into effect on October 1, 2020. May as well stay ahead of the game so you won't have to visit the DMV twice!
6. Need a passport? That's next on the list!
Though you may not need it for that honeymoon you're dreaming of (since you likely booked the travel under your maiden name), you should still think about how to change your name after marriage on your passport. To change your name on your passport, you actually have to apply for a new one. You can tackle this step through the mail; there's no need to do it in person unless you happen to have upcoming travel plans that will require your passport.
When it comes to doing a name change in California on your passport, how to do it depends on how long you've had your passport. If you've had it for a year or less, there's no charge for this service: use the Department of State's website to download and fill out all applicable forms, and mail them to the National Passport Processing Center, along with your current passport, a certified copy of your marriage certificate, and passport photo. If you've had your passport for more than a year, there will be a nominal fee associated with mailing in the form.
If you're traveling in less than two weeks and need a new passport, there are a number of passport expediting services across the state of California, shown above. You'll need to pay a steeper fee for this speedier process and show proof of identification, name change, and your travel plans.
7. Change your name with providers and other important documents.
You've gotten the "big three"—your Social Security card, driver's license and passport—out of the way. It's time to pat yourself on the back, but now you've got to think about all the other places your name is listed. If you're interested in how to change your name after marriage in California and make a complete switch, you'll have to change your name on everything from your credit cards to your local dry cleaner. Yikes! But don't worry—you can take your time on these tasks. Here's a list of things you'll need to change your name on:
Bank and credit card companies
Immigration documents
Lease agreement
Loans
Car title and registration
Insurance
Mortgage
Deeds
Utility companies
Doctors' offices
Voter registration
Social media accounts
We get it—this is a big undertaking! But it doesn't have to be stressful. Check out HitchSwitch to start your name change process. They'll take the guesswork out of changing your name and make it a smooth and streamlined experience.
Disclosure: This post contains affiliate links, some of which may be sponsored by paying vendors.