How to Change Your Name After Marriage in Florida
If you're recently married and ready to make a name change in Florida, here's a step-by-step guide to taking that next big step.
Whether or not to change your name post-nuptials is a big decision that looks different for everyone. However, if you do decide to hop on the new name bandwagon and make a name change in Florida, there are a few official hoops you'll have to jump through first. While it can seem like an entirely stressful process to navigate, HitchSwitch is here to help with professional guidance every step of the way.
If you're ready to do a name change in Florida, we've got a step-by-step process to ensure you dot the i's and cross the t's in just the right way.
1. Choose your new name.
Step one to any name change is deciding what your new name will be, and today's couples are mixing it up in many different ways. You could opt to have your partner take your name, or you could hyphenate your last names. Or, some couples choose to come up with an entirely different last name that's a unique blend of both their last names. Regardless of what you choose, you'll need to fill out your marriage certificate with your new name, so you'll have to nail it down pretty early in the game.
Newly married residents of Florida can take their partner's last name, hyphenate their maiden name and their partner's last name, or take their maiden name as their middle name as a part of the standard married name change process. However, if you and your partner are creating an entirely new last name, you'll both need to file a legal name change and undergo a separate process.
2. Obtain your marriage certificate.
As a part of the process of changing your name in Florida, you'll need to obtain a marriage certificate at the County Clerk's office. Rest assured, you can visit any country clerk's office in the state, and it does not have to be in the county you reside or the county where your wedding will take place.
You'll both need to appear in-person at the clerk's office and bring a government-issued photo ID (driver's license, state identification card, or a passport will work) and know your social security numbers. The cost of a marriage license in Florida is $93.50 or $61 for couples who have completed a registered premarital preparation course and can provide completion certificates.
Your marriage certificate will be a vital part of the name change process, so be sure to request two or three certified copies of your marriage certificate—it will serve as proof of your marriage whenever and wherever you change your name. Each copy will require an additional fee, so be sure to check with your County Clerk's office. Florida residents will have to wait three days to receive their marriage certificate—while nonresidents will have no waiting period—and the document is valid for 60 days after issuance.
3. Get married!
Once you've selected your new name and obtained your official marriage certificate, it's time to go get married! No matter where your wedding takes place in Florida, your officiant will sign your marriage certificate. Additional witnesses are not specifically required to sign by Florida law. However, the Florida Gov website recommends that two witnesses, other than the Notary or officiant, sign the marriage certificate in the event that proof of the marriage ceremony is necessary in the future.
Your officiant will then be responsible for returning the marriage license to the Clerk's Office (the same one who issued the certificate) within ten days of your wedding ceremony. You'll then receive your official marriage certificate and certified copies by mail.
4. Change your name with Social Security.
Once you've received your completed marriage certificate, you can head to your local Social Security office to make your name change in Florida officially official. The Social Security office is the first place to visit, as other government offices won't recognize your name change until you've updated it on your Social Security card. Fortunately, this process is free and pretty straightforward. Just download and fill out the application for a new Social Security card—you'll need to include your birth name and married name. Print out the form and bring it, as well as a certified copy of your marriage certificate, a photo identification (driver's license, state identification card, or passport), and proof of citizenship (birth certificate or Certificate of Naturalization) to your local Social Security Office. While you can apply for a new Social Security card by mail, it's less desirable because you'll have to send them your certified marriage license and original ID, and be without them for a few weeks while your forms are processed.
5. Alert your employer.
After you receive your new Social Security card, let your employer know of your name change in Florida so that they can start correctly report your wages. You may or may not have to provide proof of your new name, and you'll have to fill out a new W-4 form for tax purposes. You may also choose to change your work email address, email signature, etc. to reflect your new name.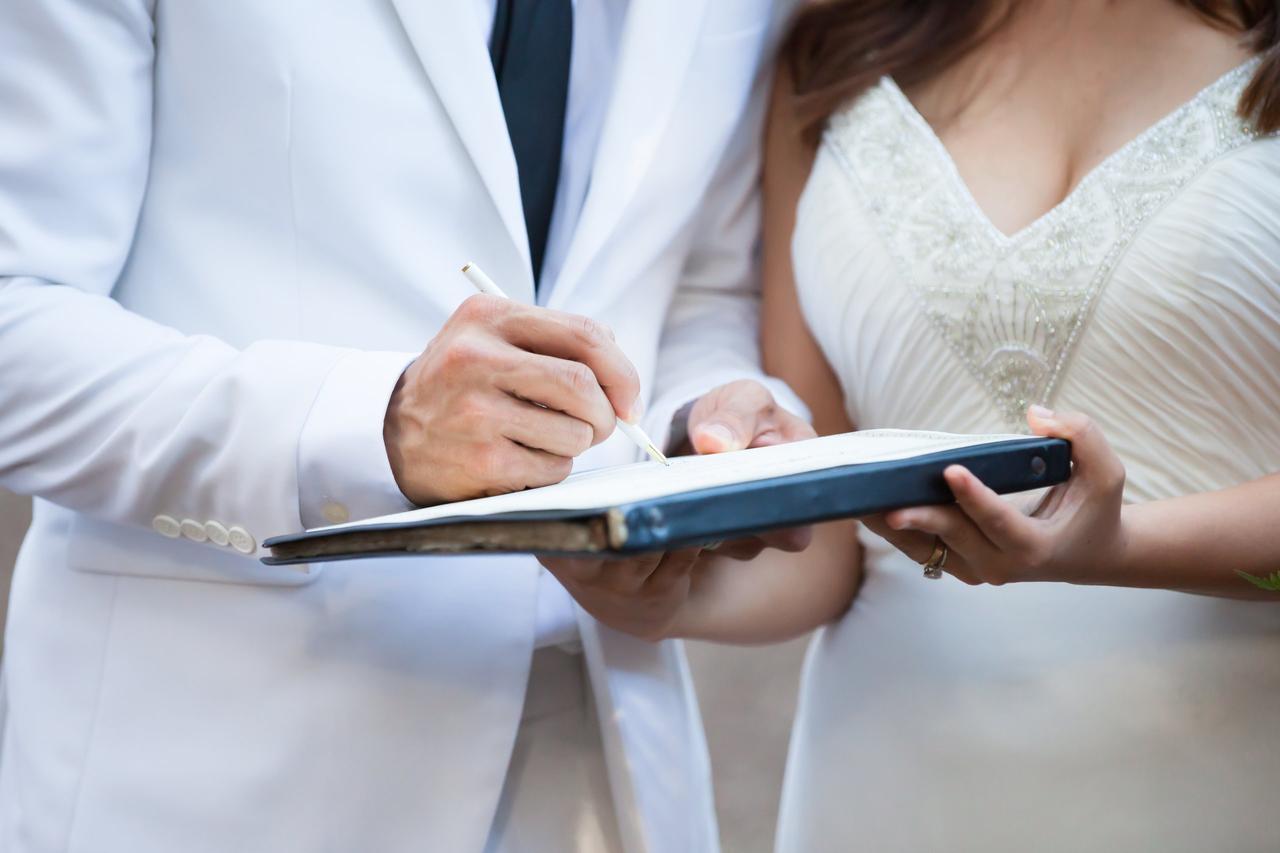 6. Head to the DHSMV for your driver's license name change.
Next up on your name change checklist is visiting the Florida Department of Highway Safety and Motor Vehicles (DHSMV) for a new driver's license. This must be done in person and requires a $25 fee. When figuring out how to change your name after marriage in Florida, know that you'll have to visit the DHSMV within 30 days of your name change to make things official. You'll need to bring along a certified copy of your marriage license, your current driver's license or state identification card, proof of citizenship (passport, birth certificate), proof of social security (original social security card, pay stub or W-2 form), and proof of residential address in the form of two separate documents, such as a mortgage, voter registration card or utility bill.
Also worth noting, the DHSMV website requests individuals allow 24 to 48 hours after changing their name with the Social Security Administration before applying to change it with the Florida Department of Highway Safety and Motor Vehicles.
7. Apply for a new passport.
Whether your honeymoon travel plans are domestic or abroad, you'll want to update your passport sooner rather than later. To change your name on your passport, you actually have to apply for a new one. You'll need to consider your upcoming travel plans to figure out if you'll need to expedite the process by applying in person or if you can wait several weeks to receive your new document by mail. If you're under a major time crunch with travel plans less than two weeks out, you'll want to make an appointment at the Miami Passport Agency. For this process, you'll need to pay an additional fee and show proof of identification, name change, and your travel plans.
However, if you've got more time on your hands, you can opt to update your passport by mail. Use the Department of State's website to download and fill out all applicable forms, and mail it to the National Passport Processing Center, along with your current passport, a certified copy of your marriage certificate, and passport photo. There is a fee associated with applying for a new passport and the recommended shipping, but this varies, so be sure to read the forms carefully before sending in your application packet. This process will take four to five weeks, or shorter if you pay for expedited service
8. Switch your name on other documents and with other providers.
Breathe a sigh of relief because the hardest parts of a legal name change in Florida (Social Security card, driver's license and passport) are officially behind you. But, don't kick your feet up just yet because you've still got a few loose ends to tie up in the paperwork department. Although these updates are less time-sensitive, you'll need to change your name in several other places, including, but not limited to:
Bank and credit card companies
Immigration documents
Lease agreement
Loans
Car title and registration
Insurance
Mortgage
Deeds
Utility companies
Doctors' offices
Voter registration
Social media accounts
There's no denying that changing your name in Florida requires some hard work, and if you're looking for an extra hand with all of the above, HitchSwitch is ready to step in. They offer professional name change services in three simple steps, so you can leave any sense of overwhelm behind.
However, whether you outsource the task or do-it-yourself, the best part of the entire process is celebrating the new name you'll get to keep for a lifetime!
Disclosure: This post contains affiliate links, some of which may be sponsored by paying vendors.