While many honeymoon locales truly pass the test of time and remain popular year after year, decade after decade, such as Hawaii, Italy, France, Greece, the Tahitian Islands, certain honeymoon destinations are on the rise for 2020 and beyond. This is large part thanks to a wave of sharing on social media platforms such as Instagram and Facebook that have spurred up a sort of wanderlust. Whereas years ago many of these destinations were unheard of (not to mention unseen), nowadays knowledge of their existence spreads like wildfire across the Internet waves.
"What was once entirely exotic and relatively unattainable is now a realistic honeymoon destination for many 2020 couples, like the Maldives, an African safari or playing with elephants in Thailand," says Stephanie Goldberg-Glazer, owner of Live Well, Travel Often, a full-service travel agency. "There is no one-size-fits-all honeymoon, and now, with more options than ever, each honeymoon can be tailored to the couple's specific interests and desires."
It's not just about the destination either. Jennifer Polito Waigand, of Travel Reimagined, an independent affiliate of McCabe World Travel, has noticed that couples are also changing the way in which they honeymoon. "More couples are choosing to delay their honeymoons and instead of going directly after the wedding, putting it off for six months to a year or so they can spread out the time and money or so they can travel during a certain season," she says. "If the destination a couple wants to travel to for their honeymoon just doesn't line up with the time of year they are getting married, they can wait a few months and go when the weather and seasons are perfect for that destination." This incentive to wait for the honeymoon is one reason for the increase in the amount of people choosing to take a mini-moon.
If you're in the midst of planning your upcoming trip, here are the honeymoon destinations for 2020 travel agents say are most in demand.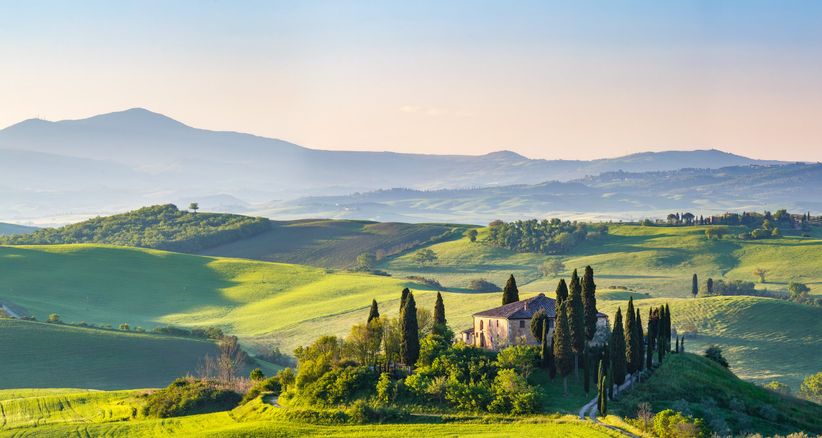 Italy
Honeymooning in the romantic, tale-as-old-as-time country of Italy never goes out of style. It's as popular as ever, but travel agents are noticing that visitors to this honeymoon destination in 2020 are doing things differently. First and foremost, they're choosing to travel during off months (April, May, September, October) to avoid large crowds and sky-high prices. "Food and wine are the cornerstone of any good Italian trip, which are also insights into the local culture," shares Waigand. One of her favorite properties in Tuscany is Il Borro, a 12th century medieval village that was purchased by the Ferragamo family in the 90s and restored to be both a hotel and a working farm and artisan village. "This getaway is very popular with the locals who like to come for weekends," she says. "Here guests can do everything from cooking classes, wine tasting, walking trails, view special art collections and wellness experiences."
Antarctica
In decades past, this was hardly a hotspot, so to speak, especially considering the colder weather. However, in recent years, the seventh continent has become a more desirable destination for honeymooners. "More expedition ships exit shipyards and luxury lines court the well-traveled in Antarctica—although it's worth noting that the cruises are only during a short season, from November to March each year," says Goldberg-Glazer. "But if penguins are more your speed than sandy beaches, this may just be the trip of a lifetime." If cruises are your thing, she recommends checking out the Seabourn Quest, a luxury cruise ship with daily glacier sightings.
Greece
Another oldie, but goodie, Greece is a honeymoon destination to return to time and time again (inspo for anniversaries to come!). "With so many islands to choose from, honeymooners can opt for an array of stunning beaches, incredible restaurants and a vibrant social scene in Mykonos, a more local fishing-village experience with gorgeous beaches in Paros, Milos or Naxos, beautiful beaches, luxury hotel experiences and some mini-Mykonos party vibes in Ios and the ultimate in views, luxury and relaxation in Santorini," shares Allison Kobasky, co-owner of Over The Moon Vacations, a luxury honeymoon planning company. Her favorite hotels in Mykonos include Myconian Ambassador and Myconian Villa, and in Santorini, Andronis Boutique Hotel.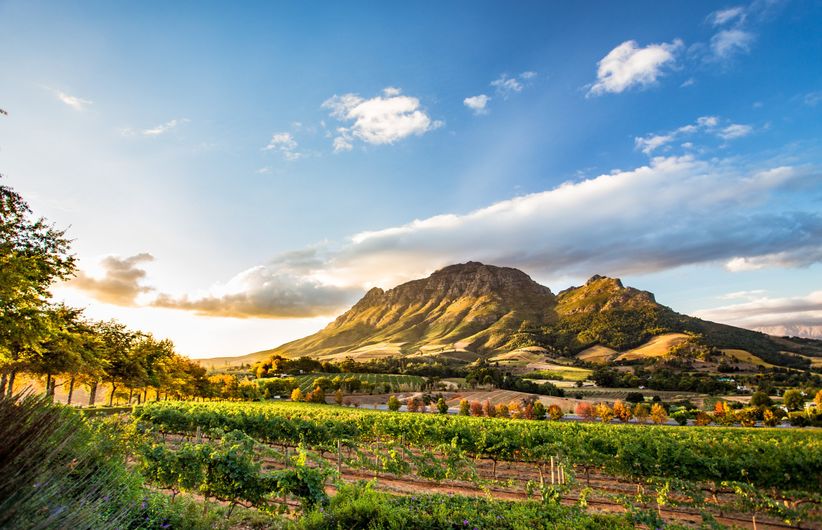 South Africa
As more and more honeymooners mark their trip as the last major travel experience before having kids, exotic, far-away spots like South Africa are becoming more trendy. And it's certainly a wise decision, indeed, as you can expect adventure, excitement, wildlife, stunning scenery and a vibrant culture. "In South Africa, you can experience it all—from hot air balloons over Kenya, safari drives at Kruger National Park, getting spritzed by Victoria Falls, shark diving at Cape Point, tasting the best South African wines in the winelands, enjoying a small luxury Nile Cruises and beyond," says Teresa Belcher, travel agent and founder of Honeymoon Islands, Inc. "You'll have seamlessly combined African luxury and safari travel for those couples that want to enjoy the comforts of home while experiencing the wilder side of Africa." She recommends staying at Londolozi Game Reserve in Sabi-Sands of Kruger National Park and Ellerman House Cape Town in Cape Town.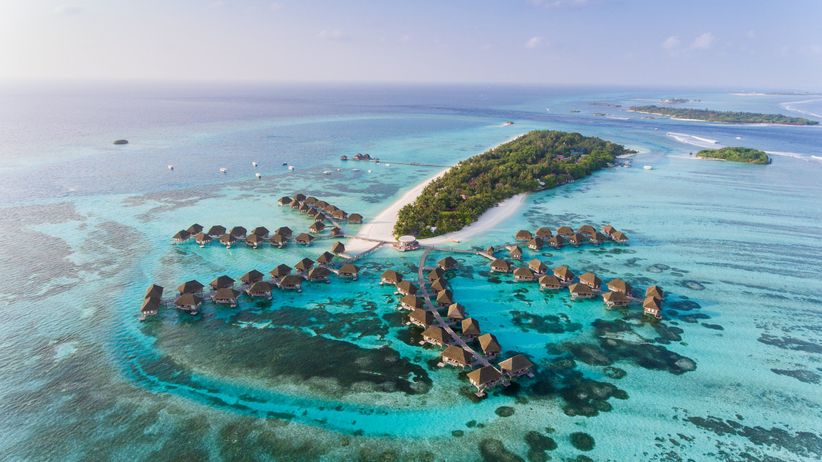 Maldives
You can't beat the guarantee of pristine, sandy beach-clad oceans coupled with luxury overwater bungalows and stunning scenery. That's just a glimpse of what you can expect from a honeymoon in the Maldives, an island chain off the coast of southwest India in the Laccadive Sea. "A trip to the Maldives is ideal for those looking for a laid back honeymoon experience—taking in a gorgeous sunset from the porch of your private villa kind of trip," says Belcher. "From a private fishing trip on a traditional dhoni to world renowned scuba diving to a sunset sail, your honeymoon planner can create a custom itinerary that matches your interests." For those wanting to rejuvenate, Belcher says the Maldives is the place to go. She recommends staying at the Four Seasons Resort Maldives at Landaa Giraavaru.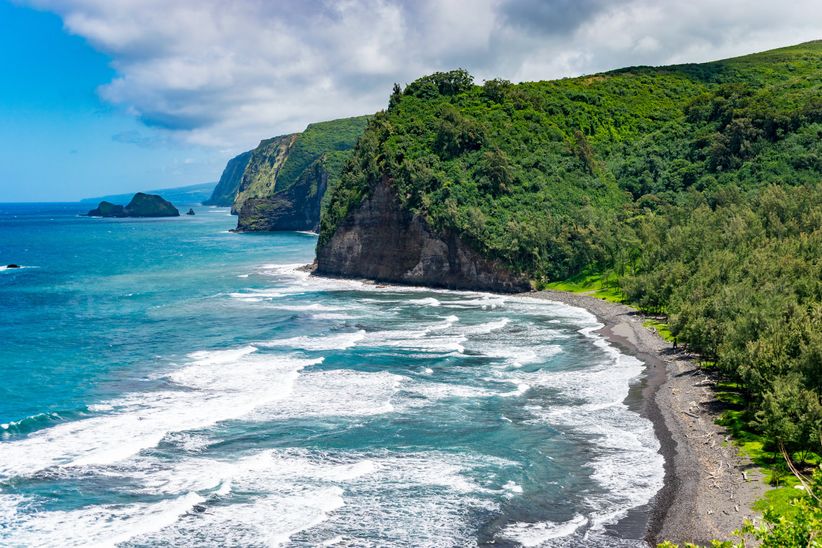 Hawaii
Another retro classic that never seems to go out of style, couples are still flocking to the Hawaiian islands (just like their parents did!). With so much to see and so many different islands to travel to, Goldberg-Glazer likes to make this a multi-stop trip. "Depending on how long the couple has that might be two or three islands," she says. "A couple may start at the Ritz-Carlton Maui and then head to the quiet of the Big Island, and the Fairmont Orchid." While in Maui, she recommends enjoying a helicopter tour of the island and a sunset sail, or a sunrise trip to Haleakala. "On the Big Island, visit Volcanoes National Park, enjoy star gazing, or even ziplining," she adds.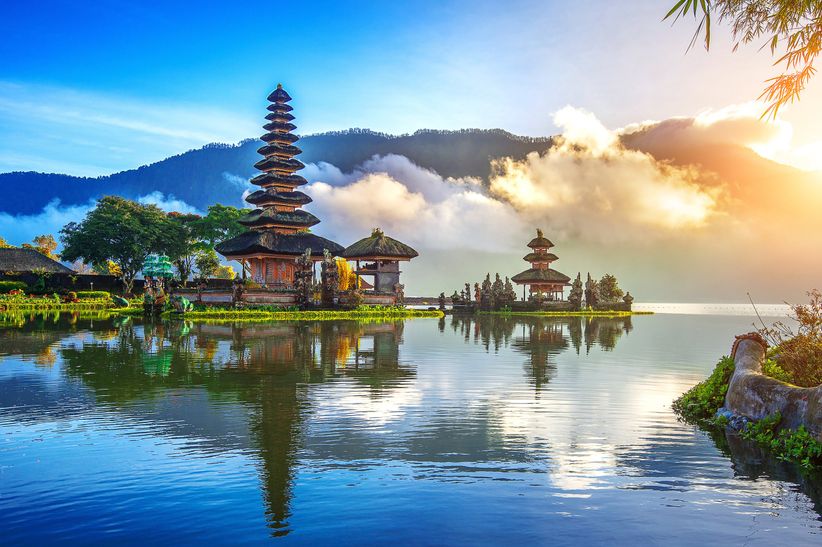 Bali
Lesser discovered in generations past, Bali is now a desirable honeymoon destination for 2020 couples thanks to its tranquility and mindful, stress-free vibe. "Bali carries its legacy because of its unique experiences and friendly locals who remind us to slow down and bathe in our surroundings," explains Belcher. "Because of its volcanoes and mountains, Bali has a very prosperous agricultural market that leads to amazing and fresh ingredients unique to Balinese cuisine." Bali also boasts beautiful beaches, from Kuta to Legian Beach to Jimbaran Bay. "The island of Bali is also framed by beautiful coral reefs—perfect exploring the beautiful marine wildlife of the region," says Belcher. "These peaceful waters can be experienced by private day charters set up by our trusted on-site partners." Her recommended places to stay: Four Seasons Resort Bali at Jimbaran Bay, Bulgari Hotels & Resorts Bali, The St. Regis Bali Resort, Capella Ubud, and Amandari.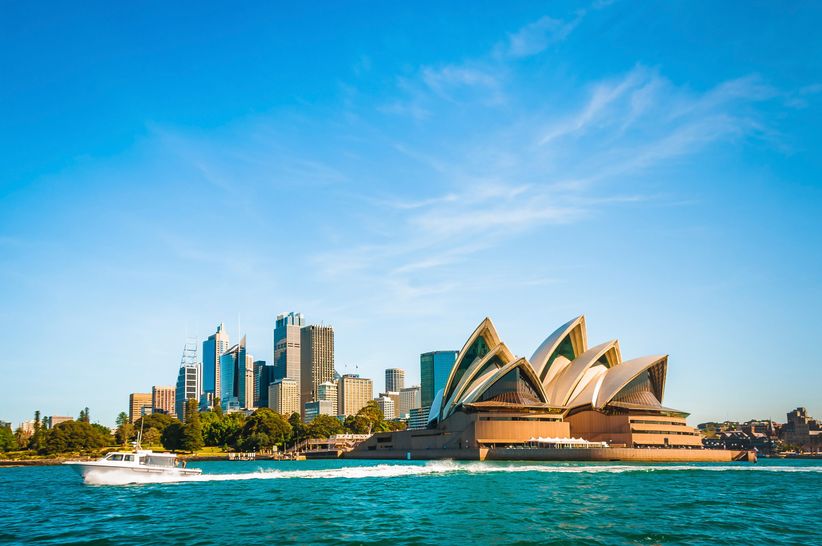 Australia
If you've always wanted to take a trip down under, your honeymoon is certainly a great time to do it. "Whether you see the country from land, air, or dive tours, Australia is full of treasures to be uncovered around every corner and you cannot help but come away with a new perspective after spending time with the Aussies," says Belcher. "The country boasts of cities on the cutting-edge, a culture all its own, natural beauty and adventure opportunities galore and the terrain ranges from tropical rainforests and coral reefs to the dry desert of the Australian Outback." She recommends joining a small group on a luxury tour through Australian vineyards, seeing the architectural greatness of the Sydney Opera House and the Great Barrier Reef at Bondi Beach. Her go-to places to stay are Four Seasons Hotel Sydney, Qualia, on the secluded northernmost tip of Hamilton Island, Longitude 131°, a luxury desert basecamp at Uluru-Kata Tjuta.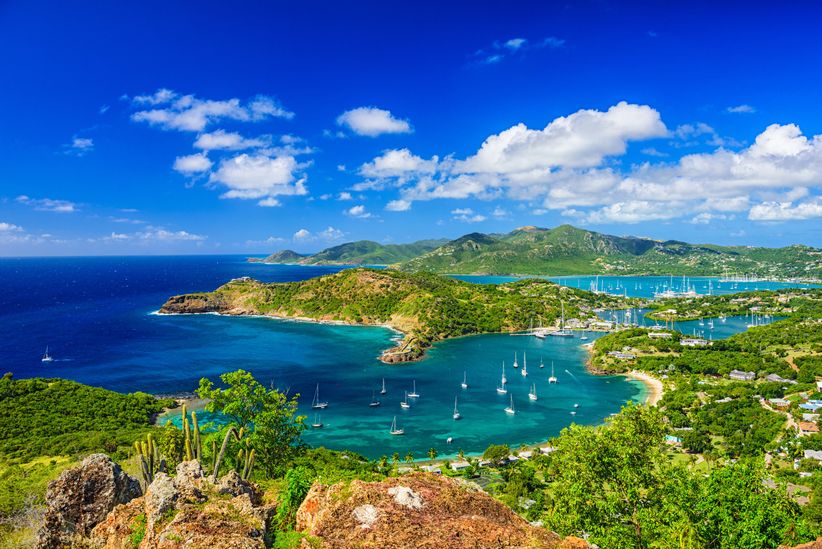 Antigua
If you're considering the Caribbean islands, be sure to take a good look at Antigua, which locals claim has 365 beaches, one for each day of the year. "It is generally safe and easy to explore on your own (rent a car for one day) as it's not as hilly as St. Lucia," says Waigand. Her favorite property to recommend to clients on Antigua is CocoBay Resort. "This boutique, adults only, all-inclusive resort checks a lot of boxes for honeymoon couples, and all of the rooms are stand alone cottages," she says. "Some of the cottages have their own plunge pools, but there are also two infinity pools at the resort."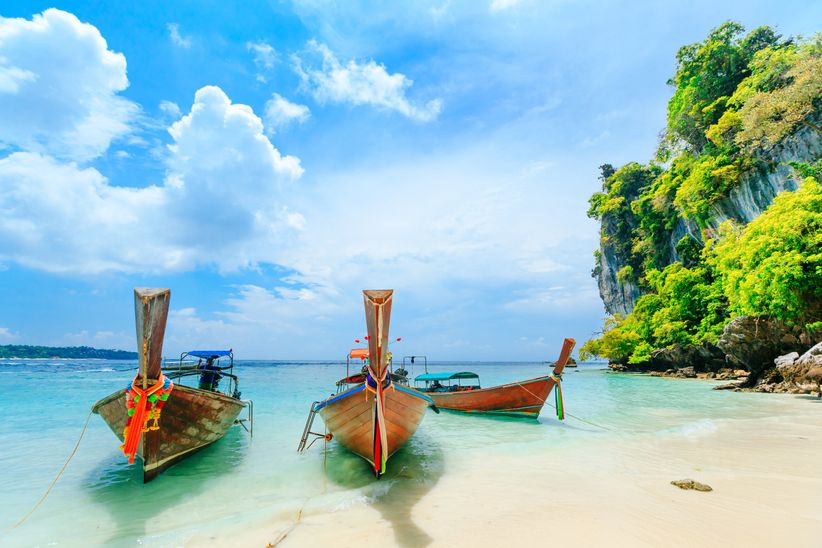 Thailand
Thailand is becoming a super-hot honeymoon destination for 2020 couples interested in all sorts of trips, but especially honeymoons. Just like with Bali, Jennifer Jacob, CEO and founder of Explorateur Travel, LLC., says clients are really in it for the culture and experience. The typical honeymoon route includes Bangkok, Chiang Mai and Phuket, which offers a nice mix of city life, peaceful rural lands where elephant sanctuaries are abundant and, of course, a little beach action. Thailand is also a very safe and welcoming country for visitors, notes Waigand. "It's inexpensive to fly to and the USD dollar goes very far there. In fact, luxury resorts can start at $300 to $400 a night, whereas a similar resort in Europe would start at twice that rate," she says. Her favorite properties in Thailand include the Four Seasons Tented Camp Golden Triangle in Chiang Saen, the heart of an elephant habitat, and the Six Senses Yao Noi on Yao Noi island in Phang Nga Bay.