Greece Honeymoons
If you picture your perfect trip surrounded by the glistening and pristine Aegean Sea, a Greece honeymoon has everything to offer you and more.
The Best Greece Honeymoon Destinations
Instagram husbands/wives beware: In recent years, Greece has become the mecca for any and every one looking to capture a stunning sunset picture — and for good reason. There's so much to capture during a Greece honeymoon, including cotton candy skies, turquoise blue water, rainbow-inspired buildings. If you're looking for a honeymoon full of incredible memories (captured in pics, of course), consider heading to one — or all — of these Greece honeymoon destinations. Whether you and your soon-to-be spouse are looking to relax poolside, get up close and personal with ancient ruins, or a mix of both, then these top vacation spots — Santorini, Mykonos, Skopelos, and Athens — should be at the top of your list.
Take a look at these Greece honeymoon destinations and start planning a trip that you'll cherish forever.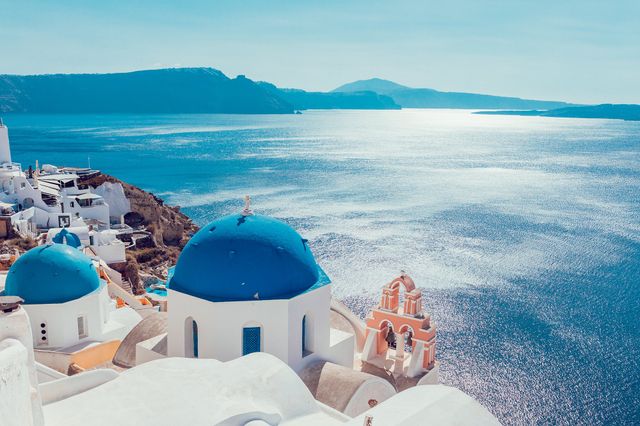 When to Go on Honeymoon in Greece
Unlike other European countries, Greece doesn't experience the level of crowds that make traveling uncomfortable. The heat, well, that's another story. Plan to take your Greece honeymoon in spring and early summer (April through June) if you're planning to spend your honeymoon lounging poolside with a glass of Grecian wine in hand, If you're hoping to sightsee with fewer crowds and are fine with cooler temperatures, consider visiting in September or October.
Where to Go on a Greece Honeymoon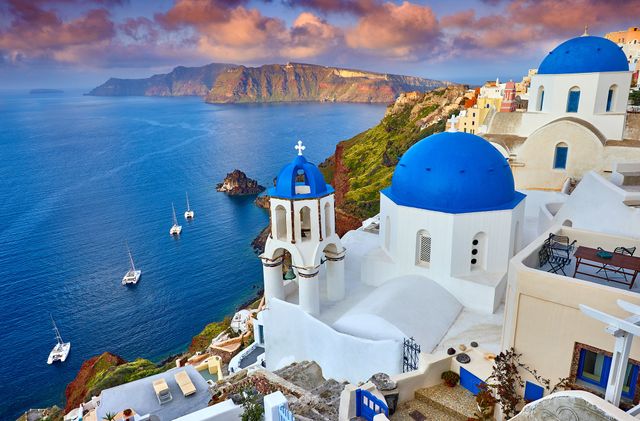 Santorini
By far one of the most Instagrammed destination destinations in recent years, Santorini is a Greece honeymooner's goldmine with radiant sunsets, sprawling beaches, and some of the world's best vino. You know that picture of the lines of colored buildings atop a massive hill? Capture your very own version by taking the two to four hour hike from Fira to Oia. Here, you'll get incredible views of the island's volcano along with a glimpse of four different villages. And if you're really in the mood for romance (always), then make your way to Oia in time for the sunset because travelers say it'll give you the best view on the entire island. After a long day of hiking (walking, really), it's time for some R&R: Book a catamaran or full-day caldera cruise on the Mediteranean to see what the honeymoon destination is all about.
Must see: Walk to the village of Pyrgos, Santorini's highest point, for the ultimate snapshot.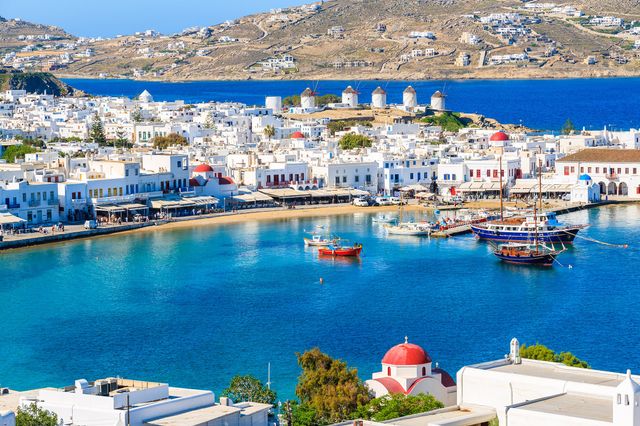 Mykonos
Because after the stress of wedding planning, you and your S.O. need to let your hair down — and this tiny island is the place to do it. Considered one of the best party destinations in Greece, Mykonos is rich with breathtaking views, top-of-the-line beaches, and buzzing nightlife. Between boozing by the pool and hitting up the hot tub, walk down Matogianni Street to shop for local goods (think of it as the Rodeo Drive of Mykonos). Once the sun sets, however, it comes alive with discos, clubs, and other nightlife. Sneak a day trip to Little Venice to catch a glimpse of the island's larger-than-life windmills (you won't have to look too hard) and wander through the streets to find quaint boutiques, restaurants, and wine bars.
Must see: No trip is complete without drinking a cocktail (or two) at Jackie O's, which is located above Super Paradise beach.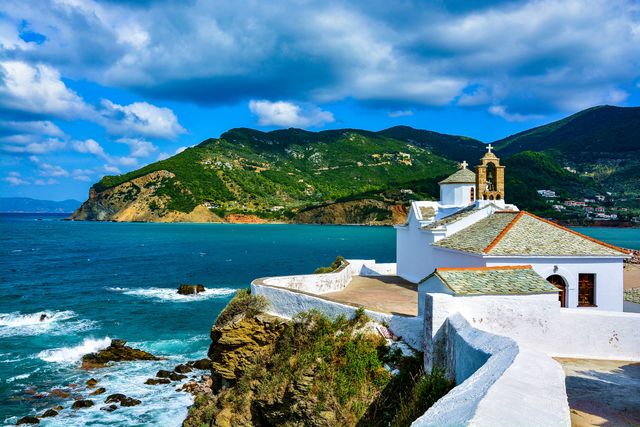 Skopelos
Live out your Mamma Mia dreams on this small Grecian island. Upon arriving, explore the streets of the island to see the white and blue buildings made famous in the Amanda Seyfried and Meryl Streep flick IRL. But, let's not forget what you came here for: the beach. No matter which beach you choose — Kastani Beach is by far the most popular. — you're in for a treat because each comes with soft white sand and blue-as-can-be water a.k.a paradise. And if you're in the mood for an impassioned night of dancing on a boat (Mamma Mia 2, anyone?), then book one of the various boat cruises for a day of fun in the sun. FYI, you'll really win husband/wife points if you opt for a sunset cruise instead.
Must see: Take a taxi or shuttle into the Skopelos' historic cobbled streets for souvenir shopping.
Athens
One of the only honeymoon destinations in southeastern Europe where you can spend your morning stepping back into the 5th century and your nights soaking in the city views at rooftop bars, Athens is easily one of the most diverse cities in Greece. While most tourists make a beeline to Acropolis, ancient ruins from Greece's past, consider starting your Athens trip by seeing the splendor of this magnificent site by hiking to the top of Areopagus Hill, another historical site that boasts stunning views. There's history around every corner: Sports fans should swing by Panathenaic Stadium to get a glimpse of where the first modern Olympic Games were held in 1896. History buffs, on the other hand, will enjoy getting a closer look at the Parthenon. History and architecture aside, experience the color and culture of the city at rebetiko venues in the Gazi district for good music and even better cocktails.
Must see: Walk along the Polignotou from Thissio to Plaka at night to see the Acropolis in all its glory.
Sample Greece Itinerary
Start your Greek honeymoon with a movie-inspired trip to Skopelos.
Now that you're rejuvenated, hop on a short 45-minute flight to Athens for a few days of sightseeing.
After getting your history fix, head to Mykonos for more R&R.
And now it's time to up your Instagame: Test out more beaches in Santorini before heading home from your Greece honeymoon.
Article by Lindsay Tigar
Flight 3
- Remove Flight
+ Add Flight
Flight 4
- Remove Flight
+ Add Flight
Get access to travel deals when you book your honeymoon through WeddingWire