What Is an All-Inclusive Wedding Venue?
Read on for everything you need to know about an all-inclusive wedding venue before you sign on the dotted line.
We have included third party products to help you navigate and enjoy life's biggest moments. Purchases made through links on this page may earn us a commission.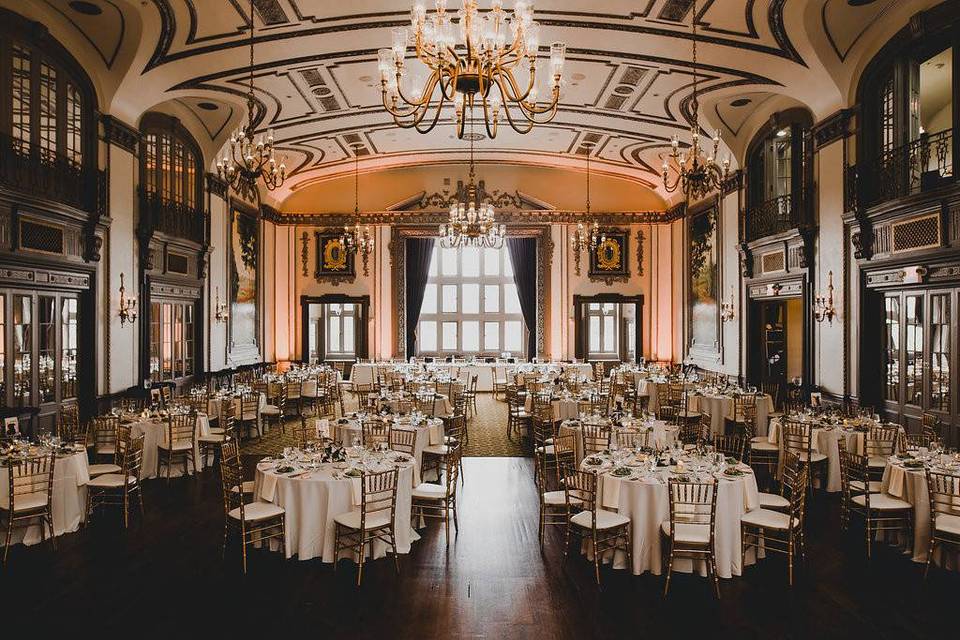 Are you feeling overwhelmed by all the decisions involved in wedding planning, and can't stand the idea of DIY-ing anything? Good news! There's an option available that may ease your stress considerably—an all-inclusive wedding venue. Yes, these all-inclusive wedding venues (sometimes called full-service venues) are exactly like they sound: All. Inclusive. That means not only is your wedding venue taken care of, in many cases your catering, wedding cake, décor, DJ, and everything in between are covered, too. Sounds pretty stress-free, right? Hotels, country clubs, and banquet halls are typically all-inclusive venues, but lots of other types of wedding venues may be all-inclusive. If an all-inclusive wedding venue sounds ideal, read on to learn more about these super-convenient spaces!
There's usually an on-site venue coordinator or wedding planner.
When you first contact the venue, you'll be connected with a coordinator of some sort. Find out if that person (or someone else from the venue) will be available to you throughout the planning process, and if they'll be on-site on the big day to ensure things go smoothly. Be sure to find out whether or not that person's services are included in your wedding fee, too!
Ceremony, reception, or both?
As with any venue, you'll want to find out if you can host your wedding ceremony at a particular event space or not. Many all-inclusive wedding venues can provide space for a ceremony, but there are some that are solely available for receptions. These all-inclusive wedding reception venues are ideal for couples who are hosting their "I dos" elsewhere, such as at a nearby house of worship.
All-inclusive wedding venues always include catering.
A big part of any wedding celebration is the food. Fortunately, all-inclusive wedding reception venues take care of this (major!) part of your wedding day, as they have in-house caterers who will plan and execute your menu. Before booking an all-inclusive wedding package, you should check out the menu options, available serving styles (buffet, plated, etc.), and perhaps attend or schedule a tasting.
Pricing may be a bit different at all-inclusive venues.
If you've started researching wedding venues, you've probably learned a bit about pricing. Venues that are not all-inclusive typically charge a flat rental fee, while all-inclusive venues may charge a rental fee as well as per-person catering costs. Some all-inclusive wedding venues charge on a per-person basis (without a rental fee), which means the more guests you're hosting, the more you'll pay. It goes without saying, but you'll definitely want to understand your venue's pricing structure before booking.
Many all-inclusive wedding venues also provide rentals.
When you're reading an all-inclusive venue's contract, you'll want to find out exactly what's included, particularly when it comes to rentals: consider linens, decorations (including centerpieces), lighting, sound system, tables and chairs, silverware, dishes, dance floor (if your wedding will be outside), tents, photo booths, etc. Some all-inclusive venues offer a variety of options as it pertains to rentals, while others have limited selections. If you don't like your venue's rental offerings, you may want to consider hiring a rentals company that can provide more choices in terms of styles, colors, etc.
Other services, such as music and flowers, may also be available.
Now on to vendors: Your venue may offer in-house services or work with preferred vendors. Be sure to ask how much choice you have on each vendor, and find out the cost associated with different options (for example, carnation arrangements will cost far less than orchids on every table). Be sure to inquire about liquor, too—some venues offer beer and wine only, and in a limited amount, while others offer a more expensive open bar option. And if you're hosting a destination wedding or many out-of-town guests, you may want an all-inclusive wedding venue that offers hotel room blocks, space for other events like rehearsal dinners, and more.
Also, not every all-inclusive wedding venue will provide a photographer, officiant, or florist, for example, so make sure you're clear on which services are included, and which you'll have to source (and pay for) separately.
Consider upgrades and extras.
Here's where things get tricky. The base price may seem great and ideal for your budget, but once you start adding on better-quality chair covers, or premium liquor, or additional passed appetizers, your bill can quickly skyrocket. So be alert, and know what you're agreeing to.
Once you've made all of your final choices (which you should keep a separate record of, by the way) carefully review your contract to see if everything you've chosen is included, and if the price matches up with your budget. When considering catering, for example, check to see if appetizers are included in your total price, or if they're priced out separately.
Consider, too, questions like, how many hours will we have the photographer? Is there a backup plan in case of inclement weather, and does it cost extra? Is there somewhere to get ready on-site? Will we have exclusive use of the venue (other couples may be marrying in different parts of the hotel, for example)?
Is an all-inclusive wedding venue right for us?
If you hate making decisions, aren't choosy about your vendors, and want an easy, relatively straightforward wedding planning process then an all-inclusive wedding venue may the best choice. All-inclusive venues are also ideal for couples hosting destination weddings from afar—many destination wedding venues offer packages that include everything from catering to hotel room blocks, DJs to photographers, officiants, and more. And if you're hosting a wedding (or elopement!) with a shorter timeframe, booking an all-inclusive venue can make the process quicker, since you won't have to hire a bunch of vendors aside from your venue.
Ultimately, all-inclusive wedding venues are great for couples that aren't picky and just want to have a special day that goes off without a hitch. And there's nothing wrong with that!