Hawaii Honeymoons
If your dream of the perfect romantic getaway involves relaxing beach side while sipping a tropical cocktail with your new spouse, a Hawaii honeymoon might be just the ticket.
If your dream of the perfect romantic getaway involves lying beach side while sipping a tropical cocktail with your new spouse, a Hawaii honeymoon might be just the ticket. After all, it's been welcoming honeymooners for decades with its charm, from its pristine palms and plumeria and garden-green peaks at every corner to its iconic pink and orange sunset. Located just off the shore of North America, Hawaii is the only U.S. state that is located in Oceania, a tiny geographic region that spans both the eastern and western hemispheres, yet it still considered part of our 50 states. It is comprised of eight major islands in total, each with its own enchantingly unique personality. If relaxation and de-stressing is on the menu for you and your new husband or wife, a Hawaii honeymoon, one of the most romantic and opulent hot spots in the world, will deliver.
Here is everything you need to know to plan the Hawaii honeymoon of your dreams.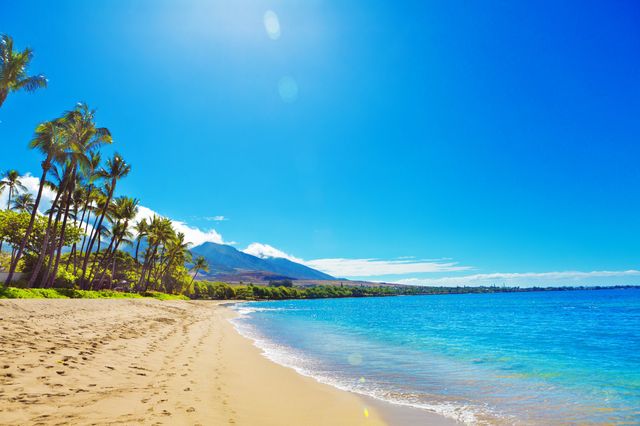 When to Go
The reason Hawaii honeymoons are so popular is because the weather is pretty much warm all year round. In fact, 78 degree is considered "cold" for most locals. The best time to go is usually during the later months of spring, namely April or May, or the early months of fall, like September or October. These times of year are most ideal for ensuring amazing weather, low costs and less crowds. No one wants to unwind on a jam-packed beach!
Where to Go
Maui
If you are looking for more of a small-town vibe filled with numerous romantic activities and breathtaking views, Maui should be top on your list. The unique quality of Hawaii's islands is one of its best attributes. The island of Maui is formed by two volcanoes in the shape of a crescent moon, providing its visitors with ample scenic endeavors. How rare is that?! Plan a hike up 10,000 feet to the top of Mt. Haleakala's summit to enjoy a romantic sunrise as newlyweds. Not only will this provide you with the view of a lifetime, but it will give you and your loved one a chance to share in an activity indigenous to Maui itself. In addition to the unique views and activities this a honeymoon in Hawaii has to offer, the beaches will continue to take your breath away. While most beaches in Hawaii are white sand beaches, Maui is native to its technicolor sandy shores (think pink sand beaches—swoon!). Take a road trip along the Hana Highway (also known as The Road to Hana) to view the beautiful crescent shaped shore and stop at Waianapanapa State Park where you can sink your toes into its rich black sand.
Molokai
The island of Molokai is the third smallest island out of the eight, making it a little more intimate for you both to reminisce on the romance that brought you together—not to mention those incredible wedding-day moments. Grab a blanket and a bottle of wine and relax on the warm white sand at Papohaku Beach to see an uninterrupted view of the sun setting over the tropical water. This remote island is home to only one traffic light ,which allows you and your special someone to detach from the hustle and bustle of reality and focus on each other. From snorkeling and scuba diving to just simply relaxing on the beach, the island of Molokai will be sure to make your Hawaii honeymoon one you will never forget.
Oahu
Home to Honolulu, the largest city in Hawaii, the island of Oahu provides visitors with a unique mixture of historical and romantic activities to participate in. Whether you'd like to unwind on the beach or visit historic sites such as Pearl Harbor, you and your special someone will be sure to experience the honeymoon of a lifetime. Being the central hub for flights to Hawaii, you will be sure to find a great deal when planning your long awaited trip. Distinct to its culture, seeing a luau is a must on your honeymoon to Hawaii. Oahu showcases some of the biggest performances allowing you to dive into the Hawaiian culture. Throw a lei around your partner's neck and head off to the tropics for an unforgettable adventure.
Article by Jenn Sinrich
Flight 3
- Remove Flight
+ Add Flight
Flight 4
- Remove Flight
+ Add Flight
Get access to travel deals when you book your honeymoon through WeddingWire