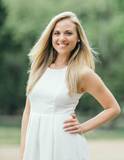 Jenn is a freelance writer, editor and content strategist living in the Boston area. She writes for a myriad of publications including WeddingWire, BRIDES, SELF, Women's Health, Reader's Digest, Livestrong, GLAM, and more and covers a wide range of topics from health, beauty and fitness to weddings, parenting and love and sex. She loves delving deep into the research aspect of content creation, especially getting the chance to interview experts from all various fields. Jenn has a particular knack for writing about weddings, having covered just about every stage in her writing, from the early relationship phase and engagement to wedding and honeymoon planning. She loved planning her Jersey City wedding and admires the vendors who made her special day so unforgettable. Though her time in New York City was memorable, Jenn returned to her home town north of Boston to continue her freelance career while raising her young daughter. When she's not putting pen to paper (or, rather, fingers to keyboard), she enjoys cooking delicious food for her family to enjoy and running outside by the beach.
Experience
As a child, Jenn wanted to become an actress and starred in several plays and a few short films during middle school and high school. When she started college at Northeastern University, she realized her true passion was writing stories and reporting the news. She quickly fell in love with creating content for several online websites and even started the Her Campus chapter at her school, serving as the Editor-in-Chief for its first two years.
Soon her eyes were set on the Big Apple, where she landed an internship at Ladies' Home Journal. Living and working in Midtown was everything she ever dreamed of and more, and she soon realized this was the life she was meant for. The following year, her senior year of college, she was able to swap her two remaining on-site classes for internships in the city. This time, she interned at iVillage.com and SELF. It was during these internships that she met her now-husband, Dan, who has supported her dreams, ambitions and aspirations from the very beginning.
Upon graduating with a Bachelor of Arts in Journalism, Jenn landed her first full-time role, as production editor at WhatToExpect.com, where she wrote about all things pregnancy and parenthood. She quickly learned that this was her niche, as she rose in the ranks to become Lead Producer for the website and then transitioned to a new role at American Baby as associate editor. During her time at American Baby, she interviewed several celebrities, including Jessica Alba, Christie Brinkley, Olivia Munn, Kristin Chenoweth and Julianne Hough.
After close to a decade of experience as an on-staff editor, Jenn decided to take the leap of faith and go full-time freelance. She started writing for a broader network of publications on a wider range of topics. About a year into her freelance career, she moved to her hometown to raise her daughter and continues to freelance for many of the same sites that launched her career. She also serves as a content strategist for several marketing agencies, independent companies and start-ups.
Education
Jenn graduated from Northeastern University with a Bachelors of Arts in Journalism and a minor in History. While in college, Jenn helped found the Eta Kappa Chapter of Kappa Delta Sorority and served as their first Vice President of Membership. She also founded the Her Campus chapter for Northeastern and served as their first Editor-in-Chief.
Awards & Appearances
Jenn has sat on several panels, including the Her Campus Her Conference in 2017's "Ditch the 9-5: How to Make It As a Freelancer." Jenn was a featured guest on Everything With Ali Levine Podcast to discuss new motherhood.
Articles published by Jenn Sinrich